In the world of luxury mid-size crossover sport utility vehicles, many automakers come to the table with their own strengths and weaknesses. Some place value in the driving dynamics, others in the sheer amount of utility available, while some place themselves as a strong bang for the buck. Originally released as the JX35 in 2012, the 2017 Infiniti QX60 AWD places itself firmly on the cheaper end of the high end segment. Recently, Infiniti offered up a chance to take a QX60 out for a spin; would its competitive cost come at a price in other areas?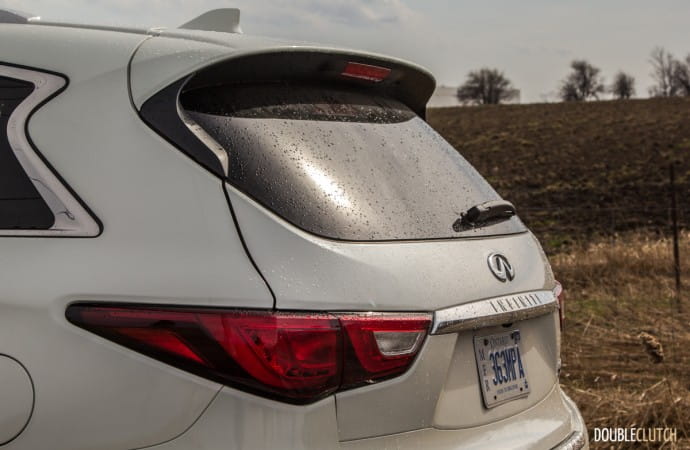 With a base price starting at a bargain-basement $47,890, the QX60 initially rings in several thousand lower than the likes of even the Honda Pilot Touring (reviewed here) and Toyota Highlander Limited, let alone their Acura and Lexus counterparts. It's also only about $800 more expensive than the top-trim Kia Sorento SX+ V6. However, the other Japanese and Korean competitors come chock full of luxury and tech features that will cost extra on the QX60.
To start, the Majestic White pearl paint job was an extra $750 (the only free colour is Black Obsidian). For $5,000, the Premium Package adds front power and memory seating, navigation, an "Around View" 360-degree camera system, remote engine start, and rain sensing wipers. The $4,700 Deluxe Touring Package tacks on 20-inch alloys, second-row heated outboard seats, cooled front seats, a moonroof for the second and third row, a power liftgate, and uplevel 15-speaker Bose audio. Lastly, the $4,800 Technology Package adds dual eight-inch monitors for rear seat entertainment, lane departure warning with lane departure prevention, a blind spot monitoring system, forward collision warning, and a 120-volt power outlet. All told, the as-tested price came out to a considerably higher $63,140 before taxes and fees.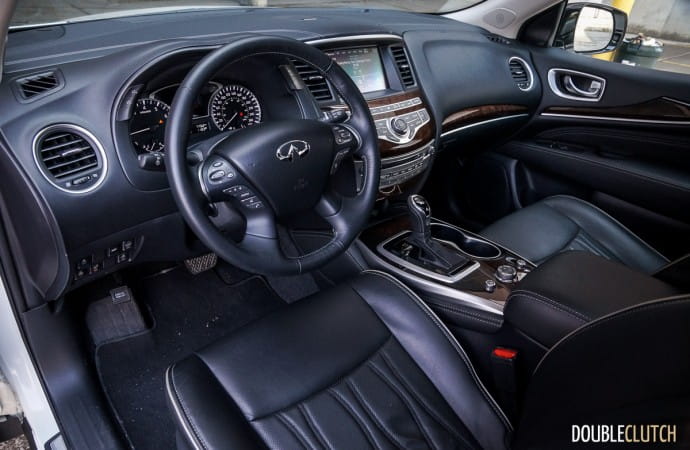 Relatively speaking, the QX60's level of luxury, tech, and equipment is closer to that of the Acura MDX, but still finds itself with a several thousand dollar advantage over the Acura's top-level Elite trim. From America, vehicles like the GMC Acadia Denali, Cadillac XT5, and Lincoln MKX are also priced similarly. It goes without saying that the mid-size Infiniti SUV is, by comparison, orders of magnitude cheaper than the comparably equipped European likes of the BMW X5, Mercedes-Benz GLE (reviewed here), Audi Q7, and Volvo XC90, which all start with base prices near or above the Infiniti. For those looking for the maximum amount of kit with the minimum amount of dollars spent, the QX60 certainly drives a hard bargain.
Powering the Infiniti QX60 is the storied VQ35 series 3.5-litre V6, which has long been a smooth and strong performer in the Nissan and Infiniti lineup. Even though it's been around for over two decades, it still holds its own against today's best engines. With updates over the years that include advancements like direct fuel injection, power output is up to 295 horsepower at 6,400RPM, and peak torque is 270 lb-ft at 4,800RPM. The V6 is paired to a continuously variable transmission (CVT) automatic, which routes power to all four wheels with Infiniti's Intelligent All-Wheel Drive system. With a good amount of grunt, towing capacity is 2,268 kilograms (5,000 pounds).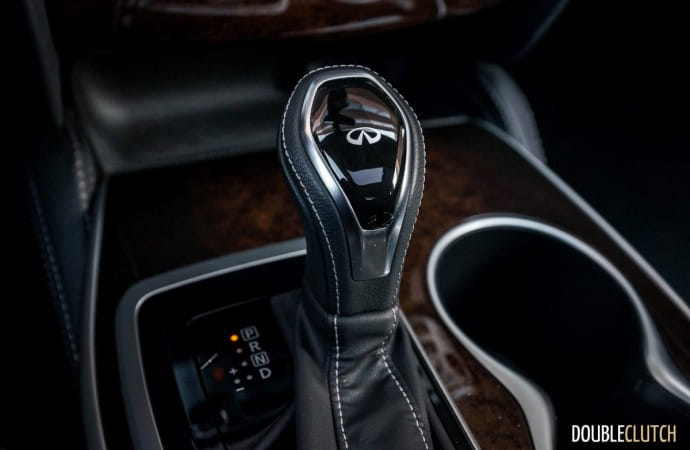 On the road, the VQ35 V6 sings a confident note, and never feels short of breath. The CVT automatic can be goofy during spirited driving, with the revs seemingly hanging and giving a feeling somewhat similar to an old slipping transmission. In normal driving, this sensation is much less noticeable, and the CVT does an admirable job of keeping the V6 paired with the right gear ratio for the driving conditions at hand. Most drivers will never notice or care, but enthusiasts and those who seek optimal driving dynamics may need more time to adjust to the CVT.
Thankfully, one of the perks of having a continuously variable transmission is improved fuel economy. Infiniti rates the 2,049 kilogram (4,415 pounds) QX60 at 12.2L/100km in the city and 8.9L/100km on the highway – observed test economy was 11.3 L/100km in mixed driving. Relatively speaking, this is similar to that of the Acura MDX (reviewed here), which doesn't use a CVT, but instead ups the available ratio count with a nine-speed transmission. Rounding out the rest of the fuel specifications, the QX60's tank capacity is a respectable 74 litres (19.5 gallons), and premium fuel is recommended but not required.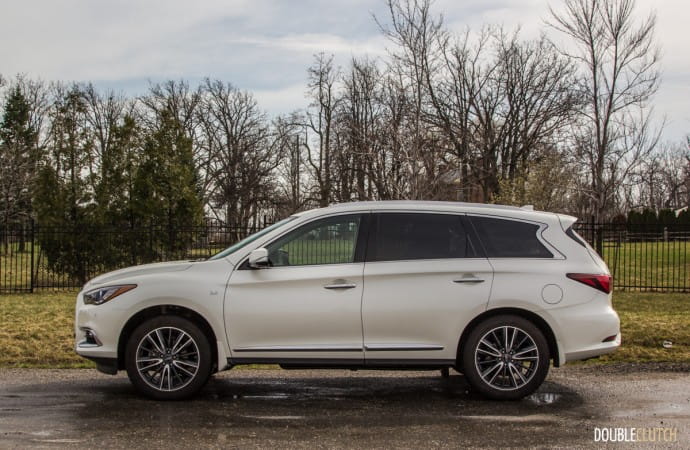 Inside, the Infiniti's seats seven in a two-three-two seating arrangement. The test vehicle was equipped with power folding seats that made reconfiguration a cinch, but for the more able-bodied, a manual fold and recline process would probably be faster. The leather seats were supple and comfortable in all seating positions, making the QX60 a good fit for long distance trips. The second row is quickly folded at the flip of a lever, and also adjust fore-and-aft in order to make more room for third-row passengers. Even with all three rows left up, there's at least a bit of usable cargo space, and with everything folded, the QX60 will be cavernous enough to swallow everything including the kitchen sink.
For multimedia and connectivity, count on the QX60 to have a large abundance of buttons on the centre stack. While this is preferred over generally distracting touch screens, the layout is a little less than intuitive, and so will take some time to get used to. This seemed to be a recurring theme across all of the QX60's interior, with things like steering wheel controls and trip computer functions not being the most logical to use. Thankfully, the Bose audio hits hard and sounds great, and full Bluetooth pairing functionality for both phone and audio streaming helps to keep things hands-free when on the road.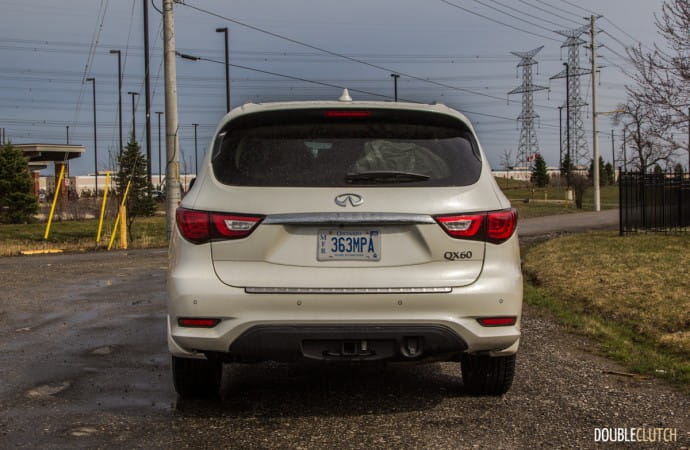 At cruising speeds, the Infiniti proved itself to be nothing short of excellent. The engine and CVT hunkered down to a low rpm, and the cabin remained very quiet. Ride quality was very composed, with good body control and high-speed stability. Contrary to many of today's passenger cars, the QX60 makes use of what Infiniti calls electro-hydraulic steering – that is, there's still a power steering fluid reservoir under the hood. With the traditional steering setup instead of a fully electric assist system, steering feel is much better than those of competitors. While the QX60 isn't about to fool anybody into thinking it handles a Nissan 370Z (reviewed here), as far as mid-sized crossovers are concerned, it has practically the best steering of the bunch.
As the sum of its parts, the 2017 Infiniti QX60 is definitely one of the better values in its class. While it doesn't have the panache of its European competitors, it offers a much broader set of features and gadgets to impress today's discerning buyer. Against the other Japanese and American entries, competition is extremely tight, and those looking for a little more dynamic driving experience would be wise to consider the Acura MDX (or even a Honda Pilot Touring at less cost). For those who seek more affordable luxury, comfort, and smoothness to go along with their utility, the Infiniti might be just the ticket.
2017 Infiniti QX60 AWD Gallery
See Also: