The entry-level luxury car market is an important segment for any premium automaker. For many, it's the slippery slope in which they purchase their first nice car after saving up for a long time, getting a big promotion, or just because they fancy it. It's the building block in which the manufacturer is banking on repeat business in the future, with moves further upscale each time. The refreshed for 2017 Mercedes-Benz CLA 250 4MATIC is the latest venture in this area by the classy German company, and is looking to do continued battle against the likes of the Audi A3 and the base models of BMW 2 and 3 Series.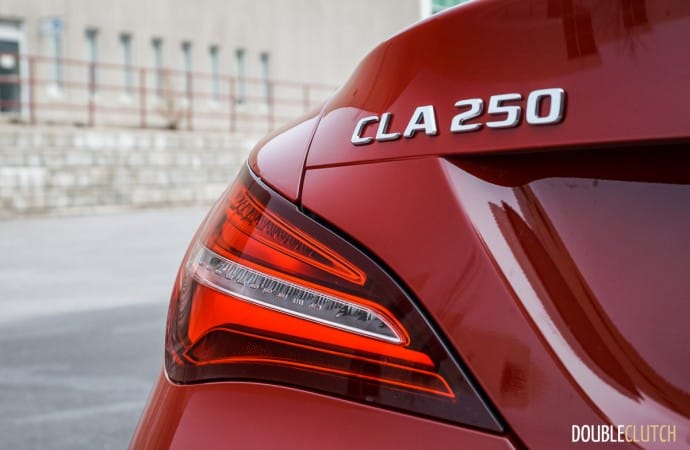 Japanese contenders such as the Lexus IS (reviewed here) and Acura TLX also figure prominently into the hotly contested mix. Mercedes-Benz sent over a bright Jupiter Red CLA 250 over for a week of testing with the DoubleClutch.ca Magazine team. As huge fans of the current C and E-Class range (reviewed here), would the CLA be able to do as well as its bigger siblings?
Dressed to impress, the Hungarian-built CLA 250 imparts swoopy, fastback styling that more closely resembles a two-door coupe than a four-door sedan. It's a much smaller version of the pretty-boy CLS (reviewed here), and the price is reflected accordingly. Starting at a base price of $37,500 in 4MATIC all-wheel drive form, the CLA is the second-cheapest way to get into a Mercedes-Benz product, next to the B-Class. The test car had a series of options that upped the style ante, including a $1,600 Sport Package that added 18-inch alloy wheels and cross-drilled brake rotors.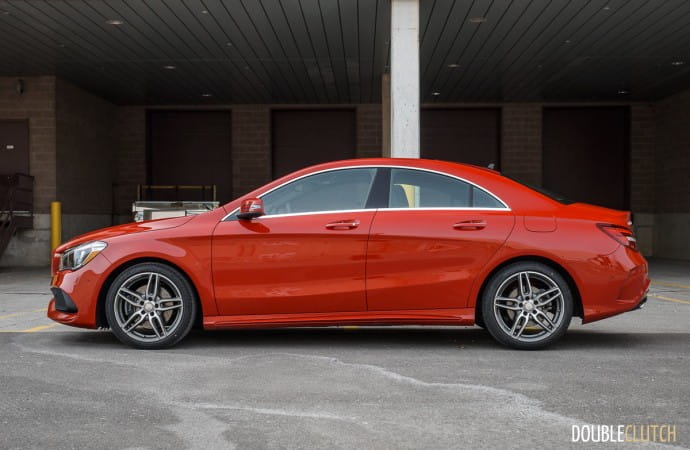 For $1,600, the Premium package added automatic climate control, Android Auto and Apple CarPlay support, blind spot monitoring, rear view camera, and an upgrade to an eight-inch central display. The $2,100 Premium Plus package adds an integrated garage door opener, keyless go with pushbutton start, LED headlamps, power folding side mirrors, and an autodimming rear view and driver's side mirror. In terms of standalone options, a $1,480 panoramic sunroof is on board, and the autonomous Park Assist with Parking Pilot cost an extra $900. The as-tested price ballooned up to $45,430, which isn't an insignificant amount of money, but doesn't look so bad considering the C-Class starts at $44,000.
Inside, the Mercedes-Benz CLA follows its compact profile on the outside. Four adults will find adequate room for themselves as long as they're not too tall, and in the event that three passengers get stuffed in the back, they'll be fighting for hip, head, and shoulder room. Front seat occupants will find well-bolstered seats with a one-piece seatback that more resembles a racing seat than a luxury couch. With plenty of adjustability (power controls for driver only), a comfortable driving position was easy to achieve, especially with the thigh bolsters that could be moved fore and aft. Considering the size of the car, the trunk is impressively useful, and the CLA had no problems fitting an entire set of tires needed for the seasonal tire change.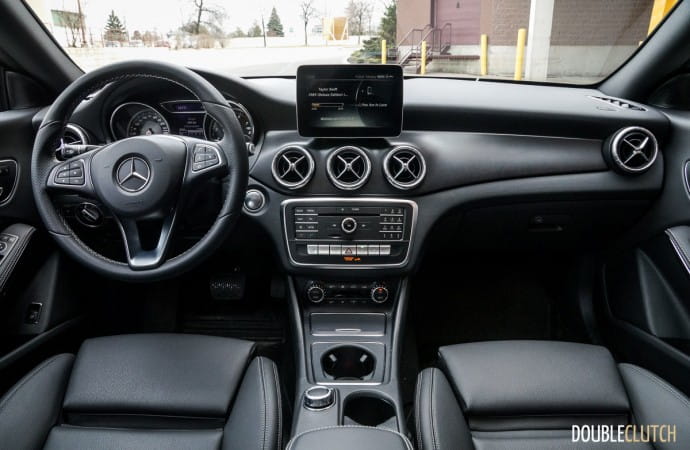 The design of the CLA's interior follows the current Mercedes-Benz design language, but does make some sacrifices in material selection. While it does look quite attractive, the plastics are harder and the touch points – things like armrests and switchgear – aren't the same as the more premium C 300 (reviewed here) and E 300 sedans. Thankfully, the controls for the infotainment work well, and the control knob on the centre console means operation is easier than a distracting touch screen when on the road. Having Android Auto and Apple CarPlay functionality is also very useful, as it allows full navigation, messaging, and music mirroring with a consistent, easy-to-use interface.
Powering all forms of the CLA 250 is a transversely-mounted 2.0-litre, turbocharged four cylinder engine. Available in both front and all-wheel drive form, power output is 208 horsepower at 5,500RPM, and peak torque is 258 lb-ft between 1,200 and 4,000RPM. Combined with this powerplant is a seven-speed dual clutch transmission that Mercedes calls the 7G-DCT. As with other gearboxes of this type, shifts are quick and crisp, with minimal delay in between each ratio.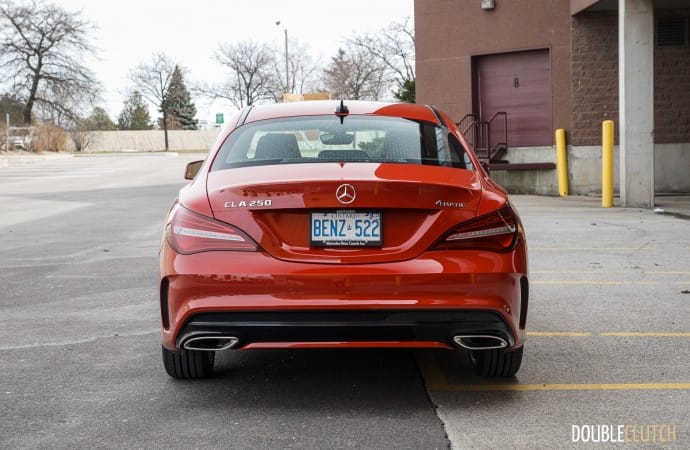 When cold, the transmission shift quality isn't as smooth as it could be, but after a few minutes, things get considerably better. Typical to DCT-style transmissions, launches from a stop are also not the smoothest. Power delivery is linear and smooth, with minimal turbo lag to report, and the engine isn't afraid to take advantage of the turbocharger to get up to speed.
Even with a good amount of boost from the turbo, fuel economy is still reasonable on the CLA 250. With nominal ratings of 10.0L/100km in the city and 7.2L/100km on the highway, observed fuel economy split both values at 9.0L/100km in mixed driving. As expected, premium fuel is required, and fuel capacity is 56 litres. Compared to front-wheel drive models, the 4MATIC all-wheel drive system does have some effect on fuel economy, as front-drive cars are rated for 9.6L/100km city and 6.4L/100km highway –buyers will need to consider if the extra traction is worth the extra fuel cost.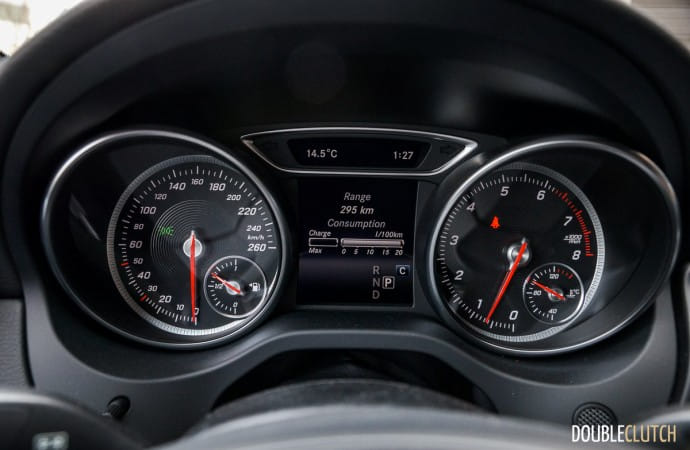 On the road, the CLA 250 proved itself to be a fairly competent handler while still maintaining a reasonably compliant ride. With the 18-inch wheels equipped, the ride is typically firm for a European car, but body control is excellent, with zero wallowing when going over bumps at speed. Steering is light with minimal feedback, but it's configurable in addition to engine and transmission aggressiveness with the Dynamic Select function.
For just about the whole test week, the engine was left in Eco, the transmission in Comfort, and the steering in Sport. Brakes were confidence inspiring and hauled the CLA 250 to a stop without any fuss, and grip levels were also high. As is typical for a front-wheel drive based chassis, the CLA had a tendency to understeer at the limit.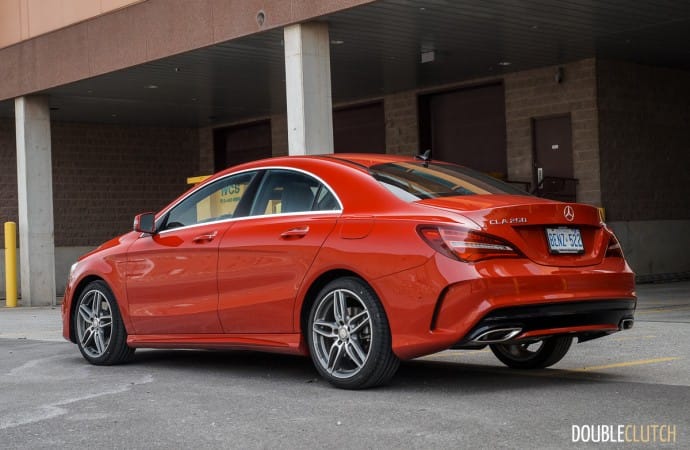 When considering the sum of its parts, the 2017 Mercedes-Benz CLA 250 4MATIC is a good effort by the German automaker. While it doesn't have the best interior material quality, it does have arguably the best exterior styling in its high-volume segment, and is one of the most affordable ways to get into the Mercedes lineup. The Audi A3 would be the closest rival inside and out, and can be priced to similar levels. In order to do better, a significant amount of extra money ($10,000 or more) would have to be spent on equipping the larger Mercedes C-Class to similar levels. If that's within the budget, it should be strongly considered, but if not, the CLA 250 is still an enticing piece of kit.
2017 Mercedes-Benz CLA 250 4MATIC Gallery
See Also:
2017 Mercedes-Benz C 300 4MATIC