Very few cars have received the hype and fanfare enjoyed by the 2017 Ford Focus RS. For several years prior, it was forbidden fruit for North American markets – only Europe got to enjoy the most bonkers versions of the Focus. Canadians and Americans alike got a tease for a few years with the turbocharged front-drive ST, but the addition of the RS means a true contender to go up against the likes of the all-wheel drive Volkswagen Golf R (reviewed here) and Subaru WRX STI. Recently, Ford Canada handed over the keys to a Nitrous Blue Quad-Coat 2017 Ford Focus RS for a week of testing. Equipped with Michelin Pilot Alpin PA4 winter tires, there was coincidentally plenty of snow in the weather forecast, giving a great opportunity to test out the much-talked about all-wheel drive system!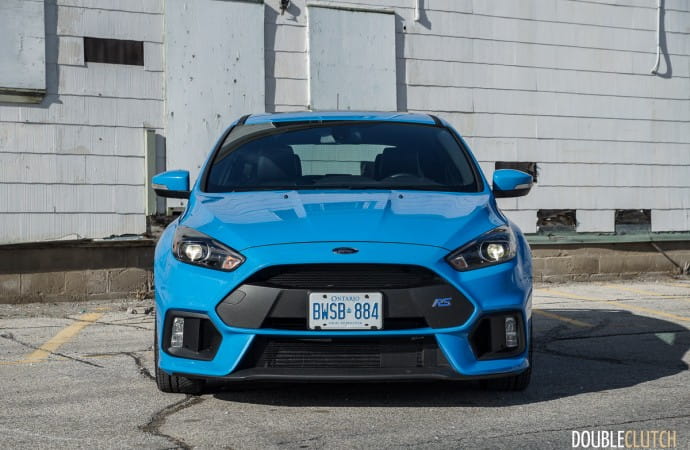 With a base price of $47,969, Canadian-spec variants of the Focus RS only come one way – fully loaded. With the Nitrous Blue being the only $995 option, the as-tested price of $48,964 seems a little high on the surface, but cars shipped north of the border include SYNC 3 navigation with Sony audio, Android Auto/Apple CarPlay, Recaro front seats, heated steering wheel, power moonroof, and 19-inch wheels as standard equipment. The Americans make do with most of these features as optional, but benefit from a lower price of entry. Additionally, today's modern safety suite of features is not available – there's no blind spot monitoring/lane keep assist, forward collision warning, or adaptive cruise control. Some may see this as a blessing (no nannies!) or a curse (doesn't help the price situation).
Powering the Focus RS is a variant of the 2.3L EcoBoost turbocharged four cylinder engine seen in the Mustang. Rotated ninety degrees in a transverse layout, it spits out 350 horsepower at 6,000 rpm and 350 lb-ft of torque at 3,200 rpm – if you're using premium 93 octane fuel. With direct fuel injection and all-aluminum construction, it's a serious amount of output given its displacement. In the real world, the EcoBoost moves the 1,574 kg (3,470 lb) RS with complete authority, reaching breakneck speeds in very short order. Turbo lag, a given at this level of power output, is present, with a strong surge coming in a few moments after heavy throttle is applied. When driving aggressively or when at the track, keeping the engine in the upper rev range largely negates the problem, but when around town, lower gears may be needed to keep thrust in its sweet spot.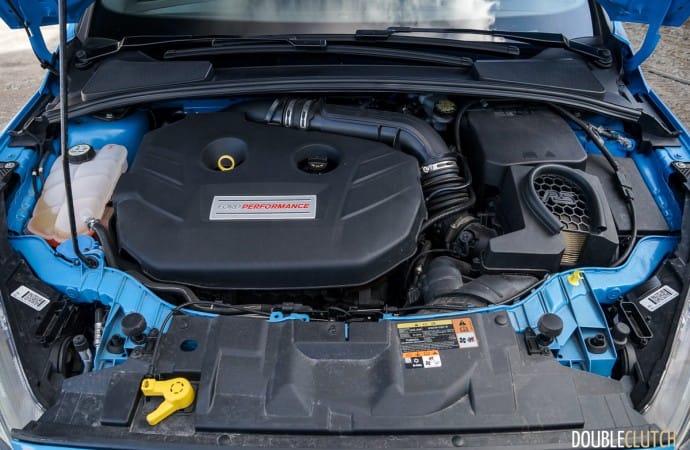 Nominal fuel economy ratings for the RS come in at 12.2 L/100km in the city, and 9.4 L/100km on the highway. With a bias towards more highway driving, combined with copious amounts of hooning in the snow, observed economy split the two numbers at 10.7 L/100km using 93 octane fuel. With a heavy foot, expect much heavier consumption than the norm. Fuel capacity is 52.6 litres, and while this is 5.7 litres more than the normal Focus (including ST), the RS' extra consumption means that unless all driving is done on the highway, 400 kilometres of range per tank will be a bit of a stretch. Start-stop technology is included and can help with consumption in the city, but the system was noticeably laggy in its use. Engaging first gear and launching before waiting a second after engine turn-on meant a definite stall!
Moving downstream along the drivetrain, the EcoBoost RS on test was paired to a six-speed manual transmission. With close ratios, a slick shifter, and a forgiving clutch, the RS was fun to drive in all sorts of conditions – it was never punishing in a traffic jam, yet gladly kept up when maximum performance was requested. Heel-toe downshifts were satisfying and relatively easy to achieve, and the shifter's position was very well placed. As has been typical with Ford's high-performance products, throttle response out of the drive-by-wire setup was superb. There was practically no filtering of inputs during rapid changes in throttle position, and the tip-in was linear and lag-free.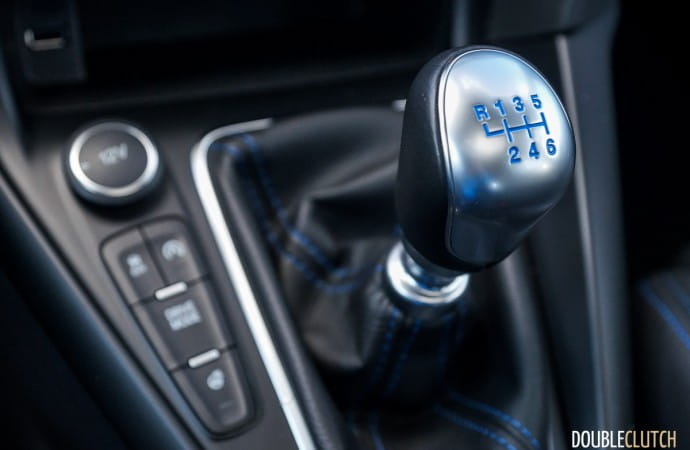 After the transmission, a trick torque vectoring all-wheel drive is the highlight of the Focus RS. Unlike most of today's "dumb" AWD systems, it's able to transfer power between both front/rear axles, as well as between left/right corners in real time. Seventy percent of the torque can be sent to the rear, and the entirety of that torque shift can be sent to an individual rear corner. With power sent to the outer rear wheel proportional to steering and throttle input, the Focus is basically sucked into a corner without any sort of understeer. This is contradictory to traditional AWD systems, which can understeer like front-wheel drive under aggressive corner exit acceleration.
On the street, this may not mean very much, but in a performance driving situation, the Ford Focus RS became an absolute force to be reckoned with. One merely had to point and shoot the car in the direction of travel, and the torque-vectoring AWD took care of the rest. There were several driving modes to choose from that varied the levels of traction and stability control, as well as the front-rear bias of the all-wheel drive system. There's been a lot of buzz about Drift Mode, and with winter tires and a big snowstorm in Toronto during testing, it came in great handy. With Drift Mode engaged, it was practically child's play to have the Focus RS spinning like a top with Ken Block Gymkhana-caliber donuts – simply crank the steering wheel and let it rip. Remember, though, that having the mode on won't make drivers magically gain drifting ability.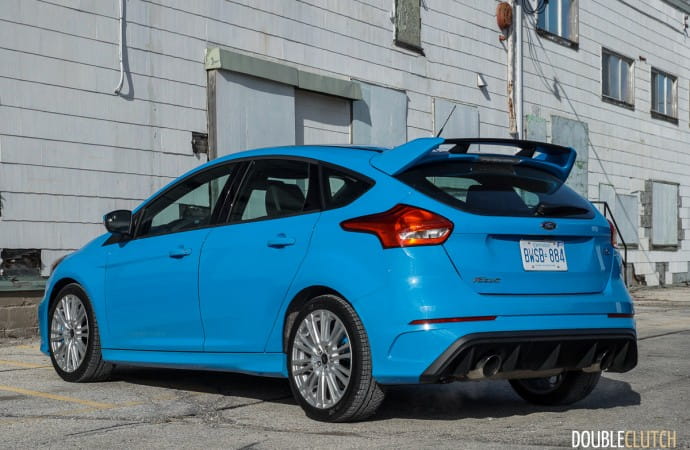 Aside from the wonderful powertrain and Drift Mode, steering feel was a strong point in the RS, with a quick ratio helping turn-in. It's as good as electric power steering assist systems come, but all the performance tweaking came a comically large turning radius as a side effect. For such a small car, the Focus RS felt more like an F-150 (reviewed here) when maneuvering in tight spaces. Among other things, the included Brembo brakes ensured that deceleration needs were well-taken care of, and pedal feel was well-sorted out. The suspension also had variable damping; Sport mode will rattle your fillings out, and Normal mode was a bit more manageable and similar to archrival Subaru WRX STI (reviewed here). Both cars are a bit stiffer than some might like for daily driving, but they do so with an ultimate performance bias in mind.
Inside, Ford's latest Sync 3 infotainment gained Android Auto and Apple CarPlay support for 2017. This allowed mirroring of most smartphones and seamlessly integrated Google/Apple Maps, messaging functions, and Spotify/Google Play Music/Apple iTunes with the phone's voice command functionality (yes, that means Siri). The leather-trimmed Recaro front seats did an admirable job of keeping butts of various sizes planted while hooning, but do be aware that stretch-out room will be limited. For longer trips, this may mean more frequent stops in order to prevent soreness. The centrally-mounted trip computer on the gauge cluster didn't offer as much information and gadgetry as was found in the Mustang GT and Shelby GT350 (reviewed here), and was oddly laggy in its use. On the plus side, a series of three gauges atop the centre stack read out oil temperature, boost, and oil pressure readings kept drivers well-informed about the engine's vitals.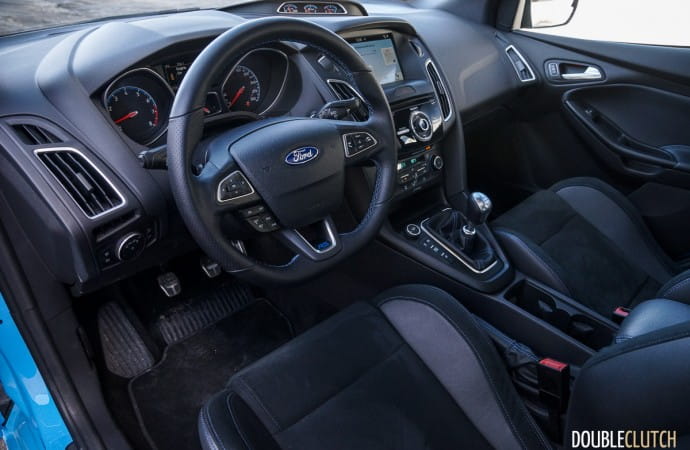 Overall, the 2017 Ford Focus RS definitely won over the hearts of many. It's an unadulterated performance machine for the ages, complete with an uncanny ability to do well in performance driving. On the flipside, it also has some shortcomings in street driving when it comes to ride and seat comfort, fuel tank range, and turning radius. It does manage to blow the Subaru WRX STI out of the water in almost every category, and isn't any less comfortable for daily use. The Golf R is another hot hatch that's a favourite, most suited for those who want a little more comfort and luxury at a lower price, even if it means getting spanked at the track. As a wildcard, the rear-wheel drive Ford Mustang GT coupe with Performance Package is priced similarly to the Focus RS – in this case, it'll depend on personal preference and the need for usable space. Amongst all of the competitors that the RS goes up against, each car strikes its own balance and has its own merits. There's something for everyone out there – it's a great time to be a car enthusiast.
2017 Ford Focus RS (Winter) Gallery
See Also: