The year 2017 has already marked itself as a year of great change, as multiple automakers are trying to keep up with the fast-paced markets. Ford has given much of their fleet a facelift in recent years, though the Super Duty series has become somewhat dated, until now. The 2017 F-Series Super Duty trucks have received a well-deserved upgrade, both cosmetically and mechanically.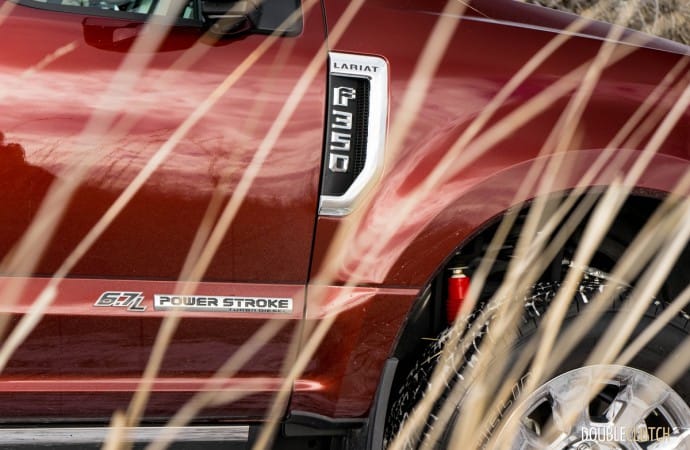 I tested the 2017 Ford F-350 Super Duty Lariat, the mid-point trim level lineup. Ford offers a multitude of personalization options when configuring your own truck, meaning your truck can range anywhere from the $55,000 base price to north of $90,000. Our tester in particular was the F-350 Lariat Crew Cab, with a 6 3/4 bed, powered by the 6.7L PowerStroke Diesel V8 motor.
The new F-350 is anything but small, as the redesign actually increases the overall size over the previous generation. Even though it's a little bit bigger, these new trucks have shaved hundreds of pounds thanks to the all-new lightweight aluminum body panels, similar to those found on the new F-150 (reviewed here). Now because of the pound-shedding body panels, the new frame rails and cross-members are made substantially larger and made of 95% high-strength steel, allowing for greater hauling and towing capacity.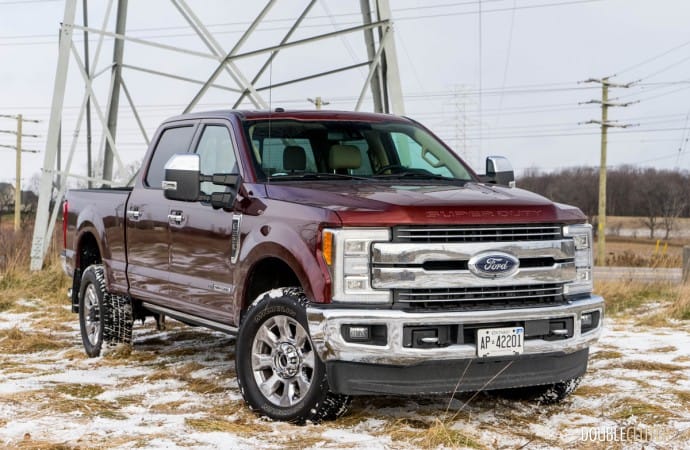 Of course, a giant truck would be nothing without a properly large engine underneath the hood to get it moving along. The F-350 comes standard with a 6.2-liter gasoline V8 that puts out 385 horsepower and 430 lb-ft. of torque. Those looking for an increase in power can opt for the 6.7L PowerStroke diesel engine with 440 horsepower and an immense 925 lbs.-ft. of torque. Our tester, equipped with the diesel engine, mated to the TorqShift six-speed automatic gearbox, felt responsive and very smooth. The gasoline V8 would be acceptable in most general use cases, however this diesel motor is the optimal choice for any heavy lifting, thanks to the staggering amount of torque available when hauling substantial loads.
When properly equipped, the F-350 Is rated to tow trailers up for 18,000 pounds when optioned with the single rear wheels. Trucks with the double rear wheel setup (known as the "dually") are rated to tow 22,000 pounds. As expected, the stronger suspension aids in carrying more weight, however the ride quality suffers when driving with an empty bed as the stiffer suspension recognizes every bump along the way, and transmits it to the cabin.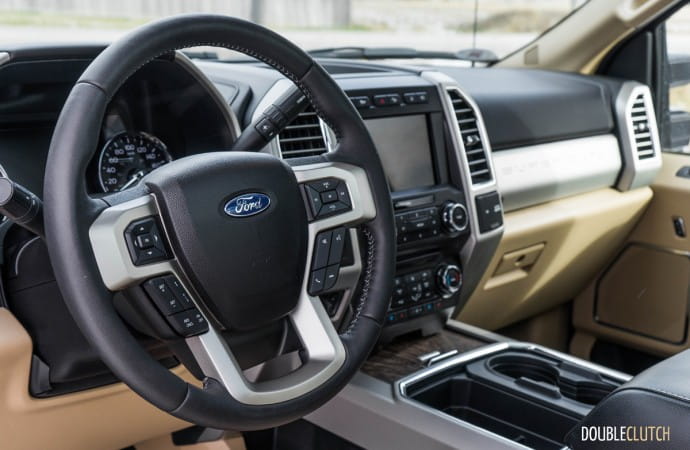 Now, this isn't to say that the F-350 lacks comfort. Passengers can enjoy ample legroom thanks to the larger Crew Cab, which is three inches longer than the outgoing model. Premium Camel leather seats embrace passengers in a soft luxurious manner, while black leather along with satin wood accents help contrast the lighter colour of the interior. The front bucket seats prove to be as comfortable as well, with the option of heating or ventilation. The 10-way power adjustable seats along with power-adjustable pedals make it easy for any driver to find a good driving position.
The Lariat Ultimate Package ($5,675) takes the level of luxury to another level, adding a massive twin-panel moonroof with a retractable shade, which gives the cabin a more open feeling. Also, included are some power options that make living with the F-350 a little more convenient, such as intelligent access with push-button start, driver's memory seating, and power telescopic steering with a wheel. This package also adds a feature not found within the cabin; a class exclusive tailgate step that stows away in the tailgate and provides an easy way to step into the bed.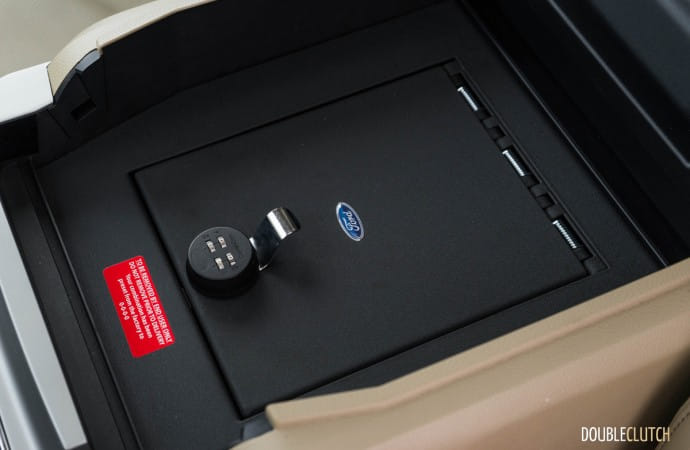 As an added security measure, for those looking to keep valuable information or materials within the truck can opt for a built-in safe made by Console Vault ($450), found within the front centre armrest console. Owners are instructed to implement a 4-digit code that ensures belongings are kept secure at all times – a very neat feature.
The SYNC 3 (reviewed here) infotainment system flourishes just as it does in other newer model Ford vehicles. It's a responsive unit with properly functioning voice recognition (surprisingly rare these days!), along with the 8" touchscreen. Drivers can also use a digital productivity display at the centre of their instrument cluster to display useful information like fuel efficiency and towing data.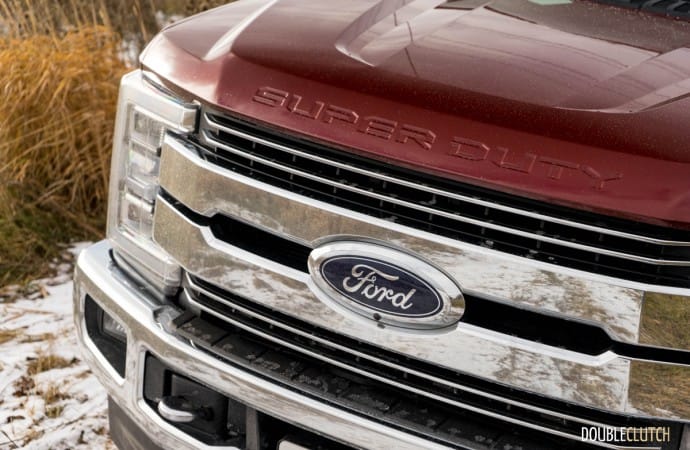 Not everyone feels comfortable driving such a large truck, which is why Ford has implemented some safety features that make manoeuvring this beast just a little bit easier. A total of seven cameras can be optioned as part of the Ultimate Trailer Tow Camera System ($1,000) to help visibility. One camera is mounted on the grille with the option of utilising a 180-degree field of view. This comes in handy when trying to pull off a spot with limited visibility. Other cameras are placed around the truck to provide a full 360-degree view when manoeuvring in tight areas.
The camera system also includes rear-mounted cameras as well as sensors to assist when reverse parking with a trailer attached. Rear-view cameras can be found on the tailgate as well as above the rear window. Blind-spot monitoring and a rear cross-traffic alert system ($650) help drivers stay clear of potential collisions, along with adaptive cruise control with collision warning and automatic emergency braking ($1,500), plus lane departure warning.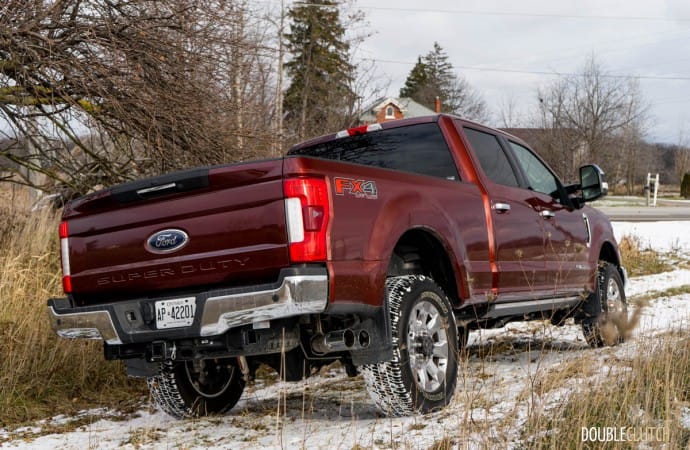 Whereas the outgoing Super Duty series trucks were nice, the lacked some luxury amenities, which competitors boasted quite well. The exterior design is where it truly shows how nice of a job Ford has done producing the Super Duty. New optional quad-beam LED headlamps, fog lamps, and tails ($1,200) act as the new signature design that unmistakably distinguishes this F-350 from the herd. An available Chrome Package ($1,350) adds some shiny new 18-inch chrome PVD wheels, body-coloured door handles with chrome inserts, dual chrome exhaust tips, chrome pickup bed tie-down hooks, two front chrome tow hooks, and unique chrome mirror caps.
The badging for the new Super Duty trucks has also changed, and now the F-350 lettering is vertically stacked on either side on the front quarter panels in bright chrome. The front fascia is as in your face as you would expect from a Super Duty, sporting a larger chrome grille with a very present Ford logo, with the marque Super Duty embossed into the hood.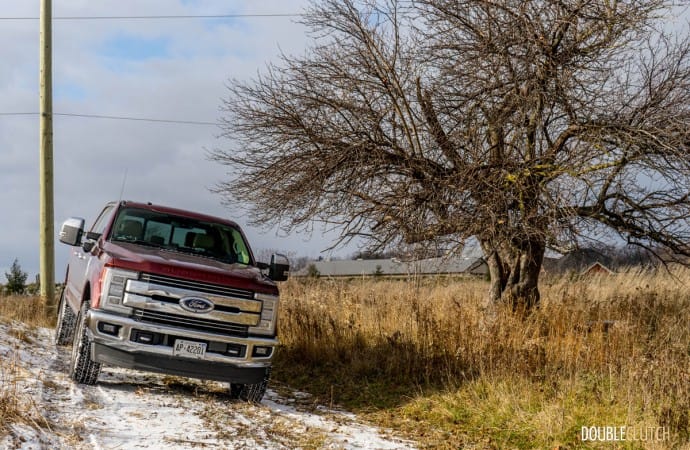 With the height of this trunk taken into consideration, Ford offers a few different fixed side-step options, but they also offer Power-Deployable running boards ($950) that neatly tuck away when not in use. All the parts that aren't chrome are painted in a beautiful Bronze Fire red. The additional FX4 Off-Road package ($450) equips the trunk with functional features such as Hill Descent Control, Rancho shocks, a transfer case and fuel tank skid plates, plus unique "FX4 Off-Road" box decals.
I think Ford truly hit the nail on the head here. They've designed a heavy-duty truck that can both act as a workhorse as well as a luxury family hauler, so much so that this truck has the potential of luring brand-loyal customers away from other manufacturers. An F-350 Lariat starts with a base price of $60,749, and adding the 6.7-liter PowerStroke Diesel engine with 4×4 capability you're at $72,199. This 2017 Ford F-350 Super Duty Lariat comes to an as tested price of $88,743.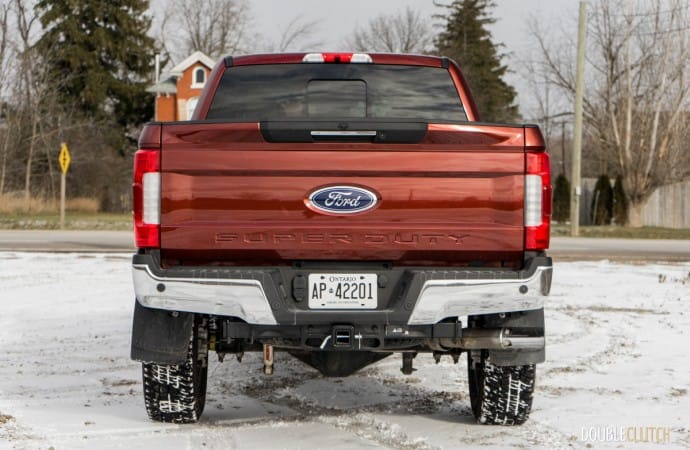 Adding all the options that make this truck desirable increase the price tremendously, not to mention these options make it so nice that I would hesitate bringing it onto a job site. This isn't the truck for your average contractor or even truck enthusiast who will modify it. With a price approaching $90,000 and observed fuel mileage close to 16L/100km, this is the model that the owner of a construction company or a builder will own – a vehicle that displays status and success while maintaining all of the capabilities of a heavy-duty truck.
2017 Ford F-350 Super Duty Lariat Gallery
See Also: