Adding the "Sport" nomenclature to an otherwise "normal" car is broaching on risky business. It causes driving enthusiasts, to pull on our 'we'll-see-about-that pants' so we can go for a judgmental spin. Now, when it comes to front wheel drive economy sedans, we're generally filled with more opinions than a second year liberal arts major, but for the sake of testing the 2017 Hyundai Elantra Sport, we put all of it aside and tried to find out if this car is more than just a marketing exercise.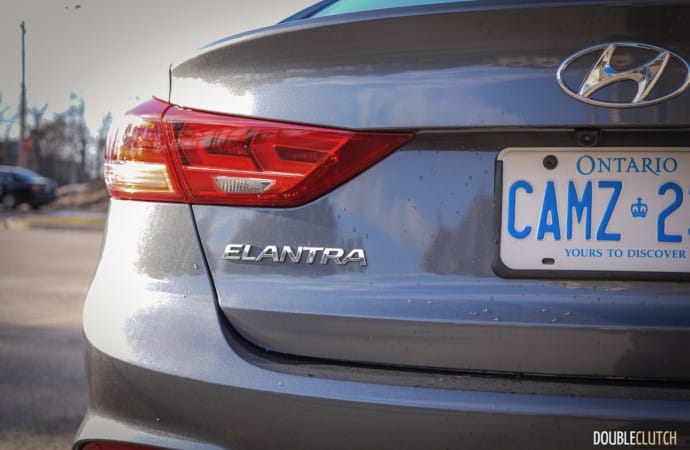 On a usual day, the performance and 'feel' of a sporty car is always where the driver's attention first goes. After driving this car for only a few kilometers, your writer was distracted by the Elantra Sport's impressive value. This particular test car, coming in at $24,999, boasted some goodies that could easily set it apart from the sea of other cars touting themselves as "sporty".
The interior of the Elantra Sport is well laid out and centred around an aggressively designed (and heated) flat-bottomed steering wheel. The wheel fits your grip nicely, and encouraged proper nine-and-three hand positions while driving. The dials in front of the driver are easy to read, and are coupled with a centre digital display, which shows speed, fuel economy, and driver sub-menus. The 7" touch screen, complete with Apple CarPlay, and Android Auto is a sensible distance from the driver, and easy to navigate. The seats are decently bolstered, leather, heated, trimmed in red stitching, and are completed by the word "Sport" embossed in the seatbacks – nice touch.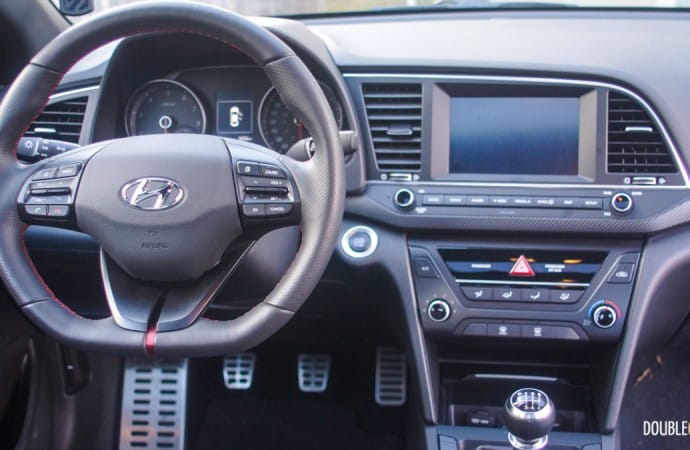 Even at the base level tested here, the Elantra Sport includes a blind spot warning system, and a back-up camera as well. There are a few too many hard plastics, and the steering wheel controls were a bit jumbled and difficult to decipher, but realistically this is grasping at straws in a car with this price point. One thing that Hyundai did get bang-on right is the seating position. The wheel tilts and telescopes, and when coupled with the plentiful seat adjustments, allow the driver to find a near-perfect driving position. With the wheel perfectly positioned, most will be able to reach the pedals and shifter with the proper bend in all limbs; this is an absolute necessity in a sporty car.
The performance-oriented design extends to the exterior, with an aggressive front fascia, 18" wheels and low-profile 225-section width tires. The back end of the car boasts a rear diffuser and twin exhaust outlets. "Sport" and "Turbo" badges adorn the front and rear, and HID headlights light up the road ahead. From any angle, the Elantra Sport reminds you that it aims to stand out from its non-Sport brethren (reviewed here).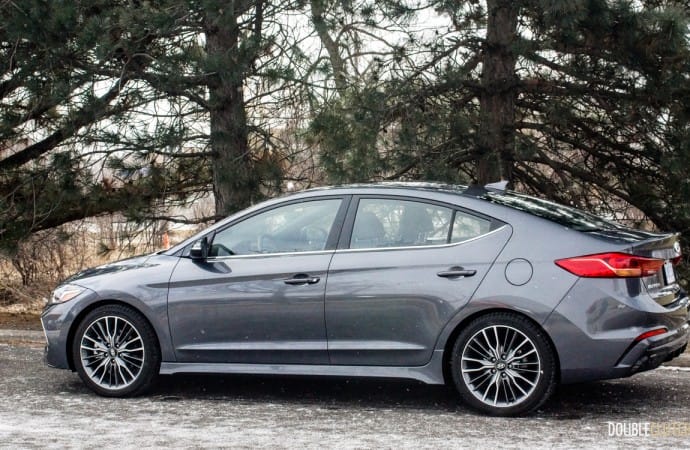 When planning a Sport version of the standard Elantra, one of the biggest things that catch attention is that Hyundai spent the time to develop a multi-link rear suspension set-up instead of a rear torsion-beam, as is seen on the standard Elantra (reviewed here). This isn't something that the average car buyer is going to notice while sitting in a drive-through, or searching for a parking space on Sunday at Costco. However, it does show that Hyundai put more effort into this car than just a flat-bottomed steering wheel and some bigger wheels. The Elantra Sport is all the better for it; the ride is controlled and planted, albeit on the stiffer side, with minimal body lean in corners, and a noticeable feeling of composure at higher speeds.
This model is equipped with a six-speed manual transmission, but an optional seven-speed dual clutch transmission is available for $1500. The shifter has a positive feel and fairly short throws, but the clutch pedal is very numb, and you get the sense that the car is humouring you, by allowing you to shift gears. Moving up and down through the gears is so void of drama or engagement that you may just forget you are driving a manual.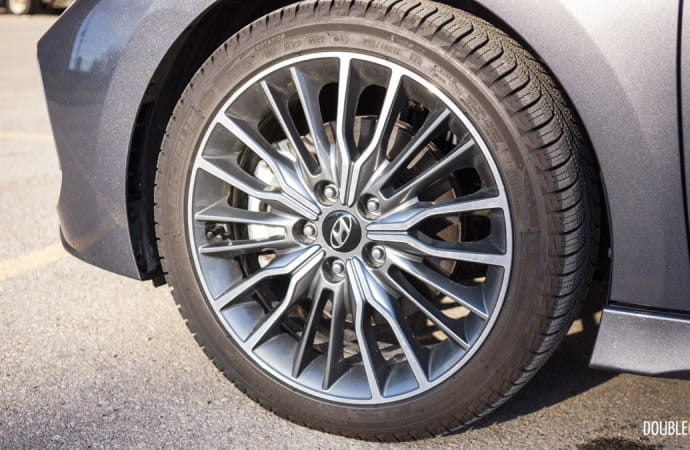 The steering is a similar story with its light feel, and very little feedback. Some weight is felt in sweeping corners, and occasionally a whiff of torque steer, but what we really wanted to see was more steering engagement in this sportier model. That being said, the car had no problems going where it's pointed, and the relaxed demeanour is a godsend when commuting on an everyday basis.
The 1.6L turbocharged inline four-cylinder engine pumps out 201 horsepower and 195 lb-ft of torque. The powertrain won't astonish, but it has a genuinely satisfying torque curve, encouraging you to run out the gears for fun. It has just enough punch to scratch the performance itch, and still have some left over to pass that annoying minivan on the way to work. The punchy exhaust note is almost reminiscent of the Fiat 500 Abarth (reviewed here), and it isn't for everybody, but props to Hyundai for balancing exhaust volume and intake noise. All things considered this is a fairly quick little car, and with minimal turbo-lag drivers won't find themselves wishing for more punch when merging onto the highway, or overtaking on a back road.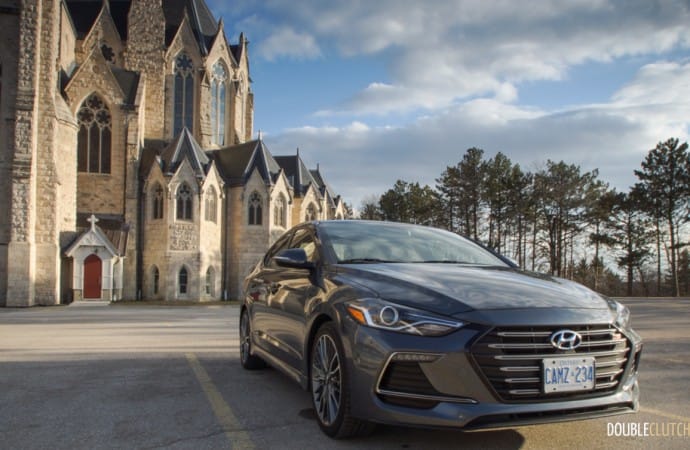 Fuel economy figures are slated at 10.7L/100km in the city, and 7.8L/ 100km on the Highway. Even with a fat and heavy right foot, it's not difficult to manage an average of 9L/100km with mostly city driving. With certainty we can promise that the car is capable of better numbers, especially with the prompt on the instrument cluster – which recommends upshifts for optimal efficiency.
Could the Elantra Sport be considered a true performance car? Not quite – it lacks engagement in certain critical areas, but it IS a satisfying and sporty machine to use every day. If Hyundai fixed the steering, and even potentially considered adding an AWD system, this could be a performance car. The 2017 Hyundai Elantra Sport is a long way from taking on any German sport sedans, but you can think of it as an eager freshman, surrounded by seniors. The intentions are pure, and with a bit of guidance (and good-natured heckling) it may soon be befitting of its "Sport" badge.
Take Two: 2017 Hyundai Elantra Sport Gallery
See Also: