SAN FRANCISCO, CALIFORNIA – For motoring enthusiasts, regardless of season, rain or shine, there's little that matches up to the fun factor of a traditional two-seat rear-drive roadster with a manual transmission. Though, with the manual slowly being phased out industry-wide, stepping into one of these iconic machines is becoming more and more of a privilege. On a recent trip to California, our friends at Mazda were kind enough to offer up the keys to something that's extremely close to my heart – this 2017 Mazda MX-5 Grand Touring, painted in a stunning shade of Ceramic Metallic, almost with a pearl effect.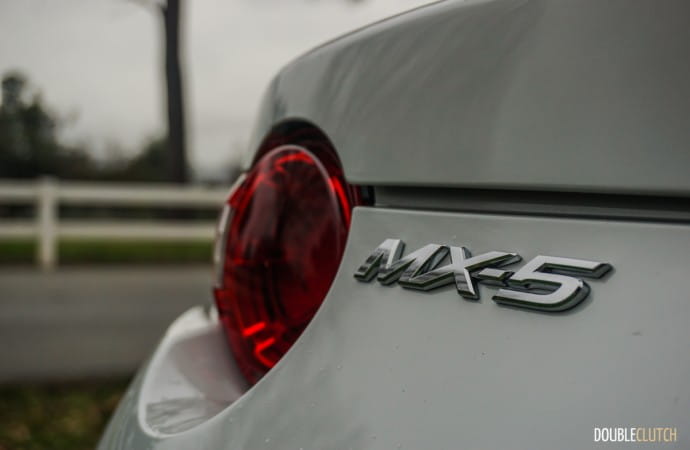 The second-generation of the MX-5 (no longer officially called the Miata) was larger than its predecessor, and the third-gen (2006-2015) was even bigger and heavier. This fourth-generation car, introduced in mid-2015 as a 2016 model, goes back to its roots by shedding lots of weight. This doesn't come at the expense of safety though, as the MX-5 earns itself high regards in this area. Mazda has done away with the inoffensive, happy face of the previous models in favour of a more aggressive, cheeky grin, almost appearing evil in nature. LED daytime running lights are a natural fit in the beautifully sculpted bumper, and the hood/front fenders also pack some muscle, visible from the driver's seat.
Power is down from the old model; the rear wheels are driven by the 2.0L SkyActiv-G motor that powers the entry-level Mazda3 (reviewed here). In this application, it pushes 155 horsepower at 6,000RPM and 148 lb-ft. of torque at 4,600RPM. The 13.0:1 compression ratio, which explains the requirement for premium fuel. Though the new MX-5 packs less actual power than the outgoing model, it pulls impressively to its 6,800RPM redline. The biggest improvement we note is the low-end grunt; this has been significantly improved. This means the MX-5 is no slouch and is a blast to zip around on city streets.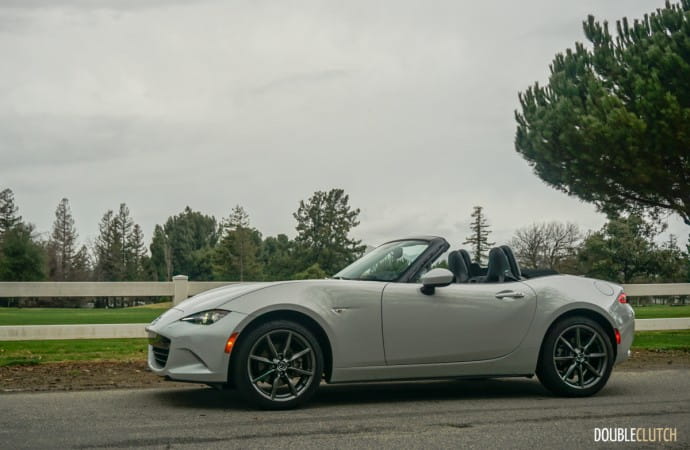 Not only did we get a proper chance to evaluate the car's nimbleness in a city setting, we had the opportunity to open it up in some of the twisty roads north of the city, in Marin County. Incidentally enough, just three years ago we did this exact same drive in a previous-generation MX-5, and the engine response in the new model (codenamed "ND") is so much better. An automatic with paddle shifters is available, but the only way to have an MX-5 is with the six-speed manual transmission equipped here. It's a stellar transmission, with light and short throws on the shifter and near-perfect clutch engagement.
Of course, what truly makes cars like this appealing to purists is the handling, and the MX-5 does not disappoint in this regard. It offers near-perfect weight distribution, and this model also has a limited-slip differential, Bilstein shock absorbers, and a strut tower bar. The steering is electrically assisted and is no match for the previous generation car, but the car handles better overall, if with marginally less feel. The car corners like it's on rails, and if pushing really hard with the stability control systems off, the rear end is more than willing to dance.
Mazda suggests 8.8L/100km city, and 6.9L/100km highway with the manual transmission. We weren't trying to hypermile by any means, and did a good chunk of city driving up and down the hills of San Francisco, not to mention some highway driving on the Pacific Coast Highway just outside of the city. Factoring in our magazine road tests at least five vehicles per week, it's a rare occurrence for a car to best the manufacturer ratings. In a flabbergasting turn of events, the MX-5 achieved 6.7L/100km over the course of this test.
Ergonomics inside the smallest model in Mazda's current lineup are excellent, with a near-perfect driving position. Considering the car's very small size, those over six feet tall like myself will have issues getting in and out. I'm a perfect fit, but a colleague at 6'4 absolutely cannot fit in the MX-5. Passenger space is a premium too, as the driveshaft digs into the foot well. The controls and switchgear are all easy to use, and the infotainment, centered around the HMI Commander located right beside the shifter, is quick and responsive. Lastly, there is no glove compartment; the only storage area is a small compartment between the seats.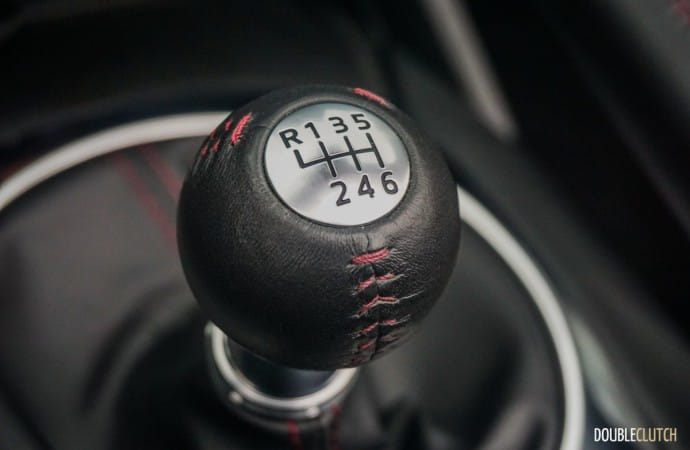 This is the highest trim level MX-5 one can have right now without stepping up to the beautiful RF, with its targa top. As such, Mazda has included all of the gizmos deemed necessary, which includes blind spot monitoring, heated leather seats, navigation, and a Bose stereo system with speakers in the headrests. Connectivity includes Bluetooth, SD card-based navigation, and there is finally a USB port in the MX-5. When the car is not in motion, the screen can respond to touch. What Mazda's system is still missing is smartphone connectivity like Apple CarPlay and Android Auto. Incorporation of this tech will render this system best in the mainstream segment.
The previous model's power-retractable hardtop (PRHT) has been eliminated to save as much weight as possible, and in its place is a cloth convertible top that's weather-tight and very easy to use. Rather than dealing with complicated electronics that can fail, this top just requires one hand to flip back into the storage area, and it bounces back up with the same level of ease. We understand the weight savings concept and are on board with it 100%, but the MX-5 could use an extra layer of lining in the top. There's quite a bit of interior noise with the top in place, and heat insulation isn't great.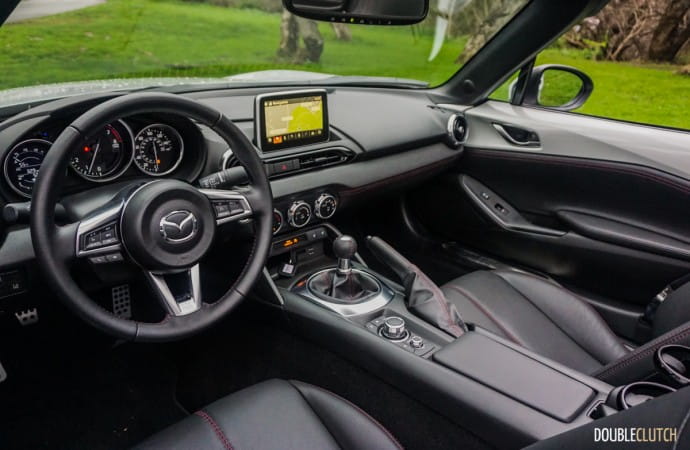 Base MX-5 GX models start with Mazda's "all-in" pricing at CAD $33,807. Our fully loaded Grand Touring tester, with the optional paint ($200) and the standard gunmetal wheels, came in at just over $40,000. This puts it right in line with the Nissan 370Z (reviewed here) with optional packages, or a little bit more than either of the Subaru/Toyota twins.
Cars designed for purists are slowly becoming a thing of the past, and this is a saddening concept. The car-buying public would much rather buy all-wheel-drive crossovers with hybrid powertrains than a traditional sports car with a manual transmission. Rivals like the Toyota 86 (reviewed here) and its sister, the Subaru BRZ are excellent contenders if open-top driving isn't a priority. Personally, a car like this would be a weekend driver and track toy for me, and the 2017 Mazda MX-5 Grand Touring is a frontrunner amongst all of its competitors. In fact, short of the Porsche 718 Boxster (reviewed here), the MX-5 just might be the best two-seat roadster money can buy.
2017 Mazda MX-5 Grand Touring Gallery
See Also: