Since boldly breaking into the North American market in 1989 with the flagship LS 400 sedan, Lexus has established itself as a respectable luxury marque. They've incrementally become more of a premium product, and nowadays it wouldn't be fair to consider them to be Toyotas dipped in gold. The midsize GS range has always been a formidable alternative to a BMW 5-Series or Mercedes E-Class (reviewed here). For many years, inline-six and V8 power were available in a package that, in hindsight, could be considered by many to be underrated. Today, the 2017 Lexus GS 350 F-Sport AWD still does battle in the same niche. Combined with an impeccable record for reliability and longevity, we wanted to determine whether the GS was able to hang with the heavyweights from Germany. At first glance, this seems like an insurmountable challenge, but Lexus' talented engineers have a few aces up their sleeve.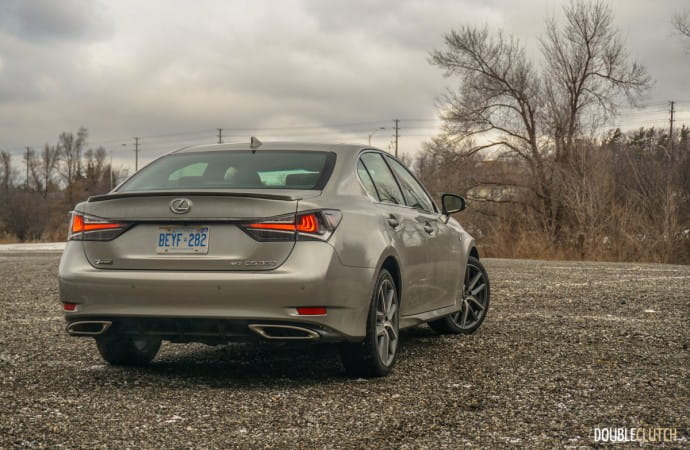 For the GS 350 AWD, the base price was $58,200, but the test car included the F-Sport Series 2 package, which bumped the as-tested price to $68,800. At this equipment level, features include seventeen-speaker Mark Levinson audio, head-up display, a sporty appearance inside and out, premium LED headlamps, blind spot monitor and cross traffic alerts, air conditioned front seats, and 19-inch alloy F-Sport wheels, among other options. This makes the GS very competitive against the likes of the new Mercedes-Benz E300 4MATIC, Volvo S90 T6 Inscription AWD (reviewed here), and BMW 540i xDrive. For those who want a more subdued look and softer ride, there's the Executive Package priced at $69,450, which adds a power rear sunshade, power trunk closer, more premium leather seating, and heated rear seats.
Powering the GS350 F Sport is a 3.5-litre V6 (known as the 2GR-FKS) packing 311 horsepower at 6,400RPM and 280 lb-ft of torque at 4,800RPM. While this isn't the naturally balanced 2JZ straight-six of yesteryear, drivers will be hard-pressed to notice any deficiencies in refinement. Power delivery is excellently smooth, with a fat midrange and absolutely no sense of strain or labouring all the way to redline. Even though Lexus and Toyota have been using this engine for the better part of a decade, it still stands as a world-class motor, and has always been among the best in the business. It does so without the magic (or crutch) of turbocharging and forced induction, which leads to wonderful throttle response and a lively engine that feels more in sync with the driver. The forced induction setups in the BMW, Mercedes, and Audi may be faster and more powerful, but end up being a little more dull and lifeless as a result.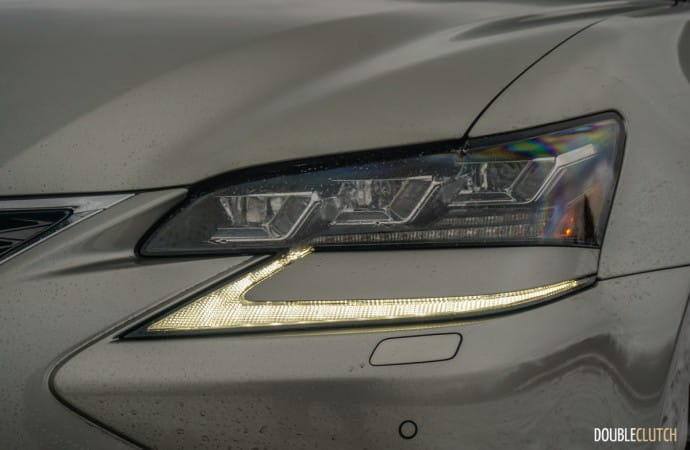 For those looking for a little more oomph in addition to a little less fuel consumption, there's also the up-level GS 450h hybrid. It pairs another variant of the 2GR 3.5-litre V6 with an electric motor and continuously variable transmission (CVT), resulting in a combined output of 338 horsepower. Even so, fuel economy is improved to 8.1L/100km in the city, and 6.9L/100km on the highway. This is in contrast to the GS 350's 12.4L/100km city and 9.2L/100km highway ratings. Over one week of testing, observed consumption was pegged at 10.0 L/100km, with plenty of cold weather and a slant towards highway driving. Fuel capacity is 66 litres – premium fuel is required.
In Canada, there's only one transmission option available – a six-speed automatic is the sole combination when coupled to Lexus' all-wheel drive system, also standard fare. Americans are able to get a GS 350 in rear-drive form, which gets paired with an eight-speed transmission. This is a curiosity that's seen in the IS and GS model range over the last several years, even as competitors have moved to eight-speed automatics. There may be a packaging limitation responsible for the absence of the eight-speed configuration with all-wheel drive configuration. This doesn't appear to be consistent across the Lexus lineup however, as the flagship LS 460 sedan has been available since 2009 with all-wheel drive and similar Aisin-sourced eight-speed transmission. The two extra gears improve performance, and bring improved fuel economy as well.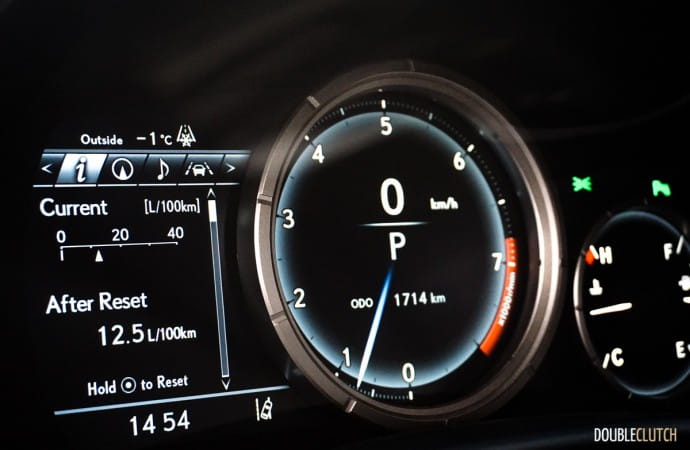 Dynamically, the GS 350 F-Sport is the most agile of the GS range. Complete with a double-wishbone front suspension and a multi-link setup in the rear, the Lexus is definitely on the firmer side of things when equipped with the F-Sport package. There's adjustment between Eco, Normal, Sport, and Sport+ modes, which adjusts the suspension and throttle response. The ride gets rather busy in the stiffer settings, but handling response becomes sharper, allowing the GS to maintain composure when pushed.
At speed, the steering is on the heavier side and is well-weighted, although the electric power assist was typical in that it filtered out most of the feedback between the road and the driver's hands. Brake pedal feel was well done, inspiring confidence and sold stops every time. One caveat in this evaluation was the fact that the test vehicle was equipped with winter tires. Even though they were more biased towards being a performance winter tire, there's still some dulling of response and performance in the name of cold weather and snow traction. With proper summer tires, expect the GS 350 F-Sport to excel even more.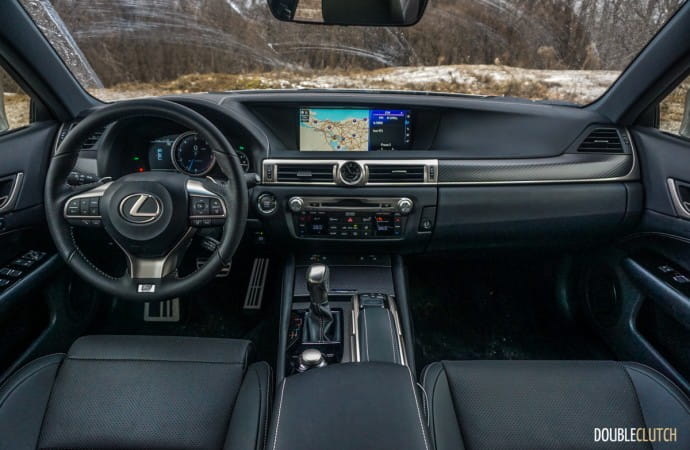 Inside, the GS 350 has received incremental updates since the body style's introduction in the 2013 model year. Button designs and ergonomics have been improved, although Lexus still uses a joystick-mouse style interface for multimedia system input. Dubbed Lexus Remote Touch (LRT), it definitely was awkward to use at first, but this is mainly because one might be accustomed to the touch screen or rotating dials used by the rest of the industry. With LRT, drivers are able to do a bit more without taking eyes and focus off the road. As a luxury sedan, there's plenty of leather and soft touch materials inside the GS 350. There's less wood and metal than one might find in other marques, but it's a neatly designed cabin at any rate. Larger-proportioned front seat occupants may find the dashboard layout to be a little claustrophobic, as the centre console and door sills cocoon the seats more than average.
The F-Sport Series 2's Mark Levinson audio system included seventeen speakers. Sound quality was excellent, although the system can't quite hold a candle to the best-in-industry Bowers & Wilkins seen in various Volvo and BMW products (reviewed here). For most people who typically listen at reasonable volume levels, they'll enjoy very clear bass and vocals. If turned up loud, however, clarity fell off slightly and there was a little bit of distortion in the mid and upper range of frequencies.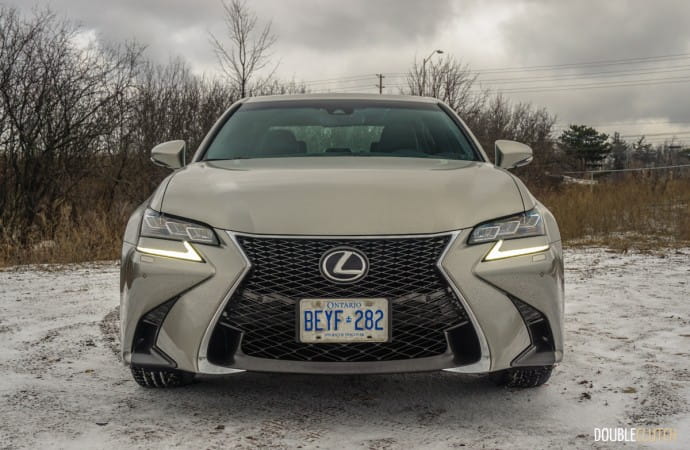 As a complete package, the 2017 Lexus GS 350 F-Sport AWD is a formidable contender. Those looking for Lexus' unparalleled reputation for reliability and durability will find a great choice in the GS – if past performance is any indicator, it'll be a great car to own for the long term. For those who like to lease or turnover cars every few years, products from Europe such as the Volvo S90, Mercedes-Benz E-Class, and BMW 5-Series could also be considered when ownership cost and complexities are less of a concern. From America, the Cadillac CTS (reviewed here) could be considered to be a middle ground. Thankfully, there seems to be one car or trim level for just about every preference and niche in the mid-size luxury sedan segment, and the Lexus GS gears itself well towards its prospective clientele.
2017 Lexus GS 350 F-Sport AWD Gallery
See Also:
2017 Mercedes-Benz E 300 4MATIC