LAC SACACOMIE, QUÉBEC – There are so many things that automakers are always working on. Aside from the endless cycle of product introduction and updates, things like motorsports serve as a good distraction from the everyday grind. With Volkswagen, the work to put the diesel situation behind them continues, so things like LeMans endurance racing and the World Rally Championship are easy targets for downsizing. By doubling down on their bread-and-butter products, the Volkswagen Group hopes they can get back to chasing more interesting initiatives in the future. The main focus over the last few years has been the MQB front-drive platform that is the basis for nearly everything in their current lineup. The latest iteration is the Atlas, a new product built on this platform to play in the mainstream three-row family crossover segment. Volkswagen Canada shipped us out to Lac Sacacomie in rural Quebec to sample the new 2018 Volkswagen Atlas.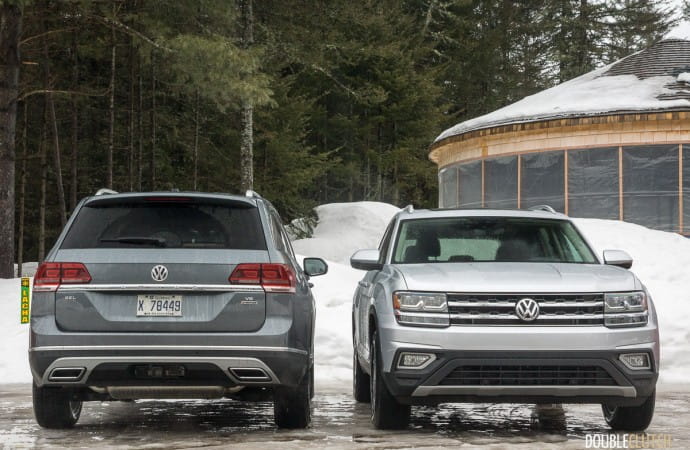 The first thing that needs to be clarified is that this is not a Touareg (reviewed here) replacement. The Touareg is Volkwagen's premium luxury crossover, essentially built on the same platform that underpins vehicles like the Audi Q7 and Porsche Cayenne. As a result, the Atlas will be aimed at a very different demographic, and will be priced much more aggressively, in order to target the meat of that market. It features a square and chiseled appearance at first glance, with aggressive character lines above the boxy wheel arches. Square LED headlight clusters (standard equipment) give the Atlas a serious, no-nonsense appearance. It is a big contrast compared to the Mazda CX-9 (reviewed here), which uses swooping lines and curves to good effect.
The Atlas is not quite as sleek as the Touareg, but one can't help but notice some similarities to the American market Kia Borrego from a few years ago. It's not always easy to give a family crossover a real identity, but the Atlas' function-first design maximizes space inside for occupants. Because it is the largest Volkswagen product to be assembled in America (in Chattanooga, specifically), they are proud to tout its generous length. At over 5,000mm in length, the Atlas is a whopping 18cm longer than the Toyota Highlander that it competes with. Most of that space goes into a lot of additional second and third row section, and even the cargo area behind the third row is decently spacious.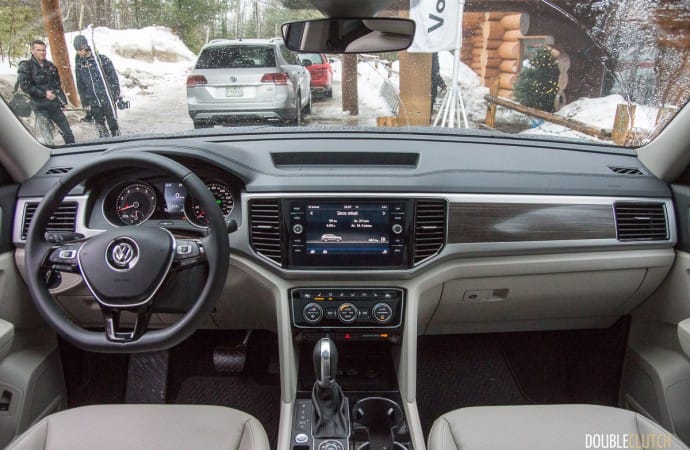 The interior features VW's typically-clean and minimalist layout. Soft-touch materials join up with harder plastics further down. Usual VW mainstays include their App-Connect suite, which integrates Android Auto and Apple CarPlay connectivity. Expected features available on the top-end Execline trim include a Fender audio entertainment system, built-in satellite navigation, leather seating surfaces, and additional active driver assistance features; namely blind spot monitoring, lane keep assist, and adaptive cruise control, among others.
The powertrains that propel the Atlas is where the MQB roots make themselves more obvious. The base engine is VW Group's 2.0L EA888 gasoline turbocharged inline-four, with direct injection. Mounted transversely, it is similar in architecture to the 2.0L turbo-fours seen in the GTI and Golf R. In the Atlas, it puts down 235 horsepower to the front wheels. We were not briefed with full technical specifications, but expect the torque figure to be around the 250 lb-ft range. There is an optional 3.6L gasoline narrow-angle VR6 available that delivers 276 horsepower to all four wheels. It's worth noting that the four-cylinder engine cannot be paired up with all-wheel drive – it powers the front wheels only. If you're looking for all-wheel drive traction, the VR6 engine is the one to have. It's a particularly sweet one, delivering smooth power and good music as it gets into the higher rev ranges. Both engine choices are mated to an eight-speed automatic transmission, sourced from Aisin. One of the best parts about both engines: both are happy to run on regular 87-octane fuel.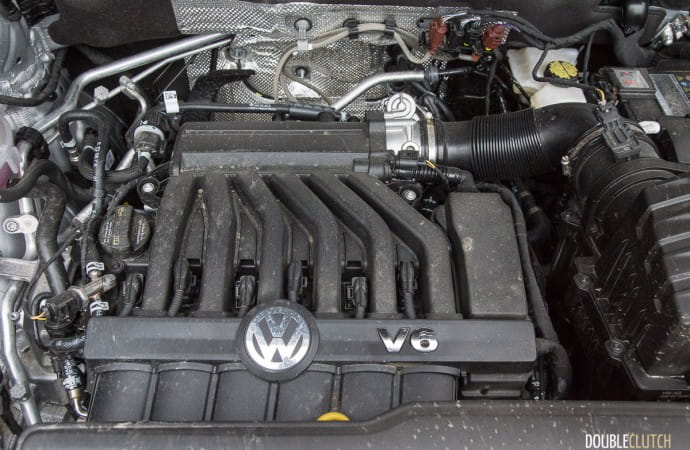 The first drive event involved mostly on-road and some off-road elements. On the broken pavement of Quebec's rural roads, the Atlas' suspension proved to be softly sprung – definitely on the comfort end of the scale – but compliant enough to confidently deal with a big dip in a cambered corner that we encountered at speed. The Atlas is definitely not an aggressive rock crawler, but its built-in "off-road" software suite is impressive, with hill descent control and various programs that re-calibrate how the transmission and electronic stability interventions behave, and how power is moved around to all four wheels via the 4MOTION system.
Pricing for the Atlas is also another significant item worth discussing. Building on the MQB architecture has given Volkswagen a ton of flexibility in maximizing space efficiency without spending huge amounts of money. The Atlas starts at an MSRP of $35,690, which is significantly less than what the Touareg starts at ($51,960). Adding 4MOTION to the Atlas bumps the price to $39,790, before taxes and additional fees. Canadians really do like their all-wheel drive, so expect most to be equipped this way. Option pricing for the different trim levels is still being figured out. Our guess is that a fully loaded Atlas Execline VR6 4MOTION will crest the $50,000 mark.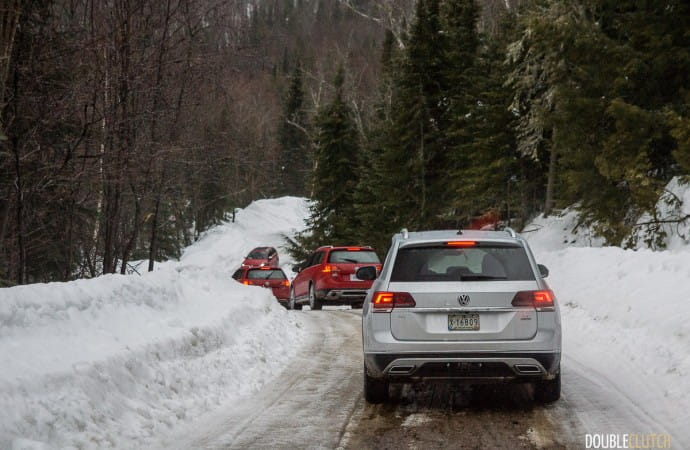 The VW Atlas plays to a much more mainstream beat, and it's almost exactly the product they need to seriously compete in one of the most popular markets today. In many ways, the Atlas opts for a more conservative methodology (in typical VW fashion), but for a family looking for a functional and versatile people mover, radical isn't always the formula for success. The Atlas certainly has size on its side, dimensionally besting several of its closest competitors, so for those with interior and cargo space high on their list, the Atlas is definitely worth looking at. We'll be sure to have a closer look at all the details once we get one into the DoubleClutch.ca garage.
First Drive: 2018 Volkswagen Atlas Gallery
See Also: