MONTRÉAL, QUÉBEC – It's been nearly a decade since the Dodge Viper-powered Ram SRT-10 disappeared from the market, and just about three years since we last saw Ford's beastly Raptor for sale. With the latest updates to the F-150, including a forthcoming diesel engine and plenty of configurations from contractor-spec to Platinum, it was only a matter of time before we saw the return of the king. The all-new 2017 Ford F-150 Raptor is wider, fully redesigned, and is a lot more than your average pickup truck. Ford invited us to Mecaglisse Motorsport Complex in Québec to sample this beast for ourselves.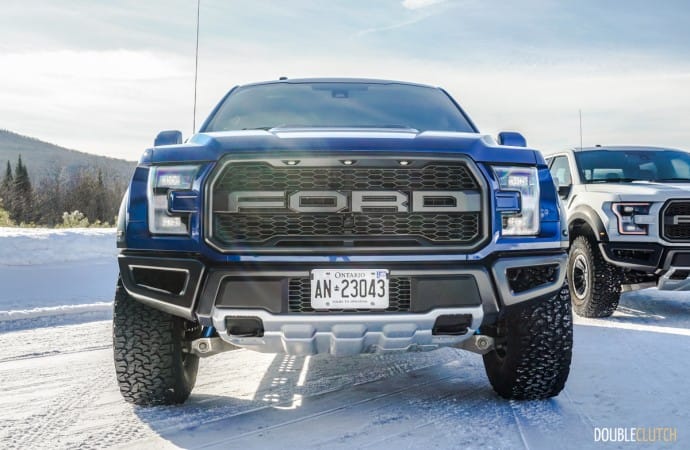 The visual cues are purely reflective of the Raptor's energetic personality, with more muscular body cladding, flared fenders, blacked out accents throughout the truck, LED lighting unique to the Raptor, and a series of vents. Even those who aren't diehard truck purists will find themselves smiling in acknowledgement at the Raptor – it's just that cool. Depending on the spec chosen, the F-150 Raptor can be up to 227kg lighter than its predecessor, which ultimately makes for a 16% improvement for the power-to-weight ratio.
Some may consider it sacrilege for what's considered a "muscle truck" to boast a six-cylinder engine, but the numbers speak for themselves. The Raptor employs a tweaked version of Ford's second-generation 3.5L EcoBoost motor (reviewed here), with a new block, port and direct injection, and significantly beefed-up internals. This twin-turbocharged monster with higher compression turbochargers pushes out 450 horsepower at 5,000RPM and 510 lb-ft of torque at 3,500RPM. In short, it's a freaking monster and won't let anything come in its way. There are electronically controlled wastegates and fully stainless steel exhaust manifolds, too. Drama? You bet!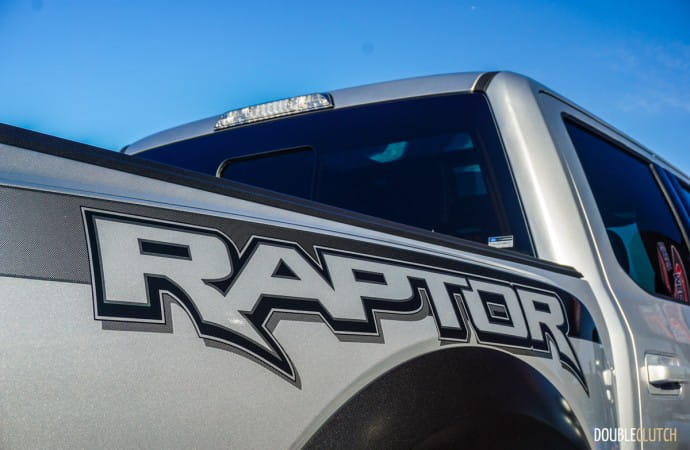 These power numbers are interesting because it's 39 horsepower and 76 lb-ft of torque more than the 2010-2014 model's 6.2L V8. From the seat of our pants, the new Raptor's power delivery is vastly improved over the last one, and smoother, too. The unmistakable roar of a V8 that has kept purists satisfied may be gone, but the EcoBoost makes a distinctive sound that reflects its more modern technology. It's almost like a split personality – business when you need it to be, and playful and cheery on the weekend. Regardless of the situation though, the Raptor always exudes immense confidence.
The transmission is a huge conversation piece, and will carry forth to the rest of the F-150 lineup this year. It's a 10-speed automatic, which may seem like a lot, but is extremely manageable and surprisingly refined. We experienced some sluggishness to downshift when left to do its thing in the "Normal" setting, but in the more aggressive "Sport" mode, it held gears long enough to have a little bit of fun. Shifts are adequate overall and when driving around normally, the transmission skips gears quite often to optimize response and efficiency.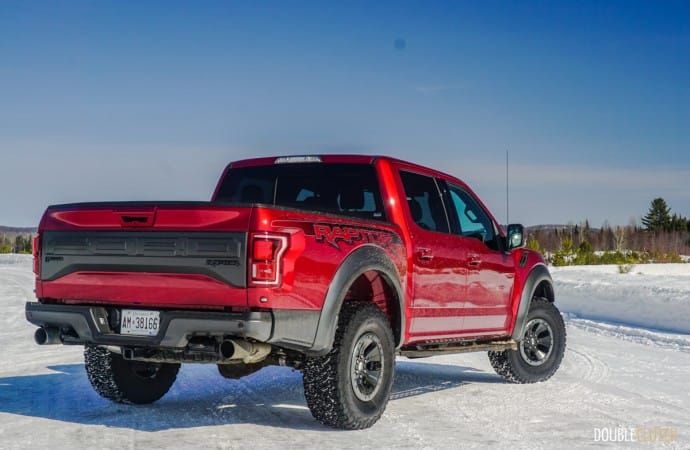 We also sampled the regular F-150 with this transmission, and came away pretty impressed – it'll be interesting to see the forthcoming 3.0L diesel. Those who want to shift gears on their own on the fly will need to keep the truck in the "Sport" setting, which make use of the magnesium paddle shifters relatively fun.
We noted that the regular F-150 is a bit lazy to shift and as a result, gear changes feel a bit smeared, but again, Sport is the way to go. Unlike the ZF nine-speed automatic (reviewed here) that's making its way around the market, this transmission makes use of its higher gears pretty quickly, and we noted the tachometer in 10th hovering just over 1,400RPM at highway speeds. As a contrast, FCA vehicles with the nine-speed only engage ninth when forced to.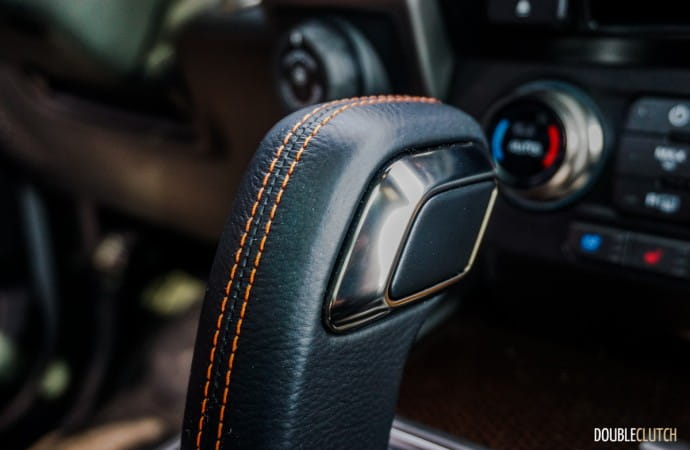 The Raptor has six new modes for terrain management that toggle variables like throttle response, transmission shift points, steering and most importantly, suspension. This system also manages the locking rear differential and transfer case, ensuring the Raptor is always in the right mode for the conditions around. We noted that the suspension on this puppy is more adaptive, too. The shocks stiffen significantly at the limit, though ride quality out on the road is a lot better. Body control is very well managed in all settings, and the steering has decent on-center feel. The 3.0" diameter Fox dampers are up 0.5" from the last truck, which allows for far more fluid volume.
When using the "Sport" mode and having turned off all assists, one thing became extremely apparent – the F-150 Raptor is ridiculously tail-happy. The rear end comes out with an immense amount of ease. The 510 foot-pounds of torque work in conjunction with the quick-shifting 10-speed automatic to a point where we'd almost call it a widowmaker. Even skilled drivers should exercise caution when turning off assists.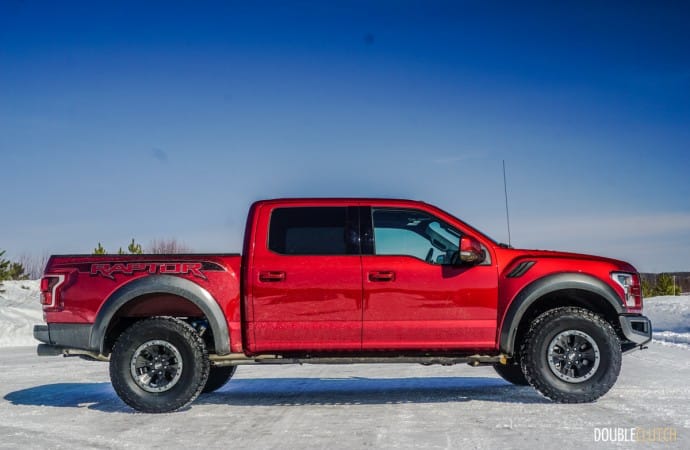 Suspension travel is 13 inches front and 13.9 in the rear, and the truck comes with a 5.5 foot box regardless of cab configuration. Additional skid plates and the standard BF Goodrich T/A KO2 tires mean the F-150 Raptor packs plenty of off-road prowess. But what's important is that it's not just off-road where this truck shows off its skills; it's actually a remarkably good daily driver, too. The aforementioned body control and decent turning circle allow the truck to demonstrate adequate on-road manners for your morning commute.
Fuel consumption is an area where the Raptor does not excel, though this isn't on the typical buyer's priority list. The smaller SuperCab model has a 98L Fuel tank, and the SuperCrew (soft spot! –Editor) has an insanely large 138L tank. Thanks to things like active grille shutters, Ford gives official ratings of 15.6L/100km city, 13.2L/100km highway, and a combined rating of 14.5L/100km. Over our spirited driving on a closed course setting, we saw an average of 19L/100km. The high-performance 3.5L EcoBoost in this application requires premium 91-octane fuel.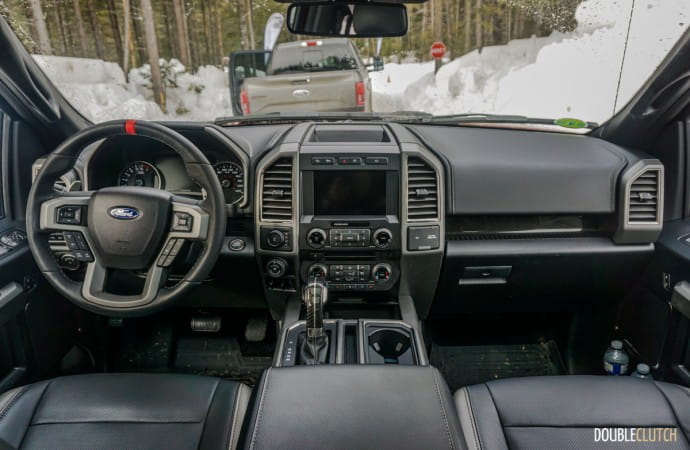 Whether you're sticking to your local Costco parking lot or tackling the trails outside the urban core, Ford has you coddled in relative comfort. SYNC 3 (reviewed here) is standard issue, with all the standard connectivity features like Apple CarPlay, Android Auto, and of course, Bluetooth streaming. The cab of the Raptor is an overall pleasant place to spend time, with cavernous space and visibility that will have drivers feeling like the kings of the road. Materials are decent with adequate panel fitment, though we noted some cheap plastic bits sporadically located throughout the cabin.
Our test, though, was something different. Mecaglisse Motorsport Complex is a snow-covered racetrack on which cars (and in this case, trucks) can be pushed right to their limits without having to break any laws. On a dedicated winter setup, we were able to push the Raptor (and its cousin, the Focus RS), harder than we ever would be able to on the street. We turned off stability control, and tried the truck in both 4×2 and 4×4 settings – no matter what was attempted, the truck didn't break a sweat. This is no desert or mud truck (well, it is); it's a cold weather monster.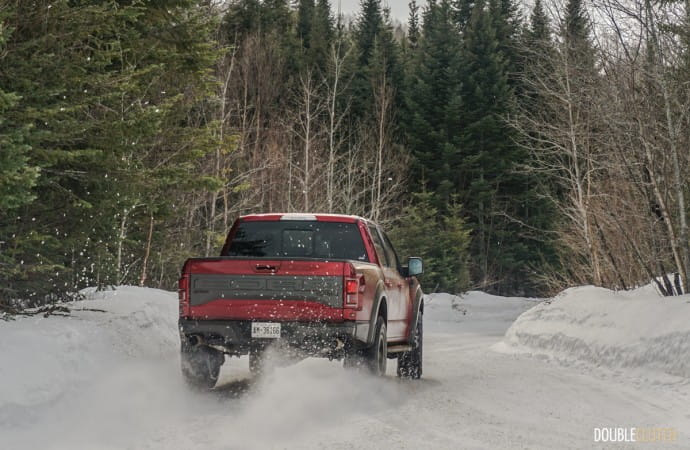 F-150 pricing starts at as little as $28,249 for a work-truck XL model, which can be had with the 10-speed automatic. The F-150 Raptor starts at just over $68,000 for the SuperCab; opting for the SuperCrew will cost you an extra $2,000. Our decked-out SuperCrew test trucks were fully optioned out, including the 802A Equipment Group for $7,900, Exterior Graphics Package, Raptor Technology Package (lane keep assist, adaptive cruise, rain-sensing wipers), an interior carbon fibre package, and optional 17" wheels. The total price grazed over the $85,000 mark. 
As an added bonus, we had the chance to push the Focus RS (reviewed here) on the track as well. We have sampled the RS on a track in the warmer months, and discussed it at length on our podcast (episode link here). The trick all-wheel-drive system, boosted four-cylinder, and six-speed manual are a stellar combination, and give us positive overall impressions on the car. The Focus RS is an invincible track weapon that will conquer many a track day. In the snow, the systems all work together to produce outstanding results, including the "Drift Mode". The car is an absolute hoot, but the Golf R (reviewed here) is the superior daily driver. At the end of the day, the Focus will set a better track time and keep a bigger smile on your face while doing it.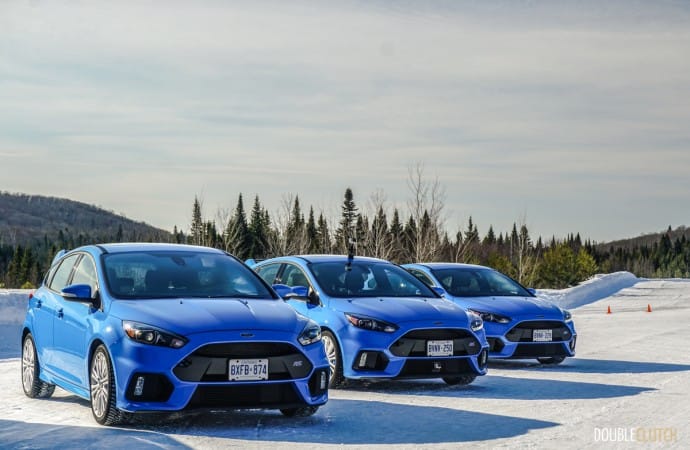 Though a few pickups aimed squarely towards the off-road enthusiast exist, namely the Ram 1500 Rebel (reviewed here) or even the Toyota Tacoma TRD Pro in the midsize truck segment, there's nothing out there quite like this. The 2017 Ford F-150 Raptor is in a class on its own, with capability second to none. The Ram Rebel has the beefed-up styling to match, but at the end of the day is little more than a standard truck with an appearance package. The Raptor is a bespoke truck from the ground up with its intentions very clear – it's ready to tackle quite literally anything you can throw at it.
First Drive: 2017 Ford F-150 Raptor Gallery
See Also:
2016 Chevrolet Silverado Z71 4×4