Throughout the 1980s, 1990s, and into the 2000s, one of the most popular forms of the Honda Civic has been the hatchback. Although it was also available as a two-door coupe and four-door sedan, the two-door hatchback gave consumers a smaller, affordable, practical, reliable, and fun-to-drive everyday runabout. Unfortunately, the hatch hasn't been available in North America since the 2005 model year with the sporty SiR, but Honda is turning things around. The DoubleClutch.ca Magazine editorial team recently got to test the new 2017 Honda Civic LX Hatchback, and just about all of us were stoked to get a feel for an even more practical version of the acclaimed Civic sedan (reviewed here).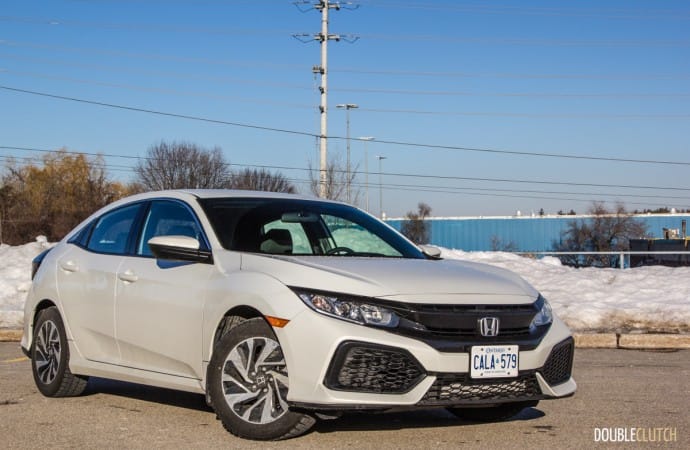 Finished in a shimmery White Orchid Pearl paint, the exterior of the Civic Hatchback is full of striking lines and features large jowls on the front bumper that are filled with honeycomb black inserts. The front three-quarter view closely resembles the sedan, but when you get to the rear, the roofline slopes faster and there's no decklid to be seen. The rear bumper features a set of butt-jowls similar to the front, giving the whole car a very aggressive look. Comparing to the past, the eighth-generation Civic, which debuted for the 2006 model year, had aggressive and controversial styling, but aged quite well and looked better as time went on. Expect this tenth generation to do the same.
Value and price competitiveness has always been a Civic strength, and the car on test rang in at an as-tested price of $21,390. For this amount of money, there's heated front seats, automatic single zone climate control, 16-inch alloy wheels, LED taillights, LED daytime running lights, as well as a seven-inch touch screen multimedia interface. Most of these aren't seen amongst the competition, the stiffest of which includes the Hyundai Elantra, Mazda3, Chevrolet Cruze (reviewed here), and Toyota Corolla.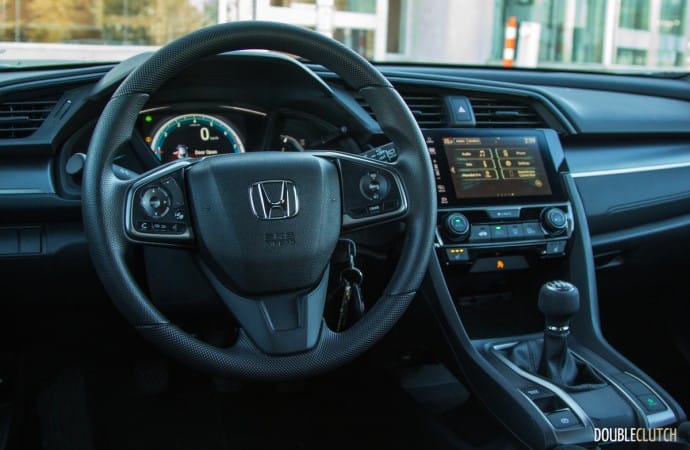 Also standard for all hatchbacks is the 1.5-litre turbocharged four cylinder engine, which was previously reserved for higher trim and equipment levels of the sedan and coupe – the hatch doesn't get the naturally aspirated 2.0-litre base engine at all. Power output is 174 horsepower @ 5,500 rpm, and 167 lb-ft of torque between 1,800 and 5,500 rpm for LX models equipped with the six-speed manual transmission, as was the case with our test vehicle. Higher level Sport and Sport Touring trims get 180 horsepower and 177 lb-ft of torque, but require premium fuel. Models equipped with the continuously variable (CVT) automatic transmission also have negligibly different output ratings.
A likely reason for the turbo-only is the simplification of manufacturing and importation, as all Civic hatchback models are assembled in Swindon, England unlike the coupe and sedan, which are built locally in Alliston, Ontario. The good news is that fit and finish seem to be identical to the Canadian cars – in other words, second to none with great attention to detail with tight panel gaps and no squeaks and rattles.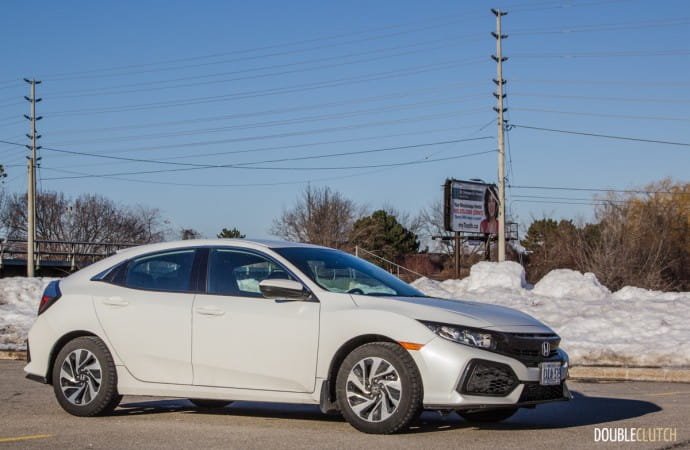 On the road, the tiny turbo four makes the best of its broad torque curve, and turbo lag is kept to a minimum. When you put the hammer down, the momentary wait for the power to come on isn't very long at all, and when it does come on, it does so at lower revs than the traditional naturally aspirated, larger displacement engine. It's an age-old battle between overall power output and throttle response, and some drivers will prefer one style over the other. Relative to each other, the base 2.0-litre mill in the sedan and coupe responds more instantly on throttle application, but won't match the 1.5-turbo in a drag race. In terms of noise, vibration, and harshness, the Civic Hatchback was a great car to drive, with relatively high refinement levels and minimal intrusion into the passenger cabin.
With the six-speed manual transmission, the turbocharged four banger found a willing dance partner, complete with accurate shift throws and well-spaced gearing. Shifter feel, as is typical for Honda, was good, but doesn't quite match the wonderful shifter of the 2.4-litre (also known as the K24) four in the Accord Sport (reviewed here) and previous-generation Civic Si. Clutch feedback is above average, with forgiving engagement allowing for easy launches, even on inclines. As such, it'll be a great transmission for newbies to learn and practice on, and yet stick-driving veterans will still appreciate the ease of use.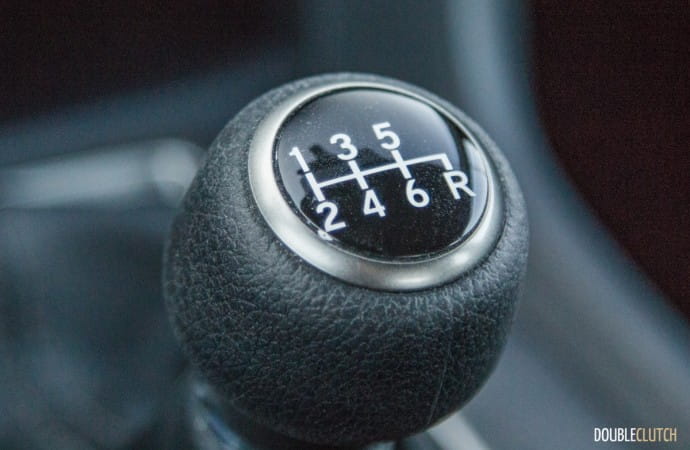 Rated fuel economy performance for the manual transmission turbo Civics come in at 8.0 L/100km in the city, and 6.2 L/100km on the highway. In mixed driving with a considerable amount of cold winter weather, average observed economy came out to 7.0 L/100km. For a daily runabout with a good glut of power, it's hard to beat this figure. Fuel capacity is 46.9 litres, which should allow almost 650 kilometres on a road trip before needing a fill-up.
Thankfully, as has been the case with the Civic since the beginning, handling is a strong trait. While there's no more double wishbone front suspension, the current MacPherson strut setup manages to keep most of the driving dynamics while keeping costs down. Steering is light, and the electric assist doesn't offer a lot of in the way of feedback and road feel. Even so, the Civic is still light on its feet at all speeds, which translates into an above-average amount of fun in the corners, and great maneuverability in parking lots. For handling, it does better than the Elantra non-Sport and Corolla, and comes very close to the Mazda3 (reviewed here).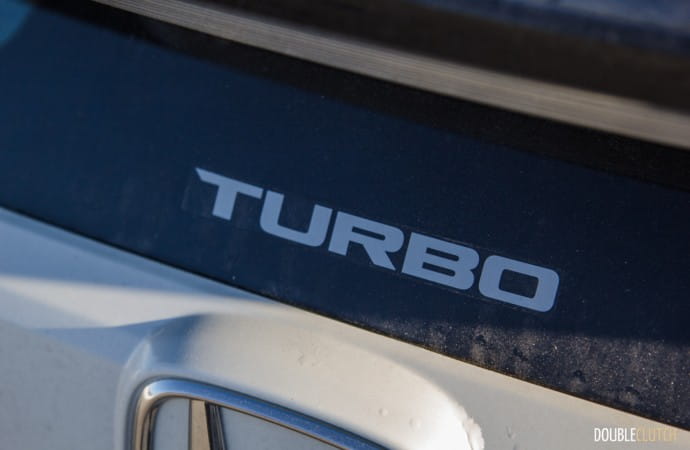 The passenger cabin, with its seven-inch touch screen, is the similar Honda HandsFreeLink system as seen in previous years, but with a few significant updates. For 2016, Android Auto and Apple CarPlay became standard equipment, which is the gold standard for smartphone interfaces in the automotive industry today. While it's not perfect and pairing can be occasionally spotty (make sure to have a good quality USB cable!), having communications, Spotify streaming audio, and full Google/Apple Maps navigation on board with the phone's voice command (Siri for Apple users) is indispensable in this price range.
The gauge cluster, unlike previous generations of Civic, is in a single-storey layout with a large central screen. It provides speedometer, tachometer, and driver information, with digital coolant temperature and fuel gauges on the flanks. Steering wheel controls on the non-leather wrapped wheel mirror most functionality well, although the main head unit is still missing a volume dial. Using the touch-based volume slider involves taking your eyes off the road and is much more distracting than a traditional dial. Thankfully, Honda has remedied this with the 2017 CR-V (reviewed here),  so it's hoped that the Civic will get this update soon.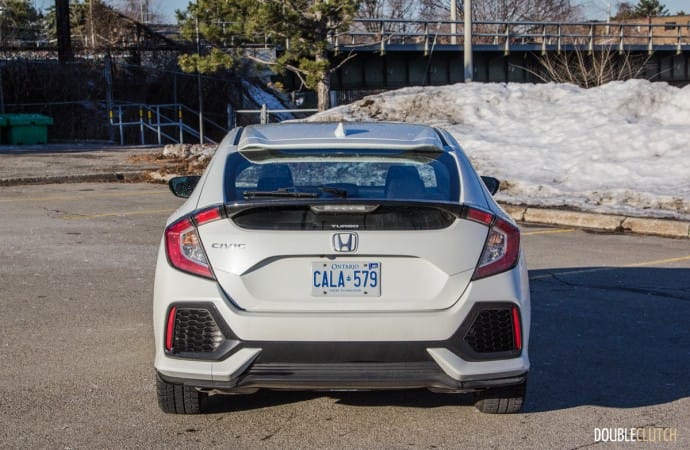 Seat comfort up front is good, even for taller drivers. The foam cushioning on the cloth seats is on the harder side, but still doesn't present issues over long drives, and is likely to wear well. In the back, there's more legroom than expected, and the rear seats fold flat to reveal a lot more cargo space than the sedan, with a total of 1,308 litres or 46.1 cubic feet available. There's also a clever retractable rear privacy cover that's built in – there's no more fumbling around trying to figure out where to store a removable cover. The rear hatch has good grab handles for opening and closing, and automatically locks with the doors. Unfortunately, there's no release from inside the car – you can only unlatch the hatch via the keyless entry remote or by a button on the hatch itself.
All in all, the 2017 Honda Civic Hatchback LX does battle in a crowded segment as one of the best values in its class. For its $21,390 price tag before taxes and fees, it comes with an impressive array of standard features, including turbo power and equipment levels often associated with considerably more expensive cars. With its funky styling, it also happens to be reasonably fun to drive, with great build quality. If you're looking for a few more bells and whistles, the Sport and Sport Touring trim levels are neck and neck for value against the Hyundai Elantra Sport. The Mazda3 Sport GS and GT trims are also close to the respective Civic Hatchback LX and Sport models in all regards. It's a great time to buy a compact car in Canada – there are a multitude of great choices, but the Civic Hatchback LX stands out as one of the best as an all-around package.
2017 Honda Civic Hatchback LX Gallery
See Also: