Following its spin-off from American automaker Ford, Jaguar has enjoyed a bit of a renaissance when it comes to new product. When the F-Type roadster (reviewed here) was launched in 2013, it kicked off a wave of updated design language and significant R&D dollars put into the brand by Tata Motors, the new sheriff in town. Long-time Jaguar designer Ian Callum has been behind cars like the latest F-Type, XF, XJ, and F-Pace (reviewed here) – all of which have been highly regarded when it comes to looks.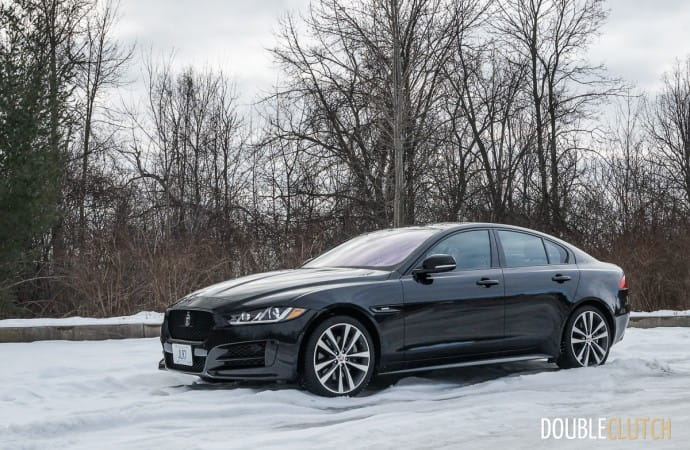 To do battle in the entry-level luxury sedan segment, the XE is the new baby Jag on the scene, and it shares many handsome styling cues with its larger and more upscale brethren. That's not to say that the XE is lacking in content, however, and a recent test of the 2017 Jaguar XE 20d AWD R-Sport demonstrated that it's a very formidable contender against the likes of the volume-leading BMW 3-Series, Audi A4 (reviewed here), and Mercedes-Benz C-Class.
Rather than following the flock of turbocharged four-cylinder gasoline engines powering today's smaller luxury cars, Jaguar has elected to make the base engine in the XE a diesel instead (a gas-fired turbo four is available in the United States). As part of the Ingenium engine family, it still displaces 2.0L and is still turbocharged. It does set Jaguar apart with a competitive advantage thanks to a price point that's more in line with a BMW 330i xDrive, Audi A4 or Mercedes-Benz C 300 4MATIC (reviewed here). Power output is 180 horsepower at 4,000RPM, and peak torque is a healthy 318 lb-ft. between 1,750 and 2,500RPM. As is typical for a diesel, the redline is lower, and is just shy of 5,000 rpm.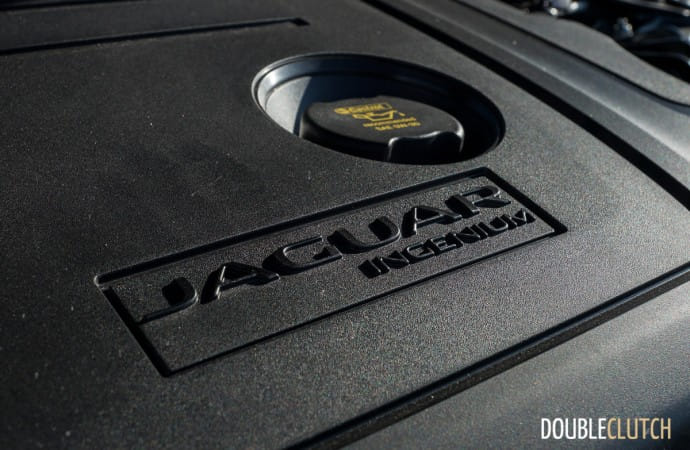 With a nominal zero to 100 km/h acceleration time of 7.9 seconds, the diesel XE isn't exactly a bahn-stormer, but an abundance of low-end torque means that practical day-to-day use shines much brighter than a performance figure on a piece of paper. Around town, the low-rpm grunt moves the XE around with complete authority and practically no turbo lag, and highway merging and passing is also effortless. As expected for a diesel, power falls off significantly in the higher RPM range, but a trained right foot will rely on the lower end of the rev range and still accelerate strongly. Noise and vibration are extremely well-controlled, and other than some clatter off idle, drivers will be hard pressed to tell a difference. At idle and highway cruising, there's absolutely no indication to suggest that it's not a gasoline engine.
Paired with the Ingenium diesel four is a ZF-sourced eight-speed automatic transmission. Complete with paddle shifters, this gearbox is the gold standard in the industry for longitudinally-mounted setups, and the XE is no exception. Shifts are lightning fast, and silky smooth, with the engine always being in the right gear for the task at hand. Hunting is never an issue, and when on the highway in eighth gear, a quick tap of the paddle shifter automatically selects sixth, allowing for instant passing power with no delay.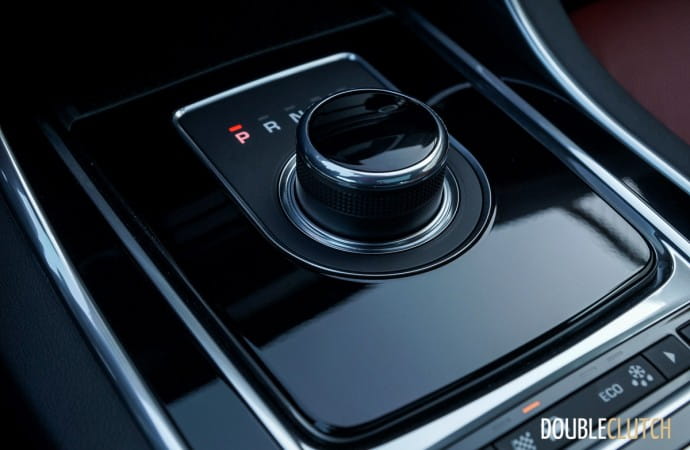 With the extra cogs also comes improved fuel economy; nominal ratings for the XE diesel are 7.8L/100km in the city, and 5.8L/100km on the highway. Over a week on test in mixed driving, observed economy was a wonderful 6.5L/100km. Considering that the diesel is a base offering and is competitive against other gasoline counterparts, there's no payback period – the fuel savings are immediate. Tank capacity is on the low side at 53 litres, but even so, highway range should still be able to clear 800 kilometres. For maintenance, a diesel exhaust fluid tank must be topped up at each maintenance interval, but the fuel savings will largely negate this cost.
With the test vehicle being equipped in top-spec R-Sport trim, the XE certainly looks the part when it comes to being sporty. Steering, although electronically assisted, is weighted excellently, especially at higher speeds. The body is built using aluminum, which has been Jaguar's standard approach for many years. Curb weight, at 1,615 kilograms (3,560 pounds), isn't exactly on the featherweight side, but is still less portly than many new offerings today and Jaguar says that it's close to 50:50 front-to-rear distribution.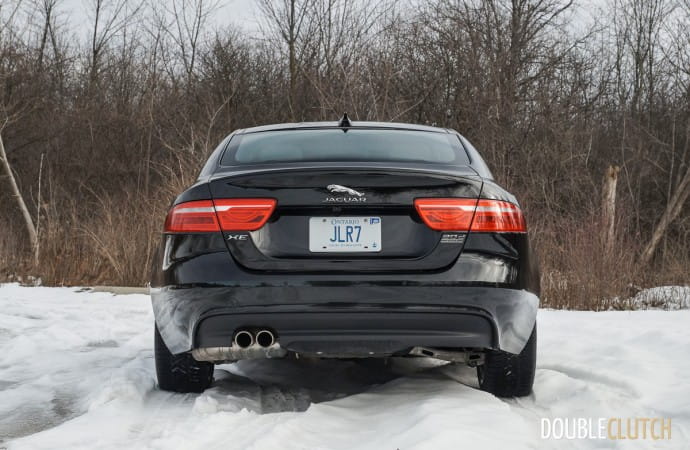 This weight distribution, combined with a double wishbone front and multilink rear suspension, made for sharp turn-in responses, even when equipped with winter tires. Taking cold-but-dry onramps with some gusto made for some wide smiles, especially when slingshotting out of the corners with the ample diesel torque – the chassis is one of the highlights of this car. All-wheel drive with brake-based torque vectoring is standard equipment in Canada, and while it normally sends 90% of power to the back for traditional rear-wheel drive feel, it can also send up to 90% percent to the front wheels when low traction conditions occur.
On the inside, the XE R-Sport is a great example of smart interior design, and plenty of leather and beautiful red stitching adorned the Jet and Red Zone interior. With great touch points, seat comfort, and a rotary-dial shift knob that motors out when starting the car, every detail and feature came together in a cohesive cabin that felt very premium and well-suited to a car of this price point. This car is quite a bit more inviting and airy than the surgical, cold interior of the BMW 3-Series (reviewed here) and Audi A4, but isn't quite as nice as the Mercedes C-Class, the current segment benchmark.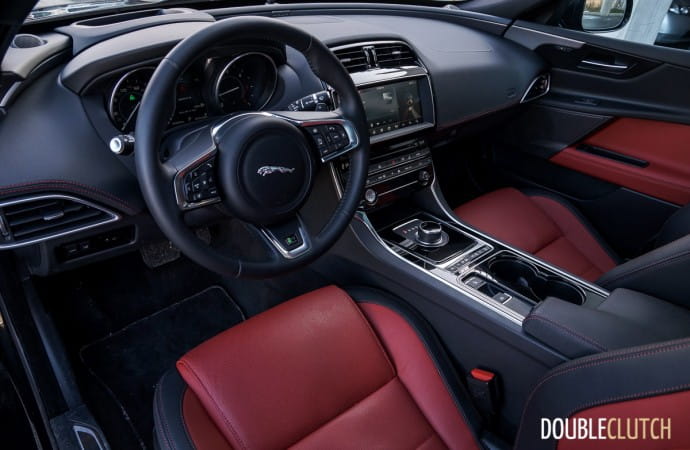 Ergonomics are reasonably good and take a little bit of time to get used to – two main gripes were the fact that the trip computer and gauge cluster configuration were a little confusing, as well as a lack of heated seat controls without having to venture into the central touch screen interface. A heads-up display projects speed and speed limit information onto the windshield, which was useful, but the Jaguar display isn't quite as clear and sharp as others on the market.
For multimedia, Jaguar's InControl Touch Pro system has a high-resolution central touch screen that's 10.2" in diameter. With navigation, Bluetooth smartphone connectivity, and SiriusXM satellite radio, the interface isn't the easiest to use, but is nonetheless laid out in an attractive manner. The Meridian sound system packs 825W of power and seventeen speakers, and was impressively clear. Cars will never be the best environment for acoustics, but Jaguar and Meridian manage to make it work relatively well. There's no Android Auto or Apple CarPlay support, which are two software suites that are quickly propagating across the entire automotive industry.
For the XE R-Sport, base prices start at $54,000 (base Premium trims start at $45,000). Options on the test car included a $2,000 Comfort and Convenience Package, which adds climate front seats, heated rear seats, an electric rear window sunshade, as well as a powered rear trunk lid. The $3,100 Driver Assistance Package adds Park Assist, a surround camera system, and adaptive cruise with traffic sign (speed limit) recognition, with adaptive speed limiter. $2,600 for the Tech Pack included navigation and the premium InControl Touch Pro with Meridian audio. With other additional cosmetic tweaks (Black Pack, 19-inch wheels) and a head-up display rounding out the options sheet, total as-tested price came out to $64,550.
At this price point, the Jaguar XE puts itself in the same conversation as the BMW 330i (or even 328d) xDrive, Audi A4/S4, and Mercedes-Benz C300 4MATIC. For those looking for a fresh breath of styling and a departure from the ever-so-popular German entry level luxury sedan, the kitty cat from Coventry, England is definitely worth a shot. Especially when equipped with the cosmetics of the R-Sport and the functionality of the excellent diesel powertrain, the 2017 Jaguar XE 20d AWD R-Sport is a wonderful car. While it's still early on in 2017, expect this entry-level luxury sedan to remain high on the radar for the annual end-of-year DoubleClutch.ca Magazine awards.
2017 Jaguar XE 20d AWD R-Sport Gallery
See Also: