In the Canadian compact car segment, competition is incredibly fierce, with just about every automaker having various equipment and trim levels that have prices falling between $16,000 to $30,000. At the low end, features are plentiful yet relatively sparse – you'll typically get air conditioning, Bluetooth phone pairing, and the most basic of visual cues and wheel and tire packages. On the opposite end, turbocharged powertrains, leather and luxury features fit for a BMW, and full autonomous safety suites (such as lane keeping assist and forward collision warnings) are the norm. The newly released 2017 Hyundai Elantra is a great example of a car with enough flavours to suit most people. It's an excellently built and extremely refined car that was nominated for the Biggest Surprise for the DoubleClutch.ca Magazine Annual Awards. Later on in the 2017 model year, Hyundai has brought a new Elantra Sport model to join the fray.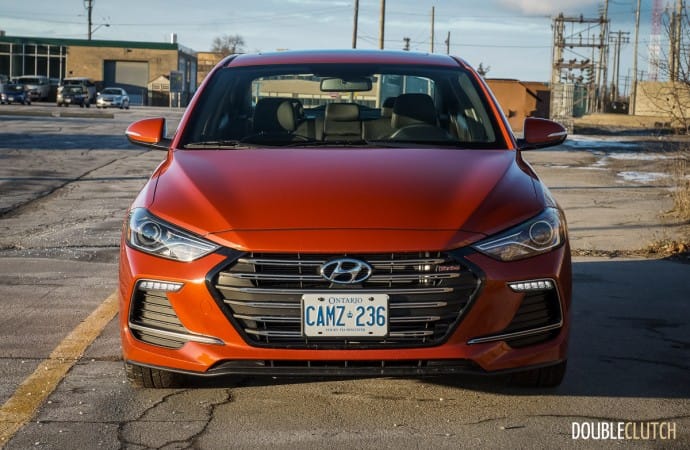 Finished in a popping shade called Orange Phoenix, the 2017 Hyundai Elantra Sport came in at $24,999 as-tested. Priced competitively against the upper two thirds of Elantra trim levels, it packs some extra punch compared to the regular models and also gets a laundry list of goodies, inside and out. At this price, the Elantra Sport has a turbocharged 1.6-litre four paired to a six-speed manual transmission, 18-inch alloy wheels, sport exhaust, unique multilink rear suspension (as opposed to the non-Sport's torsion beam), leather seats (heated up front), heated steering wheel, high-intensity discharge (HID) headlights, LED tail lights, as well as a 7.0-inch touch screen multimedia system (with Android Auto and Apple CarPlay).
All told, this is a very impressive feature set for the money, and you'd be hard pressed to find as much content from any other automaker – the Honda Civic sedan and hatchback can only come close. A Sport Tech package is available for $2,500, which expands the touch screen to 8.0-inches and adds navigation, upgrades the audio to a 315-watt Infinity system with eight speakers (from six), dual zone automatic climate control, and an autodimming rear view mirror with Homelink garage door opener. A seven-speed dual clutch transmission is available for $1,500, and while it's not as sharp as the units in rivals such as the Volkswagen GTI, it's a fair choice for those not wanting to row their own gears.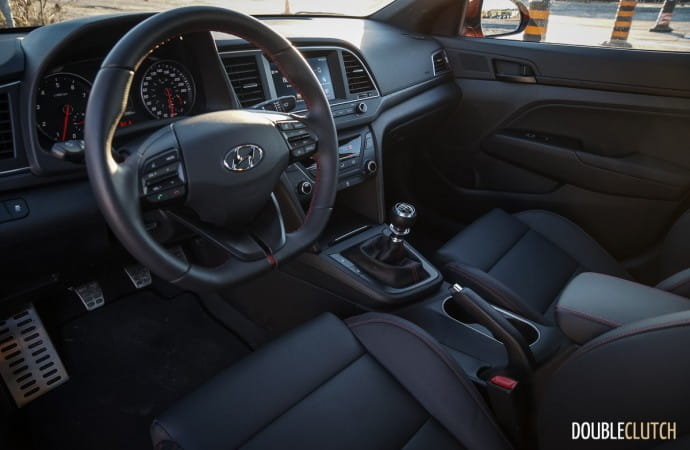 On top of all of the bells and whistles, the previously mentioned 1.6-litre, direct injected turbo four is another major upgrade over the naturally aspirated 2.0-litre unit in the regular Elantra. With 201 horsepower at 6,000 rpm and 195 lb-ft of torque at 4,500 rpm, it's a healthy increase of 54 horsepower and 63 lb-ft, respectively. Throttle response is good and turbocharger lag is kept to a minimum, and the power available once the turbo spools up is a very pleasant surprise, and serves to move the Elantra Sport forward with authority. It does lack some of the instant response and peakiness compared to the naturally aspirated sport compacts of yore, and while the Sport could definitely be considered to be zippy, it's a little bit boring when it comes to hooning. This isn't quite befitting of its Sport badge, but for a daily driver around town, it offers more than enough grunt to get out of its own way.
Paired to the engine is a fairly close ratio six-speed manual transmission with a positive feeling shifter that might rival the class-favourite Mazda3, as well as the last-generation 2015 Honda Civic Si (the tenth-generation Si isn't out yet!). Clutch feel is very numb, but thankfully, engagement is linear and it doesn't take any time at all before drivers are smooth in stop-and-go-driving. Pedal placement makes for reasonably easy heel-toe downshifting and rev matching, which is a plus. One note and word of caution – drivers should be careful when getting into the Elantra Sport in wet weather, as the angle of the pedals and their aluminum construction (with rubber grips on the surface) will be slippery.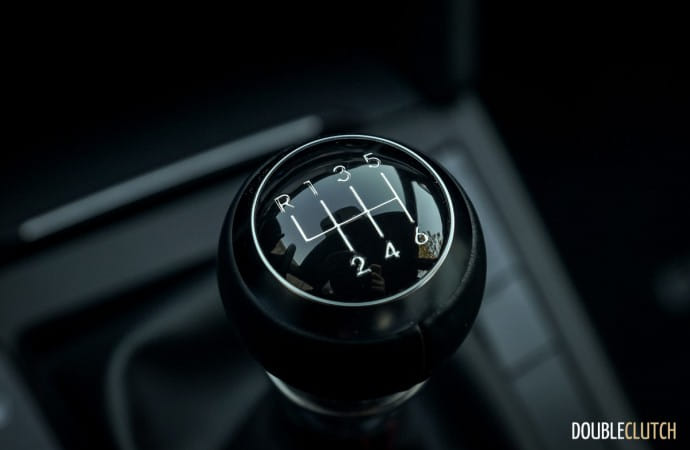 Fuel economy ratings for the turbocharged 2017 Hyundai Elantra Sport appear to make some sacrifices relative to the 2.0-litre naturally aspirated base engine. For cars equipped with the manual transmission, city mileage is rated for 10.7 L/100km, and highway driving should net you 7.8 L/100km. This is compared to 9.1/6.6 for a manual 2.0-litre and 8.3/6.4 for the automatic. Interestingly enough, the seven-speed dual clutch is rated for 8.9 L/100km city and 7.0 L/100km on the highway. For some, the freedom and control of the manual transmission may be enough to turn a blind eye to the poorer consumption figures. Contrary to Hyundai's published figures, the observed 7.5 L/100km over a week of mostly (but not entirely) highway driving trumped even the full highway numbers, implying that real-world economy is not as doomy and gloomy as Hyundai suggests. Thankfully, even with the turbocharger, the 1.6-litre turbo four happily accepts 53 litres of regular octane fuel.
With the torsion beam rear suspension chucked in favour of an independent multilink rear setup, the Elantra Sport does respond noticeably better in the corners relative to the base models. Ride quality is very noticeably firmer, and is on the upper threshold of what most people might find to be tolerable. While it's not as stiff as the likes of the Subaru WRX or Ford ST cars, your morning cup of coffee may have a higher risk of splashing and spillage when going over potholes and nasty expansion joints.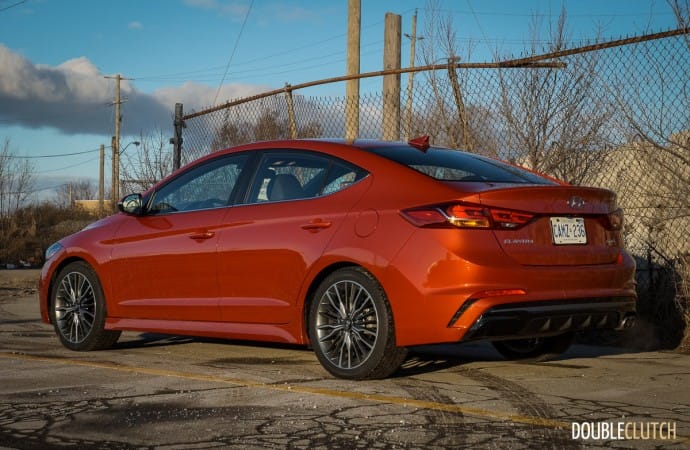 The low profile 225/40R18 tires don't help in this regard, but they do look good and help to jazz up the Elantra's otherwise plain and conservative exterior, in addition to quickening the handling response. Steering weighting is excessively light and little to no feedback makes it through to the driver's hands – it's not much different from the regular Elantra. At the end of the day, taking ramps with a little extra mustard will be considerably more fun than the non-Sport, but it can't quite hold a candle to other compacts in its price range, including the Honda Civic, Ford Focus/Fiesta ST, Volkswagen GTI, and even the Mazda3 GT.
The interior of the Elantra Sport gets a few extra touches that make it stand out for its price. The leather seats, which offer typical compact car comfort with a little extra bolstering, are finished with red stitching, and the previously mentioned aluminum pedals help to brighten up an otherwise monochorome sea of gray. Rear seat legroom will accommodate two adults comfortably, but adding a third will make hip and shoulder room feel tight. Fit and finish is a strong point, and the overall design is relatively simple and intuitive. The 7.0-inch touch screen interface is a little bit clunky, but after some getting used to, it worked well. Android Auto and Apple CarPlay, as with many other cars now getting this technology, is a boon for smartphone pairing, and lets drivers have full access to voice command to search for navigation destinations and to reply to messages, all without touching their phones.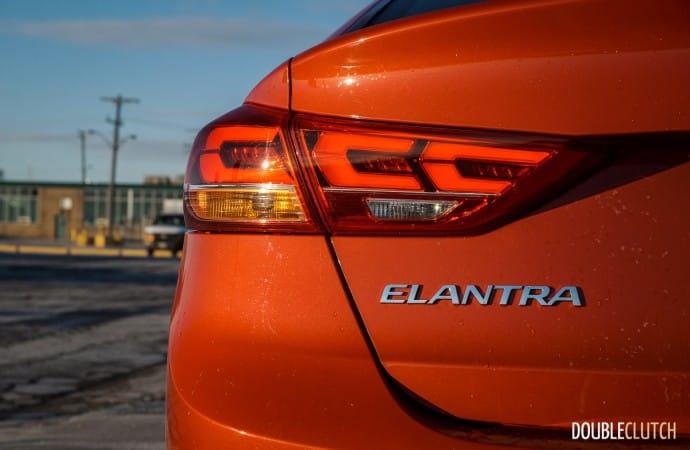 Overall, the 2017 Hyundai Elantra Sport represents one of the best values for vehicles around $25,000. While it's not the best compact car from a performance perspective, it does offer extra power, handling, and a slightly more expressive look over the regular Elantra. The newly released 2017 Honda Civic Hatchback (reviewed here) can pairs a manual transmission (or a CVT automatic) with a 1.5-litre turbo four, and is the closest competitor to the plucky little Korean. While the Honda offers better driving feel and a more daring, if not controversial exterior design, the Hyundai has more features and equipment, making it a better bang for the buck. While Hyundai doesn't have as much brand recognition and respect as the Honda Civic, Canada's best-selling car, it is more than worthy of being considered for cross-shopping in its class (Mazda3, Ford Focus, Chevrolet Cruze). The mile-long rap sheet of goodies, decent performance, and attractive price will make it a winner for many.
2017 Hyundai Elantra Sport Gallery
See Also:
2016 Chevrolet Cruze Premier RS
First Drive: 2017 Honda Civic Hatchback