The 1980's and 1990's saw a many different variants of these mid-size family sedans. Coupes were an important part of the mix, and Honda is one of the only brands that have held on. There's no more Camry Coupe or Altima Coupe – the lower sales volumes have made it more difficult to financially justify keeping the two-door versions around. In a world dominated by jacked up minivans, the Honda Accord Coupe is almost refreshing to look at. We spent a week in sunny California covering the Los Angeles Auto Show, and Honda sent over a San Marino Red Accord Coupe EX-L V6 for special evaluation. What makes this particular car special? It's equipped with a six-speed manual transmission. This week is particularly special, because we would not only be sitting in Los Angeles' famous traffic, but we'd also be hitting up the fantastic canyon roads that sprawl out from the city.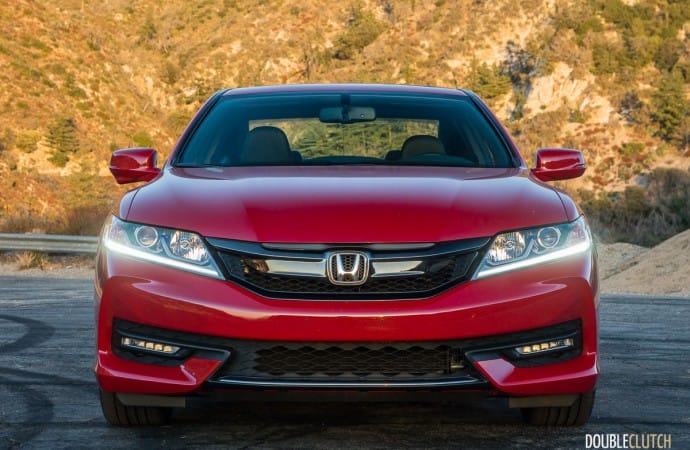 The current ninth-generation Honda Accord (reviewed here) has been on the market since 2013, and it has already undergone a refresh to keep it up to date. The front and rear fascias get updated with new headlights, taillights, and LED daytime running lights. The LED headlights on the fully-loaded Touring model are particularly striking, complete with their full-LED turn signals. New wheel designs round out an otherwise conservative, yet handsome Accord. All trims other than the Touring make do with halogen projector low-beams and smaller 18-inch wheels with 235-section all-season tires. V6 models get the requisite badging on the trunklid as well as a dual exhaust
Inside, the updates to the Accord keep it relevant in a competitive field. The most significant update for nerds like ourselves is the inclusion of Android Auto and Apple CarPlay connectivity. It adds, among other things, excellent phone-based navigation (on an 8-inch touchscreen) to a car that wouldn't otherwise come with it. The remainder of the interior is bright, cleanly-designed, and not at all overstyled, in usual Honda fashion. The loss of two doors doesn't necessarily mean a loss of practicality, either. Aside from the tighter ingress and egress, two people sitting in the second row have a decent amount of knee and leg room, though headroom is a little tighter thanks to the coupe's faster roofline.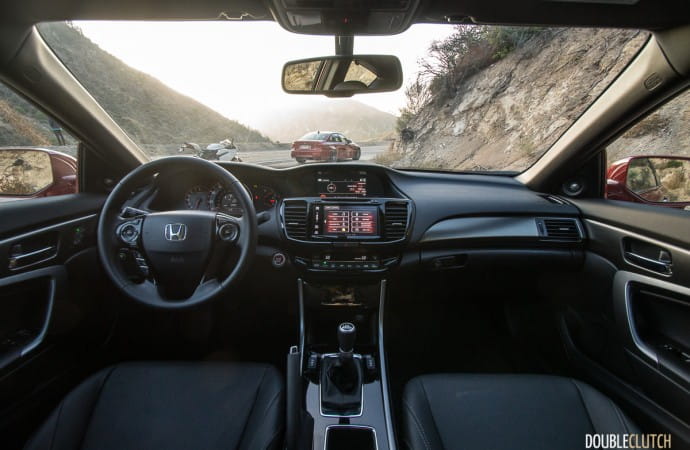 As the badging would suggest, the Honda Accord Coupe EX-L V6 features a V6 engine under the hood. Part of a rapidly-shrinking breed, this V6 likes to do things in a more conventional way. It ignores the new thinking behind smaller displacement, and skips turbocharging and direct injection entirely. Displacing 3.5L, this port-injected V6 produces 278 horsepower at 6200RPM, and 251 lb-ft at 5300RPM. This car sends its power to the front wheels by way of a slick-shifting six-speed manual transmission. It's a typically-excellent Honda interface, with short and positive shifter throws, and the pedals are spaced for easy heel-toe downshifts. It doesn't get the helical limited slip differential seen in cars like the Honda Civic Si (a long-time favourite of ours), but the 235-section tires do just fine. One positive point about sticking with a naturally-aspirated V6 is the audio delivery; turbocharged four-cylinder engines don't usually sound very good. Honda made it a point to direct some of the intake ducting to the firewall – the result is a nice snarl once you get up into the far end of the tachometer.
We had access to some very special cars (the Rolls-Royce Dawn and BMW M3 Competition) during our time in California, but don't think for one second that the Accord was the forgotten child out of the bunch. The Accord found a happy medium between sporting performance between the two aforementioned cars, and tended to blend in more with the agonizing Los Angeles traffic – not a bad thing when all you want to do is literally travel six miles in one hour. We all knew the M3 would be in its element in the mountains, but it was honestly more fun trying to keep up in the Accord.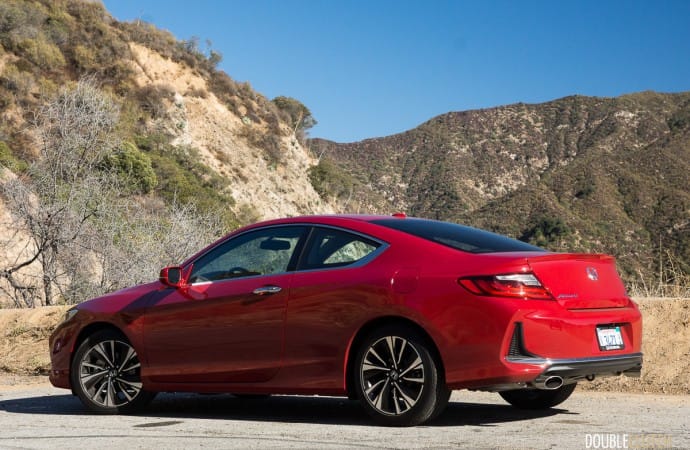 When we had some downtime, we headed up to the mountain roads of Angeles National Forest. The beautiful part of spending time in the suburbs is that there's a route for just about everybody. Angeles Crest Highway is one of our favourites, with its sweeping corners, long straight sections, and generally good sightlines. It's also friendly to motorcyclists – at least up until you start to see ice and snow as you crest the 8000 foot elevation point. It always blows us away how much the temperature drops at the top; we saw readings of 35F at times. Compared to the temperature in the city, it's almost a 60 degree delta!
The next mountain road on the list was Glendora Mountain Road. This proved to be a dramatic departure from Angeles Crest Highway, with lower-speed corners (with lots of camber!), and much more intense elevation change. The sightlines weren't as good, which saw our motorcyclist take the turns with a little more reservation. It was more work in the cars as well – much more steering input was needed, and the straight sections in between were shorter. On the way back to the city, we opted to take San Gabriel Canyon Road downhill, back into civilization (and cell reception). This road turned out to be beautiful, in its fast and flowing nature, with panoramic views of the reservoirs and dam systems nearby. Whether we were on four wheels or two, we were happy to finish this day off with San Gabriel Canyon Road, until we hit the crippling traffic once more.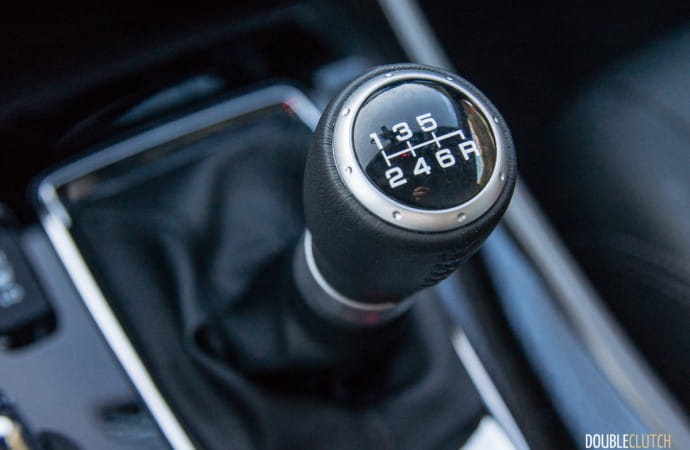 The Accord more than just acquitted itself in the canyons – it proved to be more than a willing dance partner. One had to be mindful of the low-grip all-season tires, and the relatively small brakes (at least compared to the carbon ceramic system on the M3), but hustling the Accord hard was a good lesson in managing the traction circle, and managing weight transfer between all four wheels. Just because it's a nose-heavy front-wheel drive midsize coupe, doesn't mean it can't dance with the best of them. Put it this way: it was much more rewarding to push the Accord to its (admittedly) lower limits.
Having these cars on evaluation for an entire week in Los Angeles really is a unique way to feel out the pros, cons, and all the little quirks that only time can discover. Sitting in bumper-to-bumper traffic saw the efficiency readings plummet, and stretching the Accord's legs out in the mountains also saw lousy instantaneous readings, but we also spent a decent amount of time on the fast interstate highways outside the city, which balanced everything back out. At the end of a strenuous week, we ended up with a combined average of 23.8mpg, which translates to about 9.9L/100km, which is better than we expected. American Honda says you should get about 21mpg (11.2L/100km) in a combined city/highway cycle, so we're happy to know we exceeded those estimates. An additional bonus: the Accord will take 17.2 gallons (65L) of regular 87-octane fuel, regardless of the engine you choose. One thing worth noting: manual transmission models don't get the benefit of Honda's cylinder deactivation system – that's reserved for automatic cars only.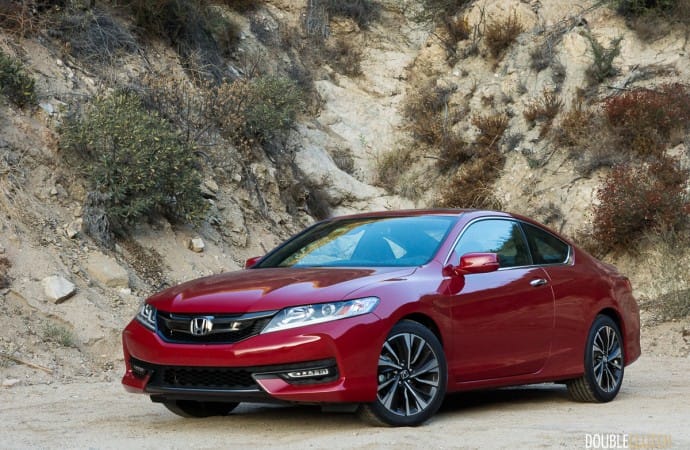 Depending on the country you buy your Honda Accord in, the pricing structure can vary wildly. To keep the bottom line lower in a more competitive market, American Honda lets you get the up-level V6 engine with the EX-L trim, whereas the fully-loaded Touring is the only way to get the V6 up here in Canada. As tested, our Accord EX-L V6 Coupe rings in at $31,175 USD. Honda doesn't really do options in the US – even the automatic transmission is a no-cost option. In Canada, the Accord Touring V6 Coupe starts at $36,190 CAD, and add another $1,000 for the automatic transmission. The equipment doesn't really compare directly – the Canadian Touring model gets larger wheels, full-LED headlights (which look great), and the full Honda Sensing safety suite.
At the end of the week, our Accord V6 Coupe just wasn't a "third" car that happened to be around. It was genuinely a good place to spend time, whether it was up in the mountains, or stuck in traffic (following Android Auto's navigation instructions, of course). It was comfortable, practical, drove well, sounded good, and was genuine in its personality – there's no fake engine sound coming in through the speakers, no turbo lag to fight, and excessive fuel consumption to worry about. Considering the company it was among, the Honda Accord EX-L V6 Coupe was a great partner we really enjoyed piloting.
2017 Honda Accord Coupe EX-L V6 Gallery
See Also: