It's easy to see why Toyota has a hot seller in their RAV4.
Built in Woodstock, Ontario, the 2017 Toyota RAV4 Limited AWD is very much a bread and butter vehicle for Toyota Canada. With crossover sport utility vehicle sales eating into sedan and compact numbers, having a competitive compact crossover can make the difference between red and black ink for a manufacturer. The current body style of RAV4 debuted for the 2013 model year, and while many of its archrivals have come out with new designs since then, a refresh for the 2016 model year has been more than able to keep things relevant.
The tester RAV4 sent over was the top trim Limited version, complete with all-wheel drive and the Platinum Package. As the most posh form of non-hybrid RAV4 that money can buy, it features a power liftgate, proximity key with pushbutton start, 7-inch touch screen multimedia with navigation and JBL audio, power moonroof, front and rear parking sensors, ambient footwell lighting, and special interior trim. For all this, the Platinum packaged RAV4 Limited will set you back $39,665. This is right in line with other choices in this class, including the Mazda CX-5, Honda CR-V, Kia Sportage/Hyundai Tucson, Ford Escape, and Chevrolet Equinox (reviewed here).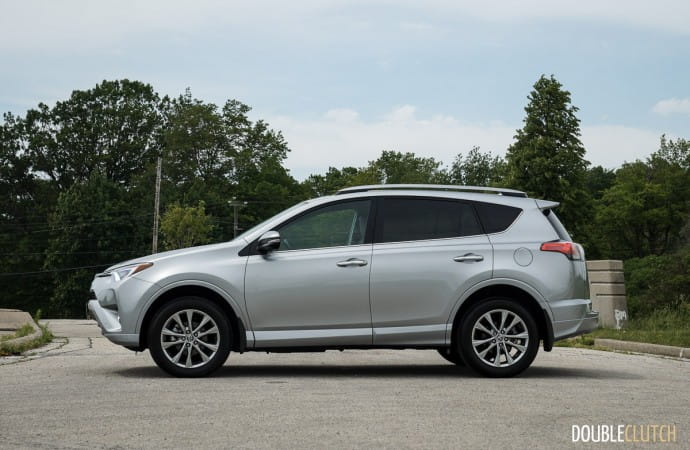 In terms of safety, major kudos goes to Toyota for including their Toyota Safety Sense P (TSS-P) system as standard equipment on all RAV4 trims, right down to the base LE front-wheel drive model. With a series of sensors designed to detect obstacles and hazards, TSS-P includes a forward pre-collision system, lane departure alert with lane keeping assist, automatic high beams, as well as adaptive cruise control. Specifically, with the forward pre-collision and lane keeping assist systems, the RAV4 can autonomously brake when it detects an imminent hazard in front of the car, and can also apply steering inputs to keep a car within its lane.
With the SUV format, the RAV4 can boast oodles of utility without being too large on the outside. Packaging efficiency allows for a length of 4,600 millimetres (181.0 inches), which keeps things maneuverable around town. Cargo area volume with the rear seats up is a total of 1,090 litres (38.4 cubic feet, and grows to 2,078 litres (73.4 cubic feet) with the seats folded. This is more voluminous than the Ford Escape, Mazda CX-5, Kia Sportage, and Hyundai Tucson, is on par with the Subaru Forester and Nissan Rogue (reviewed here), and slightly trails the Honda CR-V.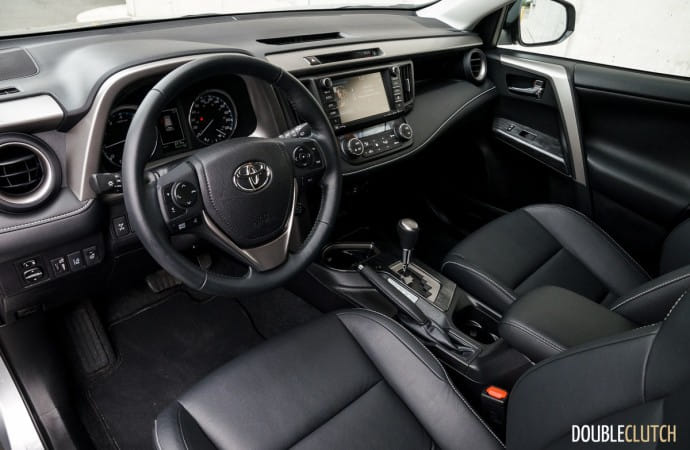 The interior of the RAV4 Limited with Platinum Package gets a few extra tweaks over the regular Limited models. The unique interior trim gives the interior a nicer touch, and the ambient footwell lighting makes it feel a little more like a Lexus than a Toyota. The SofTex trimmed sport seats are comfortable, and while it's a synthetic leather, it feels very much like the real deal and should wear better than the traditional leather seat of yesterday. Front and rear legroom is ample, with easy ingress and egress throughout. Every button on the centre stack almost comically large, and while this doesn't lend itself as well to aesthetics compared to the competition, the extra real estate for each touch point creates excellent ergonomics and very easy operation when on the road or with a gloved hand.
The seven-inch touch screen Entune multimedia system in the RAV4 is the same global Toyota setup seen in countless other models, and does its job reasonably well. The menu layouts are intuitive, and the buttons and text are clear and legible. The JBL audio system packs a big punch, and Bluetooth streaming audio integrates with the Gracenote album art database to display artist or album photos of the track being played. Contrary to what is quickly becoming an industry standard, Android Auto and Apple CarPlay integration is not available. Toyota currently has no plans to include this connectivity in the near future, and instead prefers to stick to optimizing the Entune system. Expect new versions of Entune to show up in future upcoming vehicles, including the 2018 Toyota Camry (reviewed here).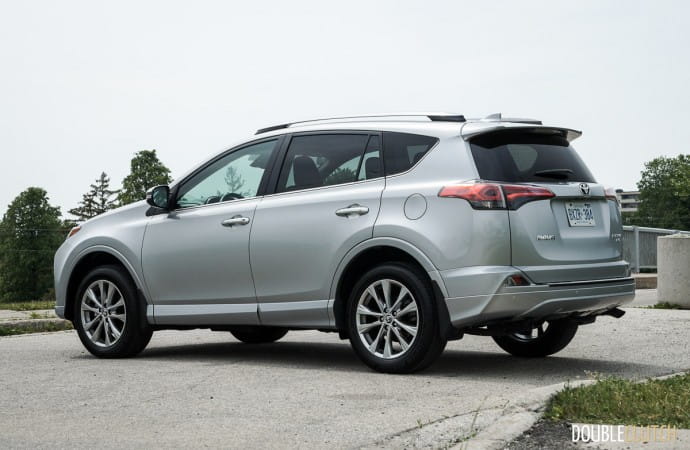 Powering the Toyota RAV4 is a single powertrain choice for all trim levels. A port-injected 2.5-litre inline-four cylinder engine packs 176 horsepower at 6,000RPM, together with 172 lb-ft of torque at 4,100RPM. A six-speed automatic transmission is also the sole transmission available. As a pairing, the older design and 176 horsepower falls short of its competition on paper, but in practice, the RAV4 possesses better throttle response than many of the smaller displacement turbocharged engines available today. There's no lag and torque deficit to contend with before the turbocharger spins up, and power delivery is linear throughout the rev range. Additionally, while other manufacturers are moving toward continuously variable transmissions (CVT) or eight and nine-speed automatics, the six-speed gearbox in the RAV4 has a crisp yet smooth shift feel without any hunting.
When looking only at the specifications, it may be a harder sell, but in practice, the RAV4 still drives just as well as any other option in its class. Combined with a quiet and well-damped ride, it's hard to beat as a daily driven family cruiser. Handling isn't much to write home about, but the compact crossover Toyota can still hustle around well enough. There's a long brake pedal which can take some getting used to, but this doesn't affect the ability of the RAV4 to stop as well as it should.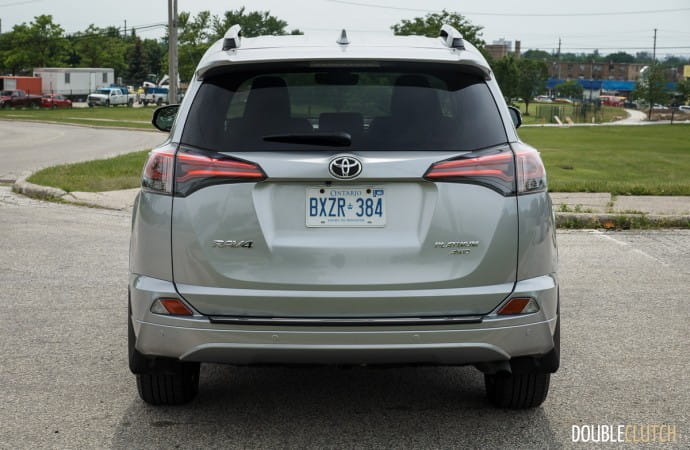 For nominal fuel consumption ratings, the RAV4 Limited with all-wheel drive is rated at 10.7L/100KM in the city, and 8.4L/100KM on the highway. While this isn't quite as good as some of the other contenders in the class, matching the rated figures in the real world is easier without a turbocharged engine. Observed fuel economy over a week on test was 9.3L/100KM, which bested a recent test of the 2017 Mazda CX-5, which got 9.8L/100KM in similar conditions. The RAV4 has a fuel capacity of 60 litres, and happily accepts regular octane fuel.
From top to bottom, the 2017 Toyota RAV4 Limited AWD with Platinum Package is a loaded compact crossover that does its job very well. It's easy to see why Toyota has a hot seller in their RAV4, and the solid build quality only helps to bolster the feeling that it's a dependable and reliable choice for long-term ownership. Even though it's down on rated power and lacks a little bit of the panache and pizazz of the competition, it manages to perfectly execute on the side of functional utility without inducing too much automotive novocaine. For drivers hauling families and all their cargo, the RAV4 is indispensable and needs to be included for consideration on every compact crossover shopping list.
See Also: