The midsize sedan has evolved quite a bit, and there are very few truly "poor" choices available now.
Midsized sedans have been growing considerably in recent years, both in size and popularity. Nowadays, a Honda Civic (reviewed here) is about the same size as an Accord from just over a decade ago, and the Accord has subsequently grown as well. With sporty entries like the Mazda6 leading the pack, followed by the experienced favourites such as the Toyota Camry, other automakers must embrace the need to step up their game and bring in more interest. Subaru has experienced some of their best years as of late, and the current Legacy is a heartthrob in its own way. We grabbed the keys to a particularly unique example – the 2017 Subaru Legacy 2.5i Touring Manual, for a test.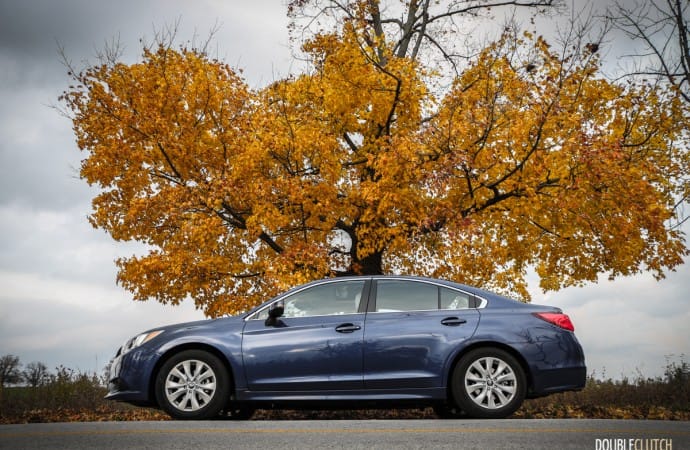 You did read that last word correctly; Subaru offers the Legacy with a six-speed manual transmission. This makes it the only midsize sedan available with both all-wheel-drive (standard equipment on every Subaru save for the BRZ) and a stick. The Ford Fusion (reviewed here) offers all-wheel-drive, but no manual is offered, and the Mazda6 and Accord can be had with a stick but are both front-drive only. The Legacy is a neat choice, and from the outside appears to be all business, especially in this Twilight Blue Metallic. The conventional three-box design applies, with Subaru's signature grille and 17" alloy wheels on the Touring.
The interior has been improved dramatically when the car was redesigned for the 2015 model year, and the bright upholstery on our test vehicle, combined with a relatively low beltline and great visibility made for a pleasant interior. The technology and infotainment are based on Subaru's Starlink platform, which is decent, but nowhere near where the industry leaders are. Bluetooth connectivity is standard, as is dual-zone automatic climate control and a power sunroof. This model isn't available with navigation or EyeSight technology, which is restricted to automatic transmission models.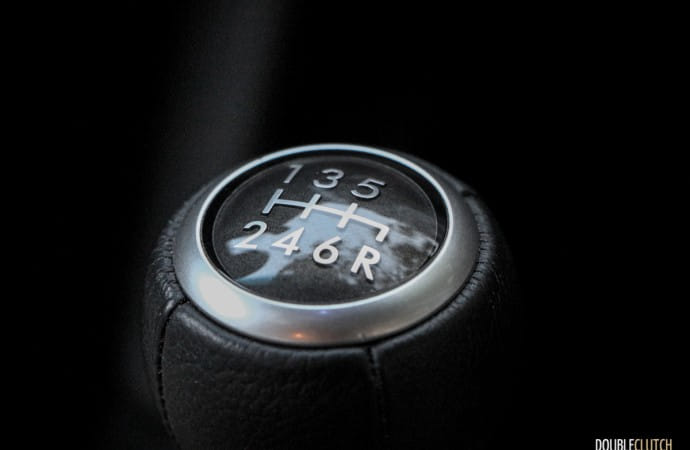 Powering the mighty Legacy is a 2.5L horizontally opposed four-cylinder, a boxer engine. The car can also be had with a delicious 3.6L, but the manual transmission is four-cylinder only. Output here is 175 horsepower at 5,800RPM and 174 lb-ft at 4,000RPM. The ventilated disc brakes with ABS do a great job at bringing the car to a stop, and this motor is actually excellent with the manual gearbox. Power delivery is predictable, smooth, and there's that unmistakable grumble from the boxer-four that's almost comforting at highway speeds. Despite this infamous sound, the car is very quiet, no louder than any of its rivals.
As for that transmission, it's a great unit to use. The shifter's throws are excellent, if not a little bit notchy, and the clutch is nice to use. We had a manual Outback (reviewed here) in the garage a few weeks prior, and despite being platform mates, it's surprising how different the two are. The Outback, while a good wagon, feels rather utilitarian whereas the Legacy feels reasonably athletic, especially for a sedan in this segment. The Mazda6 and Accord both have crisper steering, but the Legacy feels planted and confident when pushing it around corners.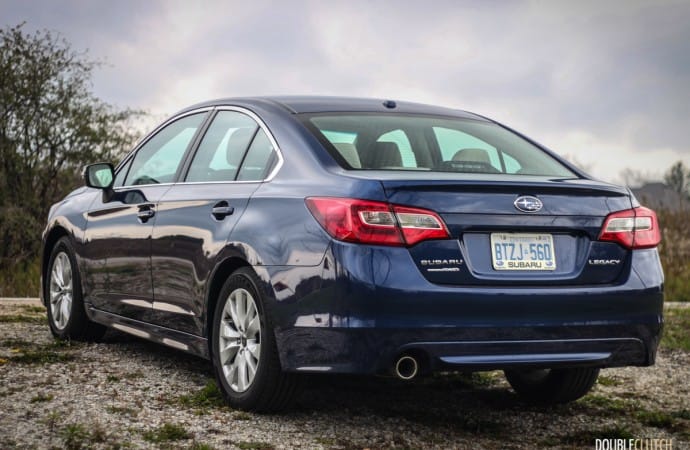 Ride quality is also decent, and the 17" alloys do a good job at absorbing bumps. If anything, the Legacy just feels extremely planted and put together, if not on the firmer side of things. More premium models offered with larger wheels and lower profile tires will have an undeniably firmer ride, and from our experience, those cars thrash a bit more over some poorly paved roads. A nice upgrade from the standard wheel covers on the base models, the 17s are the perfect offering in Legacy's wheel lineup, from my perspective.
Subaru has rated the fuel economy for the Subaru Legacy 2.5i with the manual transmission at 10.7L/100km in the city and 7.9L/100km on the highway, a bit worse than the CVT's 9.3/7.0 respective ratings. Our test consisted of about 700km of city driving, with very little highway use, and I was able to keep the average under 10L/100km, sitting comfortably at 9.8L/100km. This car only requires 87-octane fuel, just like its rivals, and is a great choice. The CVT's more efficient gearing does result in slightly more frugal numbers.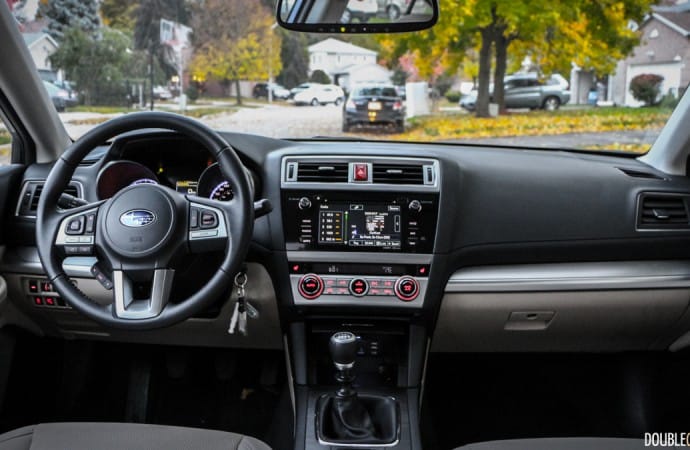 Endearing as it may be, the Legacy 2.5i Touring isn't without its flaws. For one, the interior is simply "adequate" – Subaru has yet to shed that very real stigma that their cabin design and execution is any more than just functional. In lighter shades, it almost passes as cheerful, but there's nothing special about it. Recent updates to the Legacy, Outback, and even Forester have seen implementation of soft-touch materials and more upscale trimmings, but it's still a far cry. Additionally, the lights on this Touring model are standard-fare halogen units (with standard fog lights), and are rather weak. Cars like the one-segment-smaller Toyota Corolla (reviewed here) see standard LED low beams now, so it would be nice to see this added for upcoming models.
Pricing for the Legacy starts at $23,495 for the base 2.5i, and goes through ten trim levels topping out at the $35,895 3.6R Limited with Technology Package. The 2.5i Touring is honestly my personal sweet spot, and that's not just because it's the top trim that can be had with three pedals. This model includes a ten-way power driver's seat, automatic headlights with fog lights, Starlink Media Hub with USB and Bluetooht integration, 17" alloy wheels, a power sunroof, dual-zone climate control, and heated seats. The manual transmission can't be had with push-button start, but I'm okay with this. The sticker on our test vehicle was $26,595, right in line with its rivals.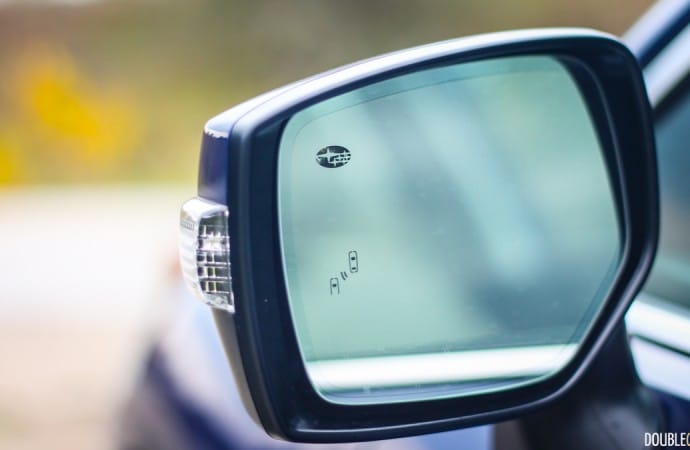 The midsize sedan has evolved quite a bit, and there are very few truly "poor" choices available now. The 2017 Subaru Legacy 2.5i Manual is something different, an out-of-the-box thought that very few others will opt for simply because purchases in this segment are often made with strictly practical requirements. The Legacy not only offers all-wheel-drive, but the availability of a third pedal with some optional niceties makes it a very tempting choice for purists. Need to get out of your aging WRX for a more family-friendly choice? Look no further!
2017 Subaru Legacy 2.5i Touring Manual Gallery
See Also: