Ride quality is also pretty good, with the relatively long wheelbase absorbing many of the road's imperfections.
Long gone are our teenage years where we drove hand-me-down vehicles, or cheap beaters picked off the local classifieds. It didn't really matter, as long as it had four wheels, a roof, and a heater. This generation of high school and university students have it a lot easier, with a subcompact segment of cars that offer affordable finance rates and plenty of safety features. Brand new vehicles such as Nissan's Micra (reviewed here) can be had for less than $10,000, meaning they can be within almost anyone's reach.
Add a few options and a bit of size, and you're at cars like the Honda Fit, Toyota Yaris Sedan (reviewed here), and something else attainable and versatile from Japan. With low prices and cheap monthly payments, the refreshed 2017 Nissan Versa Note SV is an intriguing choice in the subcompact class. This test vehicle, painted in a bright eye-catching Monarch Orange, is the perfect car for a student or even young professional looking to get back and forth from work with minimal costs.
The Versa Note was introduced for the 2014 model year, and this year sees a mid-cycle refresh for the five-door hatchback. It now features the new V-Motion grill, a Nissan signature item that we also saw on the Rogue crossover (reviewed here). The Versa Note SV is also equipped with features such as 15" alloy wheels, heated side mirrors, vented front disc brakes, six-way adjustable front bucket seats, and a rear-view camera, among much more.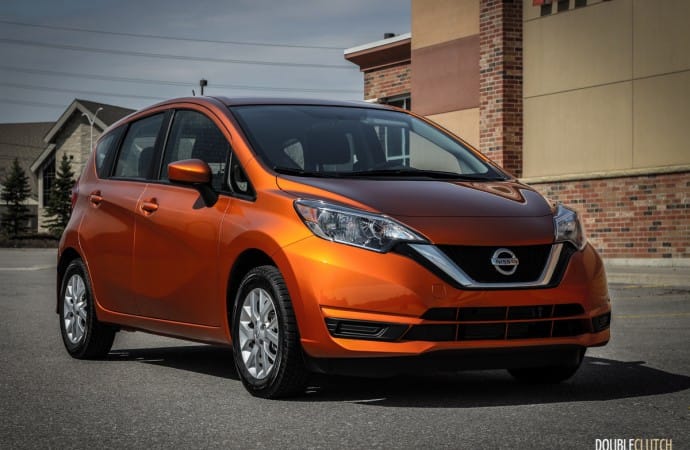 Under the hood is a 9.8:1 compression ratio four-cylinder engine, a 1.6L dual overhead cam 16-valve unit. The motor, codenamed HR16DE, happily outputs 109 horsepower at 6,000RPM and 107 lb-ft. of torque at 4,400RPM. Nissan's Xtronic CVT is optional, but we opted to test the five-speed manual variant. Though the engine is fairly rev-happy, a sixth gear would be graciously appreciated for the sake of your ears on the highway. Doing highway speeds in fifth gear has the engine screaming at about 3,300RPM.
The five-speed manual is decent enough, with a reasonably precise shifter. However clutch feel is a bit rubbery and the shifter's throws are longer than we'd like to see in this segment. This is also the case with the Micra, though the larger Sentra (reviewed here) gets a shorter shifter. Granted, this isn't a performance car, so perhaps the target market would be more comfortable with the CVT anyhow, especially for fuel efficiency reasons.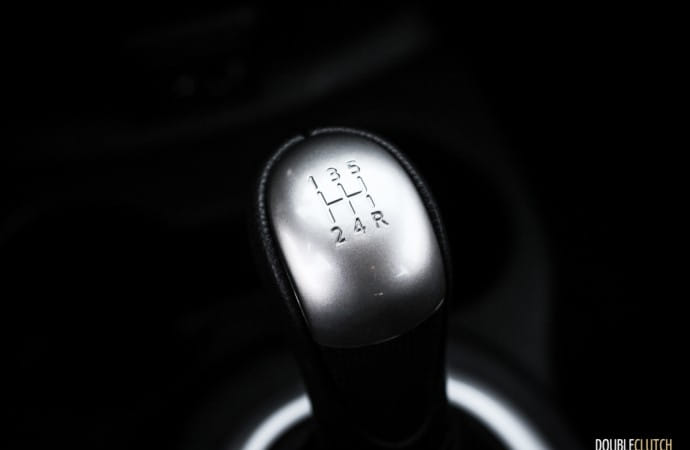 Ride quality is also pretty good, with the relatively long wheelbase absorbing many of the road's imperfections, and the 15" wheels and tires delivering decent ride comfort. Wind noise and in-cabin sound levels are a bit louder than expected, but about on par for the class. The Versa Note comes with Nissan's calibrated electronic steering system, which gives minimal analog feedback but requires very little correction at highway speeds. It's well weighted and predictable, meaning the car tracks straight quite comfortably.
Fuel economy is a huge plus on the Versa Note, and all of its rivals. Nissan claims 8.6L/100km city and 6.6L/100km highway for this model. With our test taking place in ideal conditions and a bias towards city driving, the average was right in line with Nissan's claims. We averaged 7.9L/100km, operating on 87-octane regular fuel. Considering how high the engine revs on the highway, this average was a pleasant surprise. City dwellers using the Versa Note to zip around will be happy with the overall efficiency and its overall personality in urban scenarios.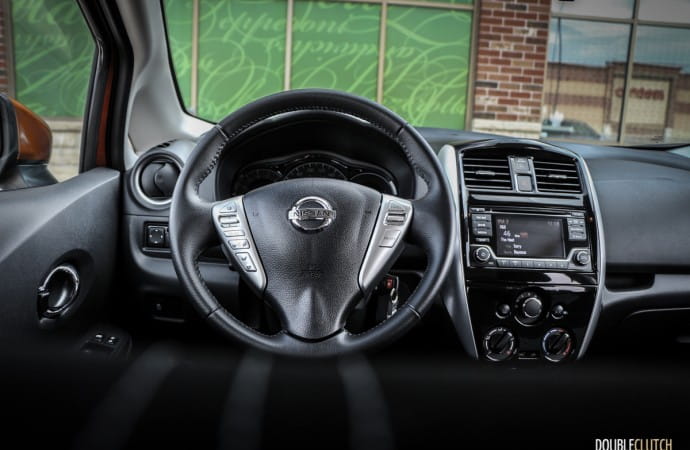 While the Versa Note has the exterior aesthetics of a higher-end hatchback, the interior does show its budget-conscious nature. With many hard plastic components on the dashboard and actual sharp edges evident inside the trunklid, evidence of cost cutting makes itself prevalent. On the plus side, the Versa Note is one of the roomiest cars in its class and at its price point. It offers impressive head and legroom for front seat passengers, and two can comfortably ride in the back too.
The six-way adjustable front bucket seats aren't all that bolstered, but they provide adequate support for shorter drives. Nissan does make great seats, as evidenced by the Zero Gravity seats in the new Altima and Maxima (reviewed here) sedans. At initial glance, the rear cargo area may look a bit small, but with the Divide-N-Hide organization system, it can be arranged for groceries or small runs to the home renovations store.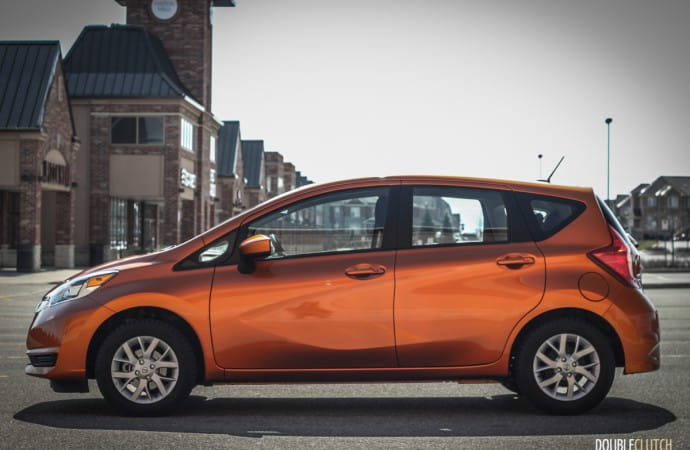 Available in four levels, the 2017 Versa Note starts with the base S trim at $14,498. The base model already comes with air conditioning, Bluetooth, split folding rear seats, and things like power windows and locks. Stepping up to the SV tested here adds the RearView monitor, remote keyless entry, 15" alloy wheels, heated front seats, and the Divide-N-Hide system. This model costs $16,948 with the five-speed manual transmission. Those wanting an automatic transmission will need to cough up $18,248.
Higher trim levels on the Versa include the $19,198 SR that adds sporty 16" alloys and premium synthetic suede seats. The top-trim SL adds navigation, an AroundView monitor, fog lights and an intelligent key, and costs $19,748. Direct competitors include the Ford Fiesta (reviewed here), Honda Fit, and Toyota Yaris, making for a somewhat saturated segment. The Versa Note does have a slight edge over the rest with a price point on the lower end of the class.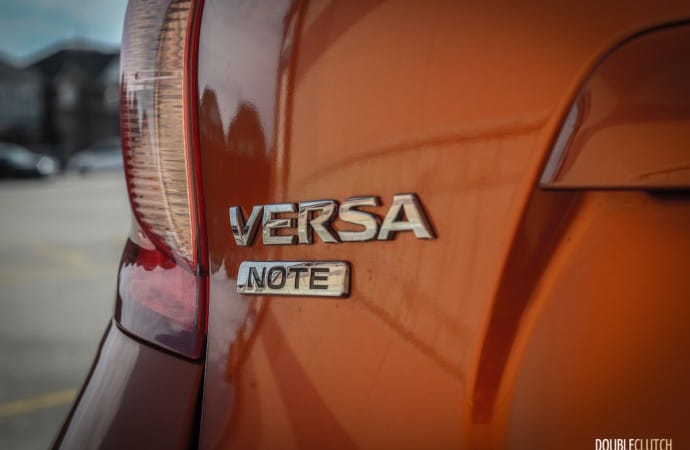 Although the 2017 Nissan Versa Note SV isn't at the forefront of its rivals, it's by no means at the bottom of the pack. The value packed into this car is far more impressive than the likes of the Ford, which can approach $30,000 when fully equipped. Interior space also surpasses other models, more than enough for the typical subcompact buyer. With a ton of standard safety features including the rear-view camera and stability control, those looking for a serious bargain in their competent hatchback will meet their match in the new Versa Note.
2017 Nissan Versa Note SV Gallery
See Also: