With massive competition from the Koreans, the Fusion Energi isn't alone.
When in the market for an energy-efficient vehicle, our minds always default to vehicles such as the Toyota Prius (reviewed here) or more recently, more dedicated EVs like the Chevrolet Volt. Since we're all looking to save a few dollars at the fuel pumps, we set out to find ourselves to find a vehicle that excels at this, all while blending with the mainstream vehicles from an aesthetic standpoint and with enough space for a small family. With regards to low-emission vehicles, Ford has a few entries in the plug-in hybrid and electric segment, such as the Ford C-MAX (reviewed here), Focus Electric, and this 2017 Ford Fusion Energi SE.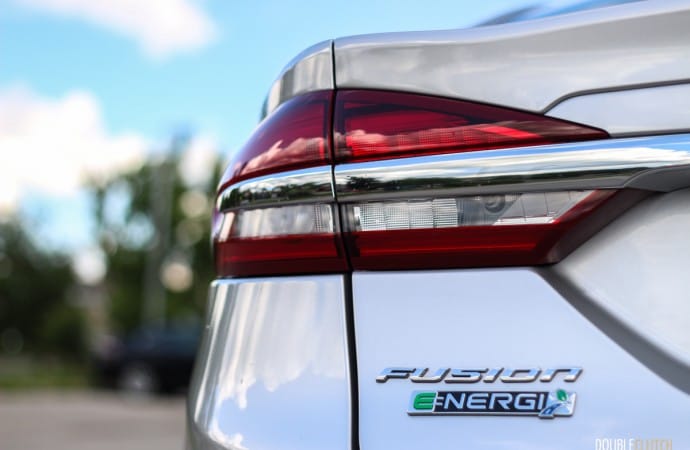 This Ingot Silver Fusion Energi in SE trim comes packing plenty for its target market, including 18" aluminum wheels, a 12-speaker audio system connected to SYNC 3, and a 2.0L iVCT Atkinson Cycle four-cylinder hybrid powertrain with an EV-only range of up to 35 kilometers. James Atkinson would be proud of the way his vision has been implemented into this hybrid-electric powertrain. Paired to an electric motor which can run independently, the setup gives the Fusion all the desired power at any given time.
Ford's 2.0L inline-four is mated to an 88kW electric motor, and an electric continuously variable transmission (e-CVT) sends power to the front wheels. When all working together, the numbers are 188 horsepower and 129 lb-ft. of torque. The lithium-ion battery can be recharged to full capacity in just seven hours from empty using a standard 120V wall outlet. Stepping up the game to a 240V outlet will speed up this time to just two and a half hours.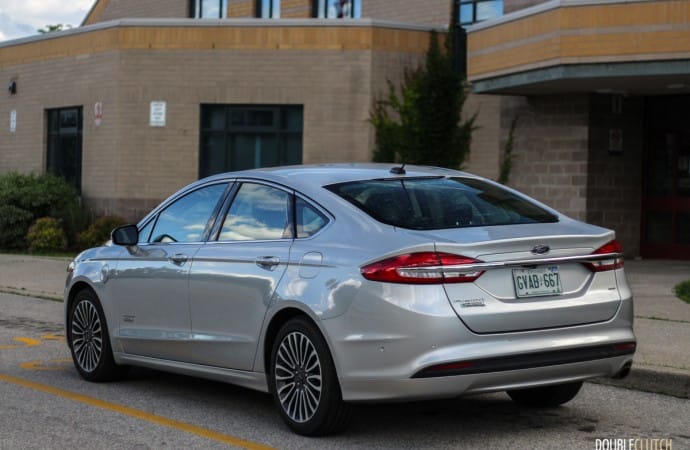 Most Fusion buyers will be turning towards the Energi plug-in model mainly for the low-emissions status. With its 35km range, many commuters will be able to polish off their daily commute without sipping a drop of fuel. Should you require more mileage, the Energi runs like a normal Fusion Hybrid (reviewed here) and delivers excellent mileage. Officially rated at 5.5L/100km city, 5.7L/100km highway and a combined rating of 5.6L/100km, we were able to strategically plan our commutes and finish off our 730km test at just 4.6L/100km. Keep in mind, this vehicle runs exclusively on regular fuel.
Out on the open road, the Fusion's electric power steering feels rather numb and artificial. It remains fairly predictable, but thanks to the low rolling resistance tires (geared towards fuel efficiency), the car feels a bit soft and lacked confidence in the corners. The suspension damping is also quite soft, but again, this is by no means a sports car and is very comfortable in all scenarios. It feels luxurious on longer highway hauls, as the bolstered leather seating and dual-pane glass on the front windows all come together to quiet the interior down to library levels.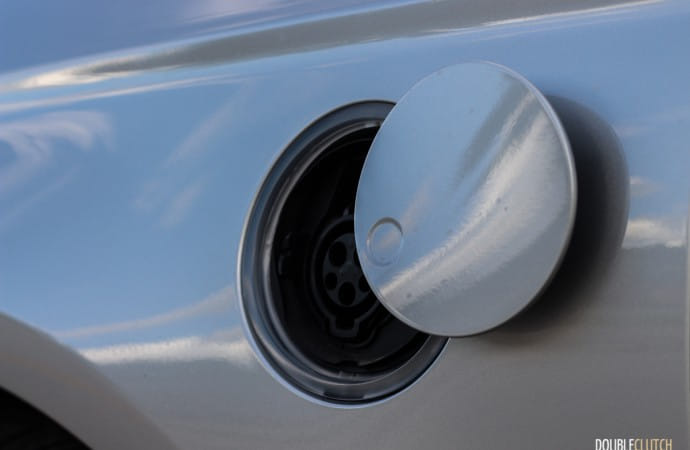 As with other hybrid and electric vehicles, the regenerative brakes take some getting used to if you're coming from a conventional vehicle. They're quite grabby in this application, and drivers will definitely need to re-adjust the way they brake using this pedal. Once accustomed to, the system does a superb job at bringing back some energy and fuel range under optimal conditions.
Three different driving modes are available on this Fusion Energi. "EV Auto", the most advisable for most buyers, lets the vehicle analyze conditions and driving style in order to decide how to distribute power, be it full EV or a combination of EV mode and the gasoline engine. "EV Now" is the second option, which gives priority to using full EV mode as long as possible. Under this setting, the vehicle remains an electric vehicle unless full throttle is applied. The last mode is "EV Later", which operates the car as a traditional hybrid and allows drivers to save the battery range for later in their commute. The Energi also adapts these capabilities into your drive by observing frequent GPS coordinates for your charging locations, and prioritizing electric over gasoline power knowing that it will likely be charged soon.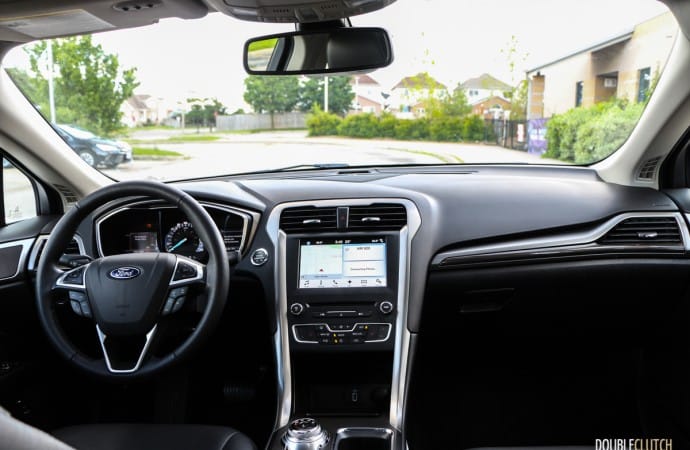 Model year 2017 saw a mid-cycle refresh for the Fusion line (reviewed here), which added subtle styling updates such as LED strips in the headlights, re-contoured tail lights, and new wheel designs. The interior brought in SYNC 3, a rotary dial gear selector, and a few other small tweaks. It's welcomed, and the Fusion is one of the design champs of the segment as of now, alongside the Mazda6 (reviewed here) and Kia Optima.
Connectivity is a Ford product strength for a while, with the 8" touchscreen now offering Apple CarPlay and Android Auto connectivity. It works great, is seamless, and the USB ports are conveniently located yet tucked away out of sight. It's a pleasure to see the CarPlay/Android Auto setups slowly but steadily becoming a universal standard across the industry, with only a few manufacturers still stubbornly refusing to adapt. We came away particularly liking the 12-speaker Sony audio system, which did an excellent job of reproducing audio notes using various genres to test.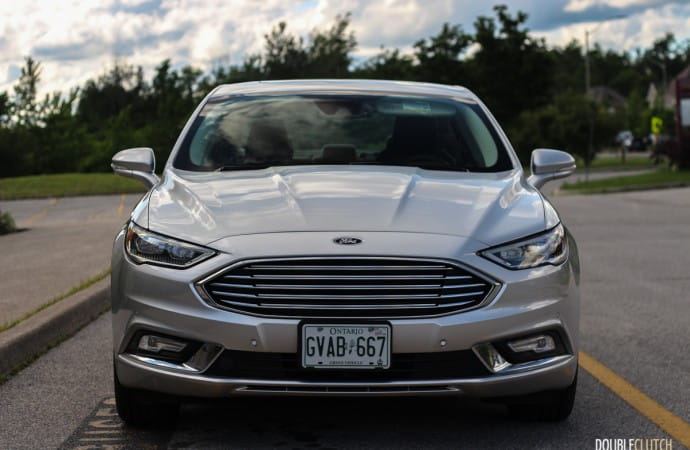 Attractively priced to reel in the Canadian EV-buying public, the Ford Fusion Energi is available with incentives from the provincial government. At the time of this writing, Ontario buyers are eligible for discounts up to $7,730. Available in three different configurations, the SE sits at the bottom of the Energi line, at $31,188 (excluding incentives). The Titanium starts at $33,146, and the Platinum at $40,088. With a few options tacked on, our specific tester tipped the scales at $37,658 as tested.
With massive competition from the Koreans, the 2017 Ford Fusion Energi SE isn't alone. The Hyundai Sonata PHEV (reviewed here) and Kia Optima PHEV are both available as of now, though Honda opted not to sell the plug-in variant of the Accord to Canadians. An impressively quiet interior, a soft and comfortable ride, and plenty of head and legroom for four are all factors that contribute to the Fusion's appeal. Additionally, with a fuel-sipping hybrid, regular EcoBoost models, and a punchy Fusion Sport (reviewed here), there's a Fusion for quite literally everyone.
See Also:
2017 Honda Accord Hybrid Touring