It only takes a half-second glance at the XDiavel to realize that it's a completely different bike.
Since the launch of the first Ducati to bear the Diavel name in 2010, the Diavel has been telling us "do not call me a cruiser". At first, we all chuckled at the marketing slogan, brushing it off as another attempt at an ironic tagline that seemed to have been dreamt up somewhere along Queen Street West. But then when people started to actually ride the bikes, the line became more of a warning, less of a marketing tool.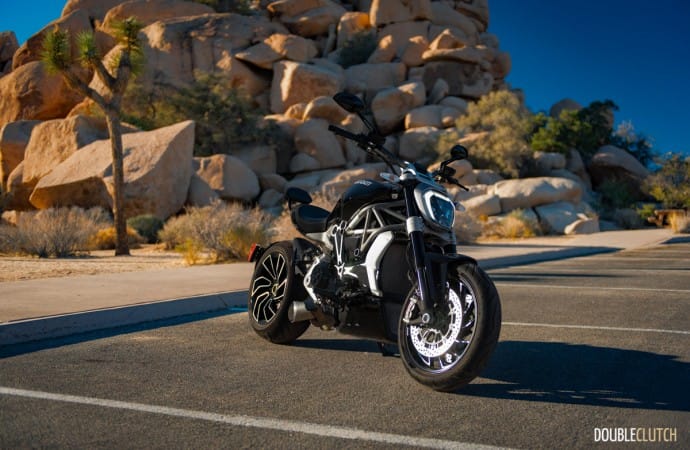 The first iteration of the Diavel (reviewed here) was blindingly fast and supremely capable for something with forward controls – everyone was stunned, and the bikes started clutch-dumping off showroom floors everywhere. But how much further can Ducati take the concept of taking something that looks like it would be at home parked in Port Dover, and infusing it with the heart of a bike competing in Isle of Man? I found myself placing my butt in the saddle of a new 2017 Ducati XDiavel S to answer exactly that.
It only takes a half-second glance at the XDiavel to realize that it's a completely different bike than its X-less older sister. Ducati must have used up nearly every last available part when manufacturing the first Diavel, as the XDiavel shares only its tires and calipers with the previous bike. Much of the design language has been updated and significantly modernized. Gone are the bulbous curves of the first bike, replaced with a litany of much sharper, hard edges, which contribute to a significantly more muscular persona. In addition to looking better, the X also feels like it's built better – gone are the oddities which seemed to plague the old Diavel; no more shaky tail lights, no more intermittently-functional twin displays.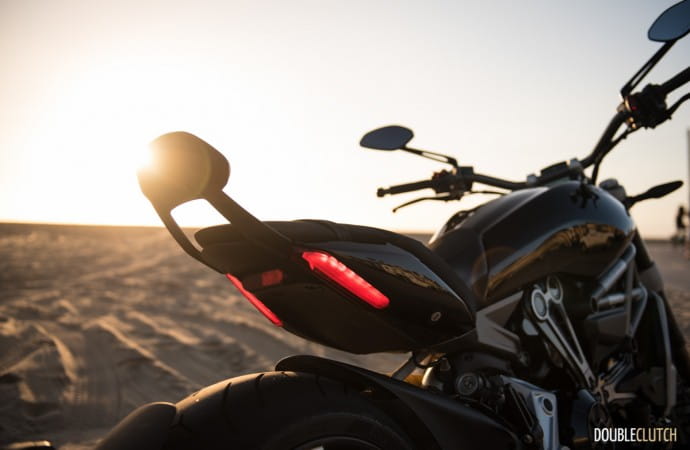 The 1198cc Testastretta engine found in the Multistrada has been given a longer stroke before being stitched into the new frame, and it spits out 156hp at 9,500RPM, with peak torque of 95 lb-ft at 5,000RPM. While Ducati motors are criticized by some as having low redlines, the XDiavel S will surprise many in its segment when it hits 10,000RPM. If the fact that it can hit 10,000 doesn't surprise you, the sound it makes on the way there certainly will. The fitted Ducati Performance exhaust seems loud enough to drown out the straightest-piped Harley you can think of. It has some major rasp to it throughout the entire RPM range – there really isn't a quiet point in the range. Bring earplugs.
Even further surprising is how well the bike handles. On turn-in the X feels like a feather, making it easy to bob and weave through busy city streets, even at low speeds. When you've managed to ditch the city traffic, you'll be able to get 40-degrees of lean going in the canyons before you start to scrape pegs, too. At first it feels odd to lean this far while using forward controls, but this is a feeling that rapidly grows on you.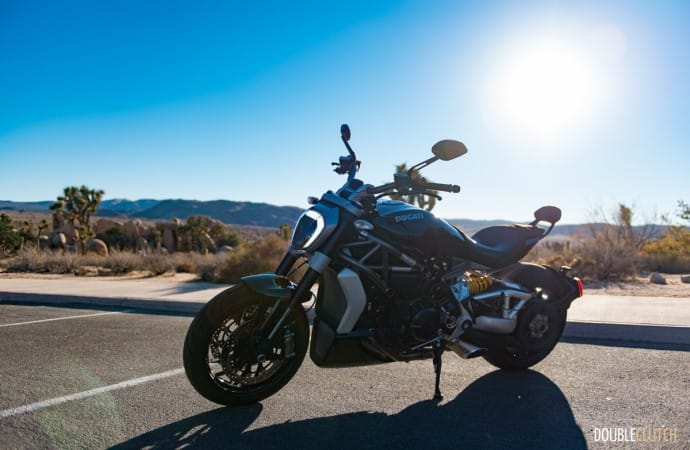 The loveliest surprise with the XDiavel S? Launch control. Press and hold the DPL button on the throttle side controls, pull in the clutch, engage first gear, and completely open the throttle. From there, you GENTLY release the clutch and let the system manage wheelspin. Dump the clutch and you'll probably get to find out how well the bike will backflip. It's less of a launch control system and more of a launch assist. You'll get three tries at it as well before you have to wait 20 minutes for the system to reset itself. This is for the best unless you plan on replacing your clutch daily.
For regular riding, the XDiavel performs just fine. It has very manageable power in generally any mode you put it in, and is comfortable enough to ride for a full day without any part of you feeling sore (save for your ears if you forget your earplugs like I did). Fuel consumption is easy to keep an eye on as well for longer trips, thanks to an actual fuel gauge. If you opt for side bags the bike quickly becomes practical in many, many ways.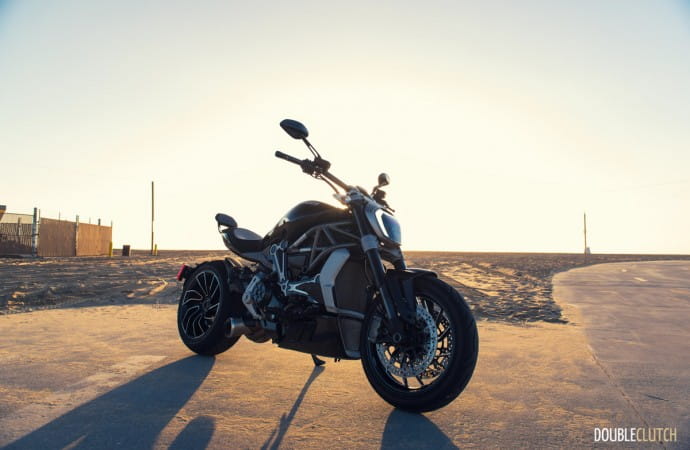 The only real gripes I have with this bike are the impossible position of the ignition switch you're forced to use if your key fob dies, which mine did, and the fact that it has all the subtlety of a helicopter landing wherever you decide to take it. The noise I can get over, but that switch is far too difficult to use, with or without gloves on. Thankfully you aren't forced to ever use it unless you don't have your key or the battery is dead, in which case you'll be prompted to enter a PIN code after you manage to contort your fingers enough to twist the ignition switch.
That said, the time I spent on the bike was for the vast majority positive. The XDiavel took me through the traffic of Los Angeles comfortably and down canyon roads at speeds far in excess of anything I would've initially given it credit for. The 2017 Ducati XDiavel S is really a leopard in rhino's clothing. It's sharp, methodical, and viciously fast, All of this despite looking heavy, powerful, and a bit clumsy. In Canada, the 2017 XDiavel S starts at a reasonable $24,995.
2017 Ducati XDiavel S Gallery
See Also:
2016 Harley-Davidson Sportster Iron 883