As the originators of the minivan in 1984, Chrysler is no stranger to maximizing utility.
When the need arises for a three-row vehicle for family and cargo transportation, it's hard to beat the minivan. Today's buyers are flocking in droves to the crossover SUV, which offers a series of trade-offs in (let's be honest) a futile effort to look slightly cooler. The CUV is often more expensive to purchase, less efficient on fuel, more expensive to maintain thanks to heavy duty off-road ready components, has poorer ride and handling, and worst of all, has less utility due to higher load floors for all-wheel drive systems and ground clearance.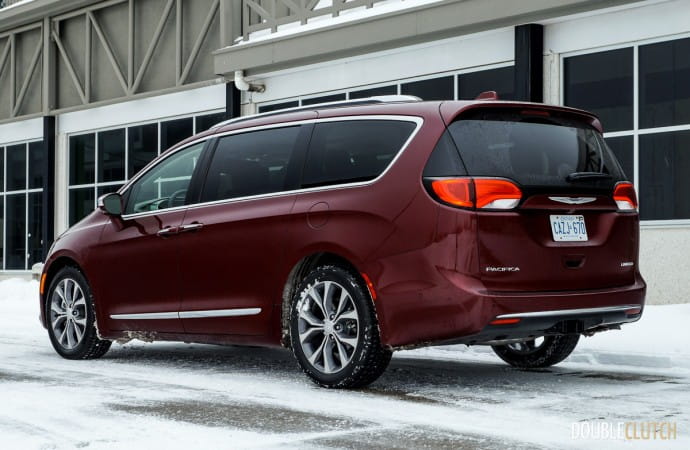 Granted, the all-wheel drive and ground clearance is often a motivator for going with the crossover, but for most people in an urban environment, roads get plowed in a sufficient amount of time, and a good set of winter tires (reviewed here) offer more stability and safety than most drivetrains can offer. For those who have a little extra to spend, the 2017 Chrysler Pacifica Limited is just about one of the most premium minivans that money can buy.
As part of our recent minivan comparison, the Pacifica Limited came in at an as-tested price of $60,875. While that does seem like a lot of coin, the test vehicle included a multitude of options that inflated the Limited trim's base price of $52,995. For $3,495, the UConnect Theatre & Sound Group adds a 760-watt amplifier, twenty Harman/Kardon speakers, and wireless headphones, all to go with a Blu-Ray and DVD player rear entertainment system. $795 added 20-inch dark grey aluminum alloy wheels with beefy 245/50R20 tires, which help to fill out the Pacifica's wheel wells nicely. $895 added all-weather matting, $700 added a Class II hitch receiver with trailer sway control, and lastly, $1,995 added the Advanced SafetyTec Group. This brought the full modern safety suite including forward collision warning with automatic braking, lane keeping assist, adaptive cruise control, a 360-degree surround view camera, and park assist, among other features. Thankfully, there was no extra charge on the Limited for the pretty Velvet Red Pearl exterior paint and Mocha brown leather interior that the test car came equipped with.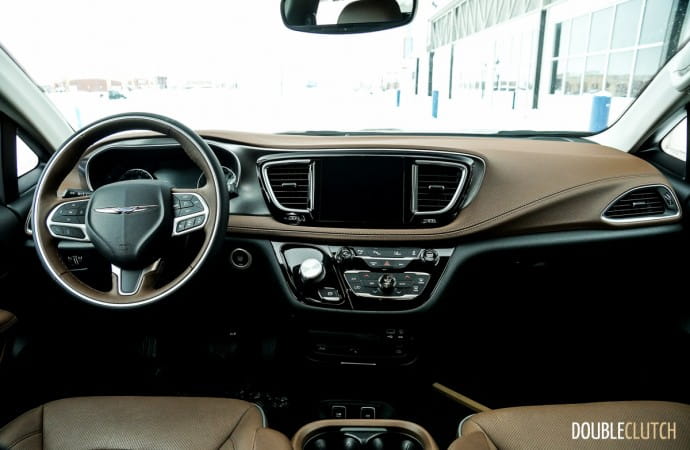 As the originators of the minivan in 1984, Chrysler is no stranger to maximizing utility when it comes to the 2017 Pacifica. Their trademark Stow 'n Go seating is standard for both the second and third rows, and the top-line Limited adds power folding to the third row. While that may sound like a convenient option, the folding process is slow, tedious, and can easily be done in seconds with the manual stowage setup on cheaper Pacificas – it isn't even particularly heavy to begin with. While it's nice for those who are less able-bodied, it's a feature most can do without. Aside from this, with the third row folded, there's a large and flat floor for cargo.
With the seats upright, the deep void left behind by the Stow'nGo system also accommodates a ton of stacked cargo. There's an abundance of cubby holes and storage for just about anything that a van full of people will carry, and there's no shortage of cup holders for each of the seven seating positions. Cargo capacity for the first, second, and third rows, respectively, is 3,979 litres (140.5 cubic feet), 2,478 litres (87.5 cubic feet), and 915 litres (32.3 cubic feet).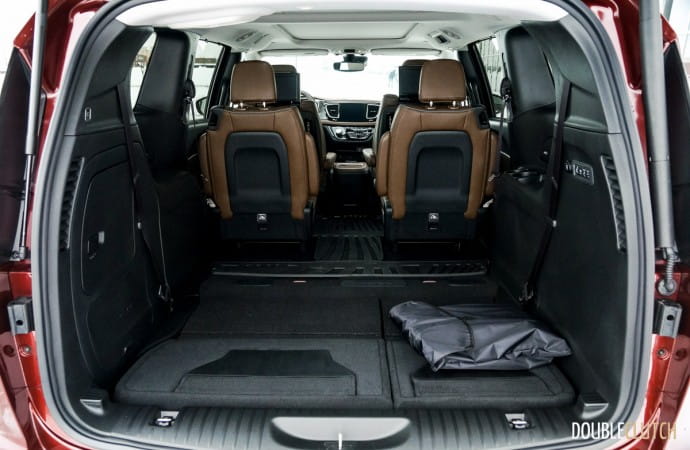 Following suit with the Honda Odyssey (reviewed here), the Pacifica includes Stow 'n Vac, which is a small vacuum cleaner located just inside the driver's side quarter panel. Supplied by Ridgid, the hose protrudes just behind the sliding door, allowing easy clean-up access for both the second and third rows. By contrast, the Odyssey's Shop-Vac hose is near the back of the van. Unfortunately, having the vacuum in its location requires the deletion of the spare tire.
In this case, Fiat Chrysler supplies you with a can of flat repair compound and an air pump. While this may help with simple punctures, the compound makes a mess of the inside of the wheel and tire (your mechanic will love you), and is useless if sidewall damage has occurred. According to the burgeoning online Pacifica community, owners can purchase an additional spare tire kit and store it neatly underneath the second-row Stow 'n Go cubby. Of course, if you need to fold down the second row of seats, you'll have to remove the spare.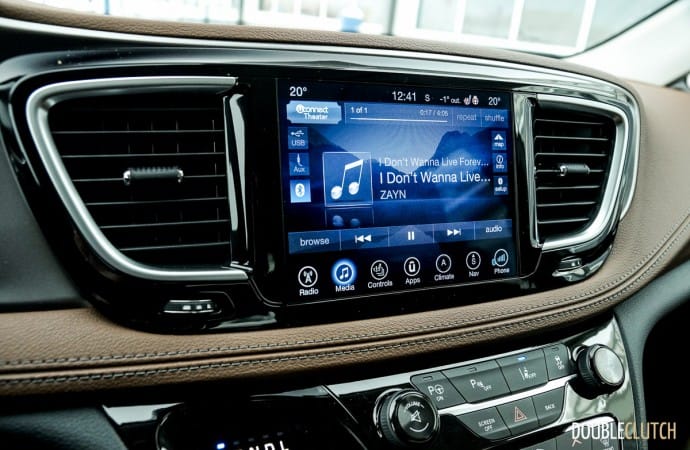 For interior tech, the Pacifica Limited comes complete with a slightly updated version of Chrysler's UConnect 8.4 connectivity suite. The touch screen is glossier than before, creating a more modern and elegant look. Even though it's one of the better interfaces in the business, other automakers are catching wind of what a good system looks and feels like, and most have now equalled Chrysler in terms of ease-of-use and functionality. Android Auto and Apple CarPlay, two smartphone mirroring apps that work excellently via USB, aren't available, but this is expected to change within the next one to two model years. For 2017, the Dodge Challenger/Charger (reviewed here) and the Chrysler 300 pioneer this technology for the FCA family.
For back seat passengers, a full separate heating and fan control is present overhead, and there is one screen in each front seat head rest for the Blu-Ray/DVD system. There are only a few real gripes – one is the fact that the heated seat controls don't have a dedicated function on the dashboard, forcing you to distract yourself with the touch screen. The heating and air conditioning controls on the centre stack feel cheap, and the Limited's steering wheel, while heated, has a metal trim ring that stays cold to the touch in winter weather.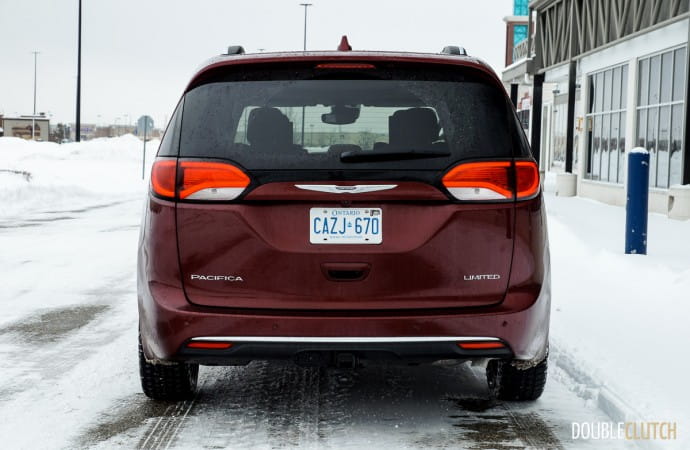 As is typical for a modern minivan, road manners are a strong suit. On the highway, the Pacifica settles down in eighth or ninth gear and the lazy low revs keep engine noise to a minimum – ninth doesn't really engage until about 120 kilometres per hour. Wind noise is well controlled, and ride quality is excellent – even with the small sidewall tires on the twenty-inch alloy wheels. Steering is light, which doesn't bode well for spirited driving, but this is countered with easier day to day maneuverability. Power comes from the jack-of-all-trades 3.6-litre Pentastar V6, which makes 287 horsepower and 262 lb-ft of torque.
It's paired with a ZF-sourced nine-speed automatic transmission, which has greatly improved calibration and refinement compared to the last couple model years using this transmission. Shifts are slow, but smooth, and the extra ratios do their best to make up for the typical low-end torque deficit seen with the 3.6-litre Pentastar. Aside from a little lack of urgency below 3,000 rpm, passing and merging power is plentiful once the engine gathers a bit of steam.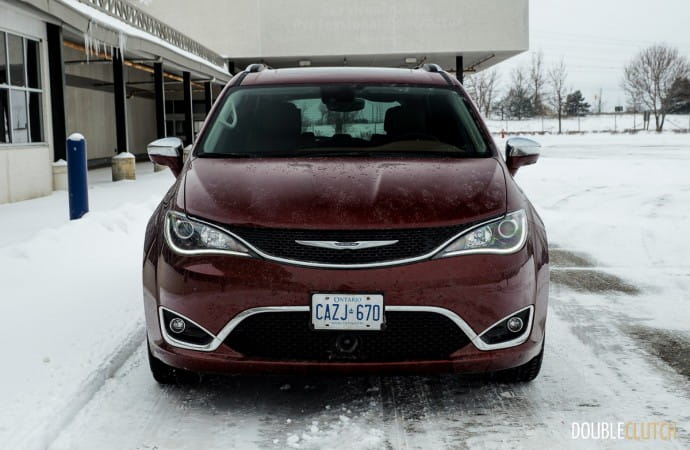 Nominal fuel economy ratings for the Pacifica come in at 12.9 L/100km in the city, and 8.4 L/100km on the highway. Even in cold and snowy weather, observed economy wasn't hampered and came in at a reasonable 11.5 L/100km. It's easy to get great highway mileage thanks to the nine-speed automatic, and it wouldn't be a surprise if the nominal highway economy rating can be beaten with a trained right foot – getting the transmission into ninth gear seems to help immensely. Combined with a fuel tank that holds 71.9 litres, range between fill-ups should be able to approach, if not exceed 800 kilometres.
Overall, the 2017 Chrysler Pacifica Limited packs a ton of features into its $60,875 as-tested price tag. It certainly won't be expected to be the volume model, and more reasonably equipped examples are available starting at just under $40,000. Relative to the competition, the Pacifica is one of the newer releases in its segment. As such, it integrates the latest safety and technology features very well, which is something all families will come to enjoy.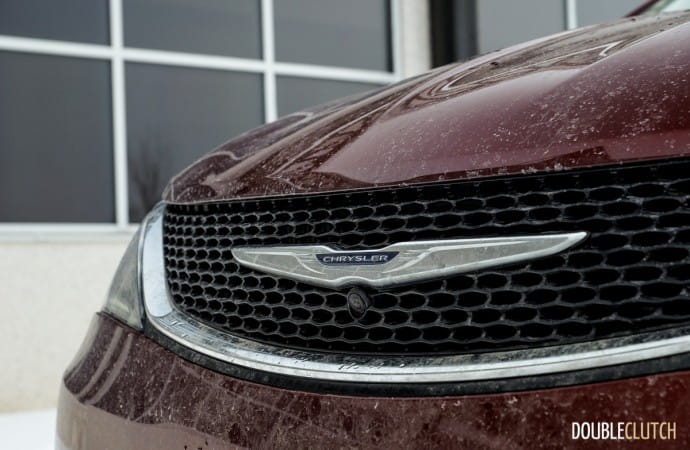 Honda's Odyssey, Toyota's Sienna, and Kia's Sedona (reviewed here) are three models that still provide formidable competition, even though they're older. When fully loaded, all three can approach the Pacifica's pricing (with an advantage going to the Kia), and also offer similar levels of equipment and refinement. The Sienna XLE is the only one that can be had with all-wheel drive. Proudly Canadian-built in Windsor, Ontario, Fiat Chrysler's latest effort is a great driver, and even though it isn't a runaway winner in a tight segment, it needs to be considered on any minivan shopping list.
2017 Chrysler Pacifica Limited Gallery
See Also:
2017 Toyota Sienna Limited AWD
2017 Chrysler Pacifica Touring L