Many vehicles are decisions made with the heart and not necessarily the brain.
Some argue that BMW has lost their way in the last little bit, and in a way, they would be right. A company once heavily devoted to producing only the best balance between performance and luxury in the world, the Bavarians have now concentrated their lineup into crossovers, crossover coupés, and four-door coupés. That said, they haven't lost their passion – every single BMW we have driven has hard evidence of the racing pedigree. Perhaps the days of the E30 M3 are long gone, but this "Sports Activity Coupé" has a huge amount of charm.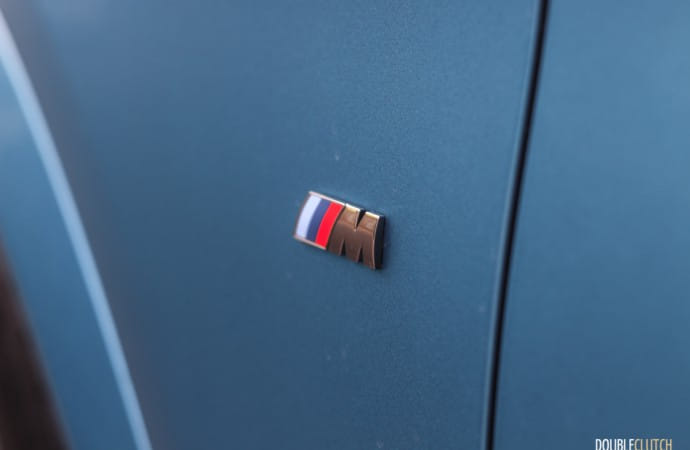 The 2017 BMW X4 M40i xDrive is a difficult name to gulp, and it's a vehicle that carves into a niche that hasn't previously existed. The long version is, the X4 (reviewed here) is a slightly more stylish version of the X3, with some of the versatility compromised. The M40i is the sportiest version, using a turbocharged six-cylinder engine and some calibration from performance decision "M". The short version – think of it like a very slightly de-tuned M2 (reviewed here) wearing a backpack, and the X4 M40i begins to become more palatable.
As a sport-oriented vehicle, the numbers are there. A turbocharged 3.0L inline six-cylinder (codenamed N55), awesome suspension calibration and damping, a rowdy exhaust that backfires like microwaveable popcorn, and a well-tuned transmission all make this X4 the hottest model available. The 3.0L puts out 355 horsepower at and 343 lb-ft of torque at 1,350RPM. Mated to ZF's eight-speed transmission, power is sent to all four wheels via BMW's xDrive all-wheel-drive system.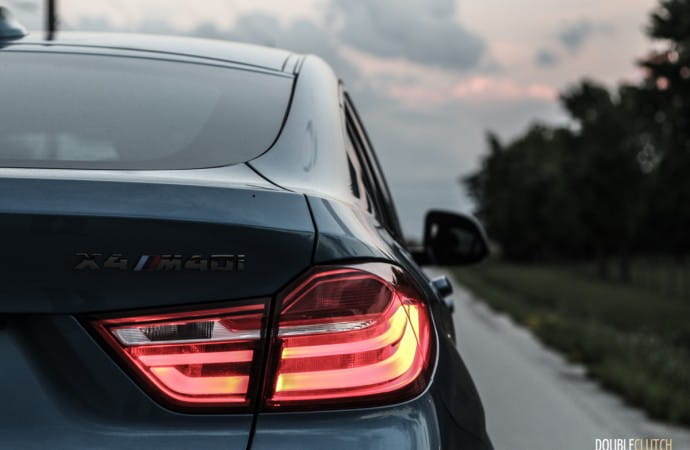 Does the X4 M40i feel like a performance car? Yes, it pulls like a freight train, turbocharger lag is almost non-existent, making for linear power delivery right through the spectrum. Response is there, and with the transmission in sport mode, it's in the right gear for those quick passes or highway on-ramps. There is some fake sound piped through the iDrive system, but the overall noise the car makes is decent enough to make up for it. In fact, I like the sound of BMW's six-cylinder M-tuned engines way more than the V8s seen in the X5 M or M6 (reviewed here).
Fuel economy on the X4 M40i xDrive is decent for a crossover with an M-Sport tune. Over two combined cycles, one with a rigorous urban commute, I averaged 10.9L/100km. My efficiency wasn't much worse than my editor's with the 340i xDrive, which is great considering the aerodynamic disadvantage that the X4 has. The car will only accept 91-octane premium fuel, and the 77L tank should not be fed regular under any circumstances.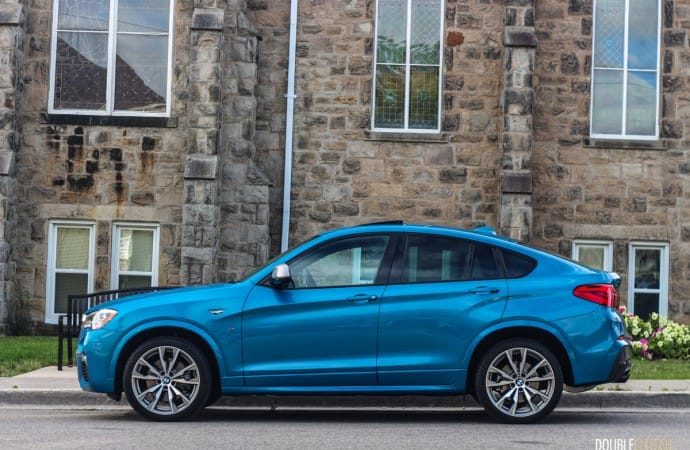 On the inside, the X4 is all BMW, with no surprises at all. The interior is well laid out, with very comfortable yet supportive seats. I like these M-Sport seats because they are nicely bolstered and provide great lumbar and thigh support. The dashboard looks identical to the new 340i (reviewed here), and has great ergonomics. Rear headroom suffers considerably when compared to the X3, along with the rear cargo area, but most average-sized adults will find short distance comfort – kids will be just fine. One small but appreciated touch is that the X4 also gets the X-line key, which is one of the sharpest key fobs currently on the market.
The new X4 isn't just carving a new niche for performance crossover coupés, it's also a pioneer for a series of new technology around the BMW ConnectedDrive banner. Starting with the new ID5 infotainment system (the same setup we experienced in the new 750i a few weeks ago), the home screen is now replaced with a new tile display. ConnectedDrive's voice commands now support being 'spoken to', instead of exact word-for-word directions. For instance, if you're looking for a coffeeshop, it's as simple as saying "Take me to Starbucks".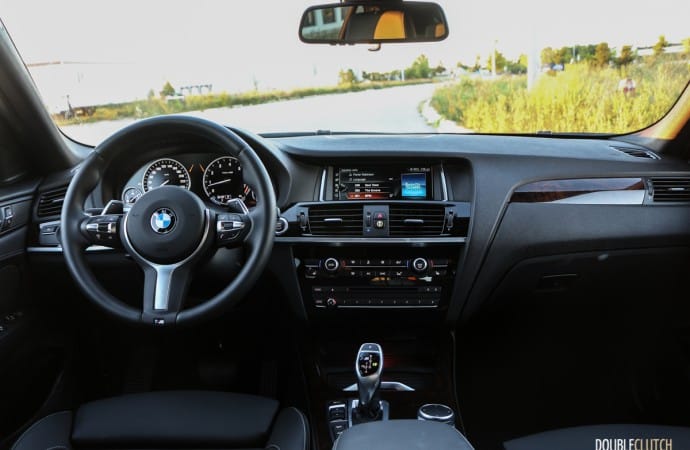 ConnectedDrive also now has a WiFi hotspot using 4G-LTE, available in a similar manner as GM's OnStar system. BMW's setup is capable of supporting up to eight devices at once, making for seamless family road tripping. The navigation system is all-new and uses an enhanced map system with auto-zooming and over-the-air updates. Lastly, there is a BMW remote app which will permit the user to check on the status of their vehicle, fuel range, etcetera from supported iPhone or Android devices.
From an aesthetic standpoint, the X4 isn't exactly going to be winning any beauty contests. I'm not a fan of this new crossover coupé segment, and that includes the X6 (reviewed here) as well as the Mercedes-Benz GLE Coupé (reviewed here). I'd rather have the practicality, but honestly, if you think of this M40i as an M2 with a backpack, it begins to make way more sense. The M2 is a sports coupé with little to no space for suitcases, strollers, or any of the other stuff that is realistically required in life.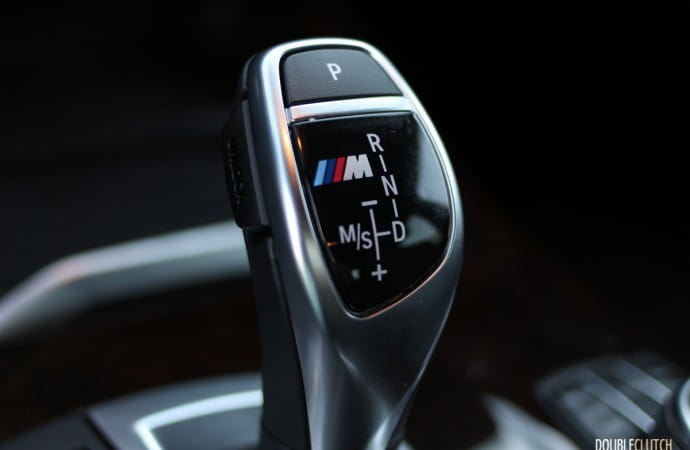 Starting with a base price of $60,700 (which is a $13,000 premium over an X4 xDrive28i base model), our X4 M40i was pretty loaded. Things like a $5,700 Premium Package, a $3,500 Executive Package, $2,200 Technology Package, headlight washers, wireless charging for mobile devices, speed limit information, and the Long Beach Blue paint bring the total to $73,400 before taxes, freight, and PDI. This is the price for a fully loaded vehicle – there aren't really any other options to be had.
This X4 may not be as practical as its X3 sibling, but it's a great compromise between the extra power (the X3 cannot be had with this engine setup) and practicality. Long Beach Blue is also the launch colour for the M2, and is also reminiscent of our X6 M (reviewed here) test vehicle from last summer. The extra body skirting and lips (front and rear) are great contributors to helping the X4 stand out, and the LED lighting (also front and rear) allows it to maintain a modern stance.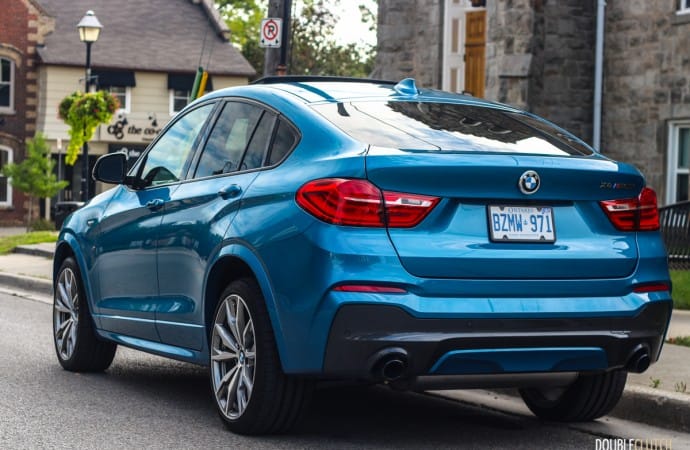 Many vehicles are decisions made with the heart and not necessarily the brain, and the 2017 BMW X4 M40i xDrive is one of them. It may be lacking in rear headroom when compared to the X3, and exhibit compromises in the cargo capacity, but the Long Beach Blue colour and the noises that emit from the tailpipes make it completely worth it. One thing's for sure though – you definitely won't have the same car as your neighbours. Keeping up with the Joneses just got a bit more difficult.
2017 BMW X4 M40i xDrive Gallery
See Also: