MARKHAM, ON – At this point it's no secret that the all-new 2017 Ford GT supercar is manufactured by Canada's own Multimatic. We were invited to their facility in Markham, ON for a private tour and to celebrate with Ford Canada as some of the first production GT vehicles rolled off the line. Multimatic's 65,000 square foot campus is responsible for hand-building this state-of-the-art North American supercar, and they're very proud of this. The company's racing history is vast, and they are also responsible for building the tubs for the Aston Martin One-77, along with various other projects.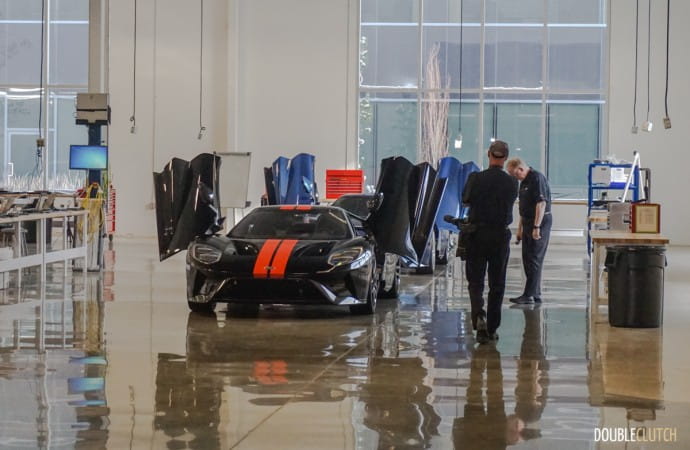 The Ford GT was the runaway favourite at its official debut at the 2015 North American International Auto Show in Detroit, and all 500 examples to be built in the coming two years (250 cars per year) have already been pre-sold. Ford asked applicants to submit an online form along with reasons as to why they should be allocated a space, and they received over 6,500 applications. The lightweight machine is made of carbon fiber, using some aluminum structure as well.
Rather than employ a traditional V8 powerplant like the last GT, Ford's focus is on efficiency, weight (the tub alone weighs just 65 kilos!), and aerodynamics. All of this is done while maintaining the crazy-factor of the supercar. As a result, the GT is powered by a bespoke version of the 3.5L EcoBoost twin-turbo V6, good for over 600 horsepower. Ford also claims a top speed of over 200mph, though official figures have not been released yet. The transmission is a unique seven-speed dual-clutch unit, sourced from Getrag, should be insane as well.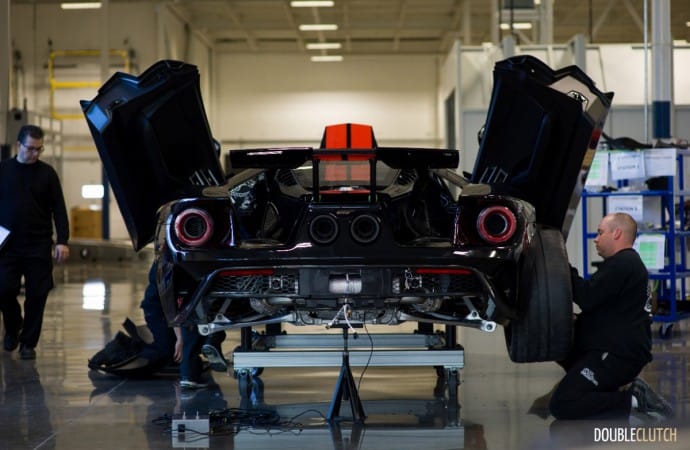 History on Multimatic includes a lengthy relationship with Ford's racing programs, including vehicles in the IMSA Continental series as well as the Mustang FR500GT. One of their most well known projects is the Dynamic Suspension Spool Valve (DSSV Damping), which keen motorsports enthusiasts will remember contributed to Sebastien Vettel and the Red Bull F1 team's multiple championship wins in a row. They have also competed in the Grand-Am Cup, 24 Hours of LeMans, Rolex Series, and the American LeMans Series.
Using their extensive expertise in carbon-fibre, Multimatic has modified their entire facility to adapt towards the GT supercar. Everything is done in house, though naturally, a number of parts are sourced from external suppliers. For instance, the bespoke carbon wheels are sourced from a manufacturer in Australia, also responsible for the wheels on the Shelby GT350R. Everything from paint, to assembly, and engineering is done at this Canadian factory, and the team of 85 employees on the GT program is specifically trained to handle the car and any issues that should arise during production. One car is produced per day, on average.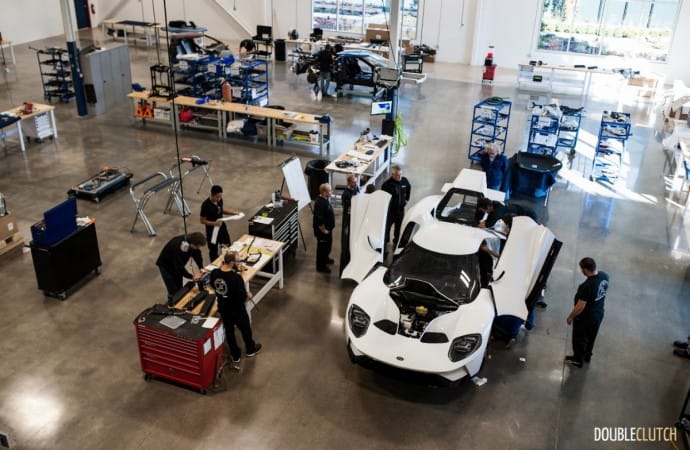 Though the GT's EcoBoost engine may turn some off at first, the reality is, it's the future of the supercar. 600 horsepower is no joke, and we've heard how the thing sounds – it's an absolute monster. Those lucky enough to own one have something truly special on their hands – something that was manufactured with the blood, sweat, and tears of an extraordinary team of individuals dedicated to producing one of the best cars in the world. Pricing will be approximately $450,000, setting the 2017 Ford GT against the likes of the Lamborghini Aventador and McLaren 675LT.
Event: First 2017 Ford GT production supercar Gallery
*Some images courtesy of Ford Canada*