Buick has been trying to introduce younger buyers into their lineup for the better part of a decade now, with entries such as the sporty Regal, compact Verano and even the new Envision crossover (reviewed here). Still, names like the legendary Park Avenue and Electra have not been forgotten, and full-sized premium sedans are a staple in the line. We first saw the LaCrosse under the "Allure" name in Canada in 2005, and the car adopted the LaCrosse name for the second generation. This year marks the debut of the third-generation model, so we were sent a 2017 Buick LaCrosse Premium AWD for a road test.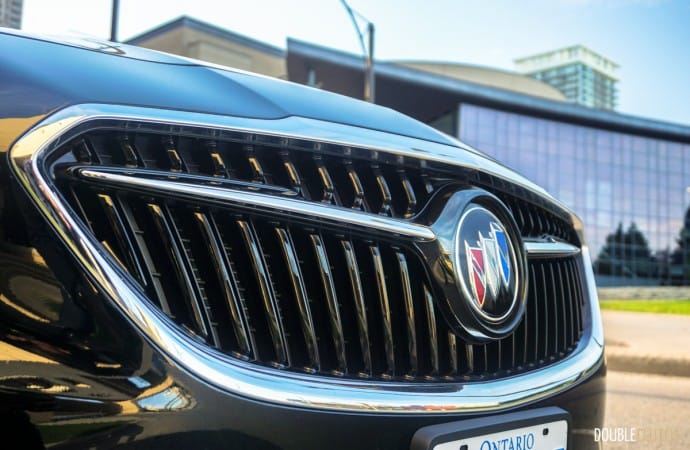 Past models of the LaCrosse (and many other Buicks) were traditional but ultimately bland. Looking particularly classy in Ebony Twilight Metallic, the new LaCrosse is anything but boring. The new LaCrosse incorporates some attractive lines and the latest layered grille bearing the Buick logo, something that's also present on the Envision. The proportions are just right, as the LaCrosse looks like a new, upscale sedan. If anything, it looks like what the spiritual successor to the Park Avenue would have looked like today, and that's exactly what it is – but it's also way more than that. The 18" Ultra-Bright machined alloy wheels are stylish and make for a good ride; we're glad to see this comfort-geared setup rather than a harsh-riding set of 20s.
There's a new five-link rear suspension, designed with hydraulic bushings. This is one of the first implementations of such a system in a non-luxury vehicle. The LaCrosse rides on GM's Epsilon II platform that's the basis for the current Impala (reviewed here) as well as the Cadillac XTS. As a result, ride quality is excellent and we heard comments from rear passengers as well about the overall smoothness of the car. The suspension components on the LaCrosse absorb bumps and potholes with zero effort, and that's exactly what Buick buyers want – a refined ride with effortless response and light steering. Steering ratio isn't exactly quick, but the wheel is light enough to make child's play of complicated parking lot maneuvers.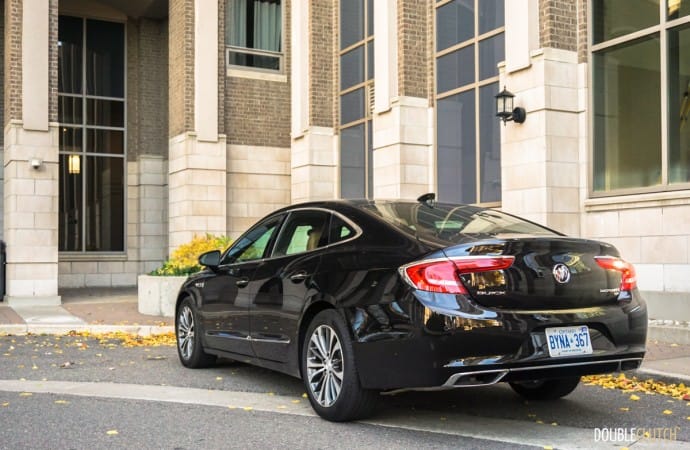 GM's family 3.6L DOHC 24-valve V6 was the heart powering our LaCrosse, combined with all-wheel-drive (though the base car is front-drive). This car pushes 310 horsepower at 6,800RPM and 282 lb-ft at 5,200RPM. Rather than the six-speed units on the last Impala and XTS models we tested, a butter-smooth eight-speed automatic is the choice transmission here. This combination allows the LaCrosse to jog to 100km/h in just six seconds, a feat that can't be called "fast", but certainly far better than your grandfather's Buick. The power delivery is even and quiet thanks to natural aspiration, making the LaCrosse just plain effortless.
There's a manual mode with paddle shifters equipped on this large sedan, and though we don't think many customers will actually use them, the LaCrosse is capable of being somewhat dynamic. What it really excels at speaks back to the pillow-like ride, the quietness of the vehicle. Buick's Quiet-Tuning is at play here, using extra sound deadening and noise canceling technologies, along with double-pane glass on the windows, to make for a seriously quiet car. We drove the car across the Toronto area in rush hour a few times, just relaxing with some appropriate music on the satellite radio, almost disappearing into the bubble of the car.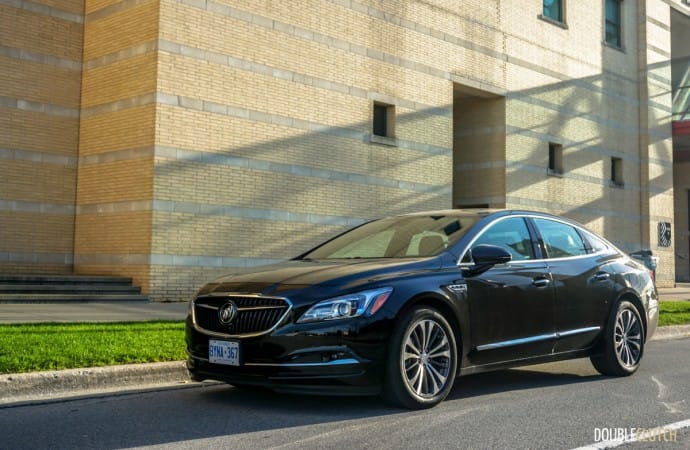 Buick rates the LaCrosse at 11.6L/100km in the city, 8.1L/100km on the highway, and 10.0L/100km combined, operating on regular 87-octane fuel. One long fuel economy test we conducted returned just 6.4L/100km highway in eighth gear over 100km. When putting the 3.6L V6 to work, we observed an average economy rating of 9.8L/100km in colder temperatures approaching the freezing mark. The eight-speed automatic contributes nicely to the car's good fuel economy, and we're happy to see this addition.
Interior appointments on the new LaCrosse didn't fail to impress on any level. The Brandy/Ebony combination upholstery looks and feels upscale, approaching Cadillac-levels. In fact, we'd wager that the aging XTS has been trumped by the new LaCrosse's business class cabin. Brandy signifies a light brown, almost caramel dye on the leather seats. They're comfortable and decently supportive, though not aggressive in any sort of performance fashion. Ergonomics are good, with climate and infotainment controls right at the driver's fingertips.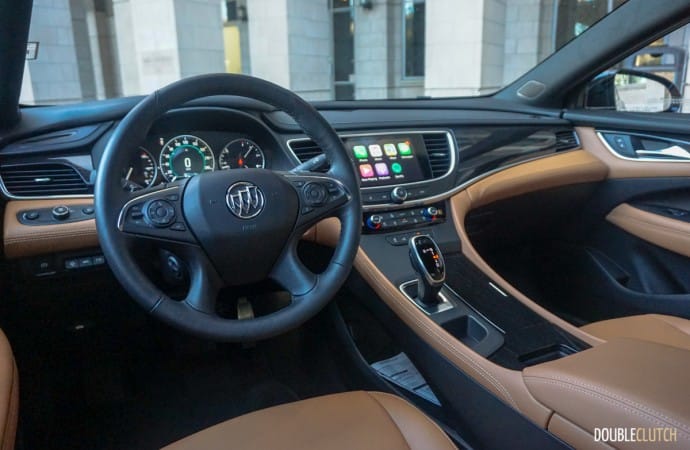 What we really didn't like was the new gear shifter, which has trickled down from the Cadillac XT5 (reviewed here). It's an electronic unit that appears to be inspired from similar units offered by BMW and Audi, but clunky in appearance and operation. Engaging reverse involves pushing forward, tilting the lever to the left, and holding for a second or two until the car actually engages reverse. Buick has attempted to fix something that wasn't broken specifically to try and push the LaCrosse a bit further upmarket. It would be nice to see a more traditional shifter silently trickle its way back into the car.
The tech built into the fully loaded LaCrosse is pretty state-of-the-art. It's now to be expected of any GM product, especially the high end ones, to have a built-in 4G-LTE hotspot, and this Buick also incorporates Apple Car Play and Android Auto. It all looks great on the 8" touchscreen, and there's also a customizable colour display in the center of the instrument cluster. Lastly, there's finally a new Buick key, which feels much better in your hand, is lighter, and looks more upscale than the old unit. One thing we weren't so sure about is the built-in massage feature on the seats – they're barely noticeable when enabled and there's no indicator anywhere to let you know whether they're on or off.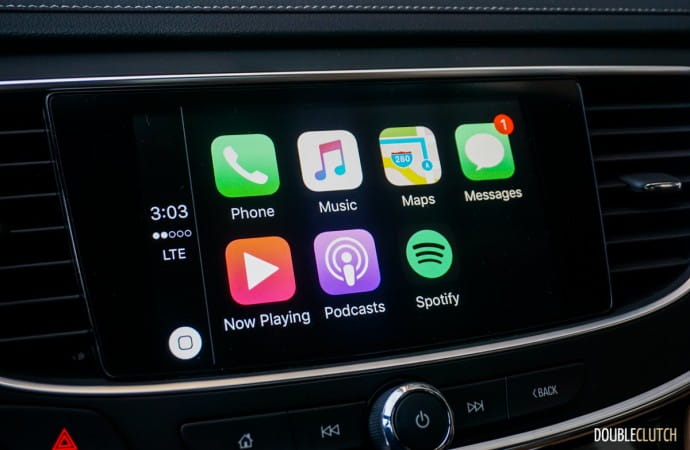 LaCrosse starts at $35,345 for the front-drive 1SV base model, but Buick prices the LaCrosse Premium trim at $47,400. This model already comes with heated and ventilated leather seats with massage feature, wireless smartphone charging, dual-zone climate control, HID headlights, fog lights, and the 8" IntelliLink infotainment. The $2,135 Sun and Shade Package adds a panoramic sunroof and powered rear shade, the Driver Confidence Package 2 adds adaptive cruise control, automatic park assist, pedestrian detection, and automatic braking. There's a $495 charge for the Ebony Twilight Metallic paint, bringing the total cost of our car to $51,890.
An option available on the car that was not optioned on our test vehicle is the Dynamic Driver Package, for $1,495. Although we can't imagine why a LaCrosse buyer would want their car to be a little firmer and sportier rather than just opt for something like a Regal, this package is pretty neat. It adds 20" alloy wheels on 245/40/R20 tires, a sport mode that adjusts shift points and throttle response, and most importantly, continuously variable real-time damping chassis. The only thing we would really like to see carry over to the regular Premium AWD is the adaptive damping.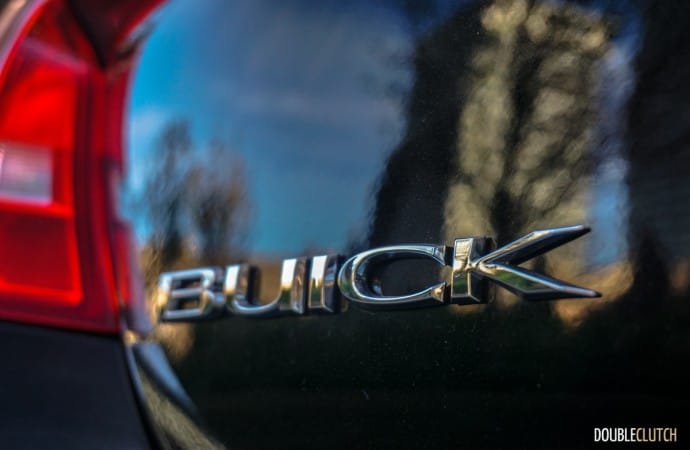 The 2017 Buick LaCrosse Premium AWD is a large, well-sorted sedan that targets to a variety of audiences. From regular family duty for empty nester parents to limousine duty and even as a fleet vehicle for high-level executives, the LaCrosse will not fail to serve its duty. GM does suspensions and comfort really well, and as such the ride quality and overall quietness of this large sedan allows it to commandeer the roads with grace. It's come a long way in ten years, and we're excited to see how the LaCrosse fits into Buick's brand transformation for many more years to come.
2017 Buick LaCrosse Premium AWD Gallery
See Also: