It's very easy to dismiss the underdog – the forgettable car that many discount for a variety of (false) reasons. Volvo is a great example of this, though this image is drastically changing. Often written off as being "not quite luxury", Volvo has been around for a very long time, and has a proven reputation for safety. There was a period in the 1980s where, for a number of years, literally zero fatalities occurred in Volvo vehicles. After acquisition of Swedish tuning house Polestar, Volvo has dedicated significant resources towards their performance line.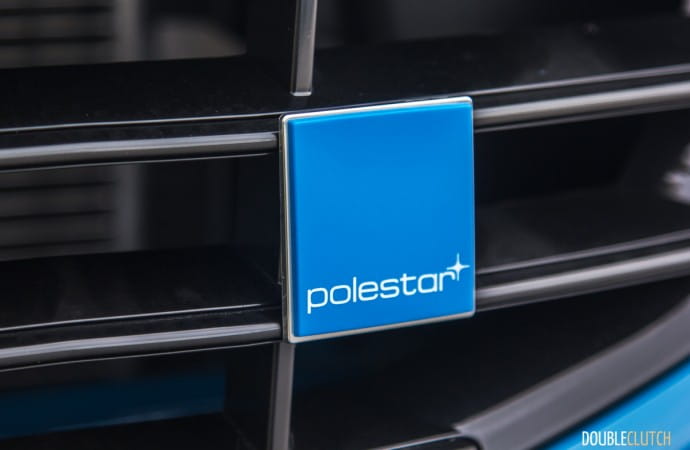 We first sampled the S60 Polestar and V60 Polestar (reviewed here) in late 2014, and were blown away at just how perfect they were as an all-around package. Though expensive at nearly $70,000, the limited-production vehicles are unlike anything from BMW's M division or Mercedes-Benz's AMG products. Beefed up significantly, these Swedish beauties have an understated elegance to them that only Volvo can deliver. The 2017 Volvo V60 Polestar we tested is the true definition of a car guy's dream – a classically designed station wagon with full versatility, and only the keen will observe the subtle blue square badges identifying it as something so very special.
The biggest change to this new breed of Polestar models is the implementation of a new motor. Gone is the old turbocharged inline six-cylinder – as smooth and gutsy as it was, it felt dated. 2017 brings the addition of Volvo's Drive-E engine to the Polestar family. It's the same 2.0L inline four-cylinder engine, twin-charged. To those not in the know, this means it uses a supercharger to help low-end power, and a turbocharger for mid-range and at the higher end of the range. This means drivers won't feel any turbocharger lag when taking off from a standstill, and power is always there when it's needed.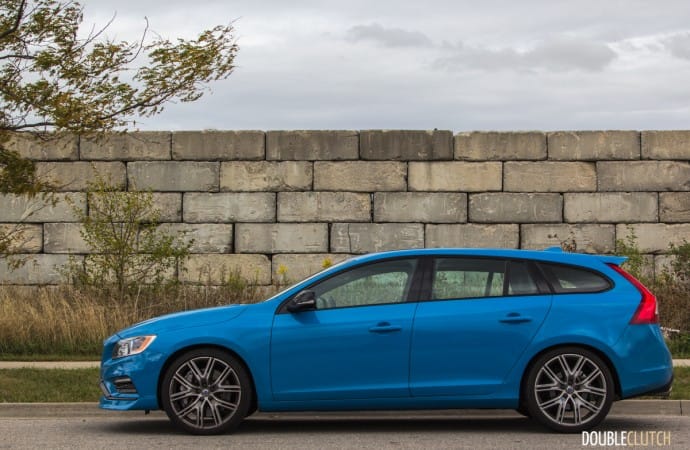 It's not just unique tuning for this motor either; the magicians at Polestar have given it a bunch of new components too. The turbocharger is considerably bigger (and bigger is better, right?!), and there are new connecting rods, fuel pump, a bigger air intake, and new camshaft, to start. The exhaust is now a 3-inch "full flow" exhaust system that provides, as you may guess, better flow. Thanks to the smaller engine displacement, the car is nearly 50 pounds lighter than the model it replaces, which is significant but not that noticeable.
Drive-E Polestar models push 367 horsepower at 6,000RPM, and 347 lb-ft of torque, which peaks between 3,100 and 5,100RPM. The numbers aren't a huge departure from the last six-cylinder examples we tested, but it's all in the delivery. The V60 Polestar always feels like it's in boost, and when kept in "Sport" mode, it's like a leashed German Shepherd – only held back at any point by the one holding the leash. The Polestar exhaust makes sounds on acceleration, upshifts and downshifts that are about the same as the outgoing models, which means no one will really miss any part of the six-cylinder. We saw 100km/h in just over 4.5 seconds – this is one fast wagon.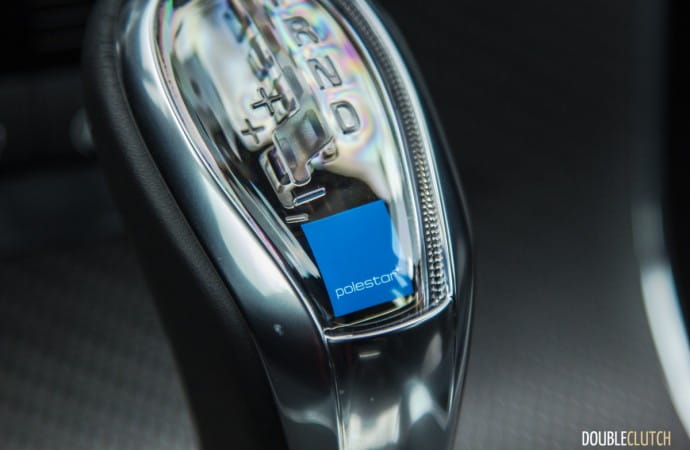 Perhaps the greatest improvement is the eight-speed Geartronic automatic transmission, which replaces the outgoing six-speed. The gearbox was the single biggest letdown of the Polestars that came to Canada for 2015, and it's a tremendous improvement to the powertrain of the new cars. The transmission is sourced from Aisin, and is a chameleon. When spirited driving is required, it behaves almost like a dual-clutch unit, delivering seamless upshifts (met with a "blat" from the exhaust) and perfect rev-matched downshifts. Aisin takes transmissions seriously, and this box is a very good unit.
The V60 Polestar's chassis has been completely overhauled from the standard V60 (reviewed here). It uses Öhlins shock absorbers and springs that are over 80% stiffer than the regular car, and the dampers are fixed (read: non-adaptive). This translates to a firm ride regardless of what setting the car is in, but a very good kind of firm. The dampers are very nicely matched to the spring rates, which produce a well-sorted ride that's strong and rigid without being too harsh or jittery. At first I wasn't convinced, but after spending a few days with the car, this suspension made an easy case for itself.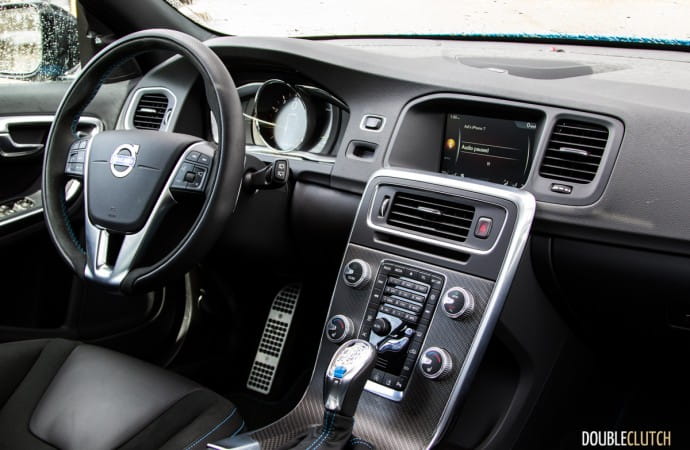 Each time I shared with a fellow car enthusiast that the V60 Polestar has fixed dampers, I was asked what exactly the Sport setting does if not toggle the suspension. In this car, Sport mode is accessed by tilting the shift lever to the left, which toggles steering weight, throttle response, transmission shift points, and exhaust sound. There's also a hidden Sport Plus mode, which is accessed from Sport by pushing the lever forward (as if to upshift), and while holding it there, tapping the left paddle shifter twice. This dials things up ever so slightly, though we didn't see a need to use this mode on the street at any point.
What about the steering and brakes? Polestar magic is at work here as well – the V60's brakes are 14.6" Brembo discs in front, and 11.9" in the rear. The silver calipers complement the 20×8 Polestar wheels (wrapped in 245-series Michelin Pilot Super Sport tires) perfectly, and the wagon can bring itself to a safe stop deceptively quickly. The sticky tires and dialed-in steering (perfectly weighted) allow drivers to throw this station wagon around like an experienced salsa dancer – no nonsense. All Polestar cars have a BorgWarner Haldex all-wheel-drive system, but torque split is always biased front to rear 40/60. Pushing the car near its limits in corners will cause it to exhibit a little bit of understeer, but it's nothing to whine about.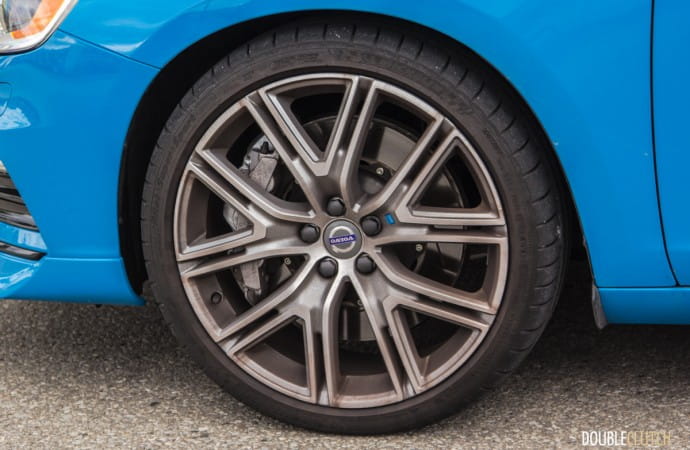 Though other Drive-E motors can get away adequately with regular 87-octane fuel, the sporty nature of the Polestar models means that nothing short of 91-octane Premium is acceptable, and we'd wager that they perform slightly better on 93 or 94-octane. This V60 Polestar is rated at a combined 8.1L/100km, though it will be pretty difficult (read: impossible) for the typical Polestar buyer to achieve numbers anywhere near this rating. Our test consisted of some combined driving, including plenty of calm highway travel, and we couldn't do any better than 12.7L/100km on 91-octane. If driven very conservatively, a 10L/100km average is realistic for this car.
I've said this since the first time I sat in one – nobody makes a seat like Volvo, and the same holds true for these very special Polestar seats. With their aggressive bolsters, Alcantara inserts, and sexy blue stitching, the V60 Polestar is a very enjoyable place to pass many hours on the road. Whether we were enjoying the performance of the car on our favourite roads well out of city limits or sitting on the highway in rush hour, the seats were cushioning us like an expensive memory-foam mattress. They're heated, front and rear, with a memory setting for the driver. No ventilation is offered, but this is a limitation due to the datedness of the 60-series platform.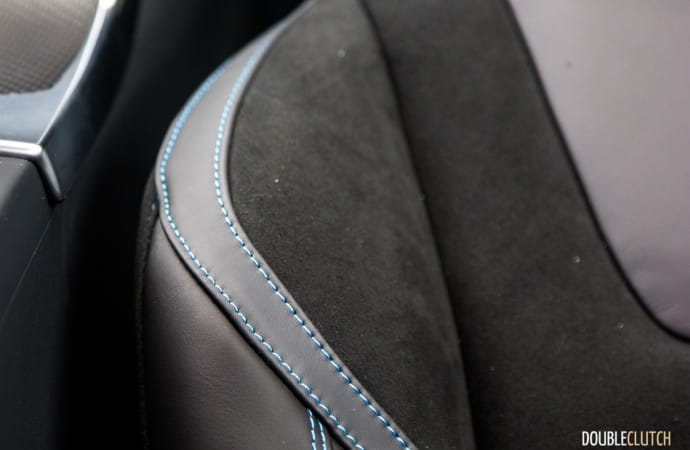 A lack of seat ventilation isn't the only challenge on the interior, but this should be revised with the upcoming full redesign of these vehicles in the coming year or two. This platform dates back to the 2010 debut of the current S60, and is showing its age in many ways. I personally like the simple elegance of the interior, with its classic number-pad and "Volvo-man" climate button layout on the center console. Move past this and try to use the infotainment system for either navigation or browse an audio device though, and the downsides begin to surface.
The media setup on the V60 lacks a central controller knob or touchscreen, which proves difficult when exploring through albums or playlists, or even entering destinations in unfamiliar cities. The knob on the console used for these tasks is easy enough to use and its knurled metallic finish feels good, but the system is slow to respond and otherwise simple tasks take far too long to accomplish. I'm not worried though; if the new S90 (reviewed here) and XC90 are any hint, the next generation of the 60-series cars will have the insane Sensus system with a massive touchscreen.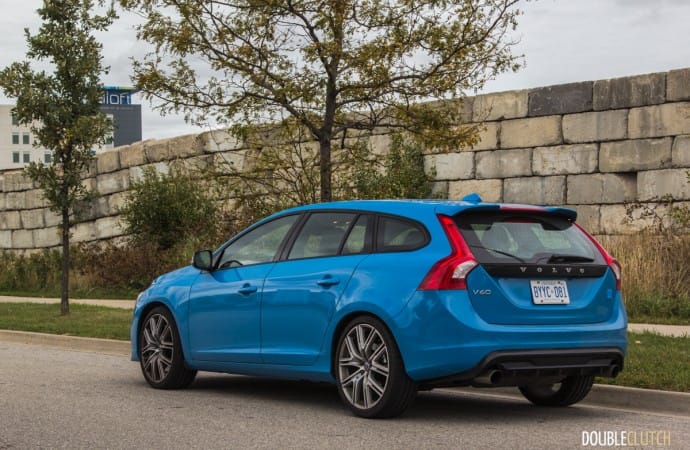 Full Polestar toys can be had on the S60 sedan as well, but if understated and practical is what you want, the traditional V60 wagon is the way to go. With the rear seats (split 40/20/40) folded flat, there isn't too much cargo space, but we were able to transport three full sets of wheels in the car. Even with the rear seats in place, a full set of 18" wheels on tires was able to snugly fit upright, with the cargo privacy cover removed. Those wanting to take their kids to the racetrack and transport the track wheel setup can rejoice – this is an understated ability, but then again, this car is all about the understatement.
In Canada, the 2017 Volvo V60 Polestar only comes optioned one way, and is a very limited production model. Pricing is $69,000, which isn't exactly cheap, but we'd like to consider it the understated bargain of the century. Also offered in colours like black and white, Rebel Blue is the only way to have this car if you're a true Volvo nut. After all, this colour is also known as Swedish Racing Green. The real allure of this wagon is just how much performance you get while flying under the radar. Remember – nobody suspects the wagon.
2017 Volvo V60 Polestar Gallery
See Also:
First Drive: 2017 Volvo S90 T6 AWD
Event: 2016 Volvo Full-Line Drive