There was once a time where shopping for an affordable car meant you'd have to sacrifice things like new technology, exciting features, or even relatively appealing design elements. Just one decade ago, the compact segment consisted of some of the blandest vehicles automakers were producing. Not only did they not look the Here's the thing – those underappreciated, dull vehicles were the backbone of each manufacturers production run. They weren't meant to turn heads, nor were they meant to dominate on the track. They were purpose-built with one simple concept – affordable cars that offered practical transport.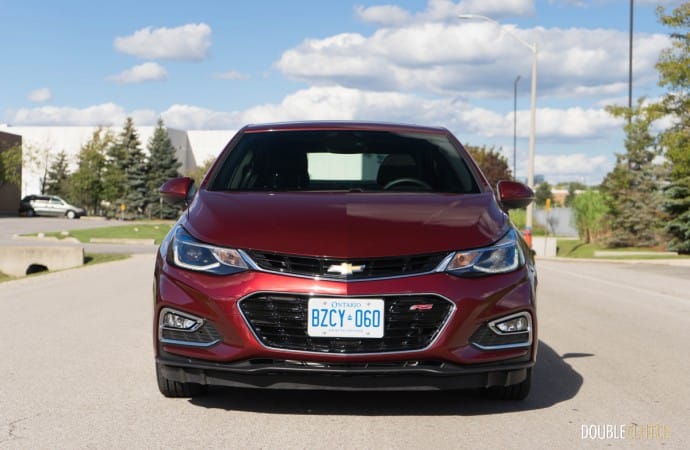 As the following years progressed, technologies evolved, and with that, as did the creative ability of automotive designers and engineers. Suddenly, the once-exclusive luxury amenities and design elements were no longer reserved for the elite. Things like built-in navigation and touchscreen infotainment systems starting appearing as options in entry-level cars. Fast forward to the present day, and one wouldn't believe the leaps automakers have taken with their affordable compacts. For instance, the 2016 Chevrolet Cruze Premier RS. When the first-generation Cruze was unveiled to the public in 2008, it stood out to be one of the most attractive new cars in its cut-throat compact segment. So much so that Chevrolet has sold over 3.5 million units worldwide. Impeccable sales prompted a new era for this now-legendary little car, as 2016 marks a complete redesign of the Cruze, from top to bottom.
At a quick glance, this second generation of the Cruze is almost unrecognizable as being part of the Cruze family. It's such a leap from the first generation car, bearing new lines and soft contours combined with sharper accents where it matters most. The vehicle provided to us for a weeklong evaluation is the top-range Premier model with the added RS styling package. Whereas the car already began as an attractive choice for consumers, the RS package adds a nice variety of styling cues that include a rear trunk lip, a sporty body kit, chrome-contoured fog lamps, unique 18" machine-faced aluminum wheels, and RS badging. All of this came dressed in what Chevrolet has dubbed Siren Red Tintcoat, appropriately acting as the cherry on top.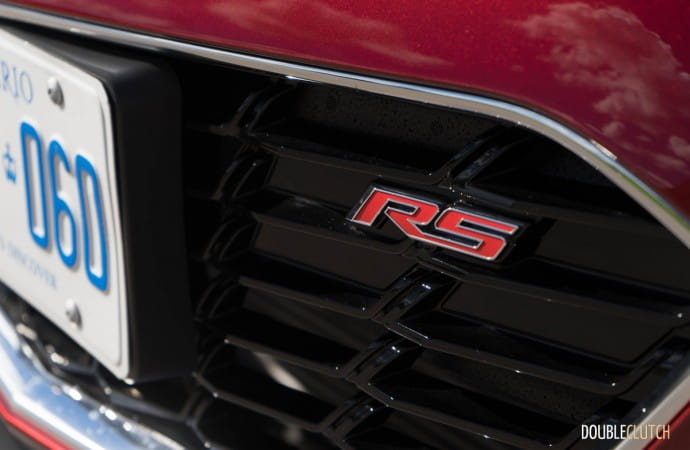 Towards the front of the car is where we find what is arguably the most drastic change of the Cruzes exterior appearance. Chevy's signature double-grill is still prevalent, however slightly modified, and the headlight assemblies have been reduced in size, resulting in a sportier overall look to the fascia. The Premier loses the standard halogen bulbs and opts for projector beam low beam headlights instead, along with LED daytime running lights.
Around the back, the changes are just about as aggressive as they are on the front. For instance, the new rear bumper looks as though it has been reworked by a dedicated sculptor, working with various angles ensuring that the rather dull rear-end of the previous generation car be replaced with a much more visually-appealing substitution. The brake lights are also new, though they continue to carry-on the standard halogen bulbs across all trim levels. We would have liked to see LED taillights in back.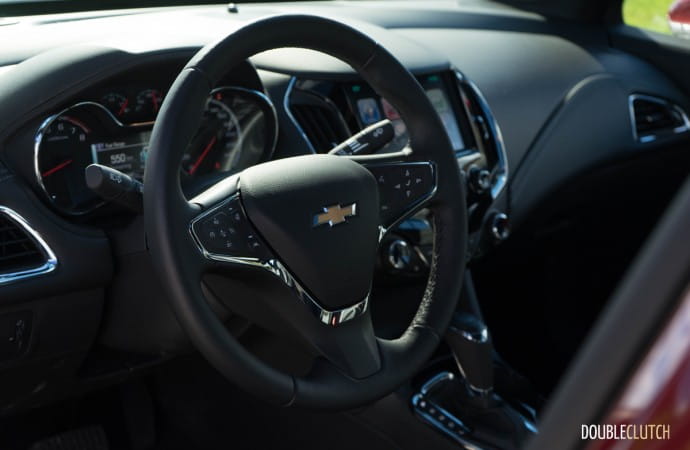 It is important to note that the Cruze also comes in a variety of different trim levels; four to be exact. Starting with the base L, the line includes the LS, the LT, and saves the best for last with the Premier. However, even though the four trim levels differ cosmetically, there are no real powertrain differences between them. Every model utilizes the same turbocharged 1.4L inline four-cylinder motor, putting out 153 horsepower and 177 lb-ft of torque. All examples offer an optional automatic transmission, but only the L, LS, and LT can be equipped with a six-speed manual transmission. The top-of-the-line Premier model tested here is strictly available as an automatic.
So, how does it drive? The new Cruze offers a very comfortable ride, whether it be on busy city street, down a back road, or during a long highway voyage, all thanks to the improved rear suspension. The steering feels extremely light, so much so that it almost takes away from the driving experience. Granted, for the market buying into this kind of car, by no means is that going to be a deal breaker. The car is smooth in overall operation and the engine is responsive enough to deliver enough satisfaction for both city and highway driving.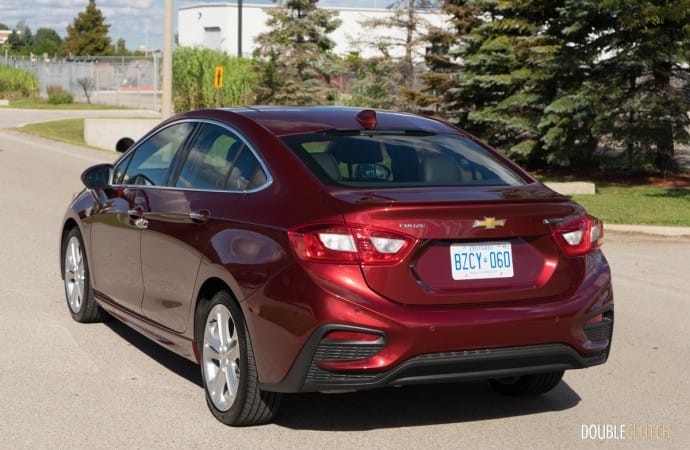 A six-speaker audio system comes standard in the Cruze Premier, and also incorporates Apple CarPlay and Android Auto. Our tester came equipped with the Premier Technology & Convenience Package ($2,995). Yes this option comes at a steep price-point, though it offers quite a number of extra variables otherwise not available to owners. Things like a nine-speaker Bose audio system, an 8" touch-screen display, electronic sunroof, and power windows comes included in this package, along with a number of other goodies. Our fully loaded test vehicle crested the $30,000 mark.
The new 2016 Chevrolet Cruze is a substantially improved car when compared to the award-winning predecessor it replaces. It feels like a bigger car than it once was, and offers significantly crisper styling cues. The Premier trim transforms this car into what feels like a proper luxury car. No, the leathers won't feel like that of an Audi, nor will the technology be as evolved as a Mercedes, and it certainly will not drive like a BMW. Even still, you certainly will not be disappointed with what this little car has to offer. Dare I say that it may actually be a new leader in this segment? I would be inclined to say that's a very possible scenario. The 2016 Cruze Premier drives the part, and most certainly looks the part. Well done Chevy… well done.
2016 Chevrolet Cruze Premier RS Gallery
See Also:
2017 Chevrolet Cruze LT Manual