When you're at that point in life, where you need to be able to carry four to five with relative ease, have space for groceries and strollers, and live in the great white north that is Canada – what do you buy? For enthusiasts, hot hatchbacks are fantastic for just about every aspect of everyday life. With the exception of a few, most of them are front-wheel drive. Canadians have a penchant for all-wheel drive powertrains in everything, and one manufacturer that happens to cater to this need, is Subaru. Yeah, the BRZ (reviewed here) is rear-drive, but everything else comes with all-wheel drive, standard.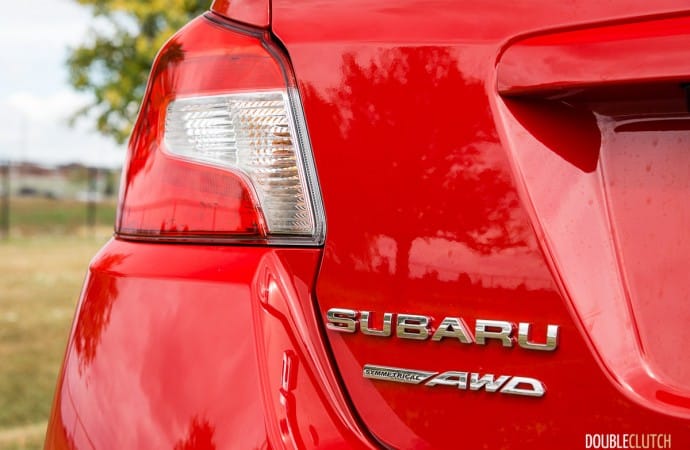 Subaru is well known for being a very utilitarian brand, with practical wagons and family-friendly crossovers. They're also known for being an enthusiast's brand: the WRX and STi nameplates come steeped in heritage, and have always been good cars to drive, year round. Subaru Canada as a whole has really found its stride, with more cars making their way onto driveways than ever before. The month of August alone saw a 34.8% increase in sales compared to the year before – a number unheard of with larger manufacturers. I welcomed the updated 2017 Subaru WRX 6MT, painted a shade of Pure Red, to my driveway for a week. This one was the base model, with the six-speed manual transmission.
All new for 2015, the five-door hatchback is no longer offered with either the WRX or STi, much to the disappointment of enthusiasts everywhere. Regardless of your preferences, Subaru has opted to focus their resources on just one style, for now. I reviewed the CVT automatic-equipped WRX Sport-Tech last year and came away decently impressed. If family requirements or commuting discourage you from equipping your WRX with three pedals, you're still able to get the turbocharged 2.0L "Boxer" four-cylinder engine and excellent chassis.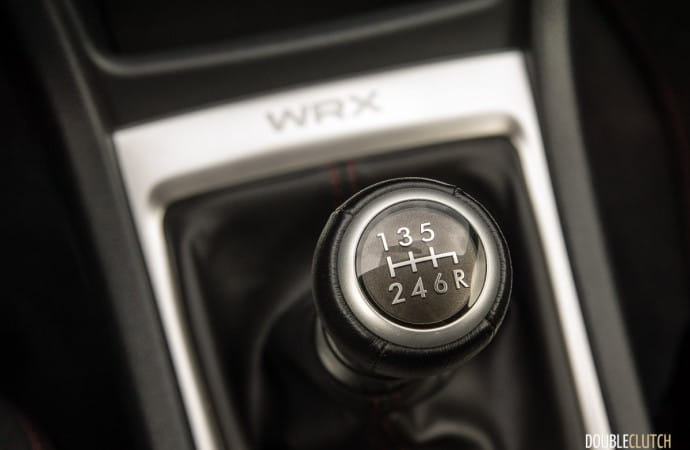 The WRX is updated for the 2017 model year, though it'll take a trained eye to point out the changes. The exterior doesn't change at all, so even if you put them side-by-side, you'll need to take a peek inside in order to differentiate the two. The LED headlights remain available on the Sport and Sport-Tech, and the snazzy LED taillights are standard across the board. The functional air scoop integrated into the aluminum hood feeds fresh air to the top-mounted intercooler, and a low-key rear spoiler lip on the Sport and Sport-Tech trims finish off the quieter looks. 17-inch gunmetal aluminum wheels (sourced from Enkei) are paired up with 235-section Dunlop summer-only rubber.
In short: it's not really anything you haven't seen before. As always, there are detractors eager to dismiss the way the WRX and STi look. Aside from the obvious inability to get a hatchback version, some people have mentioned how the car looks a little too generic. It's no secret that Subarus have never been classically-attractive cars, but I think the current WRX and STi are decent, thanks to clean lines and just enough aggression to suggest that these cars are a little different. Quad exhaust tips and the fender flares are a good giveaway, but the WRX retains its everyday friendliness, with comfortable front seats, roomy back seats, and a surprising amount of headroom.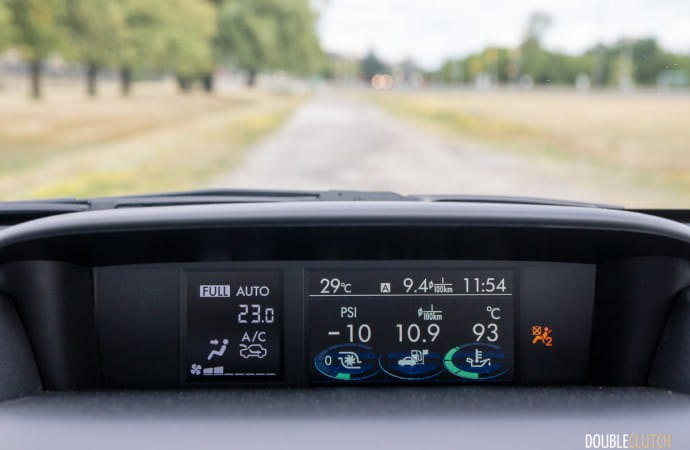 Inside and under the skin are where Subaru has spent their time. The headliner is finally upgraded, to a finer fabric that doesn't look like they borrowed it from the trunk. The top-level Sport-Tech gets an updated Starlink infotainment interface, adding things like Siri integration and SiriusXM traffic data. It still lags behind the more advanced interfaces seen in the Ford Focus ST and VW Golf GTI (reviewed here). Most importantly: the manual transmission shifter is updated. Its poor feel and inaccuracy was one of the definite weak points of the 2015-2016 WRX, and is thankfully updated for the 2017 model year by way of a new linkage and bushings. Shift feel of this cable-actuated unit is marginally better as a result, allowing for increased confidence. The STi maintains its advantage with its rod-actuated unit: its shift feel rivals some of the best in the business.
Under the hood, the powertrains remain the same as last year. Thanks to a twin-scroll turbo, a top-mounted intercooler, and direct injection, the WRX features a modern 2.0L horizontally-opposed "Boxer" four-cylinder engine. Typical of forced-induction 2.0L engines these days, it's good for 268 horsepower at 5600RPM, and 258 lb-ft from 2000-5200RPM. Paired up to this engine is your choice of the aforementioned (and updated) six-speed manual transmission, or a continuously variable automatic transmission.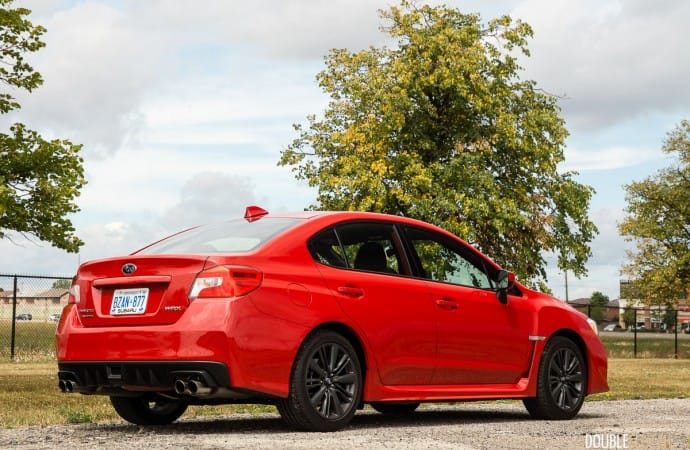 Both route their power through their own unique take on Subaru's symmetrical all-wheel drive system: the manual transmission sends its power through a purely mechanical viscous coupling centre differential built into the transmission, while CVT-equipped models utilize an electronically-controlled clutch that can vary the amount of torque sent to the front and rear wheels on demand. It's important to keep in mind that these systems are always sending power to all four wheels, at all times – this is no reactive front-biased system.
As much as the shifter linkage is updated, one of my biggest pet peeves remains true with the 2017 Subaru WRX. Minimizing clutch slippage should be a goal that all manual transmission drivers strive for, but this car doesn't make it easy. Rev-hang between the first and second gears means it takes an unnaturally long time for revs to fall, after you've depressed the clutch pedal. You could either wait for the revs to come down, or you could slip the clutch and bring them down mechanically. Not everybody will notice (or care), but to those who do: rev-hang seriously affects everyday drivability.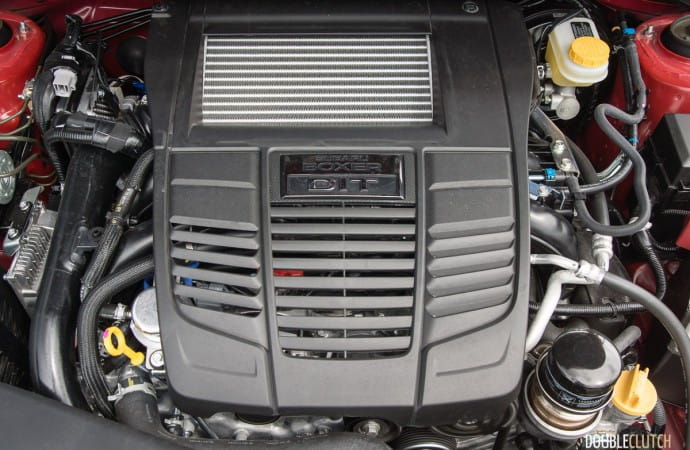 Thanks to all the modern technologies in the WRX's 2.0L boxer-four, fuel efficiency is something you can be impressed about. Rated at 11.3L/100km in the city, and 8.5L/100km on the highway, the manual transmission WRX does a lot better than the STi, with its older port-injected 2.5L boxer-four. Over the course of a week, I managed to squeeze out an indicated average of 9.4L/100km. This is especially impressive because of all the extended stop-and-go runs and occasional urgent driving I subjected the WRX to. The fuel tank will hold 60L of premium 91-octane fuel.
The base Subaru WRX starts at $29,995 – a very decent value in the world of compact enthusiast vehicles. Its trump card is easily the trademark all-wheel drive system, but what are you missing out on by not springing for the mid-range Sport model? You don't get a sunroof, rear lip spoiler, power driver's seat, LED low-beam headlights, and Subaru's new rear/side vehicle detection safety system. If none of those items are absolutely mandatory, the idea of a turbocharged, all-wheel drive sports sedan under $30,000 should be extremely enticing.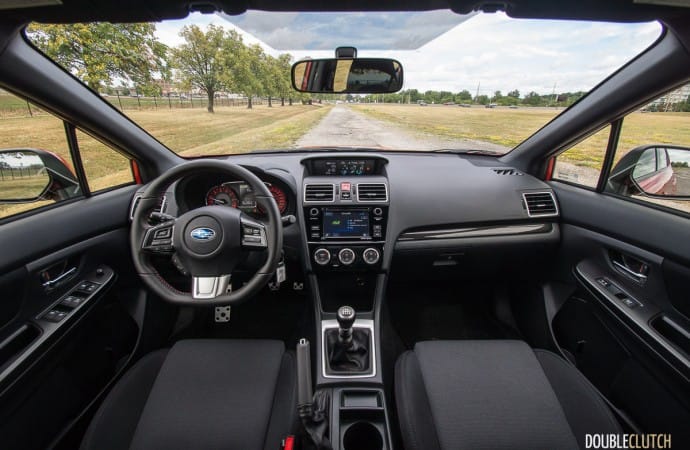 In terms of the competition: the Honda Civic Si no longer exists in its current iteration, the VW Golf GTI starts at around the same price, but only comes in the less-practical three-door format – the more-desirable five-door GTI starts at almost $34,000. The Ford Focus ST is a worthy competitor, and it comes well equipped, but isn't as roomy in the front or the back. The updated Subaru BRZ and upcoming Toyota 86 are also worth thinking about, but target a different audience with their modest power output and low curb weights. The important part about all of the above competitors: none of them feature all-wheel drive.
The suspension is calibrated to be on the firm side of things, and the fixed dampers mean no variability in the ride quality. I like my wheel and body control to be firm, so I'm okay with the stiffer ride. Cars like the GTI shift the balance more towards "everyday" usage, so be sure to go on enough test drives to see if they fit into your lifestyle. The WRX features an electric power steering system – as opposed to the STi hydraulic steering rack – but feedback through the steering wheel is actually quite good, and not far off from how the BRZ feels.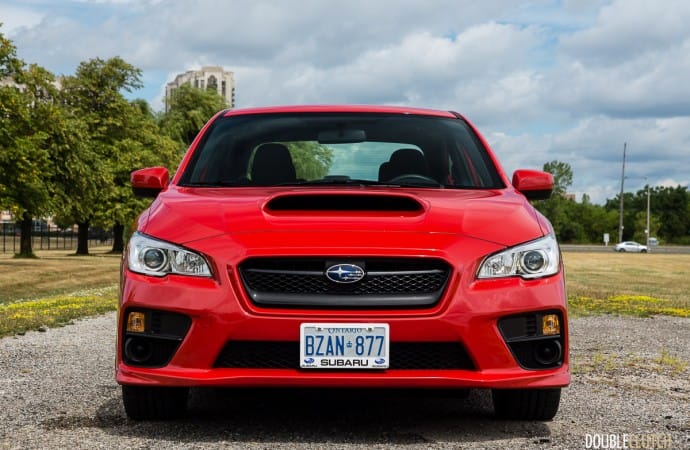 The 2017 Subaru WRX 6MT remains an extremely tough competitor in this segment of sporty yet practical vehicles. Aside from the missing hatchback body style (shall we continue to beat this dead horse?), it'll seat five in decent comfort, and even the trunk is actually surprisingly large. The WRX isn't without its quirks. These quirks may not be deal-breakers for everybody, so the idea of an engaging powertrain, combined with a good chassis, means you've got the recipe for an affordable and enjoyable sport sedan that you can enjoy through all four seasons.
2017 Subaru WRX 6MT Gallery
See Also:
2016 Volkswagen Golf GTI Performance Package
Quick Spin: 2016 Ford Focus RS