ESTÉREL, QUÉBEC – Even back at its debut in 2004, when it replaced the Protegé, the Mazda3 was more attractive than its competition. It showed up with striking lines, a functional and aggressive interior, and a potent optional 2.3L engine that was good for 160 horsepower. Over a decade ago, that was pretty darn good for a compact, and it still is. Now in its third generation, the Mazda3 still follows the same formula – great design, efficient and fun powertrains, a premium interior, and competitive pricing. The current car has been around since 2014, and its rivals have caught up, so it was time for a refresh. I went to Estérel, Québec to try the 2017 Mazda3 and Mazda3 Sport and sample for myself what one of my favourite compacts has become.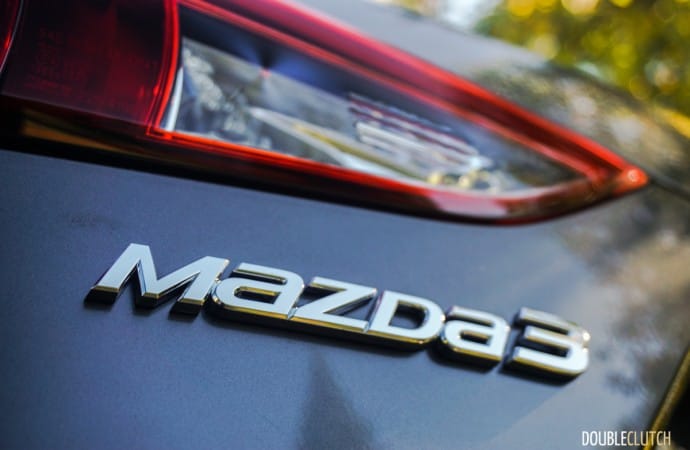 Notably significant to the company, the Mazda3 is responsible for 50% of Mazda's Canadian sales. Available in two body styles, the "Sport" designation on certain Mazda3 models means five-door hatchback. The four-door sedan is a smart-looking car with plenty of style, and the five-door builds on that with a sleek swooped roofline and added versatility. The 2017 model has a completely revamped fascia, though even the most observant will have trouble differentiating the new model from the outgoing one. this isn't a bad thing, because I already considered the Mazda3 to be the best design in the compact segment – this update just freshens a car that already had a lot going for it.
Competitors like the Honda Civic (reviewed here) and new Hyundai Elantra (reviewed here) have debuted fully redesigned models in the past year. These two cars in particular have raised the car-buying public's expectation of the economical compact car. They may not be as crisp to push around a curvy road like the Mazda, but this new revolution of compacts is rivaling entry-level luxury vehicles from Germany, which has stepped up the game for the rest of the market.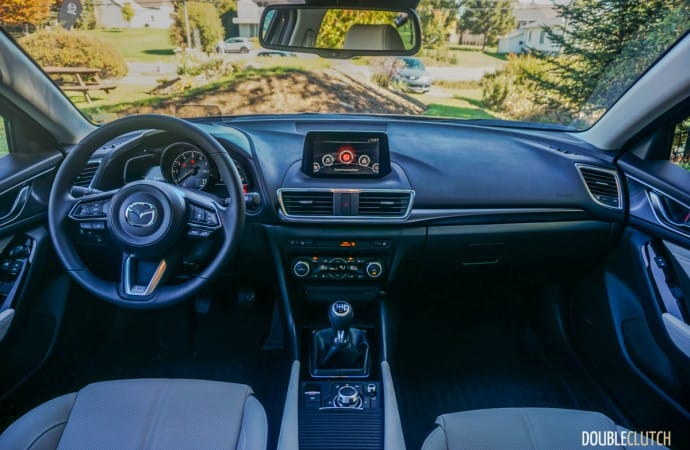 On the inside, the Mazda3 is still one of the most simplistic and elegant designs there. While the Honda's infotainment is challenging to use and the Hyundai is a bit busy with buttons, Mazda employs their HMI Commander to control the infotainment system. The large screen operates as a touchscreen when the car is not in motion, and the system is very quick to respond to inputs and has excellent clarity. The 2017 model gets a new steering wheel, the same one on the MX-5 (reviewed here) with cleanly placed controls for audio, Bluetooth, and cruise control. It's now heated, as well!
All models now offer LED daytime running lights, and top-trim GT models replace their HID headlights with full LED headlights as well. The regular hand-brake has been replaced with an electronic parking brake, which will undoubtedly evoke mixed reactions. It's an upscale touch, but many Mazda3 buyers are traditionalists who would prefer a lever. The instrument cluster has been redesigned with an improved design with a new-style tachometer. Higher trim models are equipped with dual-zone automatic climate control and nice two-tone leather seats, and cars with the black interior get dark auburn trim.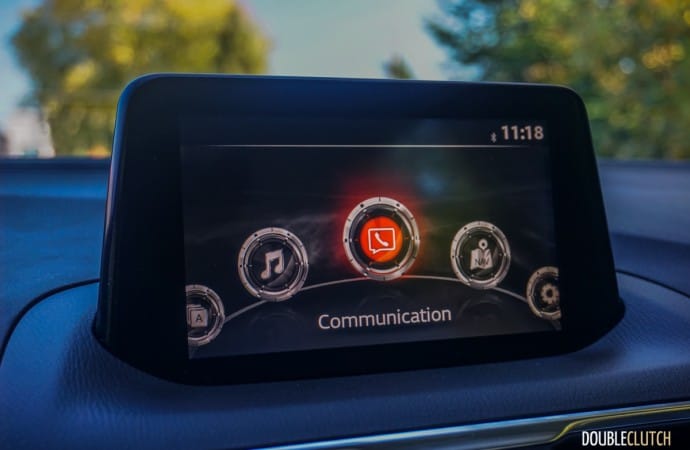 There are some more subtle improvements to the cabin of the car, such as a fully redesigned Active Driving Display (Mazda-speak for the heads-up that flips out of the dashboard). It's a cleaner look, and because of it's design, means that if the windshield needs to be replaced, it won't require overly expensive glass. Mazda's i-Activsense safety suite includes things like Smart Brake Support at city and highway speeds, lane keep assist, adaptive cruise control, rear cross traffic alert, and now also Advanced Blind Spot Monitoring. It's a small car with minimal blind spots, but systems like this add confidence for drivers, and that goes a long way.
Powertrains for the 2017 Mazda3 and Mazda3 Sport are virtually unchanged, with SKYACTIV technology right across the lineup. The entry level G, GX, and GS models offer a 2.0L inline four-cylinder, good for 155 horsepower @ 6,000RPM and 150 lb-ft of torque @ 4,000RPM. The sportier GT boasts a 2.5L SKYACTIV inline-four, with a generous 184 horses and 185 lb-ft of torque. Either engine can be paired to either a six-speed manual (which is a wicked gearbox) or a six-speed automatic, the latter of which will have a far higher take rate with Canadian buyers. Automatic models now get a "Sport" mode, which toggles overall response of the car – this is standard on both engines.
Perhaps the most noteworthy addition to the 2017 Mazda3 line is a technology that Mazda calls G-Vectoring Control (GVC). This system is exclusive to the Mazda brand, and uses the engine, steering, suspension, and throttle inputs to deliver better chassis and body control. This helps the vehicle track straighter and require less overcorrection, and helps the overall handling dynamics of the car. It's not the most obvious thing at first, but seeing as how controlled and balanced the new Mazda3 is out on the open road, GVC speaks for itself.
On the outside, the Mazda3 may seem like your run off the mill front-wheel-drive compact Japanese car, but our drive routes consisted of some beautiful twisty, hilly roads. The handling on the little Mazda came alive, as the car gobbled up every corner with ease, pulling out of them like a slingshot. Understeer is only evident when pushing the car really hard, which 99% of buyers won't be doing. Considering Mazda now has a 2.5L turbocharged four (we've reviewed it in the new CX-9), it would be great to see a Mazdaspeed model of this car showing its face in coming years, because the Mazda3 has better handling than some much more expensive cars.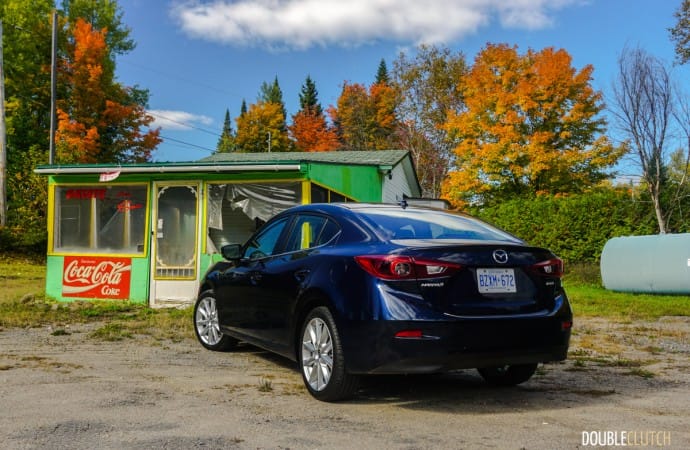 Mazda reinforced to us that drastic improvements have been made to NVH (noise, vibration, harshness). This is thanks to revised front and rear damper structure, and softening of the front stabilizer mount bushing. On the damping side, high viscosity oil has been added for ride smoothness and reducing roughness in ride quality. Overall, it's a 3-decibel reduction for the car. The Mazda3 was already a very good-riding and quiet car, but we noticed on our drive that this new model is definitely a bit quieter and smoother than before.
Something that's not really known to many is that in the last model, Mazda actually offered a trim of the 3 slotted below the GX. Primarily targeted towards Québec buyers in Canada, the Mazda3 "G" was a base manual transmission model with no air conditioning. This year, that model has been mixed in with the GX, which starts at $15,900 for the sedan. The volume-selling GS starts at $20,300, and the top-trim GT is $24,000. Those wanting the hatchback Sport can add $1,000 to each of these models. A series of packages can be added to each model for added customization.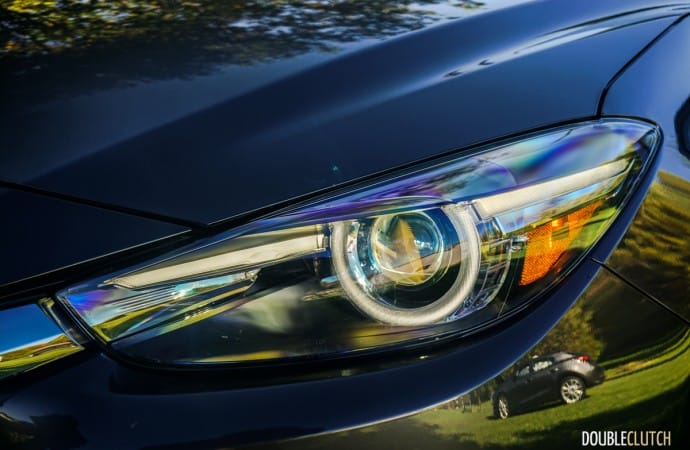 All new Mazda3 models come with a tire pressure monitoring system and G-Vectoring Control as standard equipment. The GX Comfort Package includes air conditioning, a tachometer, and steering wheel mounted audio controls – a great value for $17,000. The GS, which most Canadians will buy, now gets the heated steering wheel and all of the driving aids, which formerly were only available on the GT with Technology Package. The only option available on the GS other than the transmission choice is the sunroof, for an additional $900.
As a player in one of the most lucrative and cutthroat vehicle segments sold in Canada, the 2017 Mazda3 and Mazda3 Sport will always face tough competition. This mid-cycle update gives it a nudge in the right direction – its current position is right at the top of its class. While other models may offer some features or high-tech gadgets unavailable on the Mazda, its SKYACTIV powertrain has both refinement and efficiency, not to mention the rigid chassis and enchanting handling is the pure definition of Mazda's motto – this is a car that proves that driving matters.
First Drive: 2017 Mazda3 and Mazda3 Sport
See Also: