In the luxury crossover SUV market, Cadillac came into the game fairly early on with the 2004 SRX. Touted as a sport-utility that could still be fun to drive, successive iterations of the SRX shifted in focus somewhat, with the second generation moving to a front-wheel drive based platform instead of a rear-wheel drive base one. It ended up being a well-equipped and comfortable cruiser that happened to be able to haul lots of cargo, with handling and performance taking a little bit more of a back seat. For 2017, Cadillac has replaced the SRX (reviewed here) with the all-new XT5, and tries to repeat the success of the SRX as Cadillac's best-selling vehicle.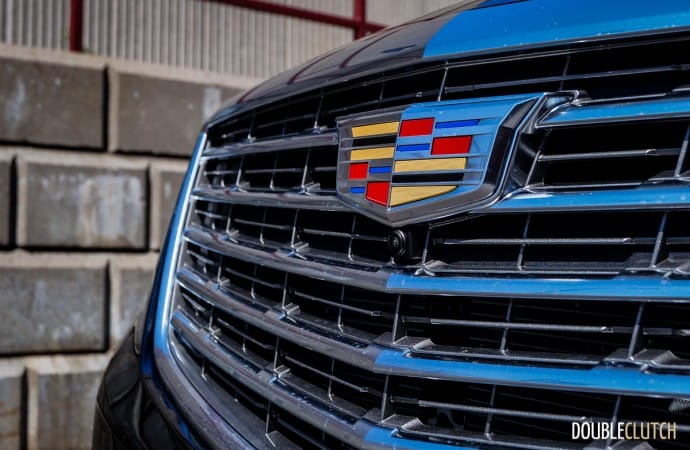 Available in both front-wheel and all-wheel drive variants, and the vehicle on test was the Premium Luxury AWD model – the second from the top. Starting at $59,830, this trim level includes heated and cooled front seats, 20-inch wheels, performance suspension, as well as navigation. Options include a $3,195 Driver Assist Package, which includes an adaptive cruise control system, forward collision warning with braking assist, as well as automatic seat belt tightening. For $1,695, the interior was finished in a classy shade of Carbon Plum perforated leather, and the Stellar Black Paint was $575. Tri-Zone climate control was $720, and included heated rear seats and separate rear heating and air conditioning controls. All told, the as-tested price hovered around the $70,000 mark, which puts it right in line with competitors such as the Lexus RX 350 and Acura MDX (reviewed here).
Powering the XT5 is the latest version of GM's High Feature 3.6-litre V6 engine. In its fourth generation, there's been a series of evolutionary changes to improve fuel efficiency and performance. The aluminum block castings are new, with increased cylinder bore spacing and diameters. Start-stop technology and Active Fuel Management (cylinder deactivation) are also included, which aid in fuel economy for both city and highway driving. Power output is 310 horsepower at 6,600 rpm, and peak torque is 271 lb-ft at 5,000 rpm. Refinement is a strong point for this V6 engine, and throttle response is excellent, thanks to the exclusion of laggier turbochargers present in many of today's cars.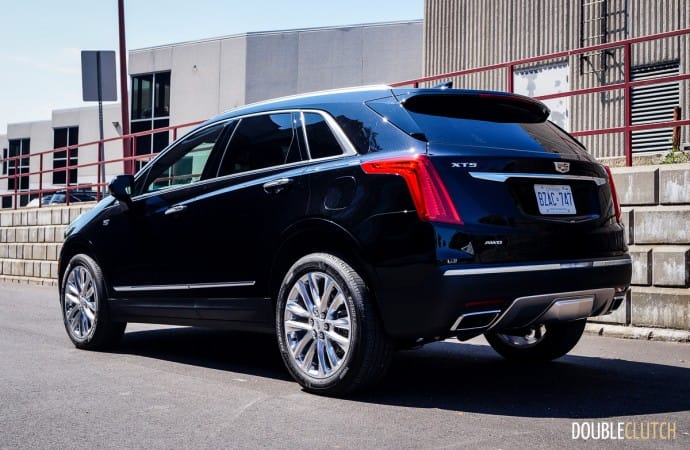 The V6 lets out a hearty growl as it goes through the rev range, and the XT5 never feels down on power or slow to accelerate. With the start-stop technology and cylinder deactivation helping to bolster the numbers, fuel economy for the XT5 is rated at 12.9 L/100km in the city, and 8.9 L/100km on the highway. Observed economy over a week on test was a respectable 11.0 L/100km in mixed driving. Backing the transversely-mounted 3.6-litre V6 is a new eight-speed automatic transmission sourced from gearbox manufacturer Aisin, and is a similar unit seen in the likes of the Lexus RX 350, Volvo XC90, and BMW X1 (reviewed here).
Like the others, when compared to a conventional five or six-speed automatic, the extra ratios help to keep the engine in the powerband. Shifting quality of the Aisin transmission was generally good, but at low speed and during stop-and-go operation, there was a tendency of lurching and clunking as the transmission figured out what gear to engage. To be fair, this may have been as a result of the XT5 being an early or pre-production tester, as these calibration concerns are not present on the other makes of crossovers that use the same transmission.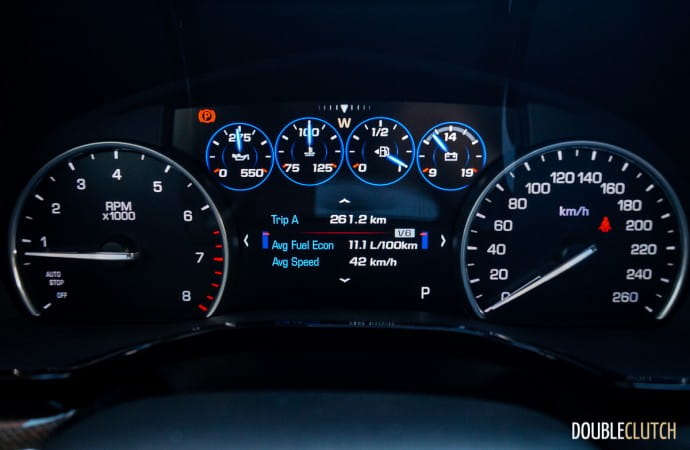 On the road, the performance suspension of the XT5 allowed for surprisingly good handling and roadholding. On and off-ramps can be taken with a surprising amount of gusto, and the XT5 holds on and carves the corner without any drama, with body roll kept to a minimum. Many crossover SUVs tout handling close to that of a regular car, but the XT5 pushes this envelope and delivers handling that feels better than many smaller and lighter sedans. Steering is light and feedback is numb – typical for a car of this caliber – but this results in relatively easy maneuverability and increased comfort when cruising at higher speeds. Wind and road noise were kept to an absolute minimum, and the XT5 was a wonderful highway car.
Moving to the inside of the Cadillac XT5, the crossover did a good job at interior design and ergonomics. The comfortable Carbon Plum leather seating and Alcantara dashboard were great premium touches, and the carbon fibre accents were well integrated. A head-up display projects information such as speed, tachometer, and navigation information onto the windshield in the driver's field of view, and can be quite useful. The shifter returns to a central orientation no matter what gear the XT5 is in, and has a button on top to engage Park mode. While this may look like it increases safety risks if the vehicle is forgotten in Drive, the XT5 automatically selects Park if the vehicle start to move when the driver's door is open and the seatbelt is unfastened. This was a concern on a series of Fiat Chrysler automobiles, which prompted a recall, but it doesn't appear to be a problem here.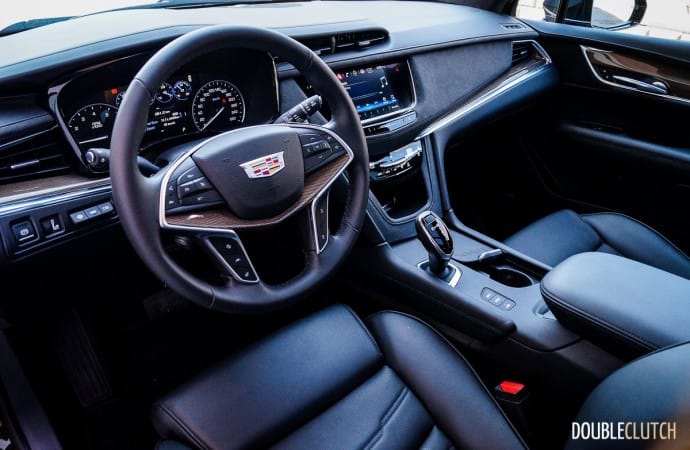 As one of the most maligned multimedia systems in the automotive industry, Cadillac's CUE system has been improved for the 2017 XT5. While the touch screen interface and basic button layout remain the same improved unit seen in most other 2016 Cadillacs, the centre stack buttons physically move when pressed to provide at least a bit of haptic feedback to the user. It's still not ideal, however, since drivers need to take their eyes off the road in order to find buttons. Thankfully, the most basic functions such as temperature and fan speed get a small LCD screen readout and are now proper buttons, though the volume control has not yet received this treatment. These changes are most certainly welcome, and make the CUE system quite a bit more livable. Bottom line – after some time to get used to the layout, most users will be able to navigate the system with about as much ease as most other luxury cars on the market.
The 2017 Cadillac XT5 is, at minimum, worth at least the sum of all its parts. Detailed design and attention to detail on the interior make it a great place to spend time, and comfort will not be a concern on longer drives. The powertrain is decent, but could use improvement; the 3.6-litre V6 engine provided strong performance with good fuel economy, but the pairing with the eight-speed automatic could use some improved tuning. Handling is a very strong point on the crossover Cadillac, which is a great positive trait to carry over from the SRX of yore. Rounded out by edgy styling that manages to be bold without being overstated, the XT5 will be a great volume seller for General Motors' luxury division.
2017 Cadillac XT5 Premium Gallery
See Also:
First Drive: 2017 Cadillac XT5