I am a pretty big Camaro fan. In fact, I wouldn't be lying if I told you that I've been riding in Camaros (or their Pontiac equivalent) since the day I was born – I was actually brought home from the hospital in the back of my dad's 84 Camaro. That car served as our loyal and reliable family car through most of my early childhood, and I grew to love everything about it. The way it looked, the way it sounded, the way it smelled, it was perfect in my young eyes. When I became of age, the Camaro was passed along to me, and I still have it today. I've also owned a variety of Camaros over the years, including my current daily driver.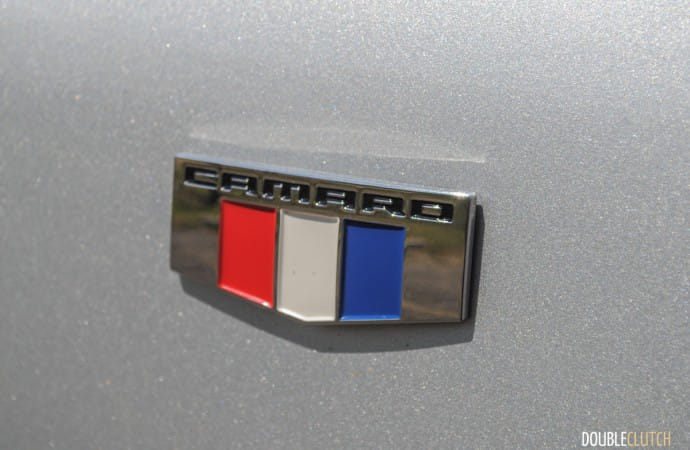 The biggest difference between myself and the majority of Camaro enthusiasts out there is that I've always viewed and owned these cars as daily drivers – never have my cars been restricted to fair weather or light use. My wife and I have run grueling daily commutes, battled the worst of Toronto's snowstorms, hauled stuff, people and taken vacations. The cars have been a big part of our lives, and have proven that sporty cars don't have to be impractical. I've also learned to repair and maintain them myself, keeping them going year after year.
For all those reasons, the Camaro nameplate will always be one that is very close to my heart. Although as nice as the optioned out and muscled up versions like the recent ZL1 and Z28's are, my desire to drive my own Camaros as everyday vehicles always has me keeping an eye on the more pedestrian versions. That's where the real sales numbers are anyway, and thankfully GM has not neglected that segment with the latest sixth-generation. To get a feel for the new car, I couldn't have been happier with my rather subdued tester; a midrange 2016 Chevrolet Camaro LT V6, equipped with the eight-speed automatic.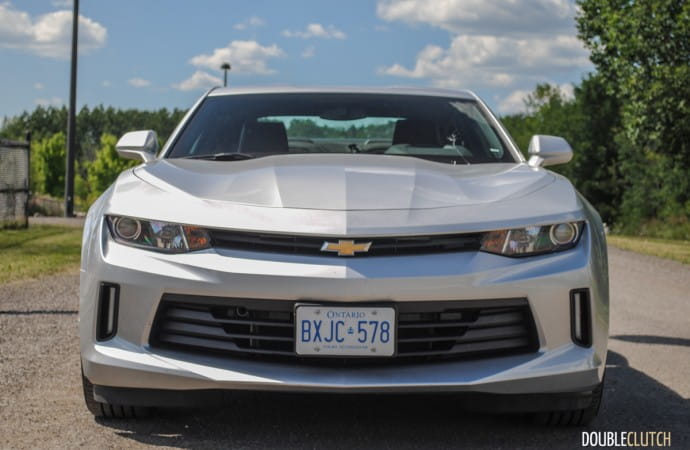 My particular car came finished in Silver Ice Metallic on black leather, with optional gloss black 20" wheels. A few friends commented that the new car resembles a shark, and that's probably a pretty fair description, especially given the color. Personally, I am not a fan of the plain silver, but the body lines are clean, flow well and the low roof line really gives the car an aggressive look. The front fascia is a bit overdone in my opinion, but the rear is tidy and well proportioned. There is no denying the styling influence of the Camaro's lineage, and as a Camaro enthusiast that's nice to see.
The base price on a Camaro today is a few dollars over $29,000. That's actually pretty attractive, especially when you consider that even the basic Camaro comes with a turbo four-cylinder outputting an impressive 275 horsepower. Stepping up to the 2LT gets you a huge list of options including heated and ventilated leather bucket seats, 8" touchscreen multimedia system with Bose sound, dual-zone climate control and modern conveniences you would expect. Ticking the 2LT box puts the price up to $36,000 and adding the 3.6L V6, eight-speed automatic and dual-mode performance exhaust put the price of my tester at just over $41,000. That sounds like a lot of money, but keep in mind that this is a fully-equipped V6 car.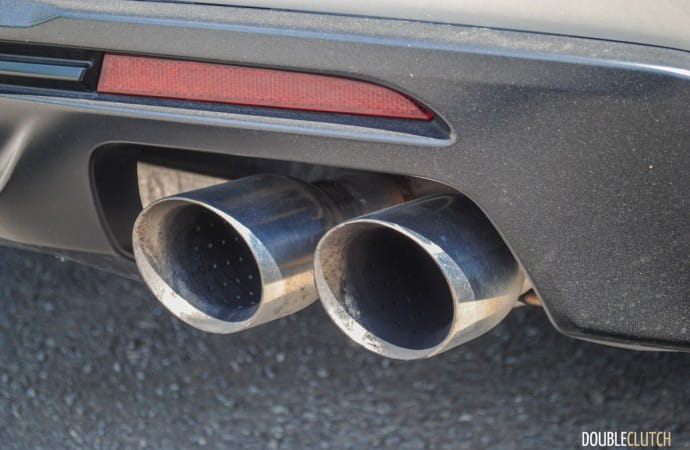 While we're talking engines, the V6 comes with a very healthy 335 horsepower, 284 lb-ft of torque and claims a brisk 0-96km/h time of 5.1 seconds. Now, that pales in comparison to the 455 horsepower and 455 lb-ft of torque from the 6.2L V8, but the V6 is definitely no slug. My experience validates that, as the V6 is more than fast enough to have loads of fun out on the street, or even the track. The dual-mode performance exhaust on my tester makes for a nice burbly idle, and a strange-sounding howl at higher RPMs. It also makes a pleasant and non-intrusive sound while cruising along. That means zero drone, but plenty of noise when you put your foot down. The eight-speed automatic is lightning quick to respond and the Camaro effortlessly blasts past traffic at any speed. Despite the transmission's fast response though, eight speeds can feel a little cumbersome in a sporty car like this, as aggressive driving means the transmission is frequently shifting to keep you in the right gear.
The V6 did impress me with stellar fuel economy despite my right foot often reacting to the infectious sound of the exhaust and my average for the week sat right around 7.8L/100km. I have yet to drive the V8 (reviewed here) or the four-cylinder, but it's probably a safe bet that the V8 feels like the V6 on steroids, leaving me really curious about the boosted four-cylinder. Remember, this car shares its platform with the Cadillac ATS-V (reviewed here).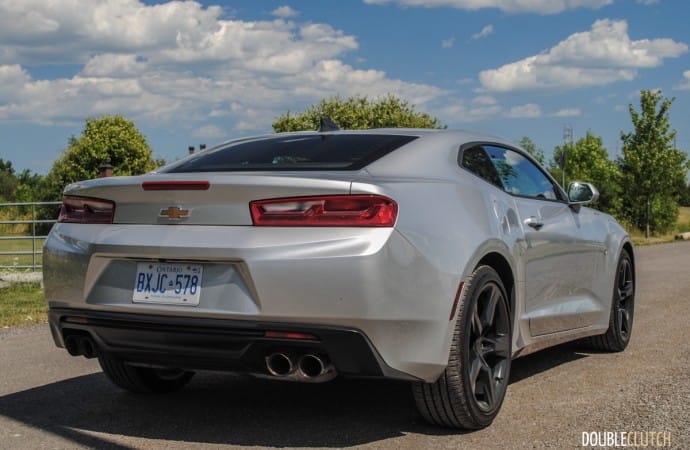 Regardless of engine choice, the Camaro's chassis is an absolute joy to pilot. The steering is responsive, tight and weighted just perfectly. The new soft leather-wrapped flat-bottomed wheel keeps you feeling well connected to the road. The Camaro takes corners with authority and zero body roll, and is loads of fun to toss around. The car feels well planted and confident at all times, and yet somehow the ride manages to remain soft and compliant enough to be perfectly comfortable even after hours on end. That firm and planted feeling, with just the right amount of softness is one of the traits that I've loved about my own Camaros, and I am glad to see it carried through to the latest cars.
If I am honest though, the one thing I miss the most from my third and fourth generation cars is the liftback-style design, which truly allowed them to be practical sports cars. Folding the rear seats in one of my old cars reveals a large and versatile cargo area that just cannot be matched with today's design. Also, I can fit adults in the rear seats of my older cars in relative comfort – that's simply not going to happen in the new one. I'd really love to see GM build some of that unique practically into future models as that's been one of the biggest reasons why my cars have continued to be practical through so many stages of our lives.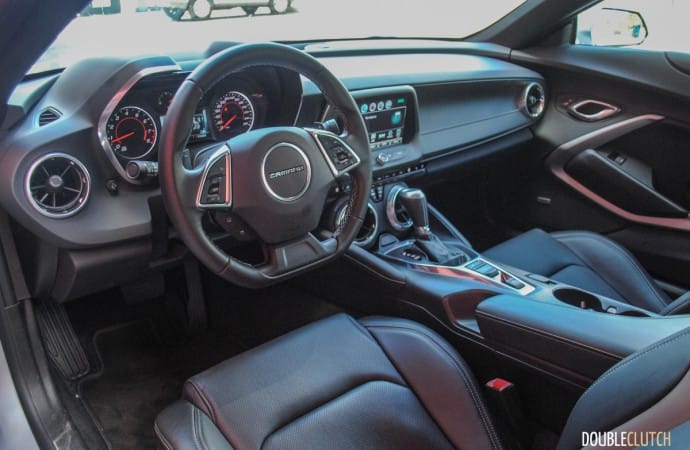 While practically may suffer, the interior in the new Camaro is actually a very nice place to be, GM has taken feedback from the fifth-generation to heart and made significant improvements to the overall fit and finish, especially on the dashboard and centre console. The door panels still look and feel cheap on my test car, so it's a bit of a shame that they didn't get a similar treatment. Outward visibility is probably the most common complaint, and it's honestly not an issue for me at all. Once you spend some time with the car it's very easy to get a gasp of its size and set up your mirrors to minimize the blind spots, visibility shouldn't be a big concern.
We did end up spending a lot of time in the Camaro as we took a six-hour round trip to visit some friends out of town. The Camaro's leather buckets kept us well supported, although we both found the ventilated function on the seats rather weak. One complaint on the trip is the lack of storage space up front. The oddly shaped centre console storage barely fit my sunglasses and the small door pockets are nearly useless, leaving most of our road trip necessities on the back seat, floor or in the small glove compartment.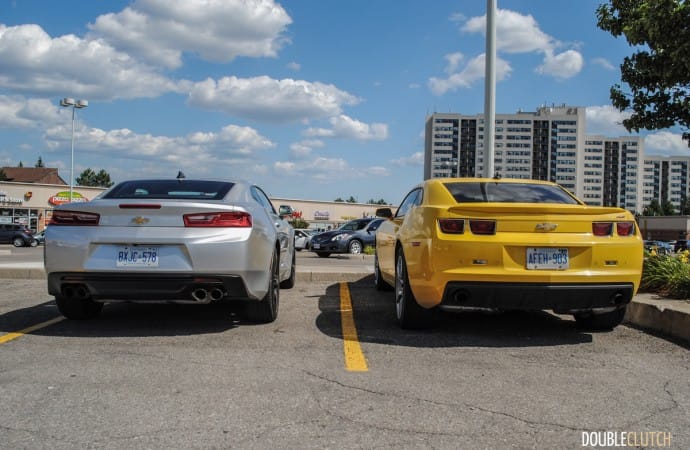 The car cruises and tracks on the highway beautifully, with my only complaints being a noteworthy amount of tire noise from the big 20" runflats. The standard Chevrolet 4G LTE WiFi was put to good use on the trip also, allowing my wife to use her mobile device from the passenger seats as we travelled across eastern Ontario. The trunk easily swallowed our luggage; however the access opening is quite small, making loading and unloading a bit of a pain. Once outside of the big city, the Camaro's sharp looks and loud exhaust garnered plenty of looks and compliments, which added to the fun of the trip.
After spending a week with the latest iteration of a car that has been a large part of my life, I've come away with a new found appreciation for everything the sixth-generation Camaro is. It is definitely worthy of its lineage and a great looking car, with phenomenal performance, impressive economy and a surprising level of comfort and refinement. It may have lost some of the practicality, but it has gained leaps and bounds in other areas. When the time comes to expand the fleet, I look forward to parking a sixth-generation Camaro of my own in the driveway.
2016 Chevrolet Camaro LT Gallery
See Also: