North America first saw Honda's insanely popular CR-V as a 1997 model year vehicle. Before that, the only sport-utility entry from the bustling Japanese brand had been the Passport, a shamelessly re-badged Isuzu Rodeo. The first-generation car was actually pretty quirky, with an available manual transmission, Real Time AWD and large windows for excellent visibility. Now in its fourth generation, the CR-V has become more popular and a bit less interesting, but they still sell more than ever. We borrowed a 2016 Honda CR-V Touring AWD, in top trim, to see how it competes with the rest of the small crossover pack.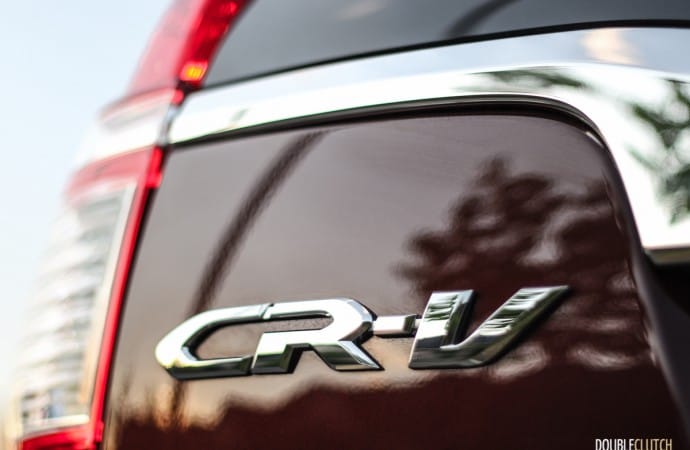 Personally, I was a huge fan of the styling of the second-generation model, offered from 2002-2006. The new one is still handsome, but far more conservative and linear with the rest of the current Honda lineup. New for 2012, the CR-V offers plenty of technology, some features not commonly seen in this segment, and plenty of interior space. Not too far off from the intelligently packed Honda Fit (reviewed here), the CR-V's conservative styling allows for tons of flexibility with regards to passenger space as well as cargo, small and large.
In the compact crossover segment, the Mazda CX-5 (reviewed here) is a runaway favourite of ours. A few of our editorial staff are followers of the Subaru Forester (reviewed here), which is also a great pick. The CR-V is a Canadian favourite because of the sheer brand loyalty that Honda has. Similar to the Toyota RAV4 in this sense, the car could be completely uninspiring to drive, but be priced aggressively and deliver relatively smooth everyday operation and sales wouldn't hurt in the slightest.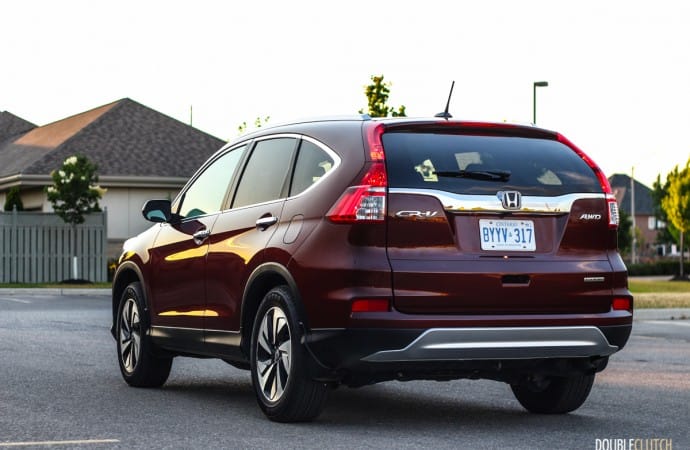 But it isn't uninspiring to drive – the new CR-V is actually surprising in this regard. Offered with a single powertrain option, a 2.4L direct-injected inline four-cylinder with i-VTEC technology, the Honda is clearly bred from a brand that takes pride in a passionate driving experience. This engine is part of the Earth Dreams family. Output is 185 horsepower at 6,400RPM, and 181 lb-ft of torque. Rivals like the Forester and Ford Escape (reviewed here) offer a more powerful, turbocharged engine, but the entry-level four cylinders are what sell to Canadians. Smoothness is key here, and the CR-V delivers.
The manual transmission is long gone from this model, and the only available gearbox is the Honda CVT. Honda hasn't been doing CVTs for as long as Nissan has, but their CVT is among the smoothest in operation. This transmission is available on every four-cylinder vehicle, whereas V6 cars/trucks are offered with traditional automatics. On the CR-V, there is a Sport mode that holds ratios longer for a sportier feel. It also has an "Econ" setting that does exactly the opposite, and dulls throttle response for maximum economy. The CR-V doesn't feel sluggish, but it's not quick by any means and makes its purpose very clear.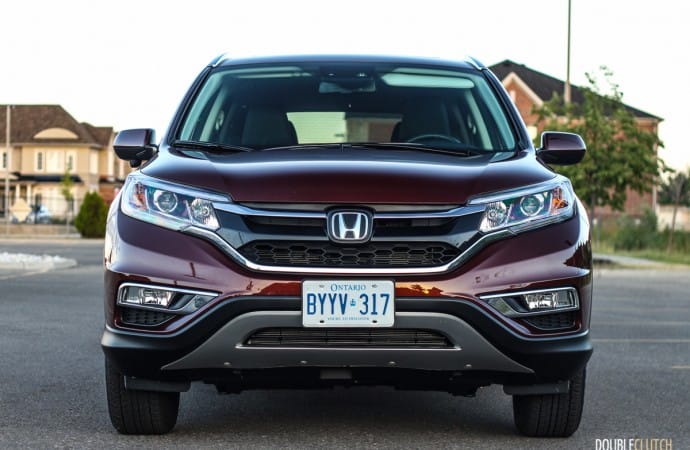 Honda only offers the CR-V in front-wheel-drive spec on the bare-bones LX model, which is rated for 8.8L/100km in the city and 6.9L/100km on the highway. All other trims are all-wheel-drive only, and Honda suggests 9.5L/100km city, 7.5L/100km highway, and a combined rating of 8.6L/100km. Over the course of our test, we did a bunch of combined driving and came away with an end result of 9.4L/100km. Considering many of these miles were with a full load on board and generous use of the air conditioning, the CR-V impressed in this regard. We also used the Econ feature a bit, and it does serve its function.
In Canada, Honda prices the CR-V aggressively to compete in its segment. $26,290 will get you into a front-wheel-drive LX model, the only one that can be had without all-wheel-drive. There are five trims above this – LX, SE, EX, EX-L, and finally the tested Touring, all of which are available with a variety of options and packages. Highlights for the $37,090 Touring include the full array of Honda Sensing safety features, leather interior, sunroof, navigation system, intelligent key, LED daytime running lights, intelligent key, and a series of other features. At just over $37,000, the top trim here is very competitive, though it must be noted that the CR-V only has the one engine option.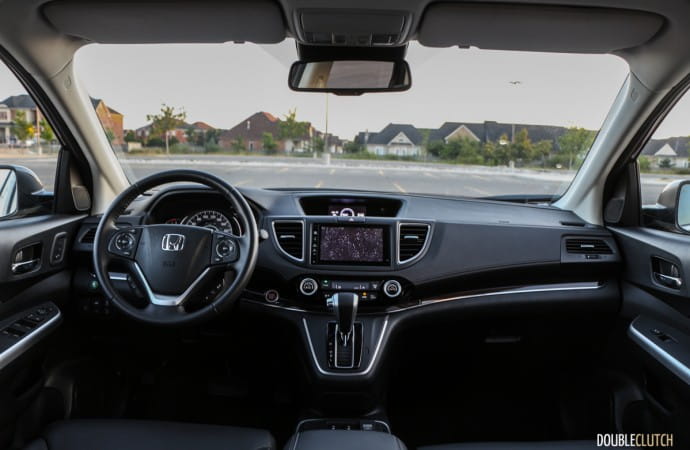 An asset Honda has across their lineup, including the new Civic (reviewed here) is the Honda Sensing safety suite. This includes but isn't limited to adaptive cruise control, LKAS (Lane Keeping Assist System), LDW (Lane Departure Warning), and CMBS (Collision Mitigating Braking System). Working in sync with the CR-V's four-wheel anti-lock braking system and the standard Vehicle Stability Assist (VSA) with traction control, models equipped with this group are literally the best of the best when it comes to keeping occupants safe at all times. A similar kit offered by a competitor is Subaru's EyeSight technology (reviewed here).
On the inside, the CR-V Touring is a reasonably pleasant place to be. Fit and finish is decent, up to Honda's standards, and the synthetic leather used to upholster a good chunk of the interior is high quality. Interior space is also very generous, and we had no trouble fitting a good number of our editorial team into it during weekly evaluations. However, the steering wheel is extremely small and I found it hard to get a decent driving position. It tilts and telescopes, but the angle is too diagonal and no matter what I did, it just felt like I was driving a bus or transport truck. The Mazda CX-5 is very good in this regard.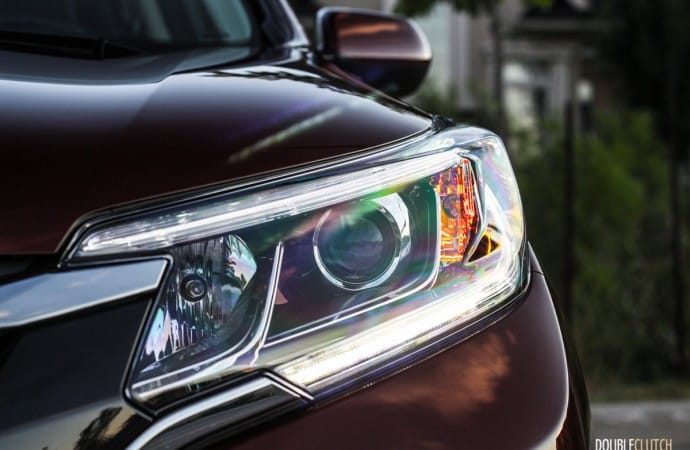 The 2016 Honda CR-V Touring has a lot to offer, and it's very easy to see why it sells as well as it does. Canadians enjoy conservative designs, especially when they're coupled with great build quality, reliability, and long-term dependability. When comparing Honda products to their rivals, it's always interesting observing just how many decades-old Hondas are still on the roads, whereas rival vehicles have either rusted out or broken down. The current CR-V follows the same formula that its predecessors did – keep the customers happy without making too big of a departure. Some may consider it bland, and that wouldn't be incorrect, but it's a recipe to sales success.
2016 Honda CR-V Touring 4WD Gallery
See Also:
2016 Subaru Forester 2.5i Touring