It's no secret that big pickups have always been a guilty pleasure of mine, and one of the reasons for that is that fact that the segment is just so competitive and profitable that the manufacturers are constantly pushing for continuous improvement and innovation. The last 15 to 20 years have completely redefined what the pickup truck represents, and the trucks themselves have dramatically improved in every way to meet the evolving trends in the market. Even if you're not a truck guy, drive a modern pickup and I promise you you'll at least come away with a new appreciation.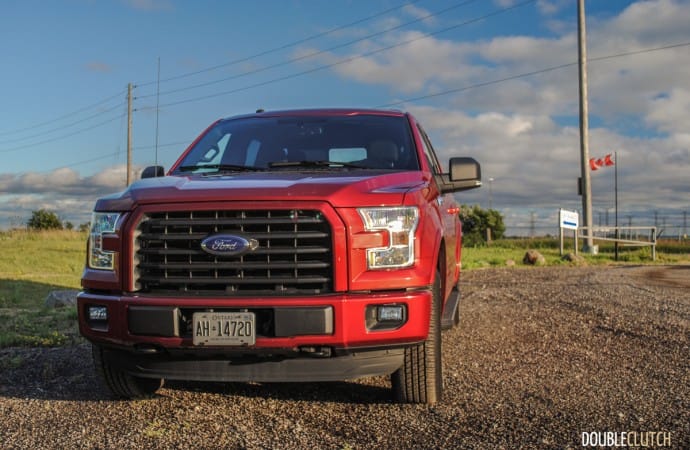 Ten years ago, a full-sized 4×4 pickup truck that could see highway fuel consumption below 10L/100kms was a mere pipe dream – now it's a reality. I've struggled to get fuel consumption like that in some new sedans, which speaks volumes in my mind to just how much engineering focus has been put into this segment over the last decade. I credit those improvements to keeping the segment very popular with buyers, despite increasing fuel costs and a shaky economy. To keep up with the latest changes I spent a week with Canada's best selling pickup, a 2016 Ford F-150 XLT EcoBoost.
In the case of this F-150, I don't think the staff at Ford Canada could have chosen a better spec package to represent their best-selling truck. My test truck came with all the most popular configurations and options, and without a lot of the excessively flashy and costly Cowboy Cadillac add-ons. As I drove around this past week I noticed the other F-150s around me, and as expected, the majority of them were very similar to mine. XLT trim (cloth interior), SuperCrew cab, 4×4 and a 5.5ft bed­ – Canada's most popular truck.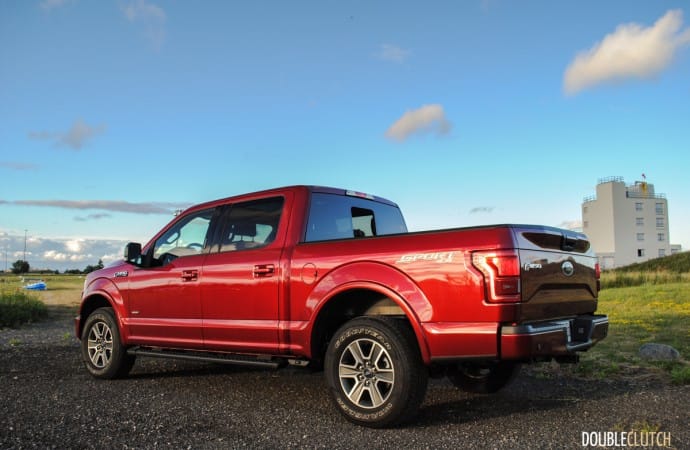 My tester was finished in "Ruby Red", which is the only paint option with a price tag. It's an extra $450 for the metallic paint, but it certainly does look good and helped the truck stand out against all the others on the road. Also, the Sport Appearance Package equipped on my truck ($500) adds body colored bumpers, blacked out grill, sport decals on the bed and some nice looking 18" wheels; enough to differentiate it from the crowd. The Ford is also by far the biggest looking of the big three domestic pickup trucks on the roads. This lends it a commanding look, but also raises the "reach in" height of the bed.
One of the reasons that F-150s like my tester are so popular is that fact that they can be had at a very reasonable price. While it's true that fully loaded up Platinum and Limited trim level trucks can easily add up to $70,000, a truck like this could be had for around $40,000; very comparable to a family crossover or SUV, and makes for an easy transition into a pickup. Now, my particular truck does sport a healthy list of options bringing the as-tested price up around $47,000, but one of the nice things about trucks is that most options can be chosen à-la-carte.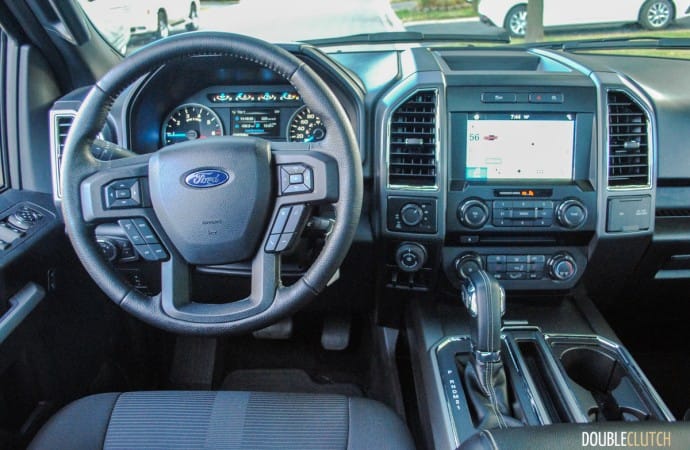 This truck though, is equipped with option package 302A, which is a costly $6,300, but adds a huge list of features. This includes remote start, rear view camera, powered and heated seats, leather wrapped steering wheel, SYNC 3 multimedia system (reviewed here), tow package and many more nice convenience options. That tow package comes with a segment first "Pro Trailer Backup Assist". it's essentially a knob on the dash used to indicate which way you want your trailer to go when reversing, the truck then takes over and steers itself in the right direction. I didn't get a chance to try it myself, but messing up your trailer can be costly both to your wallet and your pride, so it can't hurt to have a little extra help.
If you're looking to add some more exciting features to your truck, Ford doesn't disappoint with a huge list of optional extras like the full length dual-pane moonroof, LEDs in the mirrors, LED bedlighting, integrated box-side and tailgate steps, power sliding rear window, voice activated navigation and more. My tester came with all of the above mentioned features, and I thoroughly enjoyed the moonroof and power sliding window all week. The LED spotlights built into the side mirrors are just cool and could prove very useful when you find yourself off the beaten path after dark. The integrated steps are bit of a pain to operate though, and I'd prefer something that's fixed with no moving pieces.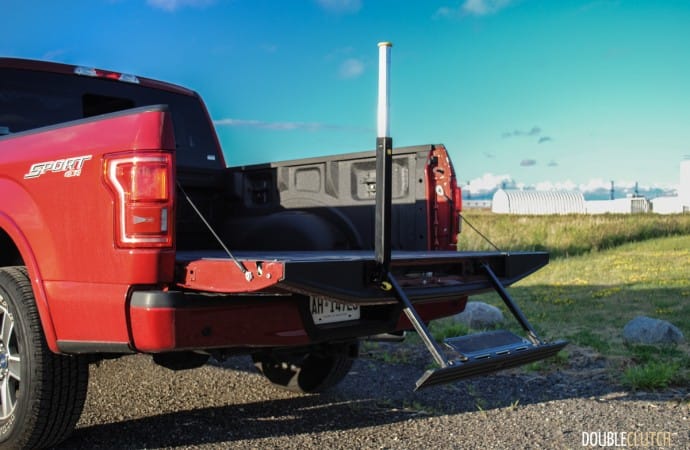 My tester is powered by the 2.7L EcoBoost V6, which I fully admit I expected to be a total dog in the F-150. I was pleasantly surprised to see that the little EcoBoost produced more than adequate power and response to move the beast around. Both in town and on the highway, the 2.7L puts plenty of power underneath your right foot. With the windows down, the turbo can easily be heard spooling up, even on mild acceleration, which is quite an infectious sound.
Now, the little turbocharged V6 felt great driving around unloaded. With a relatively light load in the bed, there is a significant difference in the tow ratings between the 2.7L EcoBoost, and the bigger 3.5L EcoBoost or the old 5.0L V8 to the tune of a couple thousand lbs. If you plan on frequently towing, it might be worth upgrading to the larger motor. For true light-duty use, and my week of rush hour commuting, the 2.7L proved absolutely perfect.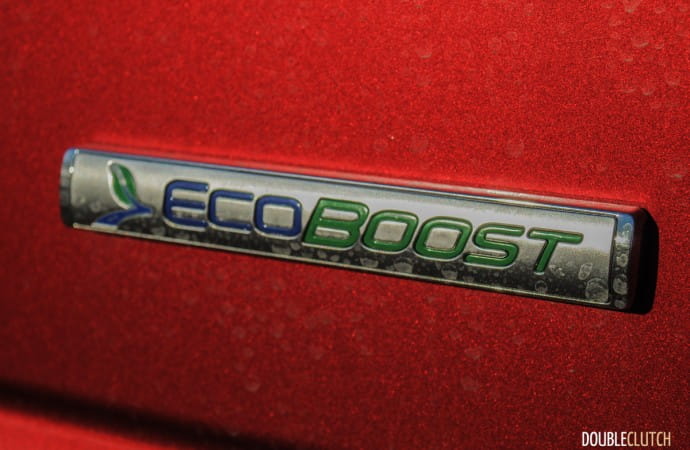 In that same regard, the 2.7L mated to Ford's six-speed automatic and a 3.55 locking rear end posted some very competitive fuel economy numbers, averaging 13.1L/100km in my rush hour commute with moderate A/C use. That's significantly better than I got in a similar 3.5L EcoBoost F-150 (reviewed here) last year, and right on par with the GM trucks. The significant difference here is that my GM numbers are based on the 5.3L and 6.2L V8 engines, and the newer eight-speed transmissions. I did see fuel consumption numbers in the F-150 well into the 9L/100kms territory on an open highway run, which still amazes me considering the sheer size of the vehicle.
On the road the F-150 does feel big, in fact I'd say that the F-150 drives the biggest. It wallows the most through corners, dives the most under braking and the steering, while tight, feels the least connected to the road. On the flipside, it is comfortable, with decent visibility despite abnormally thick A-pillars, and I had no issues moving or parking in the city. Although, its height does mean it doesn't fit in many older underground garages. The F-150 XLT also rides very well, especially for a pickup. It's smooth, quiet and comfy inside the cab regardless of whether you're cruising on the highway, battling city traffic or barreling down an abandoned dirt road.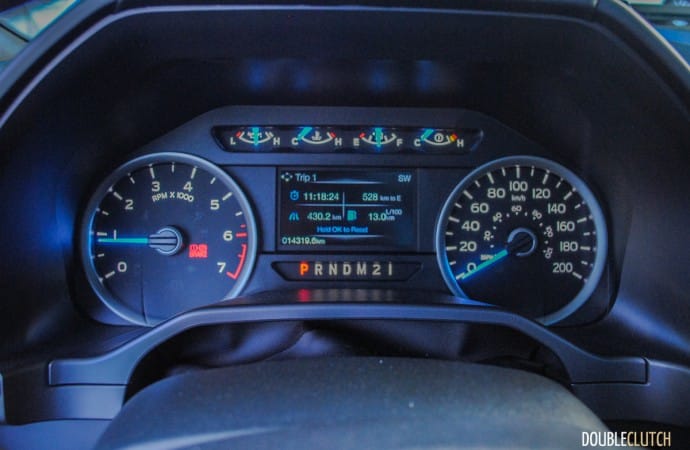 The interior itself is all right, and I say that only because the competition is so strong in this area that the Ford does feel cheaper inside than the Ram and GM trucks that I've driven recently. The dash is mostly hard black and grey plastic, as are the door panels and centre console, which my truck did come with whereas a bench seat up front is also available. The console offers loads of storage, and four big cupholders. Lastly, there is a seemingly endless amount of bins and cubbies to store even more stuff in the truck.
Where the Ford is head-and-shoulders ahead of the competition is the size of the rear seat area in the SuperCrew cab. Massive is the only word to describe it, and better yet is that when the seats are folded up, the load floor is perfectly flat. This is a huge amount of versatile, covered and secure cargo space, and speaking from experience I can tell you that it most definitely comes in handy to have for items you don't want exposed to the elements in the bed.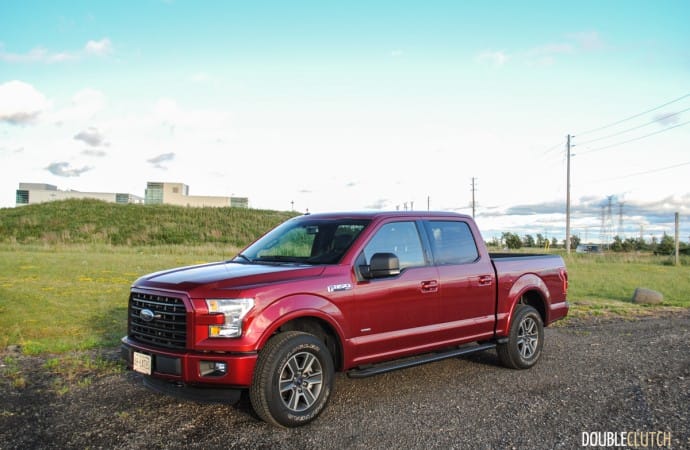 Clearly, I liked this truck, and even as a GM guy by blood I have to admit that the 2016 Ford F-150 XLT EcoBoost is a very competent and competitive offering. At the $47,000 as-tested price there is an incredible amount of value here. We're looking at the vehicle that can haul your boat to the cottage, take the kids the school, and handle your daily commute without ever feeling out of place. The pickup truck is becoming the new family hauler, and a truck like this not only shows how far pickup trucks have come, but also that a nice truck doesn't need to be excessively expensive, and that fits the bill for many, many buyers out there.
2016 Ford F-150 XLT EcoBoost Gallery
See Also:
2015 Ford F-150 Platinum EcoBoost