Those who know me know that the two-seater roadster is very near and dear to my heart. Growing up in British roadsters, and now owning a couple myself, I have a pretty good idea of just how good, or how difficult, daily life with a small roadster can be. For the last 25 years the Mazda MX-5, or Miata as I will continue to call it, has been the quintessential open-top sports car.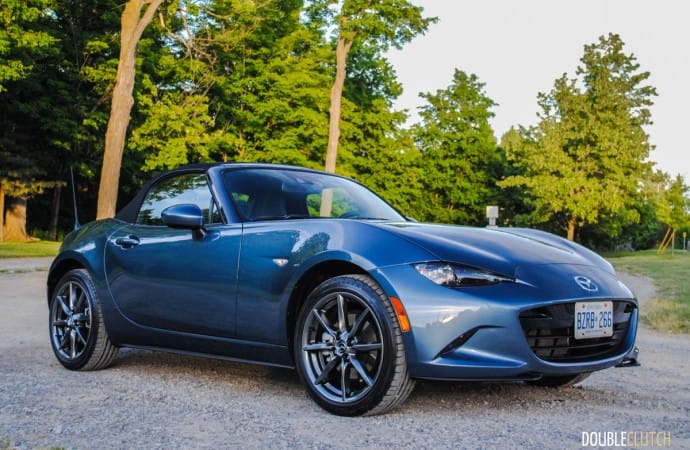 The mechanical rawness of dual SU carburetors and minimalistic Lucas electrics have been replaced with reliable modern tech, but the MX-5 has remained very true to its British roadster roots. There's a sexy low slung body, a torquey rev happy 4-cylinder, 2 bucket seats and a ragtop; it's the formula for the ideal summer car, but is the 2016 Mazda MX-5 GT Automatic the one to have?
The new 2016 MX-5 is smaller, lighter and curvier than its predecessor, which is a refreshing approach since it seems that cars over the last couple decades have only gotten bigger, taller and heavier. The body styling on the latest MX-5 is just right in my opinion; it's truly one of those cars that looks much better in person than in photos as you can really see and appreciate all the subtle curves that the stylists at Mazda have built into the car's shape. The way the rear fenders curve upward immediately behind the doors is my favorite line on the whole car, and is very reminiscent of British roadsters like the MGA and Austin Healey.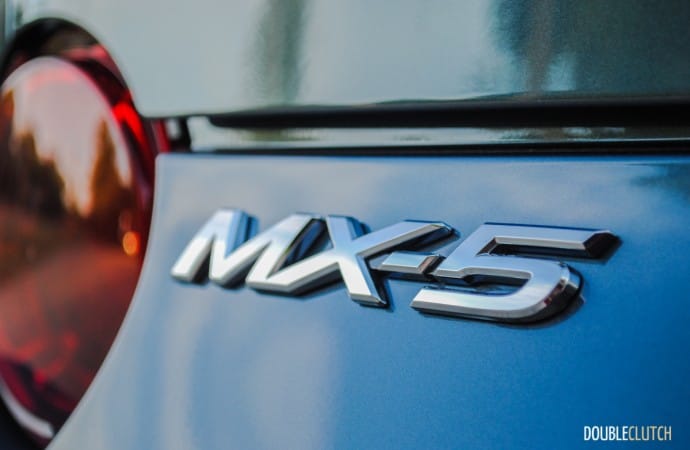 A long pointed hood and a short trunk keep up the traditional roadster look, while LED running lamps, HID projector-beam headlights and 17" gunmetal grey alloys serve to remind you that you're looking at the latest evolution of a long lineage. My test car came finished in a nice Blue Reflex Mica, but looking at the other color options online I was a little disappointed to see mostly generic shades, white, black, grey, silver, etc. The only really vibrant color is the signature Mazda Soul Red, which will likely be the most popular pick. It's a roadster, where are the bright yellows and blues, or even British Racing Green?
The overall fit and finish on the exterior of the MX-5 is superb – clearly Mazda has put their best foot forward in building a car that's proven to be the key to their brand. That quality is carried into the interior as well, with the use of nice low-sheen soft plastics and excellent fitment. My test car is a fully optioned GT model, equipped with a gorgeous set of racing style heated leather seats, complete with Soul Red accent stitching and Bose speakers built into the headrests. The seats are plenty supportive for spirited driving, yet comfortable enough to spend hours in I've learnt over the years that a good set of seats is a critical factor in getting the most out of a little roadster.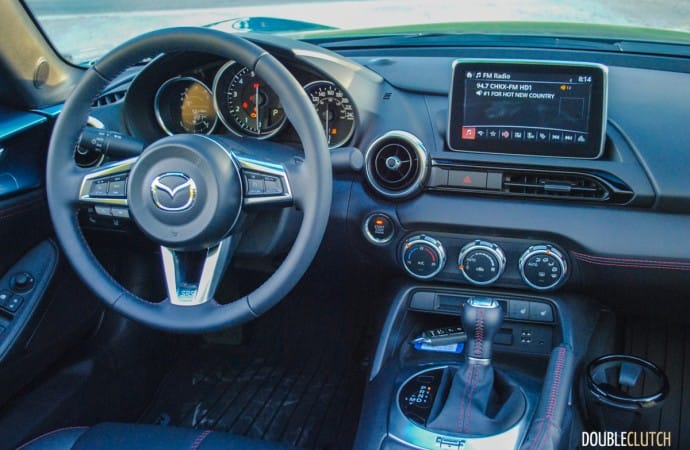 Now, these seats are only available in the GT model, which came with an MSRP of $39,300, which is a full $4000 more than the GS. At that price you also get the Bose stereo, a cloth-lined convertible top, fancier alloys, and some additional electronic driving aids such as lane departure and blind spot warnings; if a stripped down roadster is more your style the base MX-5 GX can be had for $31,900.
Seats aside, I was actually a little surprised at just how tight the interior space in the MX-5 felt. It's noticeably more cramped than the last MX-5 (reviewed here). That said, once I had the seat adjusted all the way down I was able to make my 5'11 self quite comfortable, even with the top up. There's a good size cubby on the back wall between the seats for secure storage, but that's it. There's no glovebox, door pockets, or usable centre console storage. Trunk space isn't much better either, with a small access and shallow floor; a carry-on luggage bag would fit nicely to get you through a weekend away, but not much else.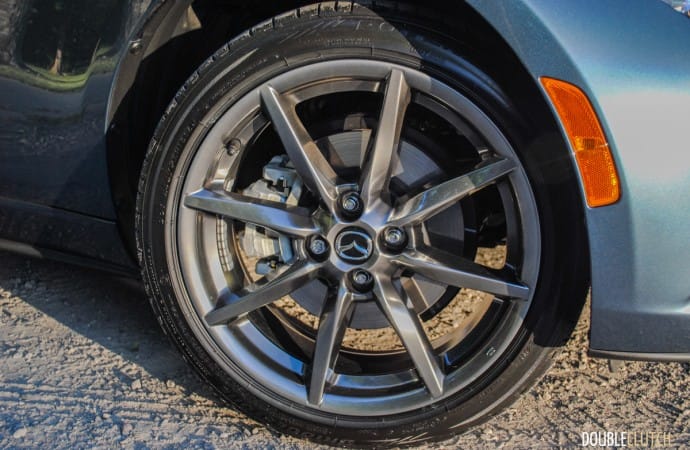 What matters to most though is how the MX-5 drives, and on that front the Miata does not disappoint. The 2.0L 4-cylinder makes 155 horsepower but more notably, also makes 148 ft-lbs of torque at a relatively low 4800RPM. The engines response is crisp and sharp and it'll happily rev right up to redline exuding a harmonious hum from the twin tip exhaust. Due to its torquey nature, the MX-5 feels much quicker than it really is, especially around town or through twisty backroads where accelerating from low speeds is the name of the game.
My test car was equipped with the six-speed automatic rather than the more-correct six-speed manual. That statement is totally out of character for me – someone who usually appreciates the ease of an automatic in my daily rush hour commute – but not having a third pedal in a Miata just doesn't feel right. As far as automatics go though, this one is pretty good and flipping it into Sport mode allows it to easily keep up with just about anything. It is equipped with paddle shifters on the steering wheel, which respond well, but I rarely felt the need to use them once driving in sport mode.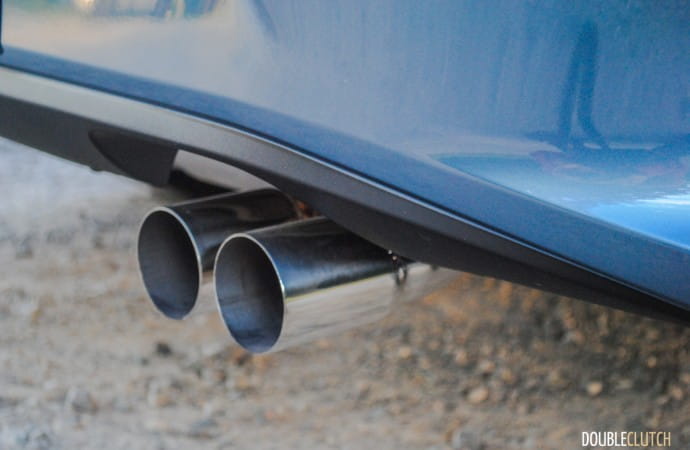 At the risk of sounding like every other MX-5 review, the handling in the car is absolutely superb, but you probably already knew that. The wheel is perfectly weighted, offers just the right amount of feedback and is incredibly responsive. Happily, the MX-5 also tracks well and on-centre feel while cruising along the highway is very good. The brakes have not been forgotten about either and they haul the Miata down to a stop with authority. All in all, even with the automatic, the MX-5 is an absolutely blast to drive because it's still a car that even a novice driver can enjoy tossing around without getting themselves into much trouble. It's so easy to have fun in an MX-5 that it's just impossible to not like it.
The weather for my week with the MX-5 couldn't have been any better – plenty of sunshine and heat. Despite my love of roadsters, I don't love roasting with the top down sitting in traffic, but I am happy to report that the top on the MX-5 is very well built. It's watertight and doesn't generate any unwanted flapping noises regardless of its position. Folding and raising the top is a manual operation, but it's extremely easy and can be done with one arm while sitting in the car. Its ability to insulate sound was actually better than I expected, and with the top up and A/C on the MX-5 made a fairly comfortable highway commuter, even if it's a little cramped.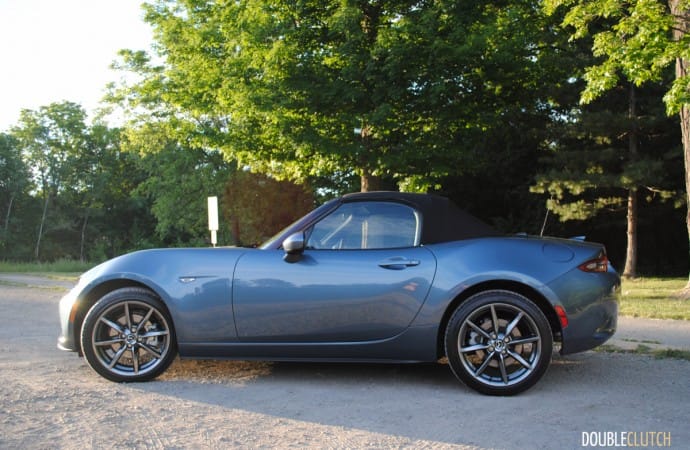 I did get the car out for a long highway run on a perfect evening with the top down and loved every minute of it, wind noise is minimal, and the speakers built into the headrests make it easy to hear the stereo without resorting to ridiculous volumes. I also truly enjoyed the fuel economy of the MX-5. Now lighter and with less power than the previous generation, the fuel economy has improved quite a bit. Despite heavy A/C use and lots of traffic my average for the week was 6.3L/100km. It's hard to argue with something that can put a smile on your face on the road and at the pumps.
To answer my original question, yes, the MX-5 still is the roadster to have. It is the roadster in its purest modern form, complete with all of the typical quirks. If you truly want a great summer car, and know that you're getting a slightly impractical but affordable, efficient and hugely fun little car then you should give the 2016 Mazda MX-5 Automatic some serious consideration.
2016 Mazda MX-5 GT Automatic Gallery
See Also: