There are some cars that blow your mind just by reading the spec sheet, or by observing its aesthetics. This is called love at first sight. Unfortunately for this little yellow hornet, its initial release in Canada didn't exactly do much to increase my heartbeat. Alfa Romeo has always produced a beautiful car though, and the last one that was available for the Canadian masses was the 164 in the 1990s. After many hurdles and now a part of Fiat-Chrysler North America, the brand is back in business, and they're back with a bang. We were offered a week with the brand's first media test vehicle in Canada, a 2017 Alfa Romeo 4C Spider, with a plethora of options checked off.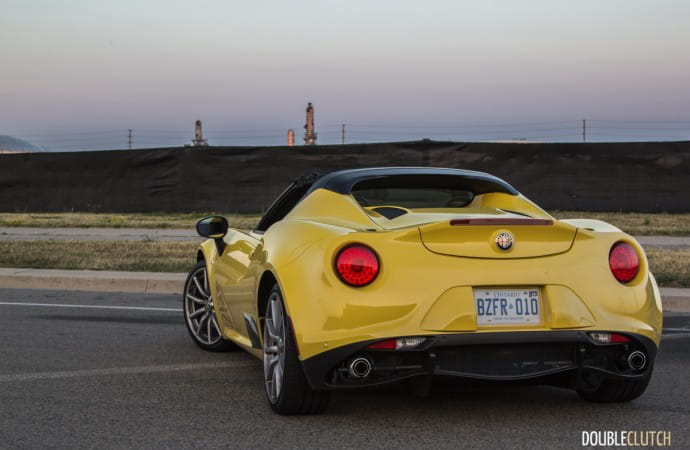 The Alfa has no semblance of daily practicality, and it doesn't even pretend to have it. This particular Spider model has a folding soft top (refer to how one rolls up a sleeping bag) that stows into the trunk, and it requires a bit of patience to take off. This is all part of the sexy Italian's charm though, because practical isn't a suit it needs to wear. This car is all party, all the time, and this is evident the second you lay your eyes on it. It's a sleek two-seater with the engine mounted behind the cabin. The cabin is an all carbon-fiber tub, making this one of two cars below $100,000 to boast this trait – the other being the BMW i3 (reviewed here).
It's not all that easy for my 6'1/175 self to get into the Alfa, but the doors swing open wide enough and frankly, it's all worth it. The cabin is completely driver-focused, with minimalism everywhere. Alfa Romeo has prioritized the way this car drives, and how feedback is sent to the driver, so there is absolutely nothing here that would add weight or coddle the passengers. Both seats are extremely aggressive and, while providing excellent support through the curves, don't have anything more than basic adjustments. The LCD instrument cluster (not unfamiliar for those used to recent FCA products) provides a trip computer, and there are basic climate controls with air conditioning.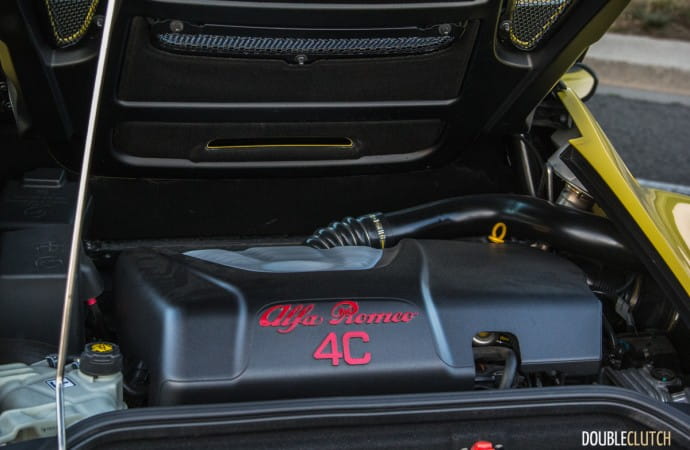 Putting your foot on the brake and turning the key (yes, this car uses one of those) will start the experience of a lifetime. The engine fires up with an authoritative bark and rumble, and it's obvious that this isn't a large displacement motor. Behind the cabin is a 1.75L turbocharged inline four-cylinder, good for 237 horsepower at 6,000RPM and 258 lb-ft of torque at 2,200RPM. This little bumblebee is the perfect use of the phrase "good things come in small sizes", because power delivery is insane. There is just so much response from the engine, the car feels considerably faster than it is. Also immediately heard on hard acceleration is the turbo spooling, loudly – Alfa Romeo claims 4.1 seconds is all the 4C Spider needs to hit 100 km/h.
The power is all there in the low end as well as plentiful in the midrange. One would imagine that the 4C would run out of breath in the higher RPMs, but it just pulls and pulls, emitting a symphony from the exhaust as it builds speed. There's the "DNA" drive mode selector, which adjusts the car's temperament between "Dynamic", "Natural", and "All-Weather". When set to "Dynamic", the stability control is relaxed to a point of unnoticeable, and the rear end happily dances around on demand.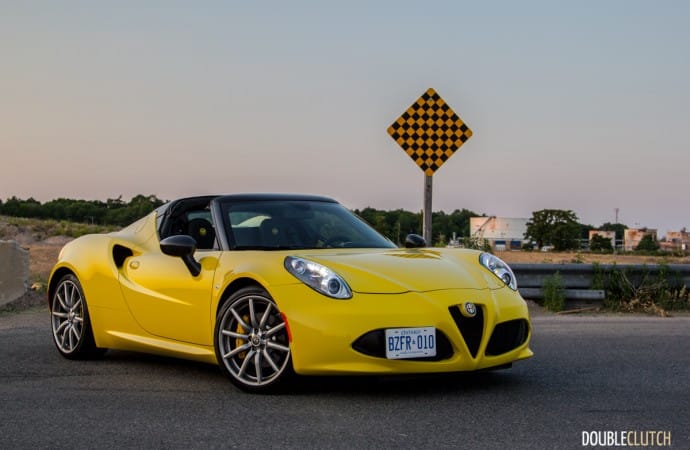 It's not all just about the power either, the Alfa Romeo 4C has amongst the best road feel of any car currently for sale in this country. The driver is so low to the ground that it mimics the feeling of driving a go-kart out on the street. Ride quality is firm, but this is what real sports cars should feel like. Out on the open highway, the car is just as enjoyable as it is in a rural, more open setting. However, longer distances can cause the performance suspension to become tiresome on one's back. The open-top feeling with the windows down is second to none – this is why targa-top and T-top vehicles were so popular in the days gone by.
Here's where things get really unique – the Alfa Romeo 4C is the only vehicle currently on sale in North America without power steering. This really is a no-nanny kind of car, the kind that makes the hearts of purists throb. A bit challenging to parallel park at parking lot speeds, the 4C has so much road feedback it shames most "sports cars" for sale today. When at speed, the steering is much easier to operate, and every single road imperfection is transmitted right into the driver's fingertips. The handling is simply remarkable, the car corners with so much authority and poise, more crisply than just about anything else.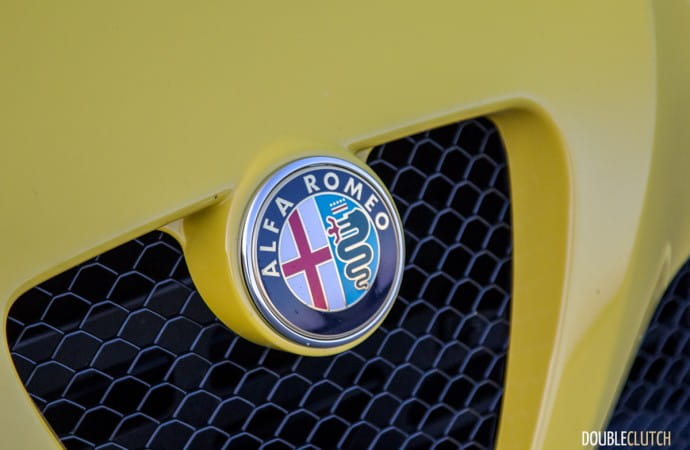 With all of this natural and pure feel, one would assume the Alfa is equipped with a proper manual transmission, right? Wrong – the only available gearbox is a six-speed dual-clutch unit. Many of today's dual-clutches are almost imperceptible from traditional automatics, and that's where this one is different. It genuinely feels like an automated manual, with quick shifts met by loud "blat" noises from the performance exhaust. There is no "Park" setting; the car is to be left in gear and the emergency brake engaged when parking. There are buttons on the center stack for reverse, "1", and an "A/M" selector which toggles between automatic and manual modes. This is one of the best gearboxes in the industry right now, and contributes to the car's natural feel.
We said before that the car is light, but it must be reiterated how they've done it. The tub is all carbon-fiber, and all of the body panels are made up of composite plastic. Subframes both front and rear are made up of aluminum. Many additional steps are taken to ensure not a single unnecessary pound is added. For instance, the "trunk", which houses both the storage compartment and the engine, doesn't have struts – it's held up with an old fashioned prop-rod. Thanks to all of this and the lightweight interior materials used, the 4C Spider weighs less than 2,500 lbs.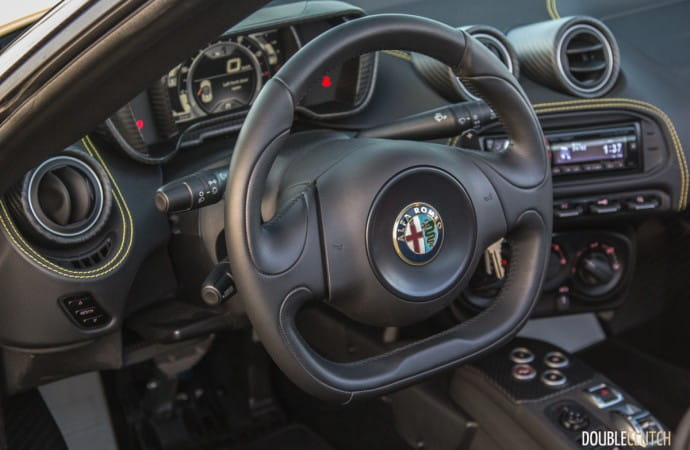 The lack of weight on the car helps significantly with fuel economy, too. The small engine is punchy, but at the end of the day, the 4C is a tiny car with small proportions. The car strictly takes 91-octane premium fuel, which is what our test took place on, and we averaged 9.2L/100km in two combined cycles. Highway driving will improve mileage significantly, because at city speeds there's more temptation to make fun noises with the car. Fun fact; the small tank will only hold 40L of fuel.
Alfa Romeo will sell you the coupé version of the 4C for just $66,495. A step up to the Spider starts at $78,495. Our vehicle was uniquely spec'd, including Giallo Prototipo paint with racing microfibre/black leather interior with yellow stitching throughout. 19" wheels were also on board, along with yellow performance brake calipers, sport-tuned exhaust, bi-xenon headlights, extra carbon fiber bits, Spider Track Package (race-tuned suspension, carbon fiber mirrors), and Convenience Group (cruise control and rear park assist). The grand total was just over $90,000, and this still includes a simple Alpine single-din aftermarket stereo. Remember: all of the money goes towards performance, not luxury!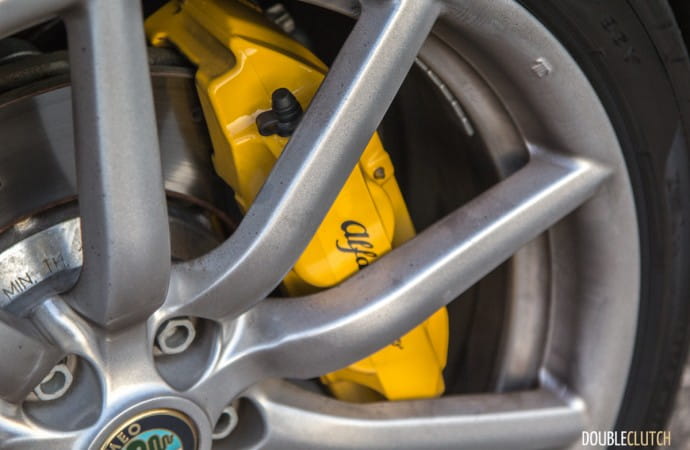 A huge question is, what are the 4C's rivals? Well, Alfa Romeo acknowledges that the car will be cross-shopped, but there aren't exactly any cars available today that are easy competition. The BMW M2 (reviewed here) is similar with regards to performance for your dollar, and this list would also include the Audi TT-S (reviewed here). Where the problem truly lies is in that either of those vehicles could be a perfectly logical and practical choice, whereas the 4C Spider is a complete passion toy with no semblance of everyday practicality. The forthcoming TT RS from Audi should fill in this gap nicely.
There will be people who claim you can't live with the 4C on a daily basis. As a taller driver, I'm probably of that same camp, but then I remember something very important. We enthusiasts have been complaining for years and years that cars are becoming softer and more artificial. When a hardcore car with analog controls and real feel comes around, we have zero right to complain. The 2017 Alfa Romeo 4C Spider is such a special car in that it's able to deliver a driving experience second to none on the road today. It's not cheap, but for under $100,000, I can't think of a single car that connects the driver to the road ahead in a more spiritual way, and hence it has raw appeal right into the heart of any car guy (or girl) to come across it.
2017 Alfa Romeo 4C Spider Gallery
See Also: