Ford's performance car portfolio has been especially strong lately, with new and updated vehicles grabbing headlines for a variety of reasons. The new Ford Mustang has become more of a real sports car, and shows us engineers can do when they're given more freedom and resources. The Ford Fiesta ST (reviewed here) remains to be one of the best values for hot hatchbacks under $30,000, and the upcoming Focus RS is set to go head-to-head with the excellent Volkswagen Golf R (reviewed here) and Subaru WRX STi. It's a good time to be a Ford enthusiast (or an auto enthusiast, for that matter), because legitimate performance seems to be high on the list.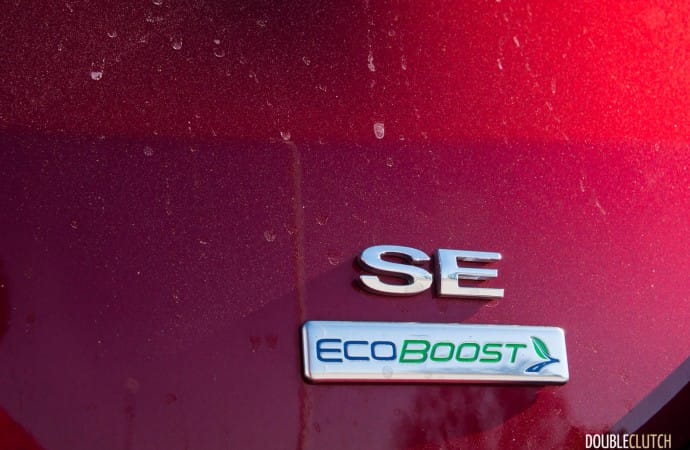 On the other hand, today's expectations for fuel efficiency as well as governmental regulations have made the game more difficult for just about everybody. With the help of technology and engineering, it is becoming more plausible to pick up something new that features a good mix of the two, depending on what your priorities are. We can thank forced induction, direct injection, and smarter construction inside and out that not only reduces weight, but improves performance under several metrics.
Not to be outdone by other rivals with small-displacement turbocharged engines, Ford introduced their EcoBoost 1.0L turbocharged three-cylinder engine to coincide with the 2015 refresh of the Focus. One-litre, you say? You've got that right – we're now at the point where we're starting to see tiny little engines once again. How does one litre of displacement move the Focus? To find out, I picked up the keys to a 2016 Ford Focus EcoBoost SE with the 6-speed automatic transmission. The Ruby Red colour is a considered a premium colour and is an extra $450.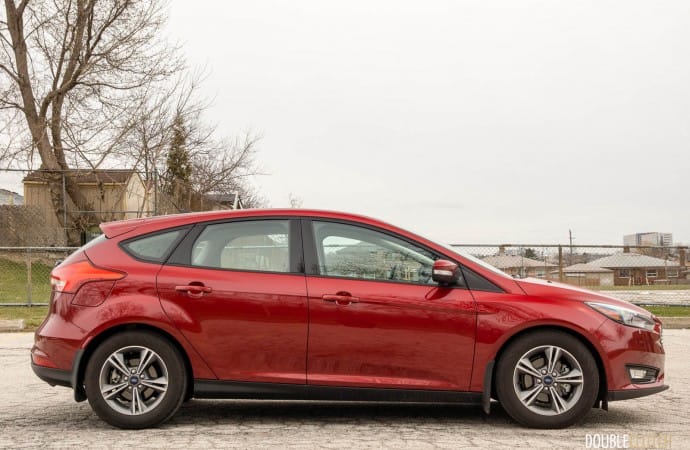 The Ford Focus isn't really a new car. Introduced as a new global platform way back in 2012. To say the Focus platform is aging isn't news, but Ford continues to plug away at it, in ways that keep their compact car more than relevant. 2014 saw a modest refresh, with a new grille (even more inspired by Aston Martin's grilles), new headlights (with LED daytime running lights), and new taillights.
The Focus is still a smart-looking car, with an air of European sophistication that helps it stay clear of bottom-rung, value-focused options out there in this tightly-contested field. The sedan as well as hatchback availability give customers options – whether they're looking for a more traditional two-box sedan, or a practical hatchback. My particular tester rides on 16-inch wheels with 215-section all-season tires.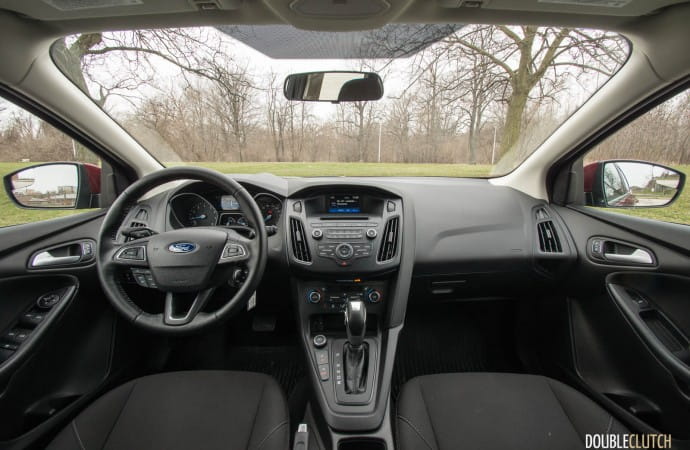 Inside, the Focus SE EcoBoost remains a familiar place, not changing a whole lot since this generation was originally launched. My SE tester didn't come equipped with Ford's excellent SYNC3 system (reviewed here), but rather a much simpler SYNC non-touchscreen interface with a 4.2-inch screen (smaller than most of today's smartphones). It gets the job done, and interacting with this infotainment interface is actually quite intuitive with the hard buttons. Items like Bluetooth, air conditioning, power windows and doors locks, are all standard equipment. Other than the small infotainment screen, the Focus SE comes with everything one would expect at this price point.
What starts to show its age, though, is how the interior is packaged. Rear seat legroom sticks out almost right away, with cars like the new Honda Civic and even the Toyota Corolla offering much roomier accommodations. The lack of space also extends to the front passenger, because the centre console takes up so much area. As a result, the right front passenger footwell actually isn't very wide, which could be a problem for longer trips. The Focus has always had this problem, dating way back to 2012 – even the new Focus RS will share the same massive centre console. My tester was also equipped with the $700 Winter Package, which adds heated seats (very effective ones, at that), heated mirrors, and a heated steering wheel.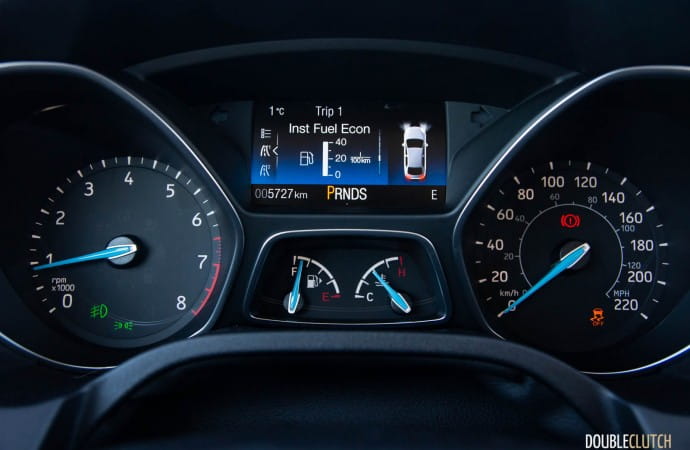 What makes this particular Focus unique is its powertrain. As mentioned earlier, the Focus EcoBoost features a 1.0L inline three-cylinder engine. In short, this little 97kg engine is what defines this car. Featuring turbocharging and direct injection, it puts out 123hp at 6000rpm and 125lb-ft of torque at 3500rpm. In other words, it puts out the power of an engine with quite a bit more displacement – this isn't the old three-cylinder lump that saw duty in Suzuki hatchbacks twenty years ago.
Most people have yet to experience what a three-cylinder engine is like. In short, it's different. It doesn't sound anything like a four-cylinder typically does – it's more of a warble that isn't too far off from what a Porsche flat-six sounds like. To reduce the inherent vibrations associated with having only three cylinders, the flywheel is deliberately unbalanced, which makes up for the lack of the balance shafts usually seen in many modern four-cylinder engines. What's also interesting is that this engine utilizes a timing belt (rather than a chain), and this belt is immersed in oil for longer life, reduced friction, and lower noise. Considering I can carry the shortblock in my arms (minus the cylinder head and accessories), this power plant does a lot more than you'd expect.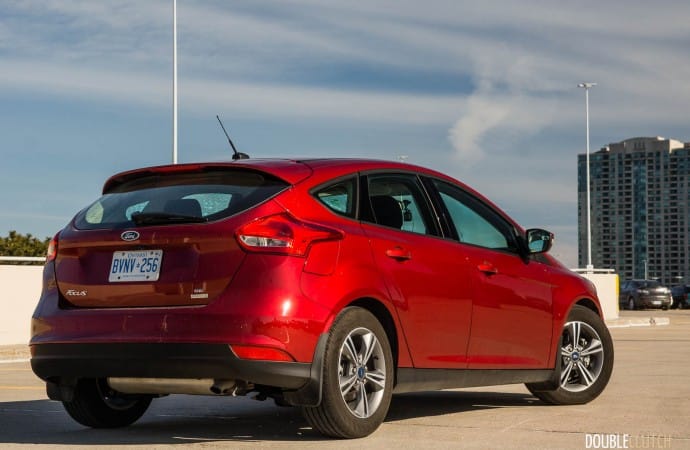 The EcoBoost is paired up with either a six-speed manual transmission, or a six-speed conventional automatic, tested here. Keep in mind that this isn't the double-clutch PowerShift unit that is seen in other Ford models. The Fiesta EcoBoost was initially made available only with the five-speed manual transmission, but the Focus adds the ability to pair it up with the six-speed automatic. The six-speed auto in the Focus EcoBoost doesn't quite follow this trend, however. Even with the efficiency-focused gearing, Ford rates this particular car at 8.5L/100km in the city and 5.9L/100km on the highway. Helping the Focus EcoBoost is a standard start-stop system that can shut the engine off at stop lights. Even with the additional assistance, I was a little disappointed to be able to manage no better than 9.0L/100km in mixed driving.
If you're looking to squeeze out the best efficiency out of Ford's 1.0L engine, it would be best to opt for the manual transmission. Not only does it post better numbers, but the three-pedal version doesn't suffer from awkward gearing. Second gear in particular is short and mushy, almost as if it was just first gear with the torque converter locked up fully. Third gear is considerably taller and depending on how fast you were looking on going, drops the revs out of the meat of the power band. On the highway, the transmission will frequently need to drop down two gears in order to complete a highway pass. Pairing this engine up with Ford's six-speed PowerShift double-clutch automatic transmission may be a better match, but it isn't offered with the EcoBoost.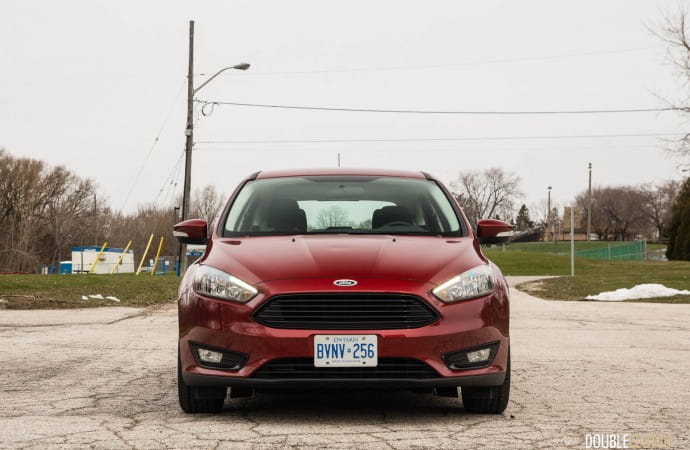 The base Ford Focus SE hatchback starts at $19,599, right in the heart of this competitive segment, with competitors all only a few hundred dollars away in either direction. Somewhat bucking the trend seen elsewhere, the EcoBoost package is a no-cost option at the time of this writing. The six-speed automatic transmission will add $1,450 to your bottom line. My tester also came equipped with the $995 SE EcoBoost Appearance Package (adding 16-inch aluminum wheels and fog lights), as well as the $700 Winter Package, SiriusXM integration ($249), and reverse-parking sensors ($350). This brings the as-tested price to $23,793.
The Ford Focus EcoBoost can be an interesting vehicle if you look at it in a vacuum on its own, removed from the tough competition in this segment. You get the versatility of the hatchback option, and driving dynamics that are considered decent, though not the best in the class. The problem arises when you start to compare it to the new kids on the block. The 2016 Honda Civic (reviewed here) is the heavyweight to beat, and you can get an equivalent Civic EX with Honda Sensing and an automatic transmission for slightly less than the Focus. Our own tests show it to be more efficient as well as more powerful, too. The Scion iM (soon to be called the Corolla iM) and the Mazda3 Sport (reviewed here) give you hatchback utility, a more enjoyable driving experience, and better efficiency. In short: the competition out there is tough.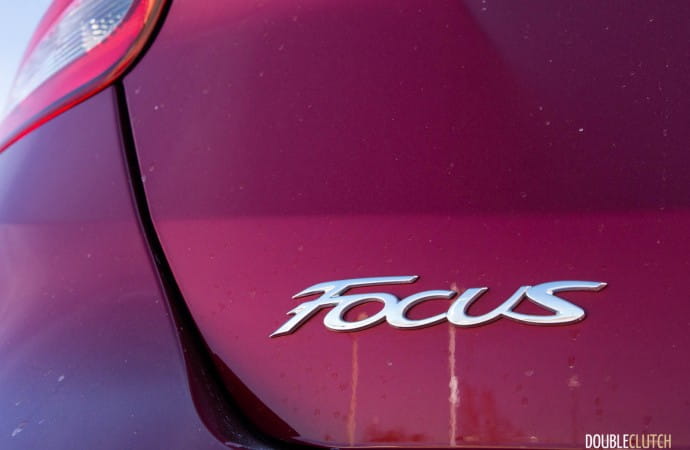 The 2016 Ford Focus EcoBoost isn't without its merits, however. The three-cylinder engine is definitely different and features a unique character. To eke out the best of what Ford's EcoBoost offers, it's important to stick to the manual transmission, as well as drop some of the optional features, which will drop the as-tested price into more palatable territory. Not only will you get a more enjoyable driving experience, but efficiency should improve somewhat. The third-generation Focus is overdue for replacement, and we can be sure Ford has been working hard behind the scenes. Let's hope the next Focus platform will let Ford catch back up to the segment leaders, until the next big thing comes along.
2016 Ford Focus EcoBoost SE Gallery
See Also: