In the Canadian automotive manufacturing sector, there are few products as significant as the Honda Civic. As our nation's best-selling car for almost two decades, it makes perfect sense for Honda to produce the Civic here. Their claim to fame has been to make a high quality, durable, affordable, and efficient every day runabout that also happens to be fun to drive. The debut of the ninth generation model in 2012 happened to miss the mark in terms of build quality and refinement, and Honda was forced to refresh their design by 2013 in order to appease consumers. This year, the 2016 Honda Civic hits showroom floors as the tenth generation model. One can easily bet that Honda isn't willing to make the same mistake twice, and that they'll be itching to score a big hit to make up for past mistakes.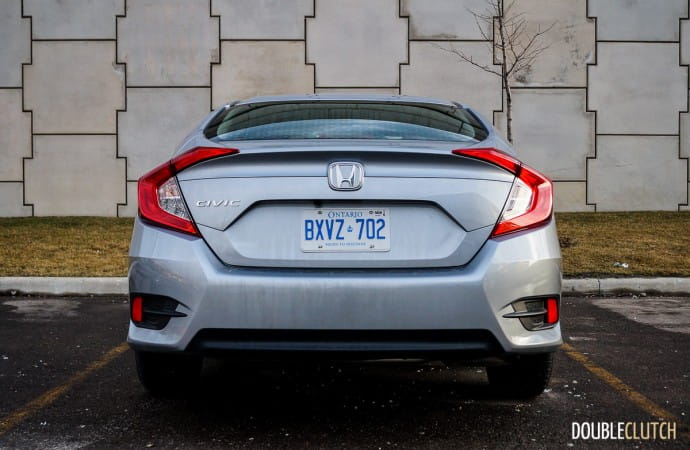 Thus far, the Civic is only available as a sedan, with the coupe and likely a hatchback coming later on in 2016. Right away, it becomes obvious that the Civic looks quite a bit larger than the outgoing model. There's been a gain of 30 millimetres in wheelbase, 75 millimetres in length, as well as 46 millimetres in width. At the same time, it doesn't end up being too big, and maintains great maneuverability in parking lots and around town. With seating for five, cramming four or five adults into the car isn't nearly the chore it used to be. Those over six feet tall may still balk if they're sitting in the back, but that's typical for a compact car. Interestingly enough, the creep in size in this segment over the years means that this 2016 Honda Civic LX is about the same size as the 1990-1993 Honda Accord. Those looking for a car that's the same size as the Civics of old may be more at home with a Fit (see review here).
When it comes to styling, to say that the Civic is polarizing might be an understatement. Similar sentiments were abound when the eighth generation Civic debuted for the 2006 model year, and after a decade, it's pretty safe to say that the design has aged quite well, and now looks practically pedestrian. Time will tell as to how the tenth generation will fare, but it's not a look that will hamper the stellar sales numbers. The sedan features a sloping fastback roofline, yet still maintains the conventional sedan's three-box format, with a trunk rather than a liftback. All in all, it's a less vanilla offering than many of the Honda's competitors, including the Toyota Corolla, Hyundai Elantra, and Mazda3 (see review here).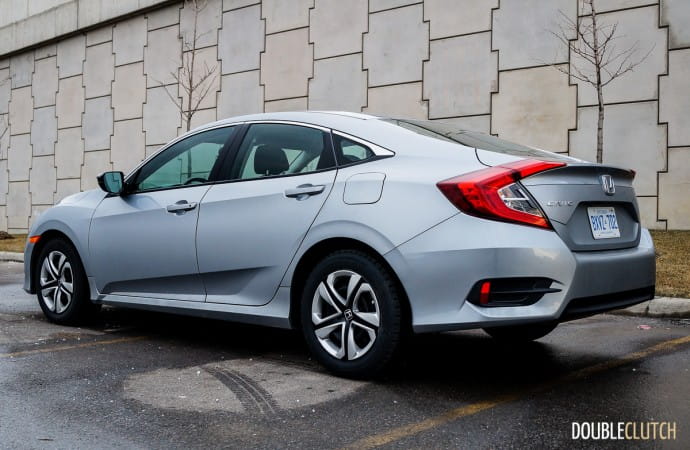 In LX trim, the Honda also happens to be quite well equipped. All Civics feature Bluetooth connectivity, projector beam halogen headlights, front splash guards, as well as body coloured door handles. As a step up from the base DX trim, the LX adds Apple CarPlay and Android Auto, heated front seats, a rear-view camera, cruise control, and folding rear seats. Although not included on the test vehicle, for a little bit more, LX buyers can get also the Honda Sensing alphabet soup of safety features. This adds Lane Departure Warning (LDW), Forward Collision Warning (FCW), Collision Mitigation Braking System (CMBS), Lane Keeping Assist System (LKAS), and Road Departure Mitigation (RDM). Also included is an Adaptive Cruise Control (ACC) system that can fully stop and start the car according to traffic unfolding in front of the car.
Notwithstanding a slow death by abbreviation, the Honda Sensing system itself is a fully functioning one that's trickled down from higher end products such as the Acura RDX (see review here) and more recently, the Honda Accord. The collision warning and mitigation system is able to apply the brakes to slow the car if it senses an impending frontal collision. The lane keeping assist system will lightly persuade the steering in order to keep the Civic within its lane. Put together, the Road Departure Mitigation system will apply both steering and brakes to keep your vehicle's trajectory out of the ditch. In today's day age where autonomous cars are the talk of the town, the features packed into Honda Sensing aren't very far off. As an option that adds only $1,000, it is very much worth consideration.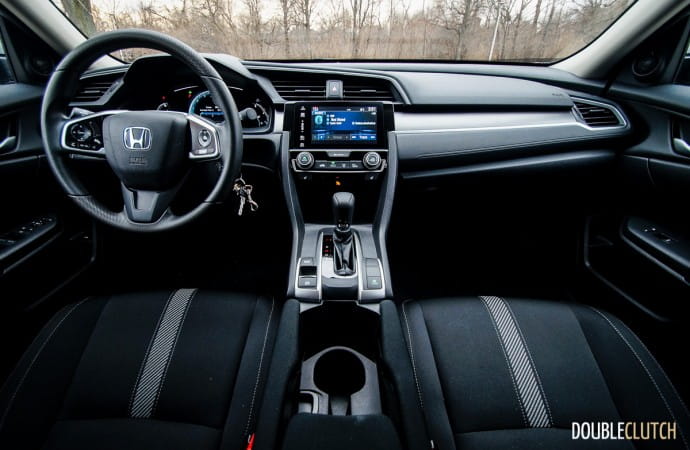 Inside, the 2016 Honda Civic has greatly improved the build quality over the outgoing model, which was panned by many. The centre stack is reminiscent of the Accord, but without the two layers of multimedia screens. Also gone is the love-it-or-hate-it two-storey gauge cluster, replaced by a simpler digital screen for both speedometer and tachometer. Unfortunately, there is still an absence of a proper dial for volume control, although the adjustment has been repeated on the steering wheel (which can still be pressed like a button). An easy to use automatic climate control layout also keeps things comfortable, and is standard on LX trim and higher – lower DX trims exclude air conditioning, and higher trims also add dual-zone control. The rest of the dashboard is assembled with great attention to detail, and all the touch points and switchgear are top notch. It all comes together to make the 2016 Civic one of, if not the best interior in its class.
The multimedia connectivity of the Civic is also an excellent performer. Starting with LX models, Android Auto and Apple CarPlay are paired with eight speakers and a 7" touch screen; navigation is not available until you get to the very top Touring trim. In addition to full connectivity via Bluetooth, attaching a USB cable (and installing an app) allows Android and Apple interfaces to be mirrored onto the Civic's controls. Also seen in the Volkswagen lineup for this year, the standard mirroring interfaces are a great and reliable way to stay connected. They allow the software developers to take over as the experts, which lets automotive engineers to focus on the parts of the vehicle they know best.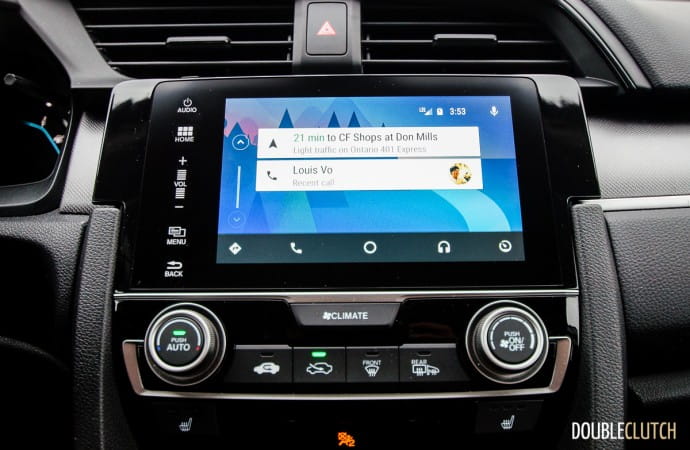 Speaking of expertise, the 2016 Honda Civic brings new powertrain options. The R-series 1.8-litre inline four cylinder has been eschewed in favour of a 2.0-litre direct-injected K-series mill, better known as the K20. This latest variant puts out less power than older port-injected versions, making 158 horsepower at 6,500 rpm, and 138 lb-ft of torque at 4,200 rpm. Even so, this is still a bump of 15 horsepower and 9 lb-ft. Noise, vibration, and harshness are very well controlled, and the competition will be hard pressed to come up with a better solution than Honda's. Paired up with the new engine is a smooth continuously variable automatic transmission (CVT), which kept revs low and took advantage of the torque provided by the extra 0.2 litres of displacement on the K20.
As a bonus, Honda's tuning of the gearbox reduces the slipping or rubber band feel commonly associated with transmissions of this type, making city driving feel more like a conventional automatic transmission with five or six specific gear ratios. Thankfully, the extra power and displacement hasn't hurt fuel economy. Honda's rated consumption has improved by a few percent, and is now 7.8 L/100km in the city, and 5.8 L/100km on the highway. Observed fuel economy for the week matched the city rating of 7.8 L/100km, with driving that was chock full of crummy Toronto traffic and colder winter weather. Also new for 2016 is an L-series 1.5-litre ("L15") turbocharged four cylinder in upper EX-T and Touring trim levels. It offers even more performance, while returning even greater fuel economy gains.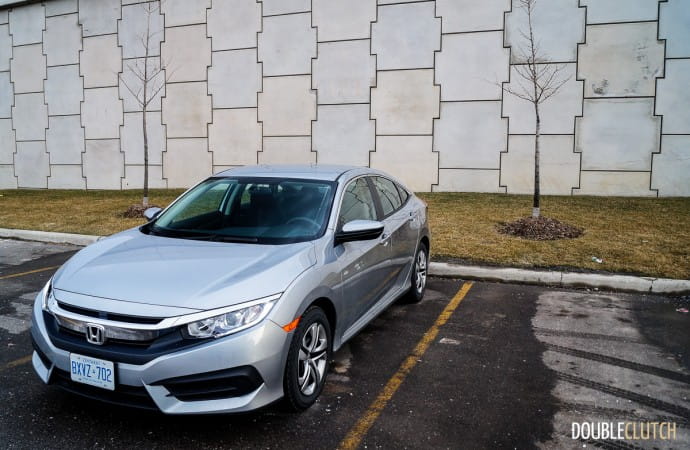 On the open road, the overall behaviour of the 2016 Civic is considerably improved over the outgoing model. The Honda continues to please drivers and passengers alike, with relatively responsive handling that maintains good ride quality. Turn-in is sharp and sporty, with body control over bumps being a strong point; there's a distinct absence of wallowing and mushiness that is commonly associated with compact cars. Road feel continues to be fairly minimal through the steering wheel, but this is par for the course for newer electric power steering assist systems. Wind noise is kept to a minimum, as are undesirable vibes from the engine bay.
After a week of testing, it became plain to see that the 2016 Honda Civic is the new gold standard in the compact segment. In all the areas where the outgoing 2015 model was becoming dated, the new model takes to new heights. As the new high water mark, it raises the stakes for all of its competitors. At an as-tested price of $20,190, there are practically no options available – the Civic LX only comes one way, and that's well equipped. It fetches a bit more of a premium than past Civics, yet still remains very much in line with comparably equipped Toyota Corollas and Mazda3s. Despite winning countless awards this year, the Civic didn't achieve this level of success overnight. Through continuous improvement and great value, it will stand a very good chance of keeping the title of Canada's best-selling car.
2016 Honda Civic LX Gallery
See Also: