When it comes to the compact pickup truck, few have the reputation that Toyota does when it comes to building a capable, durable, and reliable vehicle. Although Ford and General Motors have done fairly well in this area in their native North American market, Toyota has developed more of a global following with the Tacoma (Hilux elsewhere) product lineup. It's all new for this year, and aims to build upon the successes of the outgoing model, which enjoyed strong sales for its entire production run between 2005 and 2015. To give an idea of what the new model is all about, we were sent a 2016 Toyota Tacoma TRD Sport for testing, finished in Barcelona Red Metallic.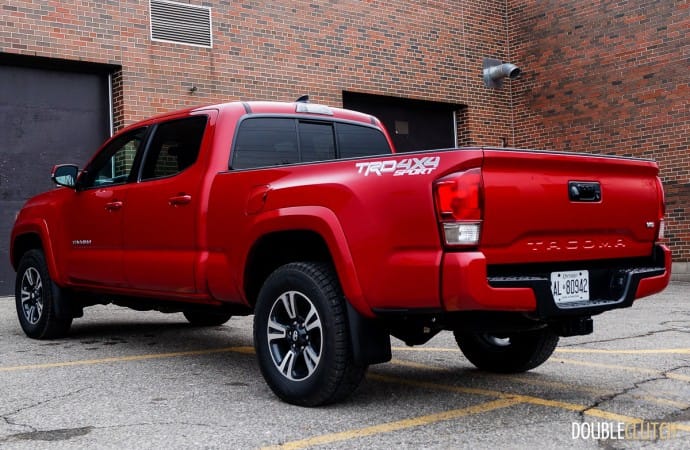 Right off the bat, it's fairly obvious the exterior styling of the Tacoma isn't a huge departure from the last one, but a series of harder edges and more aggressive touches bring the truck into modern times. It's still recognizable as a Tacoma, and is overall a pleasant, masculine looking truck that buyers will generally embrace. The Toyota is available in multiple body configurations, with the extended cab being known as the Access Cab, with the Double Cab name reserved for the larger four-door model. Long and short bed options are also available, with the test truck having the Double Cab and long bed. At 5,727 millimetres (225.5 inches), it's the longest Tacoma you can get.
After picking your body and bed configuration, there's a good set of options that make the Tacoma either plain-Jane base, or loaded up to near-Lexus levels. The test truck was equipped with the TRD Sport Upgrade package, which for $3,915, adds 17-inch alloy wheels wrapped in P265/65R17 tires, dual-zone climate control, blind spot monitoring, push-button start, wireless smartphone charging (Qi), fender flares, and a hood scoop (albeit fake). The resulting as-tested price is $40,585, which puts the Tacoma fairly in-line with its archrivals, the GMC Canyon and Chevrolet Colorado twins (see review here). In a very competitive compact pickup market, many buyers can expect to cross-shop between the three trucks.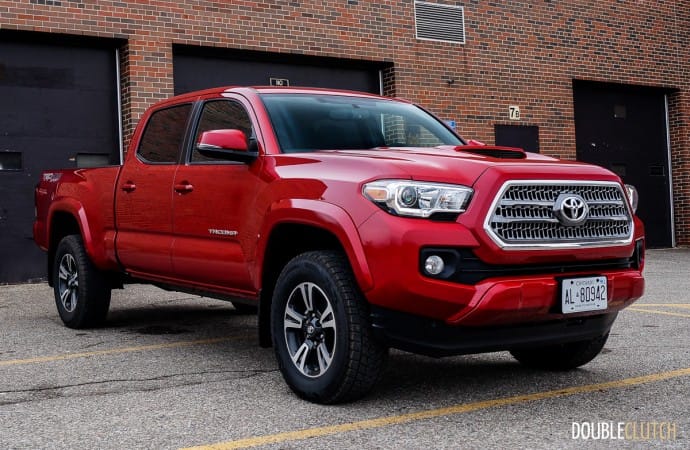 At the forefront of the new 2016 Toyota Tacoma is a heavily updated V6 engine. A new 3.5-litre unit (dubbed 2GR-FKS) replaces the old 4.0L mill, and even with the reduction in displacement, horsepower has increased by 42, to 278 horsepower at 6,000 rpm. Peak torque remains more or less the same, with 265 lb-ft at 4,600 rpm. Such a bump is achievable thanks to direct injection in addition to the more traditional port injection. On top of this, bringing in Atkinson cycle capability further helps fuel economy. While a true Atkinson setup uses a unique crankshaft design to provide different piston stroke lengths for compression and power strokes, Toyota's approach takes variable valve timing (VVT-i) to new heights in order to simulate the effect. When it comes to putting the power down, the 2GR-FKS does a very admirable job, with very high refinement levels, and the torque curve packs a very strong midrange punch. The V6 revs very willingly between idle and redline, and gives off a gruff exhaust note that lends itself well to the Tacoma.
Backing the new V6 engine is a six-speed automatic that's also new for 2016, and it carries one extra ratio over the previous Tacoma. Shifts were very crisp and smooth, and tall gears keep revs down during cruising, further adding to the refinement. A side effect of this is more frequent downshifts needed when climbing hills, with the occasional double kick-down to fourth gear. While this might make the Tacoma appear to be gear hunting, the fuel economy gains can't be ignored, and thankfully both engine and transmission perform their duties well enough to keep the experience pleasant. Moving to the rear end, an electronic transfer case and automatic limited slip differential is standard for all V6 4×4 trim levels. For those who prefer to row their own gears, a six-speed manual is still available with the V6 engine, which cannot be said about the General Motors twins.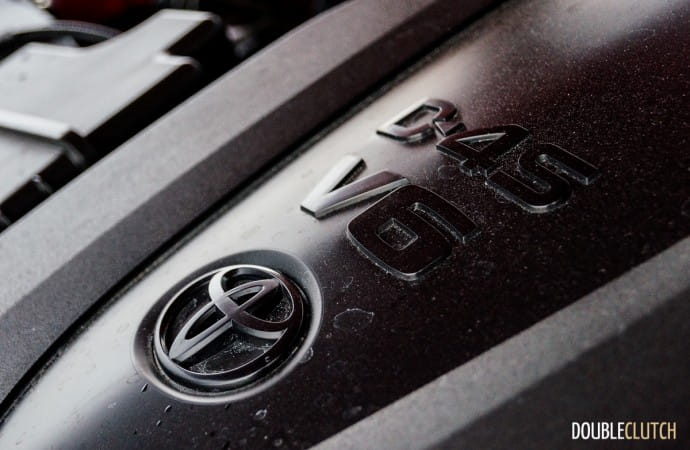 As a truck, the 2016 Toyota Tacoma can be expected to perform its duties without complaint. The bed on the test truck was 1,872 millimetres long (6 feet, 2 inches), and included a 120-volt AC power outlet for power tool use. Curiously enough, as many trucks are moving to a more durable spray-on bed liner, the Tacoma makes do with a conventional composite bed liner. Towing capacity for the Double Cab TRD Sport models is 2,900 kilograms (6,400 lb), and payload is 430 kilograms (950 lb). Unfortunately, these numbers don't quite match the 2016 GMC Canyon Diesel recently reviewed, which was able to tow about 3,500 kilograms (7,700 lb) and carry 667 kg (1,470 lb). Even after de-rating these numbers slightly when comparing gasoline models, the Tacoma still comes up slightly short. Realistically, however, these capacities are still very adequate for most owners of compact pickup trucks. Those who require more will need to incur the size, weight, and fuel economy penalty of a full-size half ton truck.
On the road, the Tacoma rides reasonably well, considering that it's a truck with body-on-frame construction. The leaf springs and solid rear axle make contribute to some shakes over larger undulations, but this is par for the course for this type of vehicle. Ride quality isn't quite as good as the GMC Canyon or Chevrolet Colorado however, and the domestic rivals can boast a better driving experience in this regard. The steering rack also has a considerably slower ratio, which requires drivers to turn the steering wheel a whole lot more when maneuvering in tight quarters, but otherwise performs well.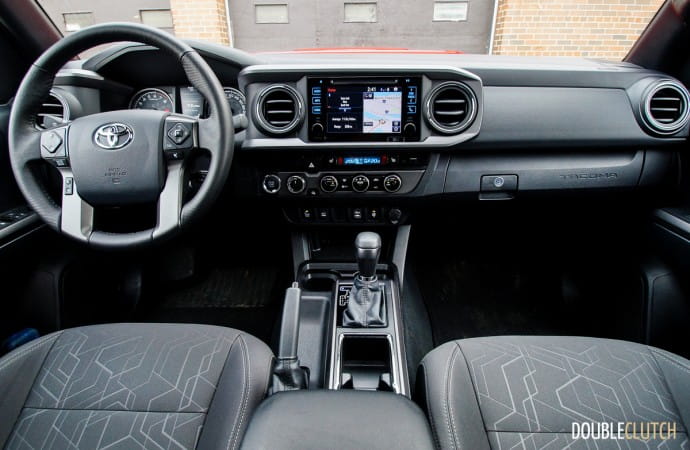 In the braking department, the Tacoma retains a front disc and rear drum setup, which is another curiosity, as others have long since moved to rear disc brakes for their optimal cooling and performance. In Toyota's defense, rear brakes don't perform as much of the braking as the fronts do, and the sealed nature of the drums will keep dust and debris ingress to a minimum. They also happen to last longer before wearing out, which may be more than a fair trade off for owners when they consider operating costs.
Moving inside, the Tacoma's interior is fairly basic, but the name of the game is function over form. Touch points (there's a hand-engaged parking brake!) and switchgear are very well laid out and exude a very premium feel. Four-wheel drive mode is engaged with a rotary dial on the centre stack, but unfortunately wasn't required due to a relatively mild Toronto winter during testing. Toyota's latest iteration of their multimedia is a well thought out and intuitive setup, with phone pairing and navigation being done without difficulty. The cloth seats were fairly comfortable, but the seat bottom proved to be quite short in the length department, even for average-height drivers. This not helped by the inability to adjust the seat bottom angle or seat height. Overall however, the 2016 Tacoma is a welcome improvement, and many will appreciate its no-nonsense (yet still comfortable) approach to trucking.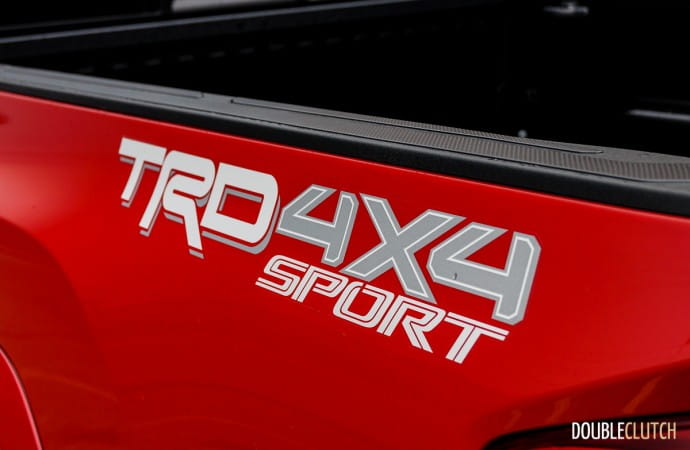 As for fuel economy, Toyota rates the Tacoma at 13.1 L/100km in the city, and 10.5 L/100km on the highway, which is an improvement of over ten percent over the last Taco. With a week of mixed driving, observed test economy was right in the middle, at 12.0 L/100km. At the end of the day, the 2016 Toyota Tacoma TRD Sport is a truck that is never a bad decision, regardless of powertrain or body configuration. Ample creature comforts, new powertrains, and a solid reputation for durability and resale value make for a small pickup that's sure to please. Compared to the General Motors Canyon and Colorado, factors such as brand loyalty and actual dealer pricing will come into play as tie-breakers, and both sides of the fence can't be wrong.
2016 Toyota Tacoma TRD Sport Gallery
See Also:
2015 Chevrolet Colorado LT 4WD 
2015 Toyota Tacoma 4×4 Limited