There's an old adage in the auto enthusiast world that says "there's no replacement for displacement". With the majority of luxury and sport automakers making a noticeable shift towards forced induction and the replacement of six and eight-cylinder engines with smaller displacement units, the muscle car's days might be numbered. Amidst all of this, our friends at Fiat-Chrysler came in with a bang, introducing some of the most manic muscle cars ever produced. I spent some time both on and off the track with something bearing the Incredible Hulk's colours; the 2016 Dodge Challenger SRT Hellcat, to evaluate just how evil it is.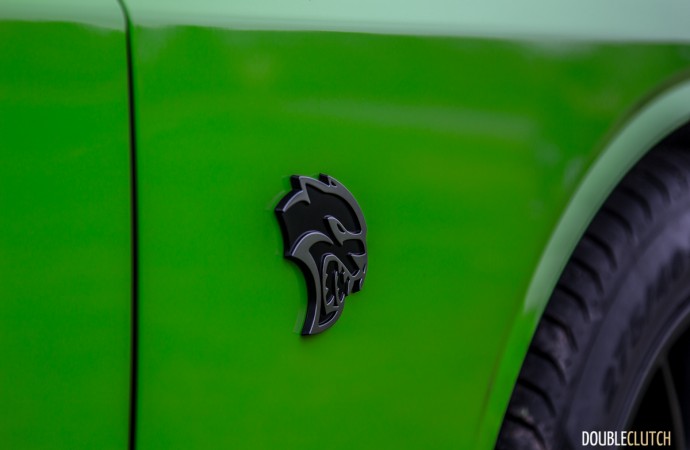 For 2015, the Challenger and its sibling, the Charger, were given a heavy refresh. This is the first major revamp the Challenger has received since its debut for model year 2008. Maintaining the same iconic lines that made it special in the 1970s, the Chally was given new lighting all around, a more aggressive stance, and most importantly, a fresh interior. After all, it's not easy to fully restyle a retro throwback that has a devout following. The Hellcat model receives the most badass treatment of the lineup, with unique wheels, full body skirting, lips front and rear, a Shaker hood, and "SRT" badging throughout that highlights just how special it is.
Special? That's a bit of an understatement for a car that packs 707 horsepower under its very long hood. The supercharged 6.2L V8 is almost completely redone from the naturally aspirated Apache-series 6.4L unit used in the regular SRT models. Replaced parts include the crankshaft, block, oil pan, pistons, connecting rods, high-heat heads, and high-heat exhaust valves. What all of this gives you is the aforementioned 707 horsepower and 650 lb-ft of torque. This is a car that, out of the box, does an 11.2 second quarter mile run at over 200 km/h. Swapping out the tires for a more track-ready set will bring this time down even more.
There isn't a more appropriate car out there to bear the "Hellcat" name. As soon as the engine is started, it emits an unmistakable noise – the sound of an angry monster sitting under that hood. If it sounds this good with the standard exhaust, I can only imagine how evil it would be with an aftermarket setup. The 2.75" exhaust has both front and rear resonators, and the controllable valves can bypass the rear resonators if so desired, to produce even more of a soundtrack, especially on wide open throttle. The dual-stage exhaust also means drone at highway speeds is minimized. The keen will research the exact fuse to pull to keep the exhaust in the loudest mode at all times.
My tester was equipped with the ZF 8HP eight-speed automatic transmission, though a six-speed manual is available on the Challenger Hellcat. Chrysler calls this transmission "TorqueFlite". The Challenger's sibling, the Charger, is only available with the automatic. Regardless, the 8HP is one of the best automatic gearboxes available right now, and with the paddles, keeps the Hellcat in line perfectly. In order to handle the Hellcat's additional power, the transmission had to be modified with stronger and longer gearing, which also increases the overall size of the transmission case. I left it in the "Sport" setting at all times, and it predicted my desired shifts every single time.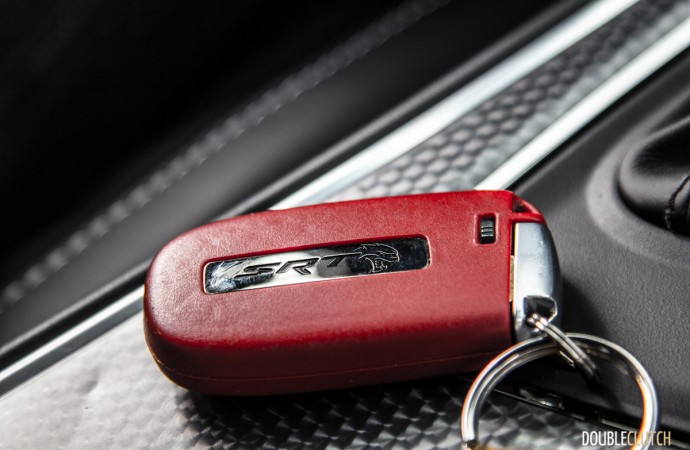 It's worth noting that the Hellcats come with a red key capable of unleashing the car's full functionality, while a standard-issue black key restricts the motor to "only" 500 horsepower. Five hundred horsepower is still a little bit more than the "regular" Challenger SRT 392, but this valet mode also locks ESC on at all times, and fidgets with shift points and force-starts the car in second gear. It's during those times that the resident teenager wants to take the Hellcat out with his hooligan friends that parents will offer up the black key.
It's not just a straight-line car either, this Challenger. When pushing it through corners harder than you should be though, you're reminded of its weight. The steering is balanced and has excellent on-center feel, and the back end loves being kicked out. SRT gives you the option to disable all nannies for an 'au-naturel' experience too. I like how perfectly weighted the steering is; it makes navigating tight closed courses a challenge and to me, that's what makes a muscle car special. It's easy to drive the Hellcat quickly in a straight line, but driving it on a track setting is challenging, but very rewarding.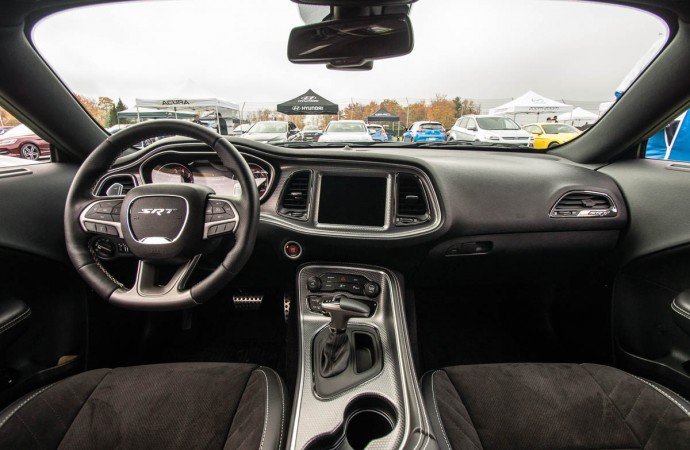 SRT rates the Challenger Hellcat with the eight-speed automatic transmission at 18L/100km in the city and 10.7L/100km on the highway, using 91-octane premium fuel. Our testing consisted of a considerable amount of track driving, and some regular road use including both highway and city. I averaged 14.8L/100km with a conservative right foot – I consider this to be decent for the sheer amount of power this car delivers. The gas tank is just 70L, which means those with a lead foot will be visiting the refueling stations rather frequently.
The Challenger's 2015 facelift did wonders for the interior, which now reflects the latest that Fiat-Chrysler has to offer. All materials are decent quality, with very few hard plastic bits. The seats on the SRT models are heavily bolstered and are akin to comfortable recliner sofas. They could use a little bit more bolstering, but they're pretty standard issue for a high-performance muscle car. Infotainment is managed via Chrysler's 8.4" Uconnect system, which is simple to use and responsive. The system is also pre-loaded with SRT-specific screens, which display vehicle diagnostics specific to performance use.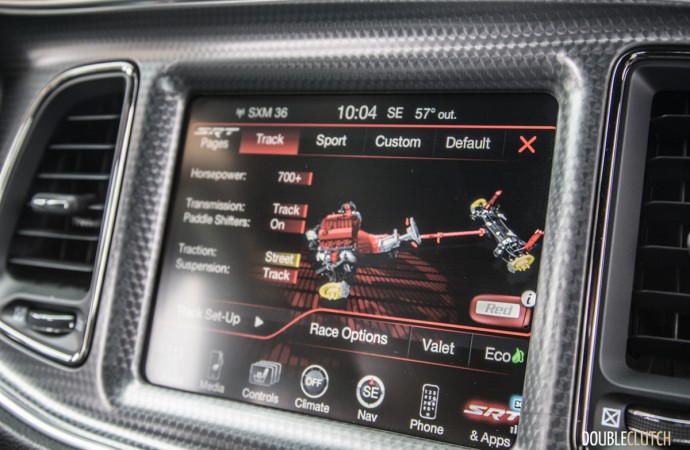 Pricing for the Challenger Hellcat starts at $74,945 in Canada. Our car was equipped with the optional automatic transmission, which also includes a remote start system and paddle shifters, a Satin Black painted hood, the optional Uconnect system with navigation and satellite radio, and 275/40/ZR20 Pirelli P-Zero performance summer tires. The Laguna Leather sport seats are a no-charge option on Hellcats, but it's worth mentioning that a sunroof (not equipped here) will ring you back another $1,395. The Sublime Green Pearlcoat paint is not available on Canadian-spec models, either. The total sticker on our tester came in just under $80,000.
Those thinking that a Challenger with an $80,000 sticker is far too much need to re-evaluate their priorities. At the time of this writing, the Hellcat is still one of the top ten most powerful vehicles in the world – the only way to get more horsepower is by spending LaFerrari, Porsche 918 Spyder, or McLaren P1 money. Seven hundred horsepower for under a hundred thousand dollars is a serious performance bargain. The 2016 Dodge Challenger SRT Hellcat is not a car for everybody, but those who understand it get that it's a fire-breathing machine capable of hanging with the biggest of bullies effortlessly.
2016 Dodge Challenger SRT Hellcat Gallery
See Also:
2016 Dodge Charger SRT Hellcat