With the take rate on conventional, tried and true manual transmissions on the decline, many automakers have elected to eliminate the row-your-own option altogether in favour of automatics. Some manufacturers still offer the regular torque converter slushbox variety, while others are moving towards the dual-clutch or continuously variable (CVT) transmissions. For those that like to have fun with three pedals, have no fear! Honda's got your back with the 2016 Honda Accord Sport. With a new refresh this year and more aggressively handsome styling, all four-cylinder trim models are now available with a six-speed manual transmission.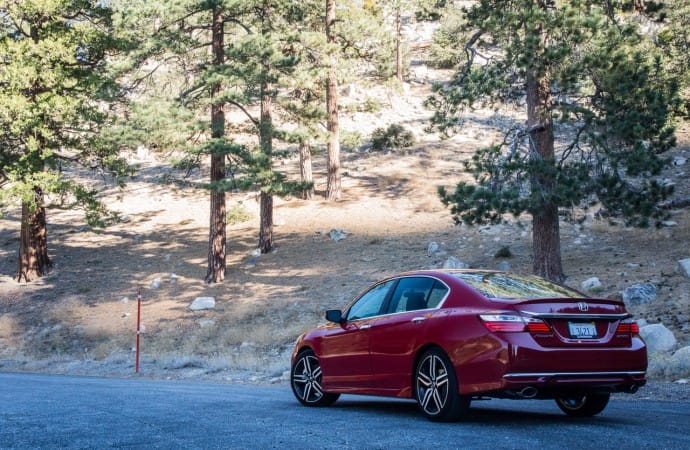 Recently, while down in California for the Los Angeles Auto Show, American Honda lent the DoubleClutch.ca team a 2016 Honda Accord Sport 6MT, finished in a bright and beautiful San Marino Red. Unfortunately, this is a colour not available to Canadians, who have to make do with relatively drab blacks, greys, and whites. While it's not necessarily the most upscale transportation for the streets of Beverly Hills, the sexy yet sensible Accord Sport wound up being a hoot to pilot around and remained easy to drive, even with a manual transmission in dense LA traffic.
While also available as a two-door coupe, the four-door Accord sedan allowed for very generous legroom and headroom, even for rear seat passengers over six feet tall. Even after hours-long driving excursions, the DoubleClutch.ca crew weren't left feeling cramped or sore after getting out of the cloth seats. Trunk space swallowed a week's worth of luggage and photography gear for three people without incident; this was a bit of a challenge with the 2015 Honda Civic Si sedan used for the same trip (see our review here) in fall of 2014.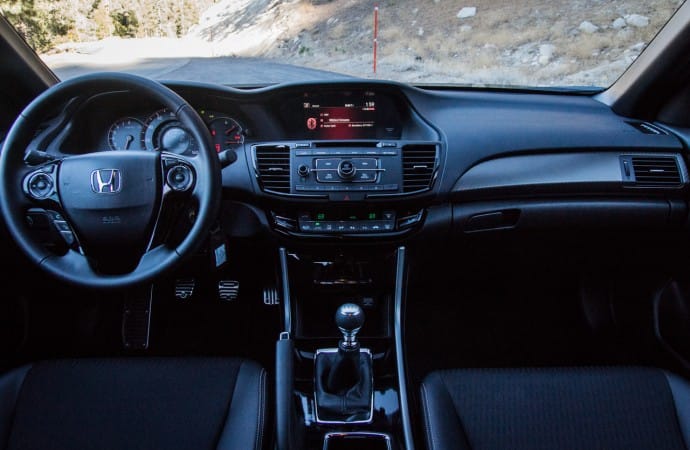 While the Accord Sport has more usable space inside and out as compared to the Civic Si, it also manages to bring over most of the plucky and fun nature without suffering from too much from the extra weight and size. With a longer wheelbase and softer tuning, ride quality is better on the open road, especially on Los Angeles' bumpy concrete freeways. There's no such thing as a free lunch however, and once outside of the city, the mountainous canyon roads put simple physics into play.
The Accord Sport performed very admirably on Angeles Crest Highway, going through switchbacks and hairpins without missing a beat, but body control wasn't quite as good as the Civic Si. In terms of tire, Honda has broken their tendency to under-tire their cars, and they have equipped the Sport trim with 235/40 tires on fantastic looking 19-inch aluminum alloy rims. Steering feel with the electric power assist is fairly numb, which is par for the course for most systems of this type, but it was well weighted and elicited minimal complaints. This is not to say that the Accord performed poorly, though – it is very easily one of the best handling midsize cars in its class, a distinction shared with the Mazda6. In addition to Angeles Crest, trips to The Snake on Mullholland Highway and Latigo Canyon Road allowed the Accord to flex its handling muscle.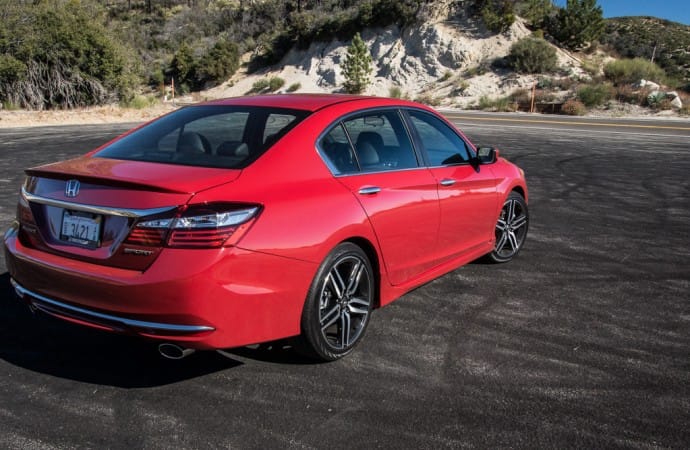 With ride and handling keeping drivers happy, the powertrain on the Accord is another top-notch combination. The 2.4-litre inline four is of the K24 variety, and the Sport gains four horsepower and one lb-ft over all other four banger trims, for a total of 189 horsepower at 6,400 rpm and 182 lb-ft of twist at 3,900 rpm. Sporting direct injection and a freer-flowing exhaust, the Accord had great throttle response from idle to redline. This is in contrast to many modern cars turning to turbocharging and smaller displacement, and while the forced induction cars are great for low-rpm torque, they suffer from a momentary pause when the throttle is applied and the turbo spools up. While the great response may not have created better numbers in the real world or on paper, it did make the K24 a very willing and attentive dance partner in the California canyons.
The second part of the Accord's delicious powertrain would be the slick six-speed manual transmission. For many years, Honda's strong suit has been their shifter and clutch combinations, and the Accord Sport does not disappoint. It's a very similar, if not the same unit seen in the outgoing Civic Si, and is easily one of the best shifters money can buy. With a quick yank and snick-snick action, drivers will happily row through the gears during any occasion, whether it's a spirited drive or a bumper-to-bumper traffic jam. The clutch is light, but easy to modulate, making it a dream to drive. Even though the learning curve and difficulty level is so low, Honda still manages to keep all the engagement and fun in the gearbox. The only car that manages to come close in this department is the previously mentioned Mazda6.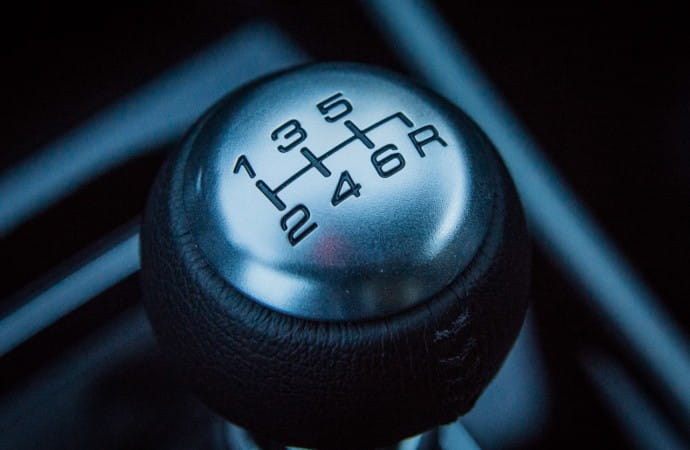 On the inside, the Accord has been mildly revamped and maintains the great fit and finish coming out of Honda's plant in Marysville, Ohio. Canadian models get an ace in the hole relative to our neighbours to the south: all trim levels in Canada receive heated seats in all trim levels, as well as a seven-inch HandsFreeLink touch screen interface. HandsFreeLink includes Android Auto and Apple CarPlay, which mirrors smartphone functionality into the vehicle in order to keep drivers from being distracted. Depending on the trim level, American models must make do with a conventional, non-touch screen interface without even the option for HandsFreeLink, but still maintain a bare-bones Bluetooth phone pairing and music streaming setup. Thankfully, either of the interfaces was fairly intuitive to use, and the ergonomics kept everything within reach.
At the pumps, while not as good as the continuously variable automatic transmission-equipped cars, a rating of 10.3 L/100km in the city and 7.2 L/100km on the highway still keeps things frugal after purchase. Observed test fuel economy was in the middle, at 9.4 L/100km in a drive that included plenty of dense Los Angeles traffic as well as spirited driving through canyon roads with varying temperatures and elevations.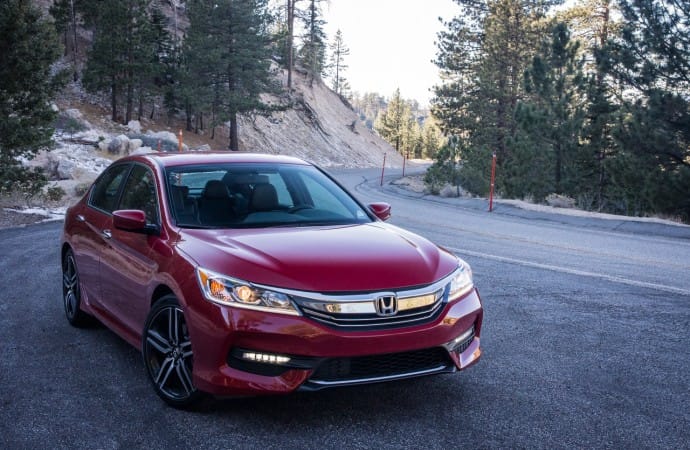 With great ride, handling, powertrain, and equipment levels, the Accord easily demonstrates why it's a perennial sales favourite throughout North America. With the extra feature set, it appears that Honda has geared the Canadian Accord towards value for the money, rather than the bottom dollar strategy employed by the Americans. In any case, the $24,165 US as-tested pricing is still an amazing bang for the buck, even with the missing interior toys. Canadian cars ring in at $26,690 for the Sport trim with manual transmission. In both cases, there are little to no available options beyond dealer-installed accessories. At the end of the day, no matter where you're purchasing your Accord Sport, you're sure to get a fun and reliable car that gets all of the gadgets, and won't break the bank.
2016 Honda Accord Sport Gallery
See Also:
First Drive: 2016 Honda Accord