The Volkswagen MQB chassis is a good performer, with light weight and rigidity.
It's no secret that eccentric automotive enthusiasts love the station wagon, and especially those equipped with a manual transmission. In going against the grain by going with it as much as possible, they've created a counter-culture and a mascot in which they can worship. Most of the love stems from the fact that wagons don't incur the fuel economy and handling penalty incurred by trucks and SUVs, while still retaining most, if not all of the utility. On paper, the 2016 Volkswagen Golf Sportwagon is a great example of the wagon format, and VW Canada recently sent one over for evaluation. Finished in a bright Tornado Red and equipped in the base Trendline trim, this charming little wagon is a stretched version of the 5-door Golf hatchback.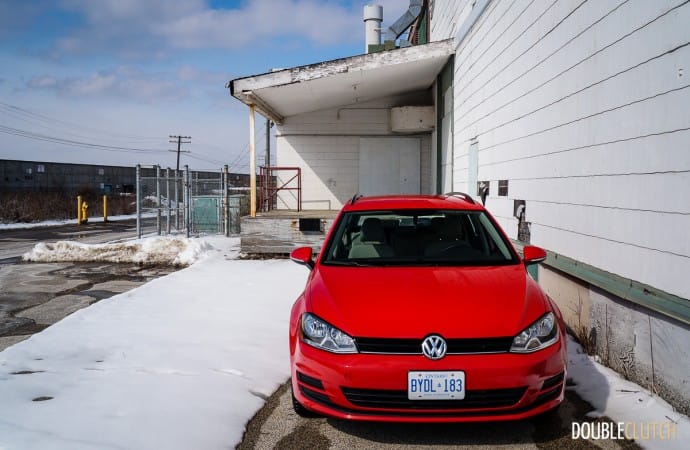 Beyond the Trendline, the Sportwagon is available in two additional trims, the mid-level Comfortline and the top-dog Highline. Even in base form, it comes very well equipped, and includes 16-inch "Toronto" style alloy wheels, heated front seats, as well as a rear view camera and a leather-wrapped steering wheel. The rear seats fold in a 60/40 split, and there's also a 115V AC power outlet in the rear cargo area. Aside from an automatic transmission, no further options are available on the Sportwagon, and the as-tested price came to $24,195 before taxes and fees.
On the next step up, the Comfortline adds features such as automatic headlights, leatherette seating surfaces, 17-inch alloy wheels, a panoramic sunroof, as well as options bi-xenon headlights and Fender premium audio. The top of the line Highline brings real leather seats, blind spot and forward collision warning systems, navigation, and has optional adaptive cruise and lane keeping safety assist systems. Regardless of trim level, interior build quality is top notch, and the feel of the materials has always been VW's forte.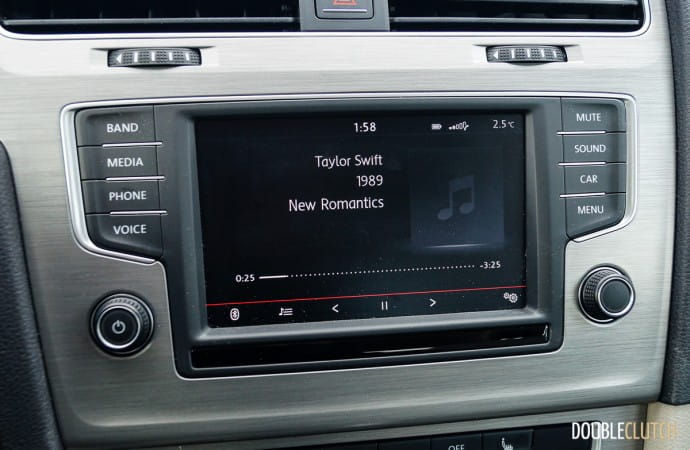 When it comes to multimedia, all Trendline Sportwagons feature a 6.5-inch touch screen infotainment system, complete with eight speakers and an SD card slot. For 2016, Volkswagen's inclusion of App-Connect brings Android Auto and Apple CarPlay capability to the table. This allows drivers to mirror their smartphone screens onto their cars, with major features including maps/navigation, email and text messaging, and most importantly, voice command functions are possible. For Apple users, this means that Siri is seamlessly integrated into the car and can be commanded to do as you please. Music lovers will find themselves being able to use apps like Spotify, and all drivers will enjoy staying connected without taking their eyes and attention off the road.
At its price point, the $24,195 Trendline is extremely competitive with mid-level 2.0-litre GS trim on the Mazda3, another hatchback that's very popular in Canada. In a direct comparison of cargo volume, the Volkswagen blows the Mazda out of the water when it comes to capacity. There's approximately thirty percent more cargo volume when the seats are both up or down; front and rear seat leg room are also generous. While the driving dynamics and handling characteristics go in favour of the Mazda, families looking for maximum versatility will likely find themselves gravitating towards the VW. The Golf Sportwagon also wins the horsepower war, and is more comparable to the more expensive Mazda3 Sport GT with its 2.5-litre engine.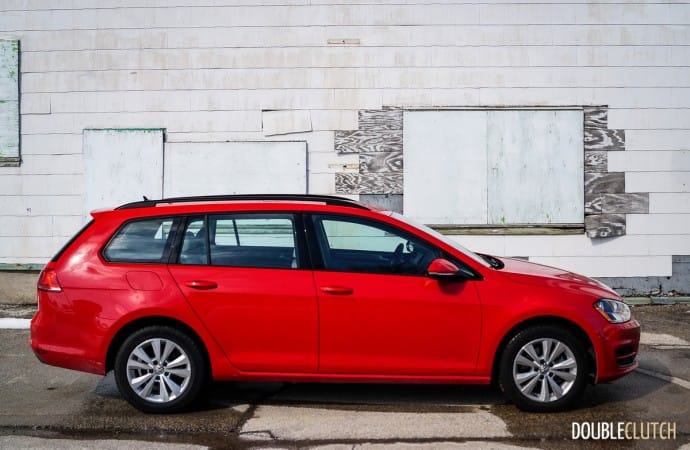 The engine responsible for winning the war is a direct-injected, 1.8-litre turbocharged four cylinder unit that sees use in various other Volkswagen and Audi products, including the Jetta, Beetle, and Audi A3. Power output for the TSI (Turbocharged Stratified Injection) is 170 horsepower, and peak torque is rated at 185 lb-ft between 1,600 to 4,200 rpm. By finely tuning the turbocharger and engine operating characteristics, power delivery is very smooth and there's practically no turbo lag. Refinement isn't too bad either, with the engine sounding like it's casually working away as it sweeps through the rev range, and never feels strained or out of breath.
On other models such as the Jetta (reviewed here), there's a 1.4-litre turbo four with 150 horsepower and also 185 lb-ft, but between 1,500 to 4,750 rpm. In going with the 1.8-litre motor, there's a small bump in performance, especially in the upper rev range, but the gap isn't particularly huge when it comes to real-world city driving. It would behoove Volkswagen to include this 1.4-litre engine on an even lower-priced Sportwagon, allowing it to do battle with the base GX trim of the Mazda3 Sport and Ford Focus SE (reviewed here). While there's currently no diesel TDI option available to consumers, expect this to change once VW comes up with fixes for emissions performance.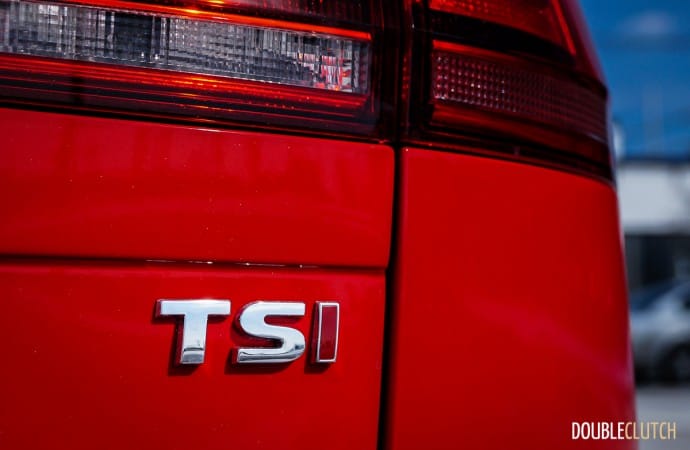 Paired with the 1.8-litre turbo is a six-speed automatic that does its job fairly well, and the abundance of torque means that a lot of shifting isn't required. Volkswagen has tailored the shift feel to somewhat mimic the performance of the dual-clutch transmission that's used on the sporty GTI. When stopped in Drive, the gearbox shifts to neutral, and a slight lurch is felt when launching as the transmission selects first gear. While not particularly intrusive, it does take some getting used to. Once moving, shifts are smooth, and the gearing is tall enough to facilitate quiet cruising on the highway.
Ride quality is also another strong point on the Golf Sportwagon, with the moderately firm independent suspension keeping bumps in check. Body control is executed fairly well, and the handling response from the front and rear independent suspension is sharp enough for every day driving. The Volkswagen MQB chassis is a good performer, with light weight and rigidity being high points. In terms of road and wind noise, the cabin is whisper quiet under all conditions. This still rings true when compared side by side with considerably more expensive luxury sedans that happened to be in the DoubleClutch.ca fleet during the VW's week on test. Highway cruising is definitely a strong point, and the wagon should be at or near the top of your list if you plan on packing on the miles. The Sportwagon elicits a sense of confidence going down the road, and certainly feels more premium than its price suggests.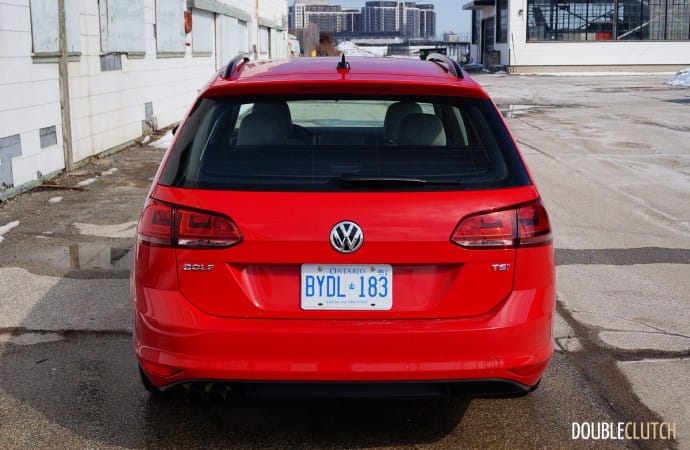 In addition to being a smooth operator, the Golf Sportwagon also proved to be frugal at the gas pumps. Rated at 9.5 L/100km in the city, and 6.6 L/100km on the highway, real-world observed fuel economy was 8.4 L/100km in a mix that included quite a bit of winter and city driving. Volkswagen recommends the use of regular 87 octane, which is a great advantage of today's direct fuel injection systems. With consumption numbers that make it very competitive against the Mazda3 Sport, combined with a price point that makes it a great value, the Volkswagen Golf Sportwagon should be a very serious contender for anyone looking for value, performance, and utility. After winning the Family Car category for the 2016 Automobile Journalists Association of Canada (AJAC) awards, the praise for the little VW wagon appears to be universal, and expect sales for this model to remain strong for years to come.
2016 Volkswagen Golf Sportwagon Gallery
See Also:
2015 Volkswagen Golf Sportwagon TDI