The CC places itself right in the thick of the entry-level luxury car segment.
In the segment of premium front-wheel-drive sedans, there are several major contenders, including the likes of the Acura TLX, Buick Regal, Lexus ES350, Lincoln MKZ, and the Nissan Maxima. The common theme of a high quantity of features, powerful engines, and executive-level touches make the segment very competitive. Interior legroom and ride comfort are competitive advantages here, with handling and cornering taking somewhat of a back seat. To do battle in this class, Volkswagen's entry is the "Comfort Coupe", better known everywhere as the CC. We were sent over a 2016 Volkswagen CC, finished in Harvard Blue Metallic, for a weeklong evaluation and to see how it stacks up against its rivals.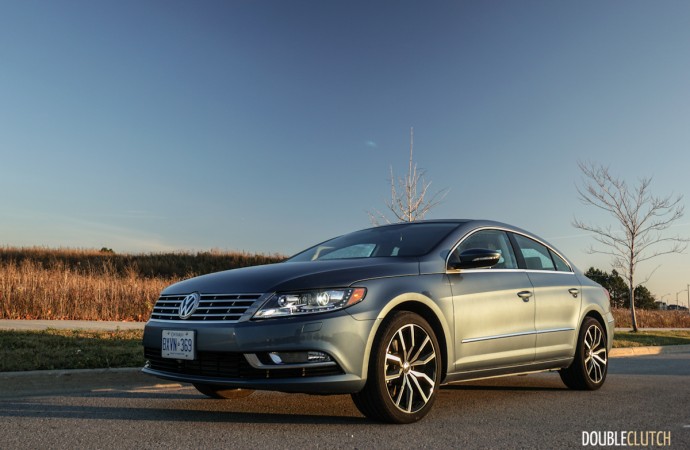 The sleek exterior styling of the Volkswagen is arguably among the best lookers in its class, and it truly tries its best to look like a two-door coupe. With a fast roofline and sleek lines, the casual observer will need to do a double take when they realize that there's an extra set of doors behind the B-pillar. Up front, the strip of LEDs used as daytime running lights are similar to the current trend that many automakers are using. Although it attempts to look more premium, it ends up looking a little chintzy compared to the smoother-looking LED light pipes seen in the Nissan Maxima and Hyundai Genesis sedan. While it doesn't quite live up to the grand style of a Mercedes-Benz CLS, the CC's overall exterior persona provides a touch of flavour in a segment that tends to be dominated by more vanilla offerings.
Compared to the base Sportline trim, mid-level Highline models get steering wheel mounted paddle shifters, 18-inch aluminum alloy wheels, a panoramic sunroof, leather seats, and high-intensity discharge (HID) headlights. The test vehicle was equipped with the bright and airy Desert Beige Nappa leather, which was complete with two memory seat settings for the driver as well as heat and ventilation. Brushed aluminum trim and an analog clock helped to give an even higher quality feel, and material fit and finish was very good. The quality of the switchgear and touch points felt fit for a king.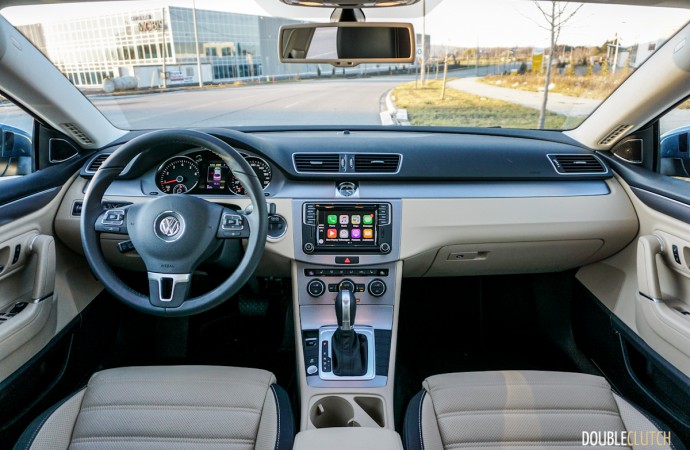 For 2016, Volkswagen has added Apple CarPlay, Android Auto, and MirrorLink functionality to their Discover Media infotainment systems. This allows users to seamlessly mirror their Apple or Android smartphone onto the CC's brilliant 6.33-inch touch screen display. In doing so, they will be able to use in-phone navigation, music streaming apps, search engines, or even voice command suites such as Siri. This solves the problem of several different automakers each having their own solution to smartphone interfaces to varying degrees of success. The interface is even good enough to recognize many of the third-party data-based messaging suites out there, compared to text messages only for traditional Bluetooth pairing. In including this technology across the board, Volkswagen has made an excellent choice in terms of keeping drivers and passengers connected.
Under the hood of the 2016 Volkswagen CC Highline is the 2.0-litre turbocharged four-cylinder engine that is also seen in the Golf GTI and Jetta GLI. Also included is the dual-clutch six-speed direct-shift gearbox (DSG) that provides instantaneous shifts. The time required to execute these shifts are faster than any driver can do with a conventional manual transmission. For power output, the 2.0T engine is rated for 200-horsepower and 207 lb-ft of torque between 1,700 and 5,000 rpm. While these don't look like particularly impressive numbers, the CC has a very healthy and flat torque curve that gets it moving around town with ease.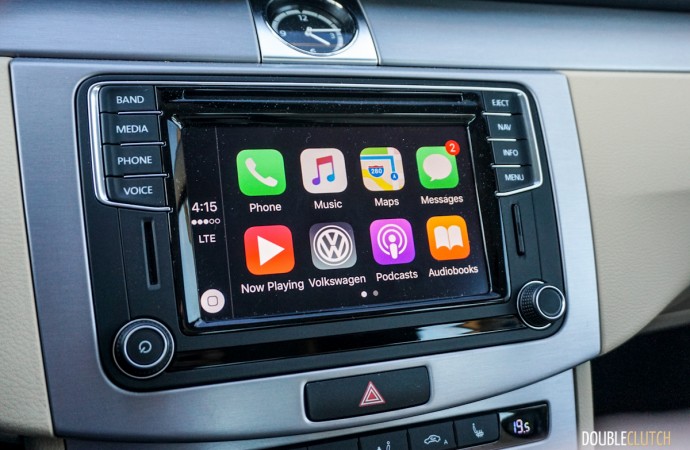 The six-speed DSG gearbox likes to upshift early and take advantage of the ample grunt. Unfortunately, the transmission is not the smoothest at low speeds and during launching. Competitors such as the four-cylinder Acura TLX also sport a dual-clutch setup, but also include a torque converter for low-speed smoothness. This leaves the Volkswagen somewhat behind in terms of powertrain refinement, but the flat-as-a-pancake torque curve helps to sweeten the deal. Driving around running errands and such, the CC's transmission is very agreeable and makes for an excellent cruiser or daily driver. Noteworthy: Volkswagen still offers a six-speed manual transmission on the CC, a segment-exclusive feature!
On-road driving impressions for the Volkswagen CC were generally favourable. Steering feel and response is fairly standard and not exactly sporty, as the VW handles pretty much exactly as expected for a premium entry-level luxury sedan. Ride quality is on the firmer side, typical to European standards, but most won't find it harsh. In any case, the CC effortlessly devours highway miles, and the comfortable seats make for a great road trip car. Another unique point towards the CC in its segment is the presence of massaging front seats, new for the 2016 model year.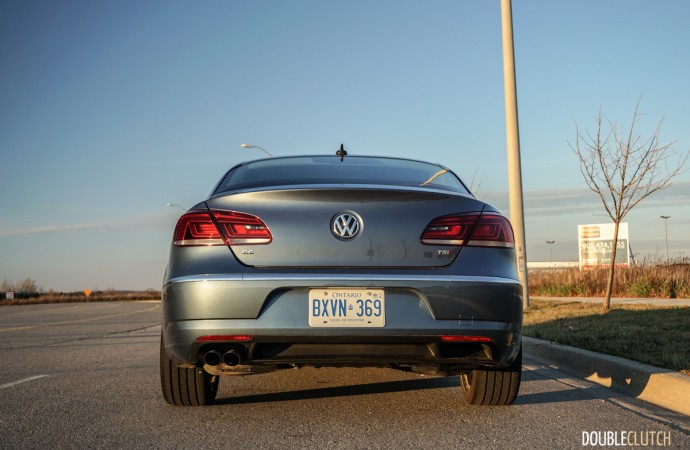 With the turbocharged four-cylinder engine, the CC was able to boast good fuel economy numbers. Rated at 10.7 L/100km in the city, and 7.7 L/100km on the highway, actual observed fuel economy was an excellent 8.3 L/100km in mixed driving. The week we had the CC coincided with one of our writers having a cultural engagement ceremony, so we actually made use of the car to do an above-average amount of driving ensuring things got done. It did a remarkable and efficient job of being a daily companion, and this earned it some additional points from our entire team. Volkswagen does recommend premium fuel, which negates some of the fuel savings, but this is par for the course for many smaller turbocharged engines.
The CC's list of flaws isn't significant, but there were a few issues that I found that some may consider to be deal-breakers. For one, the large panoramic sunroof doesn't physically slide open. It's capable of flipping up into the "vent" position, but that's about it. The windows, thanks to the "coupe" body style, are frameless, which is a slick touch in the warmer months. They drop electronically, ever so slightly, when the doors are unlocked, so they can be swung open and closed without causing damage to the windows. However, my colleagues who have driven the CC in the winter have remarked that the windows freeze up and make it difficult to open and close the door normally, in fear of damaging anything.
Overall, the 2016 Volkswagen CC does its job fairly well. With a well-equipped and well-built interior, torquey powertrain, handsome styling, and good long-distance comfort, those who end up purchasing a CC will not have made a bad decision at all. Even so, they should consider looking at competitors like the Lexus ES350 and Acura TLX in particular – the former if comfort is desired, and the latter if one is looking for more spice in their drive. With an as-tested price just shy of $44,000, the CC places itself right in the thick of the entry-level luxury car segment. The lower Sportline trim level could be a better value for money, but sacrifices many of the bells and whistles that make it stand out. At the end of the day, the CC is somewhat in an awkward position – it isn't a bad car by any means, but it may get lost in translation against all of its competitors.
2016 Volkswagen CC Gallery
See Also: