The refreshed Altima does what it needs to do, and does these things very well.
After a run of SUVs and trucks, I was happy to get back into a commuter-friendly midsize sedan. My editor arranged for me to spend my week with the refreshed 2016 Nissan Altima SL. The Altima has become a huge competitor and volume seller in the midsize segment, and now, halfway through its current generation, Nissan has given it a bit of a refresh to ensure it stays competitive. I picked up my SL tester, which is the top-line model available with the four-cylinder, finished in a beautiful Pearl White and set out to see how the latest updates have come together.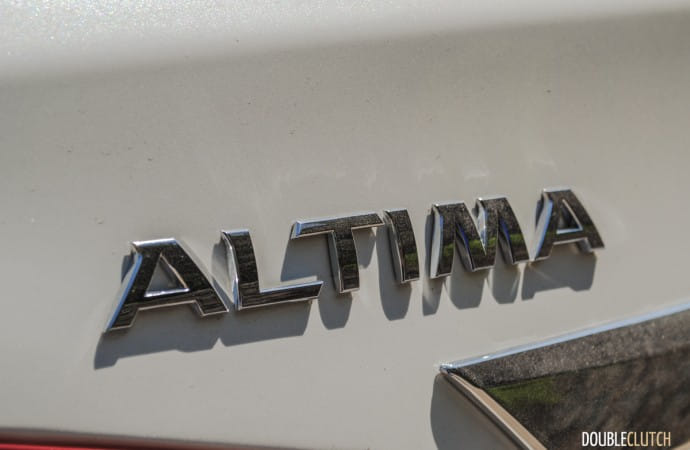 Firstly, the most noticeable changes are to the front and rear fascia of the Altima, both of which are brand new. The front end represents a significant change and now appears lower, sleeker and more aerodynamic. New headlights feature a boomerang-like shape and are complimented by trendy LED daytime-running-lights. My tester has LED headlights as well, which are quite impressive at night. There's a new front grill, and interestingly, four-cylinder models can be equipped with "Active Grill Shutters" which close at highway speeds to increase the Altima's aerodynamics.
At the rear, new taillights flank a redesigned trunk lid and bumper. Overall, the Altima is a fairly agreeable looking car – proportions are good, the lines flow nicely and my tester did catch the eye of some admirers. Being a well-optioned SL trim car, it was also rolling on good-looking 17" wheels, which offer a good balance between style, ride quality and cost when the time comes to replace the tires.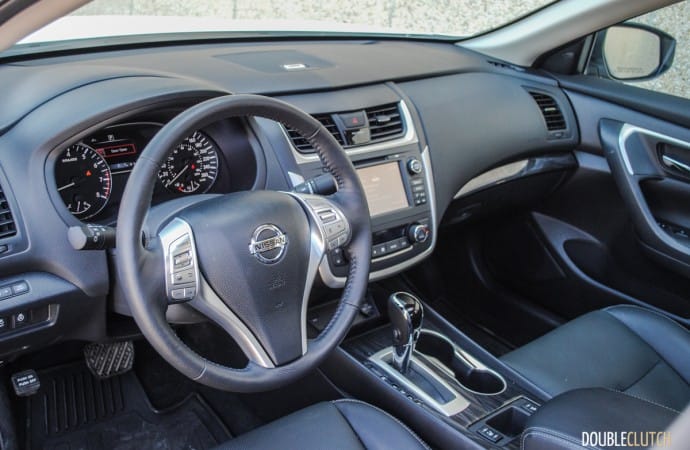 The interior gets a similar treatment with a new steering wheel, redesigned and more ergonomic center stack and some choices on interior trim. The new leather-wrapped steering wheel is actually quite nice, and the new dashboard offers a nice, clean, and easy to understand layout. Like the last Nissan I drove, I still had trouble reaching the radio tuner knob without leaning forward from my driving position. The rest of the controls are well placed and very intuitive. The very same goes for the LCD display built into the gauge cluster; it's easily manipulated via the steering wheel controls to display whatever information you might want to see about your car or driving statistics.
All said, the interior in the Altima is a very nice place to spend time. Nissan has given the seats particular attention and I found them to be one of, if not the, most comfortable in the segment. There is loads of convenient storage up front, and plenty of passenger space in the rear thanks to the relatively high roofline. The only distraction inside the Altima for me is that there are a lot of cheap-feeling hard plastics to be found, from the dash to the door panels and even the patterned trim bits. I know it's a fairly standard midsize sedan, but having spent time in competitive vehicles I'd say there's room for Nissan to make some quality improvements. On a more positive note, the trunk is deceivingly large and the split rear seats fold flat.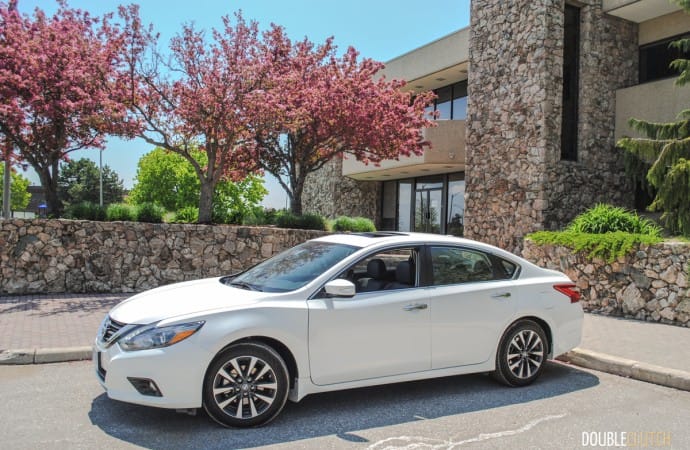 From a driver's perspective, the Atlima's suspension has been tightened up a bit to deliver a slightly sportier feel. This however is definitely not a sports sedan, and there is no mistaking it for one either. While steering response is good, and the turn-in sharp, there is very little feel communicated up from the wheels, which really takes away the fun from any spirited driving. The base 2.5L inline four-cylinder (codenamed QR25), mated to the CVT automatic in my tester is also not exactly set up for fun. Rather, the drivetrain is all about efficiency.
The 189 horsepower motor is enough for the Altima to keep up with the flow of traffic. It allows for passing and merging safely with little sweat, but it's far from exciting. Brisk acceleration is met with a moan from the CVT disturbing the peacefulness in the cabin and a relatively slow take off. Clearly the focus is on efficiency, which is exactly what the Altima does well. That being said, even though the CVT likes to moan under pressure, Nissan has the best one in the industry. With rivals such as the Subaru Legacy (reviewed here), that's no easy feat.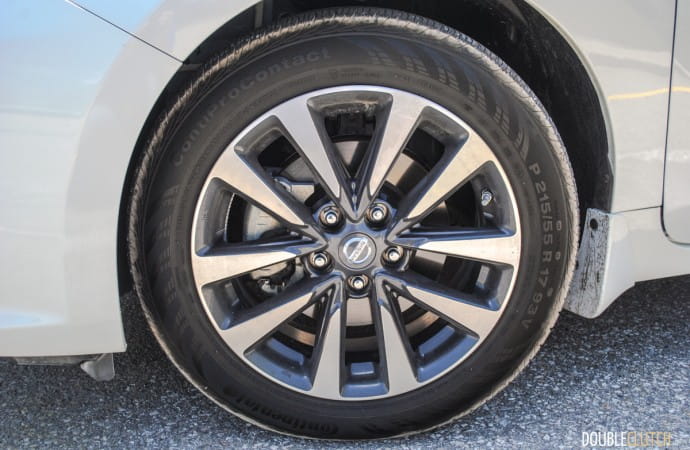 During my week of rush hour commuting I averaged 7.7L/100km – that's impressive for a midsize like this. As a commuter, the fuel savings might very well be worth the trade-offs made in sportiness. For those wanting a little bit more from their Altima, there is still an excellent and very potent 3.5L V6 version of the car available with a healthy 270 horsepower. If opting for the V6, buyers shouldn't expect to see fuel consumption as frugal as my experience with this four-cylinder model.
Where the Altima's driving experience really improves is when you're simply using it to get through the daily grind. It's solid, quiet and comfortable on the highway and maneuvers well in the city, riding confidently on crumbling streets. My intense rush-hour commute represents exactly how most buyers will use their Altima, or any midsize sedan for that matter. For that purpose the new Altima offers a very agreeable and relaxing experience from behind the wheel.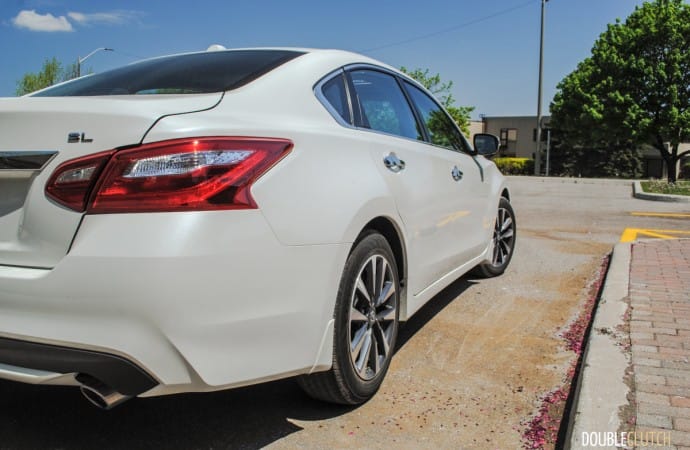 One element to that peaceful and relaxing experience is having the right features, options and gadgets available so you can make yourself comfortable as you crawl along in painful traffic. The Nissan Altima offers a lot of value here and my loaded (minus the V6) SL model carries an MSRP of $32,298. At that price it comes with just about everything you might ask for; dual zone climate control, power sunroof, a great Bose stereo, navigation, satellite radio, Bluetooth, radar cruise control, heated seats/steering wheel and a healthy list of driving aids. These driving aids include blind spot monitoring, forward collision warning (with emergency braking) and rear cross-traffic warning.
The refreshed 2016 Nissan Altima SL does what it needs to do, and does these things very well. Don't let its sporty good looks fool you into thinking it's something more than a nice sensible midsize commuter and family car and you'll easily fall in love with it. Buy an Altima in hopes of scratching that enthusiastic driving itch and you'll find yourself disappointed. That said, the new Altima offers a competitive price, a great set of features, impressive efficiency and fresh looks, all factors that will definitely keep it competitive and worth consideration in the midsize segment.
2016 Nissan Altima SL Gallery
See Also: