It's efficient, versatile and comes with the heritage of the storied Land Rover name.
The Land Rover brand has always been iconic in my mind. They were truly the original go-anywhere-do-anything adventure vehicles, and the nameplate carries decades of historical significance. Having grown up around British sports cars, I've grown to appreciate the quirkiness that they are so well known for, and to me those quirks have become part of the vehicle's charm. Land Rover has undoubtedly been through some serious changes over the last few decades, but the brand has proven itself a survivor and still carries a certain level of class today. Now, despite my attraction to them, I've never actually spent much time with one, so when I was given the opportunity to test the brand new 2016 Land Rover Discovery Sport, I really didn't know what to expect.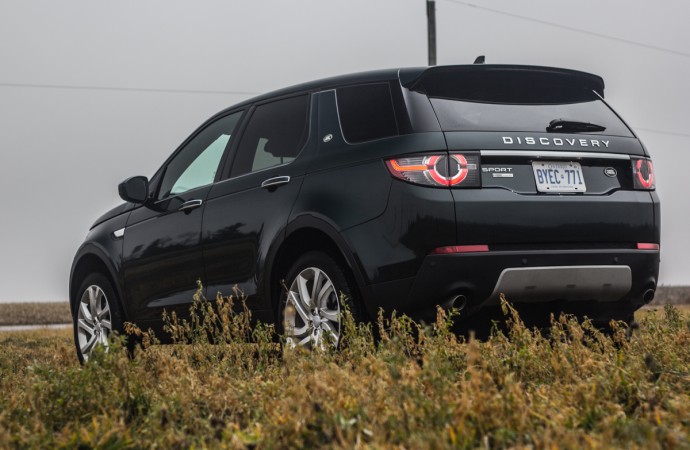 Land Rover today seems to be aiming their vehicles towards a balance between car-like comfort and the old Land Rover ruggedness. The interesting part is how those elements play out on the latest iterations. This new Discovery Sport for instance – it looks a lot like a squared off version of the Range Rover Evoque. It's unmistakably Land Rover, but it looks and feels right at home in the heart of the city. The classic Land Rover design elements are present, like the oversized "Discovery" lettering on the hood and rear tailgate, and offer a nice contrast to the sleek modern elements such as the intricate LED head and tail lamps, and sporty looking optional 20" aluminum rims.
As expected from Land Rover, the exterior fit and finish is simply impeccable, you won't find a misaligned panel or paint flaw on this. My test vehicle came finished in gorgeous Aintree Green (a $1200 optional color) which looked absolutely stunning against the Tan Windsor leather interior and set this Land Rover apart from anything else on the road – I don't normally go on about a paint color, but this really is the perfect color for the new Discovery Sport.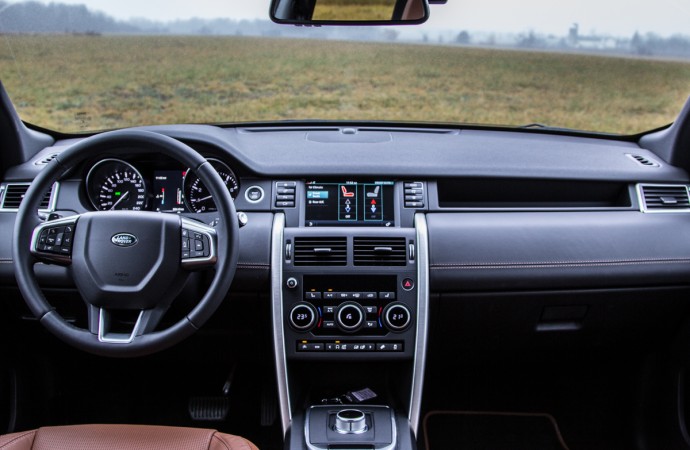 The interior displays the same level of character, class and style as the exterior of the Discovery Sport. It's very clear that the designers put a lot of attention on the way things look inside the Discovery. Again, fit and finish inside is very well done, however I did notice the use of some cheap-feeling plastics on the door panels and dashboard. The dashboard benefits from a new 8-inch infotainment screen and very simple clean looking centre stack with dual automatic climate controls and Terrain Response selection buttons.
Pushing the start button on the dash raises a round aluminum knob from the centre console which acts as the gear selector, not only does it look leading-edge, it feels very heavy and well built. While pretty, I did find some of the controls on the awkward side; for example the window switches are up near the front of the door panel and require a long reach from the driver's seat to hit them. This is a Land Rover trait, but nostalgia aside I am not sure why the designers decided to leave them so far from the driver. The new infotainment system is actually very easy to navigate, but again, its position on the dash is too far away to make its use comfortable. Lastly, controlling the heated and cooled seats in my tester required the use of both a button and the touch-screen, cumbersome for something that's likely to be adjusted very often.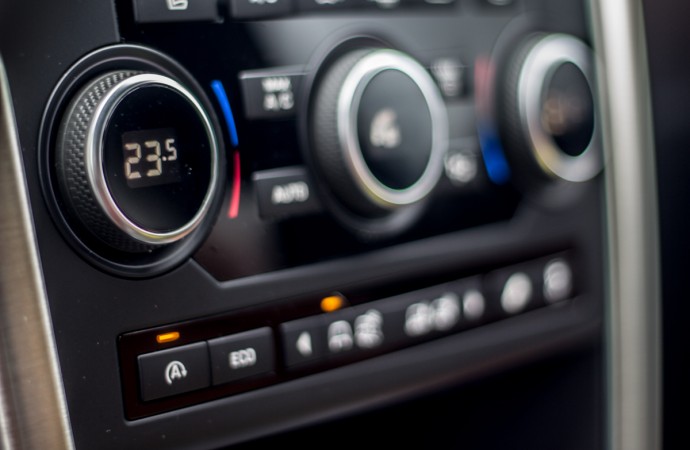 My ergonomic qualms aside, the stylish and very upscale looking interior in my tester does not disappoint when it comes to features and functionality. Firstly, my tester is in fully loaded HSE Luxury trim, weighing in at $54,890. This includes gorgeous and cozy heated and cooled Windsor leather seats, proximity key, navigation, 250W stereo and a power tailgate. These are in addition to standard Discovery Sport features such as a full-length panoramic roof, the Terrain Response system and rain sensing wipers. I found more than enough storage for my daily carry items up front, and second row passengers lavished with loads of head and legroom.
My tester was also equipped with the $1900 optional third row seating and sliding second row, meaning the seats can be configured to maximize the space you need to use. This is an important feature as it allows for additional flexibility and seating inside the smaller footprint of the compact SUV. Cargo space with the third row in place is limited, but comparable to similar sized compact SUVs such as the Nissan Rogue. With the third row folded flat, the cargo area is more than large enough for almost anything you'd want to carry on the regular basis.
Enough about the interior though – what I was anticipating most when I picked up the Discovery Sport was the way it would drive. If I am honest, looking at both interior and exterior I was expecting the Discovery to be soft, compliant and car-like. However, I was slightly surprised to find a Land Rover that rides like a Land Rover; and depending on your own view that may or may not be a good thing. While the Discovery's ride is certainly firmer and harsher than similar compact crossovers, it's definitely not uncomfortable. Once you've had some time to grow accustomed to it, it really starts to become part of the Discovery's charm. The steering feels responsive and direct, and despite the large amount of ground clearance, the Discovery Sport feels very confident at speed and through corners.
Another thing about the Land Rover that surprised me is that it's powered by a 2.0L turbocharged 4-cylinder. Not to be confused with the Ford EcoBoost seen in previous models of the Evoque, this is Land Rover's own in-house Ingenium motor. This powertrain includes a new nine-speed automatic transmission. Not at all the description of a drivetrain I was expecting in a Land Rover, but I was pleasantly surprised that its 240 horsepower and 250 lb-ft of torque proved more than adequate. Turbo lag is noticeable, but it's not a hindrance and the 9-speed's quick shifting does a good job keeping the power online, making acceleration lively compared to many other compact SUVs.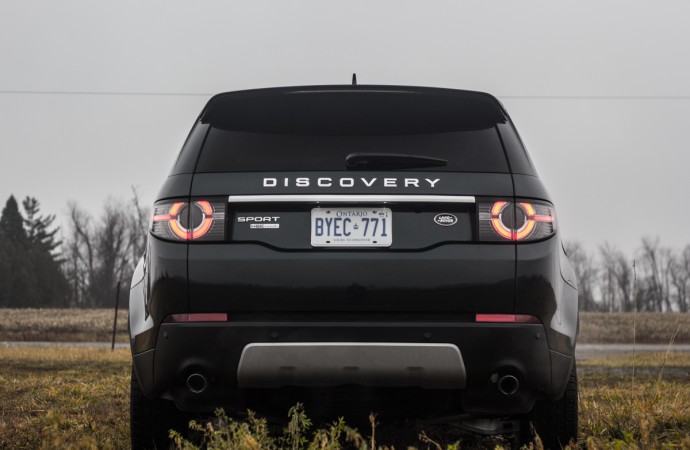 With the exception of the rather abrupt action of the start/stop system, the drivetrain is fairly smooth and I didn't hear any unpleasant engine noise inside the cabin. As an added bonus, I averaged favorable fuel economy of 10.1L/100kms on premium 91-octane fuel over my week of rush hour commuting. That's impressive for a seven-passenger SUV with the AWD capabilities as boasted by the Discovery Sport.
From the commanding driving position the Land Rover Discovery Sport is a very confident road vehicle. Whether on rough city streets or smooth highways, the Discovery cruises with a quiet reassurance that it's going to get you where you need to be in style and comfort. I didn't get the opportunity to try the Discovery off-road, but knowing Land Rover's history and technology I'd hazard a guess that this thing will perform just as well there. The Discovery boasts a range of off-road features including Terrain Response, which optimizes the AWD system based on your selected terrain, All-Terrain Progress Control, which acts as a low speed cruise control progressing you forward through tough terrain at a controlled speed, and Hill Descent Control to make light work of those treacherous elevation changes.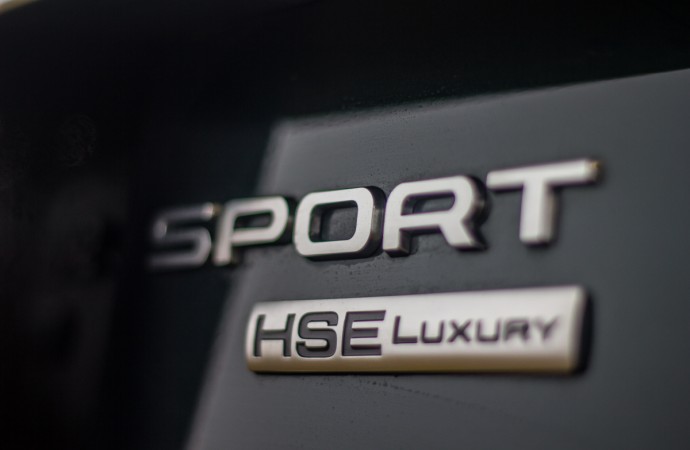 With a starting price of just under $42,000 for a very well equipped compact luxury crossover, I think the new 2016 Land Rover Discovery Sport makes a very good case for itself. It's the right size for a lot of families, it looks great inside and out, it's efficient, versatile and comes with the heritage of the storied Land Rover brand. It's a vehicle that one can grow to love in spite of its faults. Ultimately, those faults become just lovable quirks that make the Land Rover experience unique from its rivals.
2016 Land Rover Discovery Sport Gallery
See Also: