The 1299 Panigale S has lightning-quick reflexes; the response is just mind-blowing.
Los Angeles, CA – As much as I love Toronto, our roads don't hold a candle to the driving Mecca that is a few thousand miles southwest of us. Our motorcycling season ended nearly two months ago, but Ducati was kind enough to invite me down to Los Angeles and its surrounding area to experience a few days of bliss. During my stay, I was handed the keys to a 2016 Ducati 1299 Panigale S during the days of the Los Angeles International Auto Show, where I had some automotive-related unveils to cover. Whereas typical tests of this bike involve heavy track use and bombing through twisty canyon roads, I actually used it as my primary means of transportation.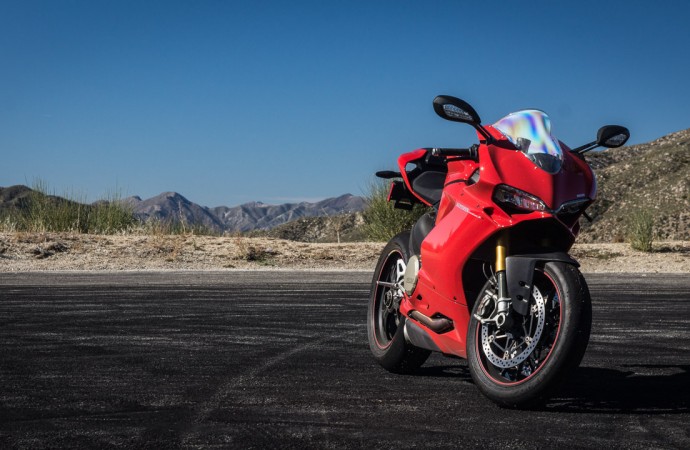 This is the kind of bike that dreams are made of. I was traveling with two of my colleagues, both of whom are as enthusiastic about bikes as the typical teenager is about minivans. Even still, immediately upon the Panigale's delivery to our hotel, we spent a few minutes just admiring its beauty and immaculate attention to detail. The red paint is typical Italian, akin to Ferrari's Rosso Corsa, and the beautifully carved lines ensure the 1299 is easily one of the most stunning bikes ever created. The headlight is a mean-looking LED, and even the taillight is sculpted to appear aggressive and confident.
Then there's the sound it makes; it's simply unmistakable. Turning the key and pushing the start button fires up the most evil of animals, the 1285cc engine located under my seat. The exhaust is so loud that my colleagues could hear the Panigale come to life almost 100m away, in busy LA traffic. Though there are cars I find to create brilliant noises, there are few sounds out there that beat the natural, analog roar of a Ducati superbike. This is one sound that aftermarket exhaust systems will have trouble improving, because you really can't mess with perfection.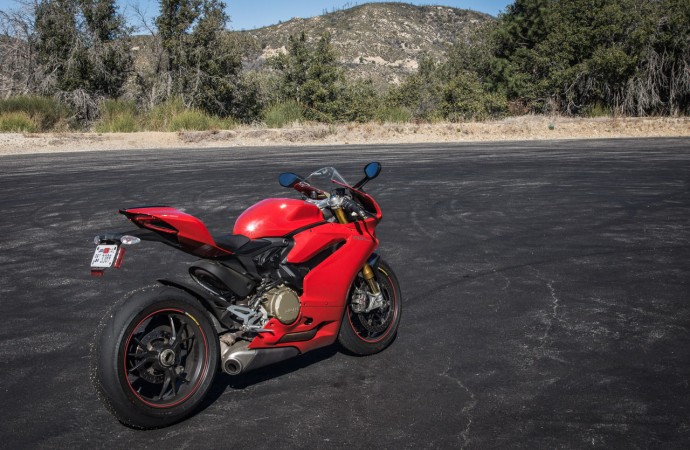 Ducati claims the 1299 is good for 205 horsepower (ten more than the outgoing 1199 Panigale), and I believe every word of it. There's increased juice in the midrange, between 5,000 and 8,000RPM. The twin is made to compete with four-cylinders with its lightness and responsiveness, both of which it delivers on. The traction control and DWC (Ducati Wheelie Control) are both adjustable through multiple settings to help you tame this wild beast. When braking into corners, the transmission can blip downshifts without clutch use at the blink of an eye.
Our first two days with the 1299 Panigale S resulted in rush hour commuting through the heart of downtown Los Angeles, from our hotel in Hollywood to the LA Convention Center. Since lane splitting is actually legal in the state of California, I had previously assumed that I would be able to get everywhere very quickly rather than being stuck in dreadful traffic. However, since I had no geographical bearing, I was stuck following my colleagues in gridlock. On multiple occasions, it took us roughly an hour to travel just four miles.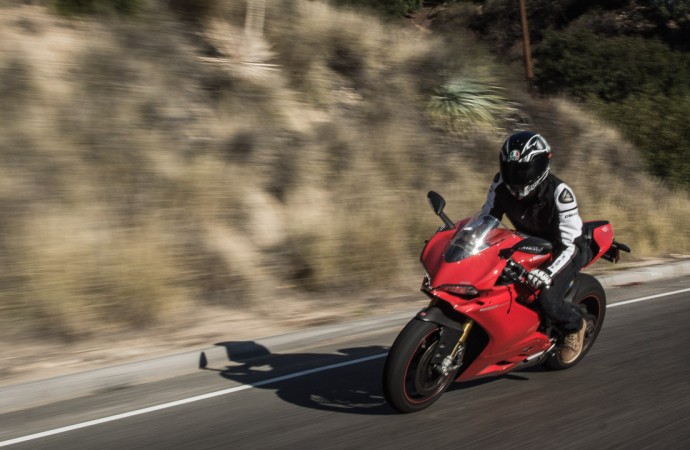 This resulted in my initial opinion of the Panigale to be less than stellar, because this isn't a bike made to zip effortlessly around the city. The engine runs extremely hot, often sitting "comfortably" near the 115-degree Celsius mark. Though wearing the appropriate gear for this bike, my entire lower body was boiling this entire time. The six-speed transmission (equipped with Ducati's DQS quickshifter) is one of the best units currently available in a road bike, but the clutch is seriously heavy and will result in sore hands if daily commuting is what you want to do. Lastly, the aggressive riding position puts considerable strain on the groin, knees, and wrists. After two days in gridlock I don't think I could have physically done a third.
Thankfully, our itinerary was well prepared for this. We took the Ducati as well as our six-speed manual Honda Accord Sport out to Angeles Crest Highway, easily one of the best roads in the Los Angeles area. Taking just over an hour to complete (one way), Angeles Crest is full of long, fast sweepers, a consistent speed limit of 55mph, beautiful mountainous scenery, and tight corners requiring quick reflexes and an expert amount of skill. The room for error is very little – if you mess up, you're either smacking a guardrail or flying off a cliff. The last time I did this drive was in a Mazda MX-5, so I'm not ashamed to admit that I was a bit nervous.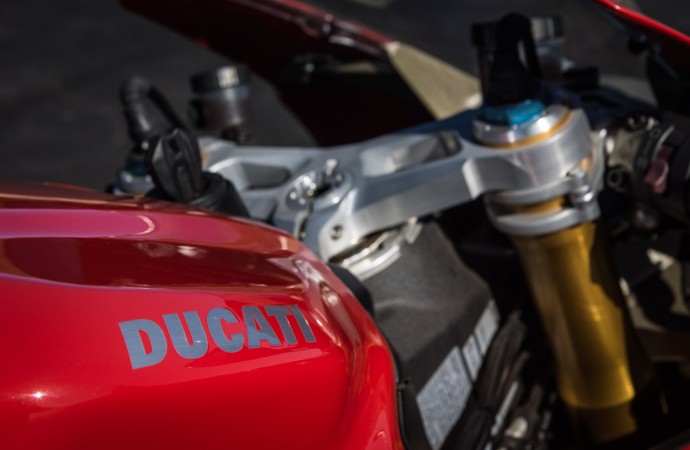 I wasn't nervous in fear of misjudging a corner and potentially hurting the bike or myself, but because I wasn't sure how my body would endure 3-plus hours non-stop on this machine – especially given the amount of overall pain I was in after riding it around the city for two days. I could not have overthought it more – this is where Ducati's engineering and passion for motorsport became evident. The 1299 Panigale S has lightning-quick reflexes; the response is just mind-blowing. It was almost as if the bike was pushing itself into corners and carving apexes even before my brain could calculate and anticipate them.
Though remaining mostly between second to fourth gears, the DQS quickshifter kicks the transmission into the desired gear without even having to put in the clutch. This is doable both on upshifts as well as downshifts. The Panigale S has three preconfigured ride modes; "Race", "Sport", and "Wet". The Ducati representative who delivered the bike to me advised to leave it in "Wet" until I got used to the throttle response, then end up in "Sport". Even I wasn't stupid enough to try the full-on "Race" mode without being on a closed track setting. I found my personal sweet spot to be in "Sport", where throttle response was just perfect and the chassis settings were dialed in just right.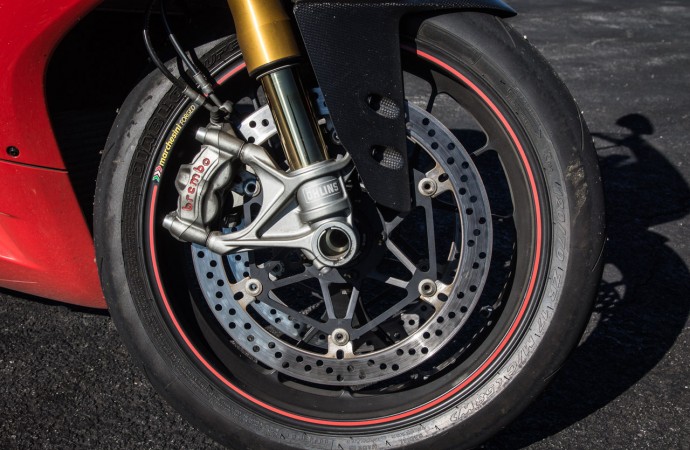 Thanks to the Brembo braking system, the Panigale is able to halt to a complete stop from most speeds in a matter of a few feet. Stability isn't an issue – the bike dives to a stop with confidence. The on-board Ducati Traction Control (DTC) system is adjustable between eight settings, preconfigured to control slip according to conditions. Level 8 is the most intrusive, while Level 1 is for expert riders and allows for the most amount of slip before intervention. The full-colour digital instrument cluster displays diagnostics clearly and legibly, even in direct sunlight. It's perfectly positioned to be available to the rider at all times, ensuring you always have control over the Ducati's settings.
Even when just on the highway, the Ducati 1299's riding position makes it easy to tuck right in and let the air flow right over the body. It's definitely an acquired taste for those not used to such forceful bikes, but I maintain that I'll only ride sport bikes until I'm physically unable to. The windshield does a decent job at blocking wind, and the Panigale is a surprisingly comfortable cruiser assuming you have a relatively quiet full-face helmet. The suspension is still extremely firm, and rougher road surfaces will still inflict soreness on the sensitive.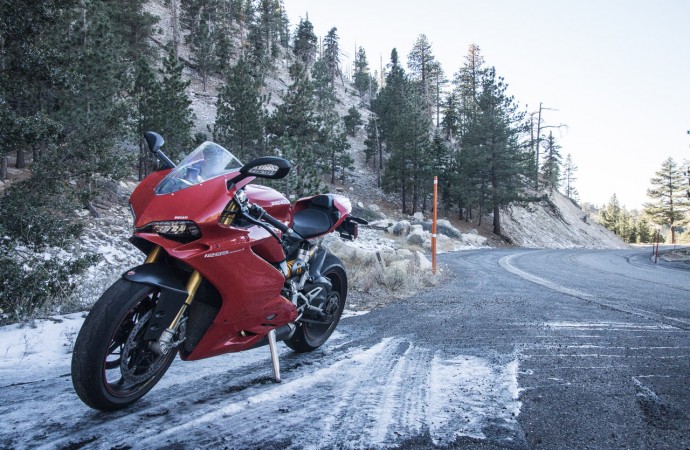 Most enthusiasts who aren't exactly bike people will stare longingly at superbikes; I've experienced this almost every single time I have brought home a sport bike on test. The Ducati though; it attracts a wide variety of people who are curious about it. Ducati invited us out to a VIP party at an Italian apparel boutique, and I had the Panigale S parked on the sidewalk right outside the venue. As my colleagues and I mingled over sodas, we soon realized that not a single person walked by without giving the 1299 a second glance. Even a group of ladies that had to be pushing their seventies stopped to admire the bike. The highlight of attention was when a group of younger girls clearly headed to a nightclub started taking selfies on their phones with the Panigale. Perhaps this isn't a bike for everybody to own or live with, but I'll be damned if it isn't one that draws eyes even when sitting still.
Different motorcycles have different purposes – one wouldn't want to ride a Harley-Davidson on a racetrack, and in the same fashion, the city commuter would be all but miserable on this superbike. However, the level of raw feel, passion, and development that has gone into the creation of the 2016 Ducati 1299 Panigale S is unparalleled by anything else on the market. This past summer we tested the BMW S1000RR as well as the Yamaha R1, both of which are legendary superbikes. The Ducati's a little bit different; it's not exactly a wolf in sheep's clothing. It's a full-on wolf and does nothing to hide it; this is a beast that will fight back as you try to tame it – and I loved every single moment with it.
2016 Ducati 1299 Panigale S Gallery
See Also: