The competition in the full-size pickup truck market is seriously intense.
GM has realized a lot of success with their full-sized pickup trucks since the major redesign launched for 2014. I was privileged enough to be one of the first to test the new trucks and I knew immediately that GM had a winner. Sales under both the Chevrolet and GMC nameplates have been strong, and I've enjoyed seeing these great looking pickups all over the place. To keep the momentum up, GM has released a facelifted version of the 1500 series trucks for 2016. Changes are fairly minimal, with the biggest impact being a new front fascia, LED lighting and a handful of unique interior features. Of course, I was eager to get some seat time, so I set myself up with a heavily optioned 2016 Chevrolet Silverado Z71 LTZ.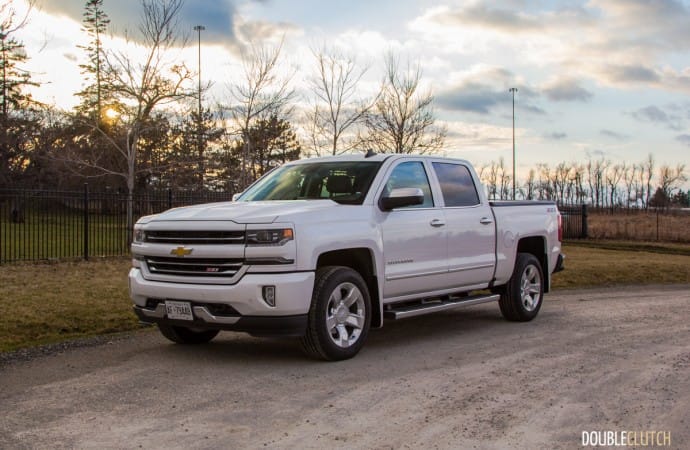 Now, I absolutely loved the styling of the 2014 and 2015 model year vehicles, so it pains me just a little to admit that the 2016 styling just doesn't quite have the same appeal to me. The new front fascia is a little too big and monster truck-like for my tastes. There are three different versions of the front end; the base model, Z71 and High Country each get a unique treatment, and I feel similarly about all three. I loved the slightly understated appearance of the outgoing model in comparison to the overly flashy grill and bumper treatments used by the competition.
The 2016 Silverado is still a handsome-looking truck, but now it's just another big vehicle with a flashy pickup grill. The new headlights are great; my tester was equipped with nice LED running lights and powerful projector HID headlights that I'd say are the best I've experienced in a full-sized truck to date. The new LED tail lamps are a thing of beauty as well, and the main body of the truck remains unchanged from 2015, meaning it retains its well-proportioned, clean lines.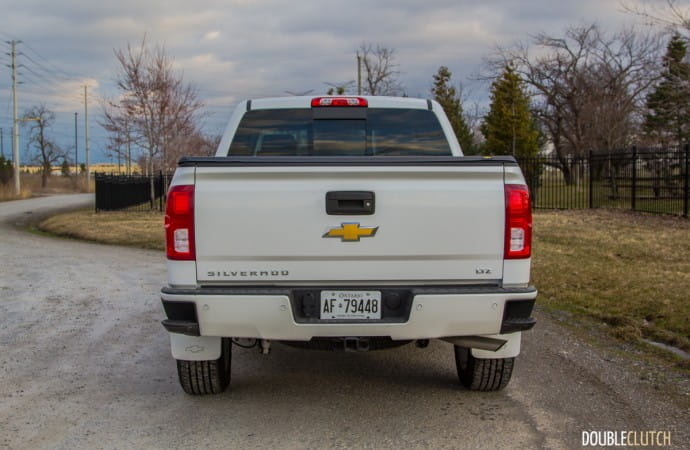 My test truck came painted in a gorgeous Pearl White Tricoat with a Cocoa Dune (two-toned tan) interior. The color combination is perfect for a loaded truck like this, and with the body-coloured front fascia it definitely catches a lot of looks on the road – even my wife loved the colors. It's a flashy looking truck, and it has a price tag to match. The LTZ Crew Cab 4×4 starts at $53,800, and you'll need to add another $1600 to get the Z71 off-road package (2LZ package).
On top of the base pricing, my tester also came with another $11,500 worth of options including 20" rims, power sunroof, enhanced driver alert system, the LTZ "Plus" package (heated steering wheel, power adjust pedals, Bose sound), full-feature heated and cooled bucket seats, navigation, LED bed lighting, step bars and more. All of this makes this truck a true Cowboy Cadillac, and brings the as-tested price to $66,175. With all the discounts the big domestic brands are floating around these days I am certain not many buyers are paying that, but either way this is not a cheap truck.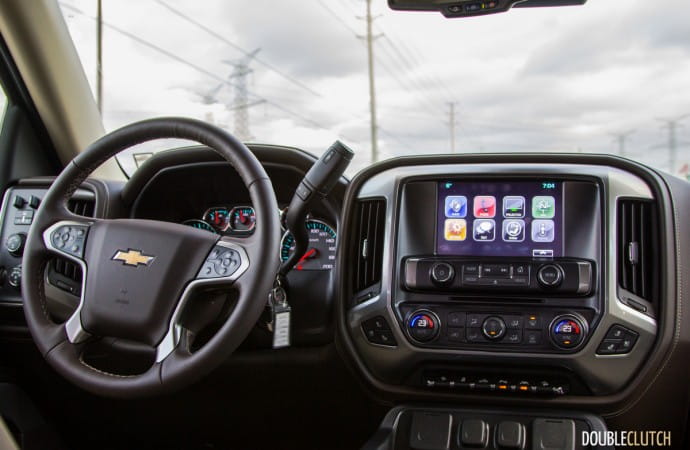 Inside, the new Silverado remains largely unchanged from the previous year. The Silverado interior, while maybe not as upscale feeling as the Ram (reviewed here), is probably my favorite of the full-size trucks right now because it is undoubtedly the most functional. 2016 models equipped with a centre console now offer a wireless charging pad for your phone, and the console itself is extremely useful. Things like a massive storage bin under the arm rest, huge cupholders, an open storage bin towards the front, and a rubberized ledge perfect for keeping your cellphone from sliding around contribute to this. The door panels also offer big storage trays, and the dual glovebox on the passenger's side is great for less frequently used items.
All of the Silverado's controls are easy to understand, including the MyLink touchscreen system. It's also a piece of cake to find the perfect driving position with eight-way adjustable seats and power adjustable pedals. The interior finish is on par with what I'd expect from a highly-optioned full-sized pickup; nice leather seating and leather accents throughout the cabin. The dash is covered in a very nice faux leather material with neat stitching and the unique Z71 instrument cluster is very attractive. The rear seats are big enough for three adults, and they flip back to reveal an almost-flat cargo area.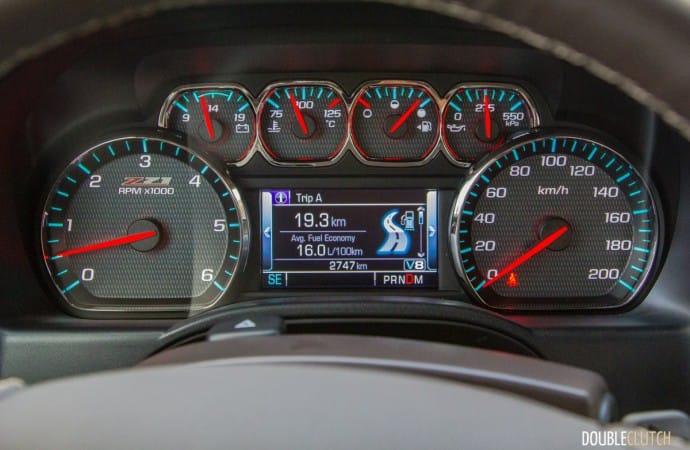 My test truck packed the famed 5.3L V8, mated to the relatively new 8-speed automatic and the 3.42 rear axle ratio standard on the Z71 package. The 5.3L is good for 355 horsepower and 383 lb-ft of torque – more than enough to haul this big truck around with ease. It's also incredibly smooth, quiet and very linear in its delivery of power. This engine and exhaust also come together to produce a nice deep tone under hard acceleration to remind you that you are driving a proper V8.
Shifts from the eight-speed are usually lighting-quick and well timed, but my one complaint related to the powertrain comes from the automatic's performance at really low speeds. While inching along in rush hour traffic, the V8's Active Fuel Management will cycle between four-cylinder and V8 modes as it should, but on occasion the transmission will attempt to shift up right as the engine is cycling between modes and the result is a rather rough and abrupt shift.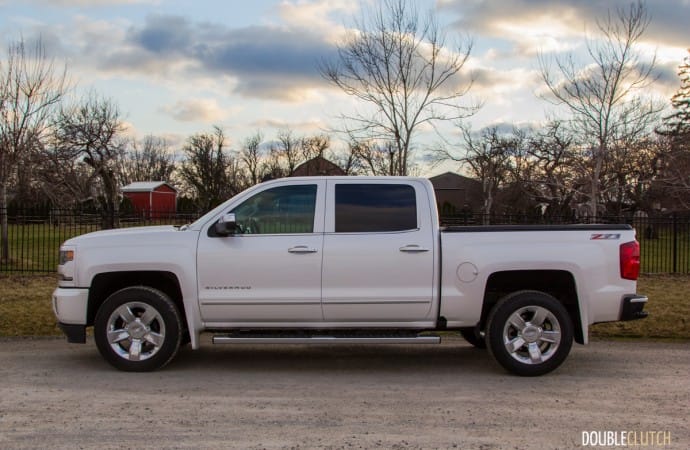 Under more normal conditions the AFM system is flawless and without the little dashboard icon you'd be hard pressed it know it's there and saving you fuel. Speaking of fuel, I averaged 13.5L/100km during my weeklong test of mostly rush hour commuting. This is slightly better than I was able to get out of a 3.5L EcoBoost F-150 (reviewed here), which goes to show that displacement isn't everything when it comes to economy.
One of the things I like best about the Silverado is its comfortable and composed road manners. This is a full-framed pickup truck built to haul up to 2130 lbs and tow up to 12000lbs, and for that reason it does have a certain stiffness that you'll feel on really rough roads. That aside, the Silverado's ride is comparable to most luxury SUVs. The cabin is silent, it tracks straight with little correction needed, and the pothole-riddled city streets are hardly felt at all. While in the urban environment, the tight turning circle makes the truck feel much smaller than it really is. I came away with zero qualms about driving this truck in the downtown core.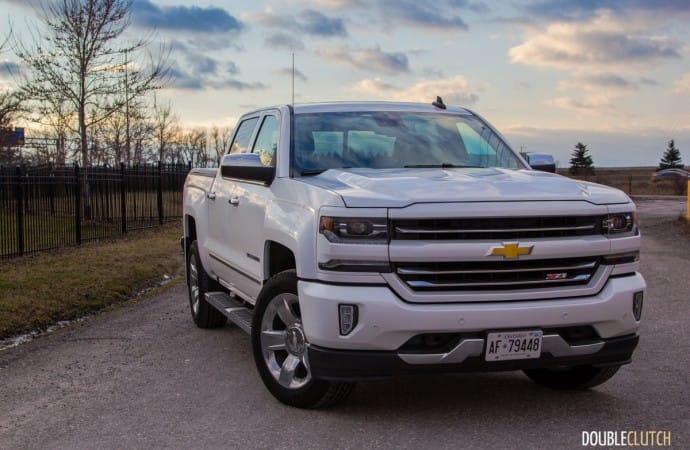 In addition to the visual markers, the Z71 package gives the 4×4 Silverado some basic upgrades to its off-road competency. Namely, Rancho brand off-road shocks, underbody shield to protect the transfer case, and electronic hill descent. While most buyers won't want to take a $66,000 truck through a real off-road trail, I did find an old hydro service trail and, during a downpour, let the Z71 flex its muscles a bit. The rutted and very wet trail was tackled with absolute ease, despite the pouring rain and a few soft spots in the ground. Even off-road, the ride remained composed with little bounce, making it easier to control the truck.
The competition in the full-size pickup truck market is seriously intense, and there's no real poor choice. That being said, I still consider the 2016 Chevrolet Silverado Z7 to be my favourite as, it represents the best-rounded truck. Comfort, capability, practicality, fuel economy and style – the Silverado offers healthy doses of it all. If you're looking for a full-size and the Silverado isn't right near the top of your considerations, you haven't done the right research.
2016 Chevrolet Silverado Z71 4×4 Gallery
See Also: