It's after I pushed the "Engine Start" button that I began to fall in love.
My very first extended go in a car bearing the legendary "M" badge was in 2013, when I drove one of the last BMW M3s ever to be graced with a naturally aspirated V8. Since then, the successor to that car went on to win the Overall Favourite designation in last year's Annual Awards here at DoubleClutch.ca. This year, the M3's bigger, badder brother received a facelift and a series of available upgrades. Coincidentally, the week we were offered this car for testing, I had to make a trip up to our nation's capital for another media event. I eagerly snagged the keys to the 2016 BMW M6 Competition Coupe, a car I had been waiting to get seat time in for close to a year.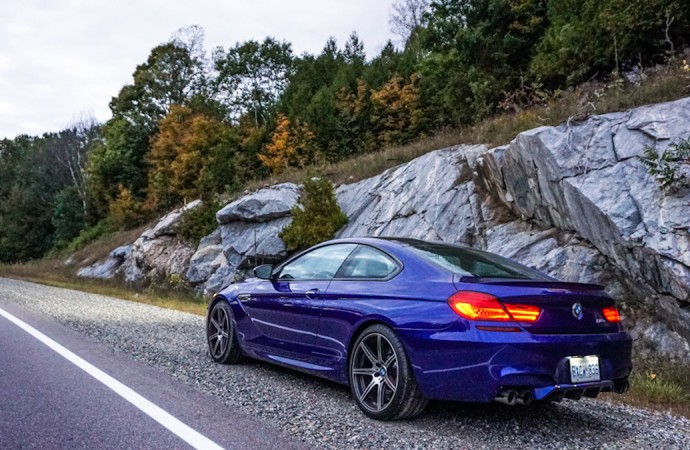 The first thing that stood out to me about the new M6 is its elegant beauty. Not only are the lines crisp and suit the car like a tailored suit, accents such as a carbon-fiber roof, rear diffuser, and front lip add to the sensational experience that is this lovely coupe. The San Marino Blue paint appears to change colour depending on how much light is shined on it, and received unanimous compliments from various demographic throughout my test week. Even when stopping for an impromptu photo shoot in some deserted northern Ontario towns, the car received positive attention from passerby. Perhaps it's the adaptive LED headlights, or the huge, tasteful wheels. Whatever it is, this is a car that people fall in love with at first sight.
Me? I liked it at first sight, but it's after I pushed the "Engine Start" button that I began to fall in love. The 4.4L twin-turbocharged V8 is the same engine that we recently sampled in the new X5 M and X6 M, but tuned uniquely for this application. Additionally, the Competition Package (an extra $8500) raises the boost pressure in the turbochargers and increases horsepower from 560 in the regular M6 to a ground-crushing 600. This package increases the torque figure as well, from 501 lb-ft up to 516, and available across a wide power band – between 1,500 and 6,000rpm.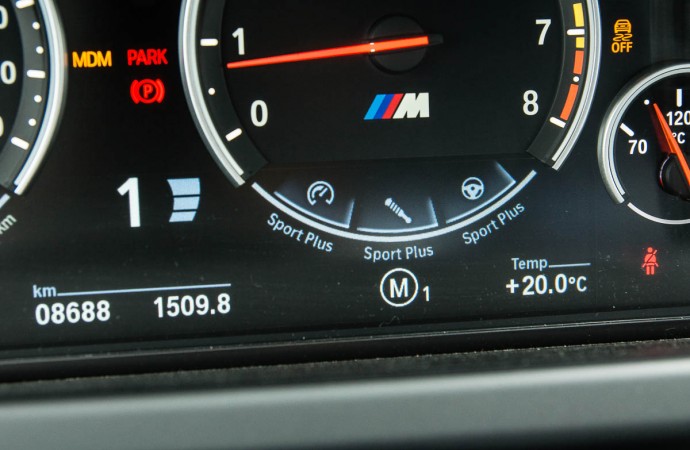 The result from all of this is a car capable of launching to 100km/h in just 3.9 seconds. The top speed is limited to 250 km/h, but the optional M Driver's Package (not equipped here) would increase that even more to 304 km/h for the true track fiend. The 2016 BMW M6 is amazingly capable, and clearly demonstrates a bite to match its bark. A six-speed manual transmission is available, but our tester arrived equipped with a seven-speed M-DCT dual-clutch unit. Other than its slightly agitating shifter, the transmission is almost on par with Audi's S-tronic dual-clutch box and is capable of delivering lightning-quick shifts.
Also equipped with launch control, the new M6 accelerates at an astonishing pace. Should you choose to disable assists such as stability control (not recommended for the amateur driver), the car will spin the wheels right across first and second gear. Even on the Michelin Pilot Super Sport tires, grip is hard to come by in the wet. Luckily though, our test consisted of a good amount of dry weather and open, rural roads. My road trip to Ottawa could have taken place using cruise control on the 400-series highways, but that wouldn't be any fun. I had 600 horsepower at my disposal, so I picked the fun route.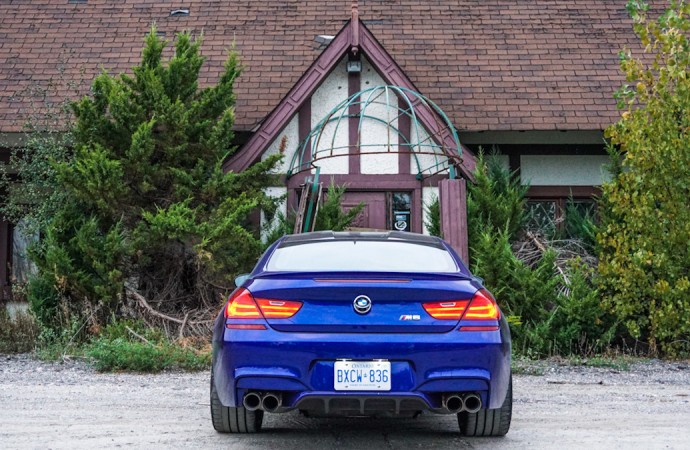 Having taken ten minutes or so to set up the car as I wanted it (suspension in "Sport Plus", the engine/transmission in "Sport Plus" and most importantly, the steering in "Sport Plus"), I set off onto some of the most breathtaking roads that our province has to answer. The expected truth here is, even with the electrically assisted steering, the M6 handles like a dream. There isn't much in the way of analog feedback through the wheel, but that's a reality we have come to terms with in the recent past. For such a large car, the steering is dialed in very well, and the car doesn't feel as heavy as it is when being pushed through the corners. The Super Sports also come alive here and do an astonishing job at road-holding.
When the twisties settled down and became straightaways where I could take in the beauty of Ontario's changing foliage, I reverted the engine and suspension settings into "Efficient/Comfort" and decided to save some fuel. This is where I was also able to appreciate the ride quality of the adaptive M suspension. Somehow, at the touch of a button, the dampers were able to transform a raw sports car into a real grand touring coupe. Road imperfections and bumps were absorbed with ease and the M6 showed no signs of being pushed anywhere close to its limits.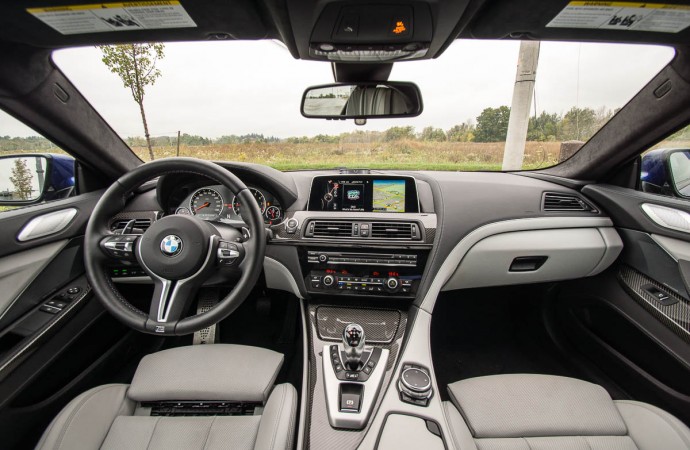 Fuel was another area where the big BMW caught me completely off guard – in a good way. When I first picked it up, I had to spend a considerable amount of time in bumper-to-bumper traffic, and the boosted V8 displayed a trip average of 16.2L/100km. Okay, that's about right for 600 horsepower, but then I did a 1000km round trip to Ottawa. This drive was mostly consistent, averaging 80-100km/h on rural roads with plenty of hills and spirited driving. The overall result was 10.5L/100km, and that included a stint of rush hour in downtown Ottawa. Using 91-octane fuel, this grand tourer was surprisingly frugal.
At first glance, the 2016 M6's interior appears to be standard issue from BMW's M division. Look closer though, and unique details begin to surface. The center stack is finished with a proportionate mix of leather and carbon fiber, with subtle hints of luxury through stitching. The seats are upholstered in full Merino leather and the headliner is lined in black Alcantara. Not only are these seats stunning in appearance, they offer levels of comfort typically reserved for business class on the finest airlines. The headrests are butterfly-style like airplane seats, and BMW's Active Seat massaging system is also on board here. Literally every single surface you see screams quality opulence in a subtle manner.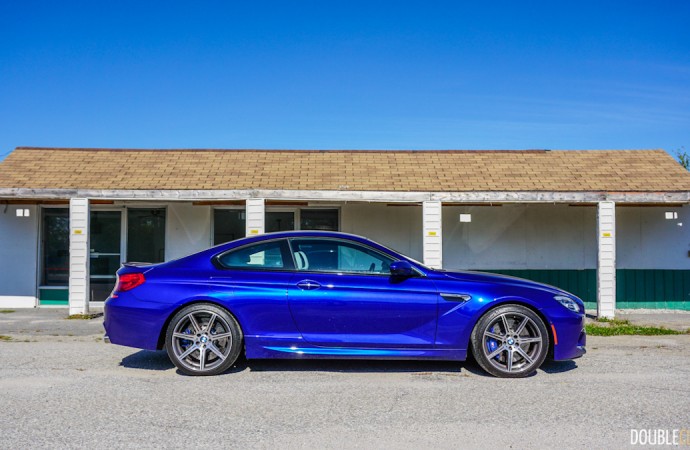 Infotainment is controlled via BMW's iDrive system, now in a very perfected state. The controller is easy to use, and all settings are simple to access and clearly displayed on the large screen. I particularly like the available split-screen view, which means I can have my media displayed on one side of the screen with a full map view on the other. The Bang & Olufsen surround sound system here packs 16 active speakers, Dynamic Sound Optimization and 1200 watts of power. Simply put, it sounds astonishing, with enough equalizer settings to fine-tune your audio experience exactly to your needs.
Adding to the $125,000 base price of the 2016 M6 Coupe, our car was considerably optioned. The most obvious is the $25,000 Ultimate Package, which adds literally everything you would want. This includes the M Multifunction Seats, ventilated front seats with the Active Seat massage function, the Competition Package (increased horsepower/torque, dialed-in steering, unique suspension tuning, M Dynamic Mode, exclusive wheels, black chrome tailpipes), M Performance titanium exhaust, surround view monitor, blind spot detection, lane departure warning, Bang & Olufsen sound, and soft close doors. It also had the $500 electric rear window sunshade. At just over $150,000, the only way to add more to the M6 is to add M carbon ceramic brakes.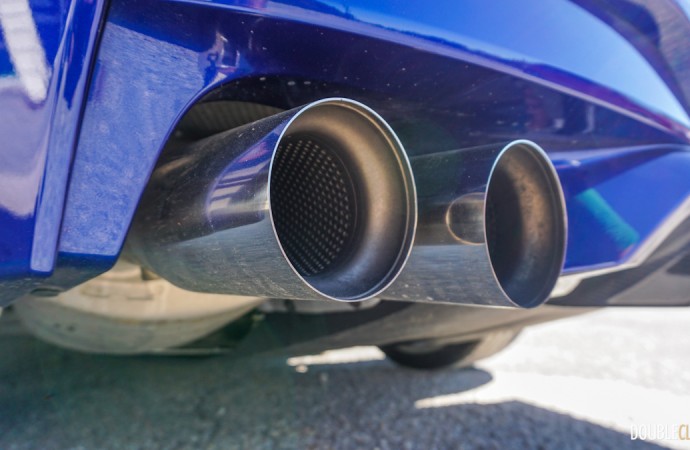 Now for what I don't quite like about the M6, even though there really isn't very much in this department. The noise from the 4.4L V8 is great, but there's a considerable amount piped in through the speakers. This is most evident because the engine sounds much more substantial when everything is set into "Sport Plus". Sure, the quieter ride is nice in the "Comfort/Efficient" settings, but this car has a full titanium exhaust (also included in the Ultimate Package). What's this need every manufacturer has to make their engines sound more artificial? The reason the previous-generation M3 was so special to my heart is because of the noise from its raw, unadulterated V8.
BMW has yet another hit on their hands. For under $200,000, the M6 is actually in the same price range as the i8, but in a completely different class of car. Where the i8 is a rolling environmental statement from the future, the M6 represents what wealth buys in the present. This is a powerful V8 with two traditional turbochargers and some of the most modern technologies available. The 2016 BMW M6 may not quite be the car of the future, but it offers a luxury-lined interior, unmatched build quality, and staggering performance numbers for a relatively competitive price.
2016 BMW M6 Coupe Gallery
See Also: