For most people, the minivan is not what comes to mind when imagining a car that's fun to drive because of high-performance driving dynamics. The seven or eight-passenger people carriers are often seen as mundane, vanilla appliances that faithfully get families from point-A to point-B without any fuss. With the 2015 Toyota Sienna SE V6, the ubiquitous Japanese automaker – who is often associated with mundane, vanilla appliances – attempts to break the mould with a sporty minivan offering. Finished in a handsome Salsa Red Pearl, the test vehicle made a great first impression, and certainly looked sportier than your average minivan. With the sporting intentions made clear, would the driving experience put the Sienna's money where its mouth is?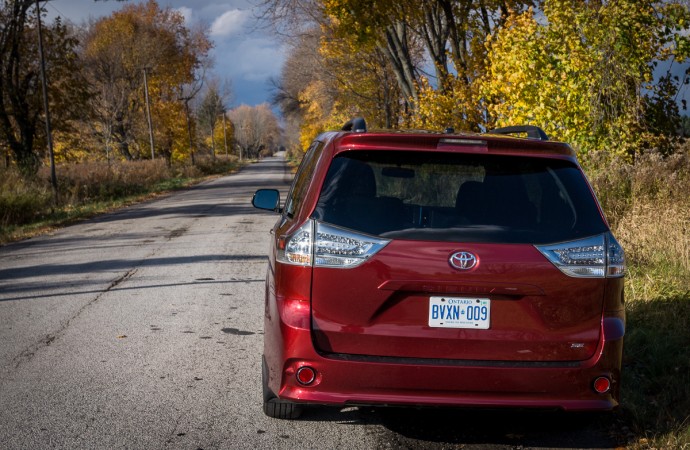 As the second-highest trim level for front-wheel drive models only, the SE is fairly well equipped (all-wheel drive is available in lower LE and higher XLE trim). There is a full complement of leather seating surfaces (heated up front), middle-row captain's chairs, and a one-touch foldable 60/40 split third row that can tuck away in the rear floor cargo area. Dubbed "Split & Stow", the third row forms a flat cargo surface for the most part, but still has some voids and holes around the headrests that aren't present on competitors such as the Honda Odyssey.
Fortunately, compared to the Honda, the third row is easier to fold, with a two-step process that allow the seats to tumble effortlessly into their stowed position. When the need for an eighth passenger arises, a collapsible jump seat can be removed from its position in the rear cargo area, and installed in between the captain's chairs.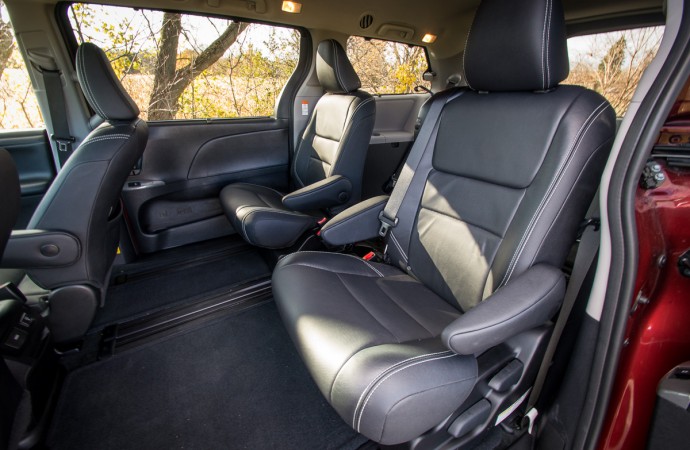 For passenger comfort and legroom, the Sienna does not disappoint. On the SE, both front passengers get foldable armrests and power seats, with drivers getting 8-way adjustment plus lumbar support; passengers make do with 4-way adjustment. Middle row passengers can adjust the captain's chairs fore and aft individually, and the tallest of people will be able to easily stretch their legs in the full-aft position. In the third row, legroom remains fairly generous, and most passengers demoted to the back won't complain very much on long-haul trips. Cushion support in all seating positions was excellent, and the quality of the dark charcoal leather felt more premium than that offered in the Honda Odyssey Touring.
While sitting in complete comfort, the driver and passengers also have an excellent infotainment at their disposal. A seven-inch touch screen display is well integrated front-and-centre on the centre stack, and the test vehicle was also equipped with navigation. The interface was intuitive and easy to use, and was very responsive to touch inputs. Bluetooth phone pairing and audio streaming worked without and hiccups. For the navigation system, voice-command destination inputs are possible at the push of a button. Unfortunately, as with many other automakers' systems, the voice input for navigation is somewhat frustrating – it's better to safely pull over and manually input your destination using the touch screen.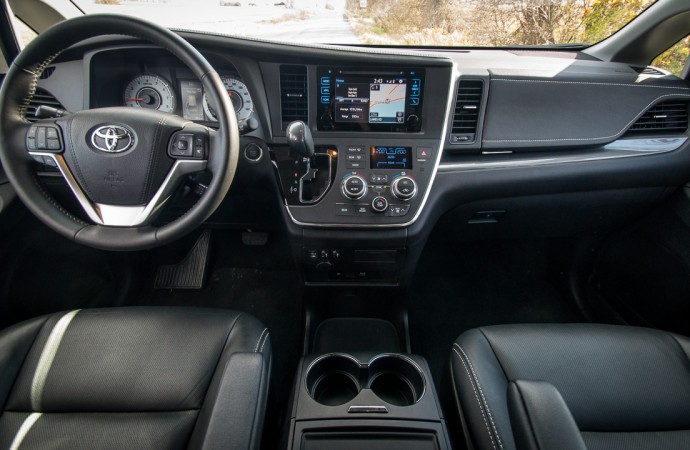 Equipped with the $5,355 Technology Package, the tester Sienna came equipped with the aforementioned navigation system, and a rear seat entertainment system, complete with an overhead 16.4-inch wide-screen monitor and two wireless headphones. The package also adds text-to-speech functionality for text messages and emails, blind spot and cross traffic monitoring, smart key push-button start, and a power moonroof.
Under the hood of all trims of Sienna is the workhorse 3.5-litre V6, known as the 2GR-FE. Although Toyota has been using this V6 engine in vehicles like the Camry and Sienna since at least 2006, it's easy to see why. With 266 horsepower at 6,200 rpm and 245 lb-ft of torque at 4,700 rpm, the engine is a pinnacle of smoothness, refinement, packs a great punch and soundtrack throughout the entire rev range, and returns good fuel economy to boot. Kudos to Toyota for using a tried and true powertrain that performs well and is rock-solid reliable – owing to the decreased complexity, it would be a safe bet that the absence of today's direct fuel injection and turbocharger technologies will guarantee several hundred thousand kilometers of trouble-free operation.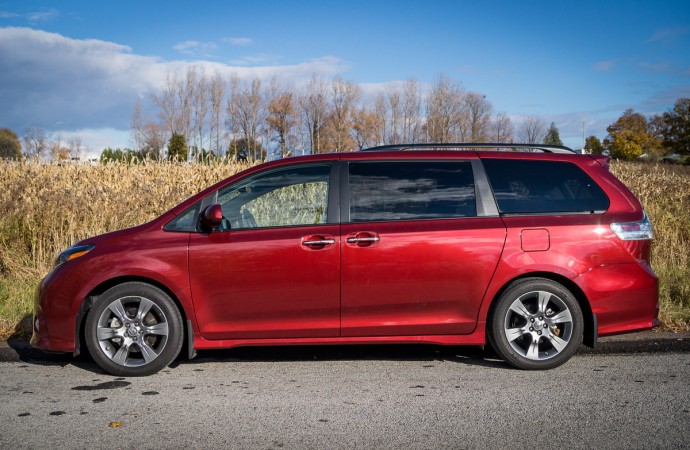 Paired to the V6 is a six-speed automatic transmission that is sure-footed and shifts very smoothly. Again, there is something to be said about a more simplistic and known-good gearbox – some of the new eight and nine-speed transmissions trade refinement and for extra ratios, and bring with them an almost wanton disregard for complexity (think long-term replacement costs!). Overall, the powertrain is a well-tuned combination that will not disappoint.
In the fuel economy department, the 2015 Toyota Sienna SE V6 performed well. Rated at 13.0 L/100km in the city and 9.5 L/100km on the highway, observed test economy was right in the middle at 10.9 L/100km. This included a good mix of both urban traffic and high-speed cruising. These numbers beat out the 2015 Honda Odyssey Touring recently tested (12.3 L/100km, albeit with more city driving), even though the Honda has cylinder deactivation under light load. Toyota recommends regular 87 octane for the Sienna.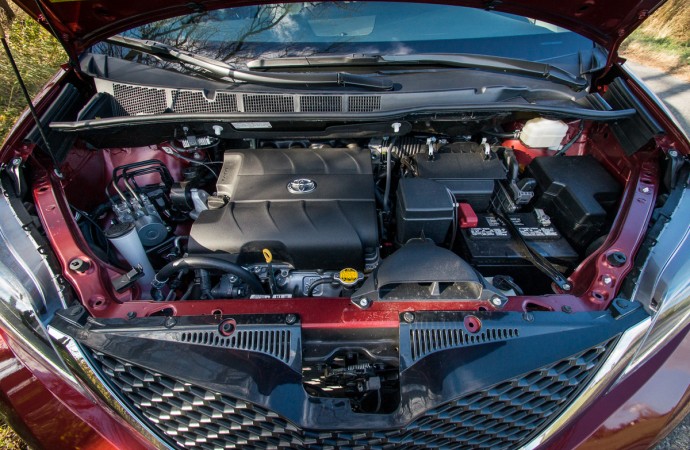 With strong performance inside and in the powertrain department, the handling dynamics manage to round out the one-two-three knockout punch to create a vehicle that's actually fun to drive – a statement that no single person could expect out of a minivan! The handling is singlehandedly the best part about the Sienna SE. The specification sheets and brochures state "Sport Tuned Suspension" and "Sport Tuned Steering", however this doesn't do the actual driving experience much justice. It can be assumed that the sport-tuning includes unique springs, dampers, and stabilizer bars to create grip and control levels that will put a smile on drivers' faces as they take off-ramps with some gusto.
Ride height appears to be lower than standard Sienna models, and body roll is very well controlled. With the sporty suspension, ride quality isn't particularly compromised, and although it is somewhat firm, it's no more so than the comparably equipped Honda Odyssey, which isn't claim the same handling prowess. The sport-tuned electric power steering is heavier than expected, and provides a decent amount of feel and feedback. Rounding out the handling package are a set of 19-inch wheels wrapped in wide and relatively low-profile P235/50R19 tires.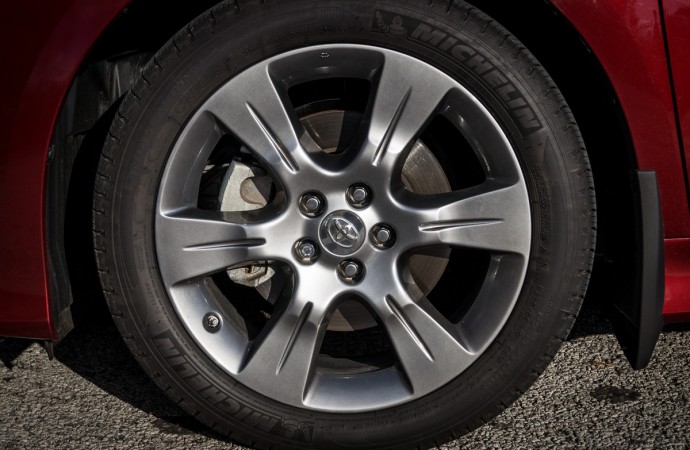 With an as-tested price of $43,200 before destination, fees, or levies, the 2015 Toyota Sienna SE V6 is a shining example of returning good miles per gallon without sacrificing the smiles per gallon portion of driving. Most would assume that a minivan should have absolutely no business handling this well, and Toyota has a real ace in the hole with the Sienna SE. Although the $5,355 Technology Package seems steep at a glance, it still undercuts the Honda Odyssey Touring trim level by several thousand, and while it doesn't include a vacuum cleaner, it brings more fun into the equation without sacrificing comfort and practicality. For the soccer mom or dad who doesn't want to give up a fun driving experience just because kids are in the picture, this is your ticket.
2015 Toyota Sienna SE Gallery
See Also: