I'll admit I'm not known on the DoubleClutch.ca team for my love of small hatchbacks; but after a few of my colleagues went on raving about how much they loved the 2015 Ford Fiesta ST, I couldn't help but feel like I was missing out. Therefore, I set up a week with a Molten Orange pocket rocket to see if I could warm up to a vehicle that is such a big departure from my usual vehicular preferences.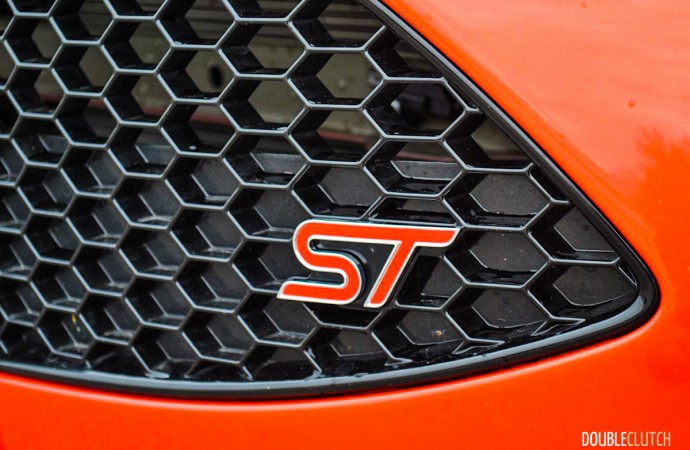 Stepping out of my cushy V8 and into the feisty Fiesta was a surprisingly easy transition. The Fiesta almost immediately reminded me of my beloved British sports cars, and after a few corners I was grinning from ear to ear. The lively 1.6L turbocharged 4-cylinder produces 197 horsepower at 6000rpm and 215 lb-ft of torque at 4200rpm, meaning this little engine is right at home in higher rpms. That's a fair bit of power from such a little car, and as a result, this thing moves!
Of course, the sound of that screaming 4-cylinder, the spooling of the turbo and the sensation of rowing your own gears all add to the feeling of speed and engagement. Speaking of choosing your own gears, the Fiesta ST boasts one of the best shifter and clutch combinations I've had the pleasure of driving – ever. The pedal positioning is perfect, the six-speed manual gearbox feels great and choosing gears offers just enough resistance for you to really feel like part of the machine. Thankfully, no automatic is available on the ST model.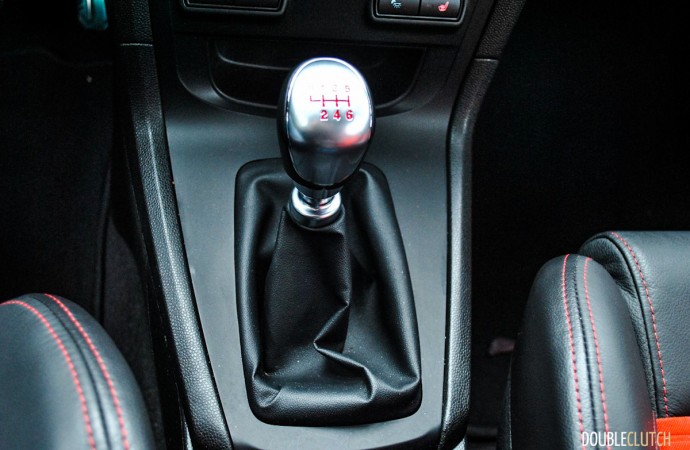 Drivetrain aside, the eager little Fiesta ST absolutely loves corners, and after driving around in this thing for a while you will too. The steering is spot on, with the perfect amount of weighting, loads of road feel and very direct inputs. Even the on-center feel is very firm and the car tracks very well for something this small. With its stiff suspension and coupled with the low profile 17" Bridgestone Potenza performance tires, the Fiesta ST is set up to make almost any driver look and feel like a pro when diving through corners. Despite what its front wheel drive configuration might have you thinking, tossing this car through some twisties at a moderate pace is an absolute blast and I can't believe I waited this long to try it. From behind the wheel, the Fiesta ST handles and behaves like a proper sports car.
Inside the cabin of the Fiesta ST, the sports car feeling continues with a very sporty set of Recaro seats up front. I know you're thinking that for this price point, these are probably some cheap seats with Recaro branding, but I assure you they are the real deal. Massive bolsters and heavy-duty orange cloth inserts hold you firmly in the neatly leather-trimmed seats. Despite the seats' obvious skew towards sportiness, I also found them very supportive and comfortable for longer trips. It's worth noting though that I'm a pretty small guy, and a couple of my wider passengers had a few complaints about fitment, so the Fiesta ST might be worth a test fit before buying.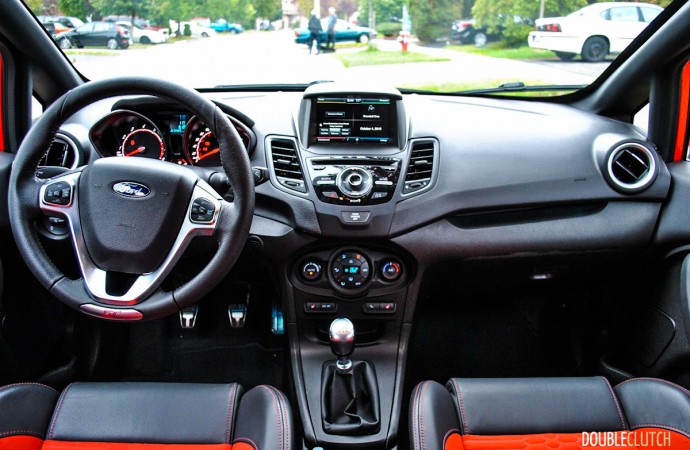 The rest of the interior doesn't make much of an attempt to hide the fact that the Fiesta is an economy subcompact – not that it really needs to. As expected, you'll find some hard plastics and materials that are obviously cost-cut. However, the ST comes standard with automatic climate control, a welcomed feature during our unpredictable early fall weather (please take note Chrysler). The heated seats are seriously hot and will keep you nice and toasty in the colder months. My tester also came with the upgraded SYNC/Sony infotainment and navigation system, which I found to be responsive and easy to use.
Since the base Fiesta is still a competent subcompact, with or without the ST performance, it offers an impressive amount of space; naturally, the rear seats fold flat to reveal a large cargo area, and with the rear seats in place, passenger head and legroom is adequate for two adults. Whilst on a mission to pick up a new project car, four of us piled into the Fiesta ST and loaded the remaining trunk space with all the tools and supplies we would need to recover the newly acquired project. Sure, an SUV would have been better suited, but the Fiesta handled the task with minimal passenger complaints and had enough room for everything.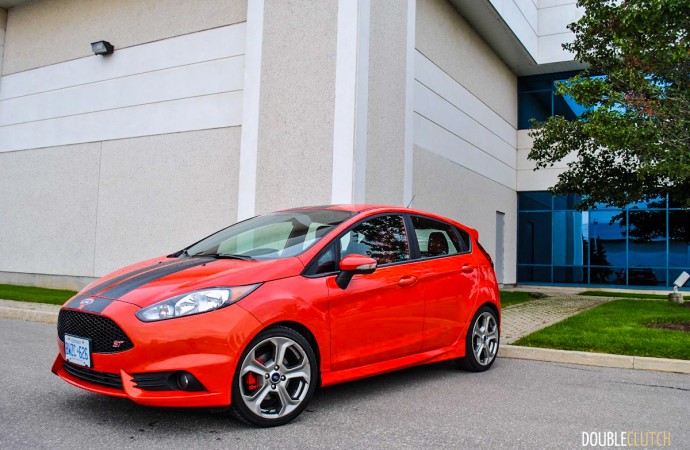 Although my right foot would occasionally give in to temptation, the Fiesta ST maintained an impressive 8.0L/100km average throughout my week with it, mostly in mixed rush hour commuting and with a fully loaded drive across town.
While I thoroughly enjoyed the Fiesta ST, as someone who spends 3 hours a day commuting, it's just a little too hardcore for me to use every day. It's loud on the highway with some tire and wind noise, and while the cushy Recaros do help absorb some of the impact, "thrashy" would be the correct way to describe the Fiesta's ride over rough city streets. The Fiesta ST would make an amazing city runabout, and even a very competent and budget-friendly autocross partner, but it's not exactly the ideal commuter car.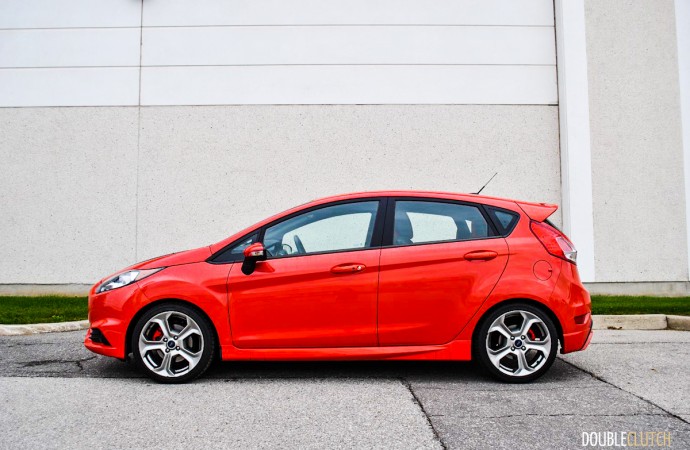 The Fiesta ST starts at a base price of $24,999. My tester came in at $26,800 with the optional orange paint, matte black striping and upgraded Sony/SYNC system. Left unchecked on the option list is the $1200 moonroof, which I would have preferred over the conspicuous paint job. That's less than a Subaru BRZ or Scion FR-S, and I had more fun in this little Fiesta than either of those.
The 2015 Ford Fiesta ST is unlike any other subcompact on the market today. It is the total performance package on a budget. It boasts a high-strung, playful engine, a proper 6-speed manual transmission and go-kart like handling. If you're looking for a small affordable car that can keep up with the big boys and take anything a driving enthusiast can throw at it, then you owe it to yourself to give the Fiesta ST a chance; I'm sure glad I did. This isn't a car for everyone, but it's the perfect car for many. For those select few, Fiesta ST ownership will be very rewarding and like nothing else.
Second Look: 2015 Ford Fiesta ST Gallery
See Also: