It's a funny coincidence, this. Before this month, we hadn't tested a manual transmission crossover or sport-utility in literally years – not since a base Forester in mid-2013. It just so happened that during the same week Subaru sent us an updated 2016 Forester with a stick, Honda (unknowingly) booked us in their unique offering. The subcompact crossover category has recently become more crowded with the likes of the new Mazda CX-3 and the GM twins, but Honda wanted to play in that game too. We snagged the keys to a 2016 Honda HR-V LX with a six-speed manual transmission to see what one of the cheapest models in their lineup had to offer.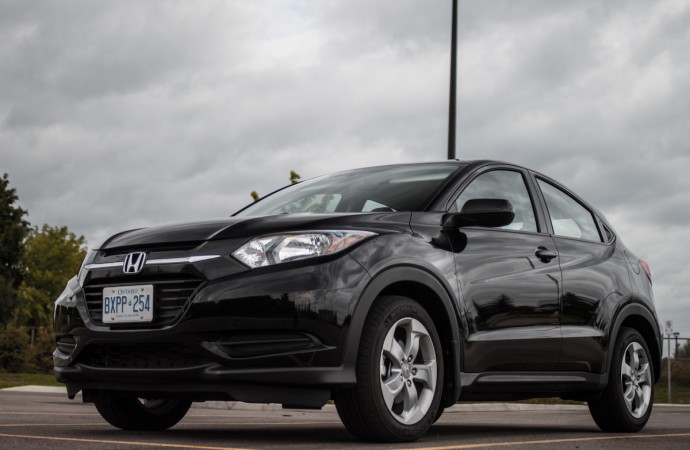 Based on the same platform as the Honda Fit, the HR-V is quite small. At 169.1 inches in length and weighing in at just 2910 pounds, the little ute is miniscule in comparison to the mammoth that is the new Pilot. What the HR-V does share with the Fit is its unique way of maximizing interior space without any sort of compromise. There's just so much room in there you'll immediately forget how small it is. The design is rather conservative, with our base LX model lacking things like privacy glass or roof rails, but it clearly looks like a slightly raised Fit.
Thankfully, rather than going with the Fit's 1.5L motor, Honda has fitted the HR-V with the gutsy little 1.8L four-cylinder sourced from the Civic. This engine is good for 11 more horsepower than the Fit's motor, which Honda is hoping will at least slightly make up for the HR-V's weight addition over the brand's subcompact. Actual output is 141 horsepower at 6500rpm and 127 lb-ft of torque at 4300rpm. The vast majority of buyers will opt for the CVT, which is marginally quicker thanks to the lack of shifting, but doesn't provide the satisfaction that we enthusiasts crave so much.
The vast majority of our daily commuting with the HR-V consisted of bumper-to-bumper city driving, when I almost wished for the CVT. However, as a purist, I'm glad I got to spend time with this manual model. As a typical Honda move, the clutch is very light and the shifter has short, precise throws. However, this shifter is not quite as snick-snick good as in the Civic Si or even the Accord Coupe. It has a rubbery feel to it as a reminder that this isn't one of the sporty models; it's made for utility and convenience. The shifter is perfectly positioned along the center console so that there's no stretching to reach it; the Forester's unit is a bit lower and can be awkward to make quick shifts with.
The HR-V isn't quick by any means, but this transmission makes blasting around the city decent fun. Throttle response is exactly what I expect from a 1.8L compact ute; not the sharpest but it gets the job done with relative ease. The motor does groan a little bit when pushed hard, and it's a bit noisy at highway speeds. We've experienced this in many Honda applications before, but there is a rev-hang that holds the RPMs at a certain point to make for quicker upshifts. For those of us who drive manual transmissions regularly, this can become annoying and actually disruptive to an otherwise good shift. Regardless, this setup will get the job done nicely for the non-spirited driver.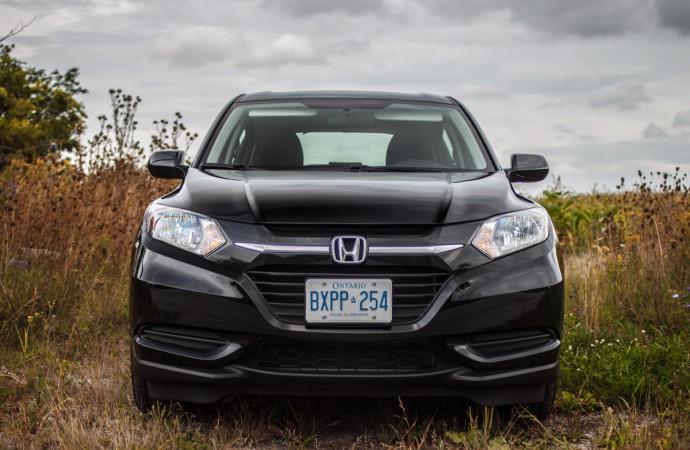 Despite being a crossover of sorts, Honda has given the HR-V a relatively low ride height. This gives it an excellent compromise that promises better visibility as most crossover buyers want, while delivering spectacular handling in its segment. We've touted the Mazda CX-3 as being a sharp handler, but the HR-V is a beast on its own. The wide tires help grip substantially, and even though our tester lacked all-wheel-drive, it's almost reminiscent of a Civic Si in the corners. Steering feel is a bit artificial but still delivers a good amount of feedback, and the wheel is small enough to toss around easily at the driver's will.
Handling is excellent, as is ride quality. I personally borrowed the Forester tester for a night to compare to the HR-V, and I immediately noticed that the Subaru had a much choppier ride. The little Honda tackles road imperfections, bumps, and manhole covers with ease, maintaining near-flawless body control through all maneuvers. It's actually a surprise that such an inexpensive crossover has so much character in its chassis. Long road trips will be effortless because the lack of a harsh ride means minimal fatigue and a far more comfortable experience.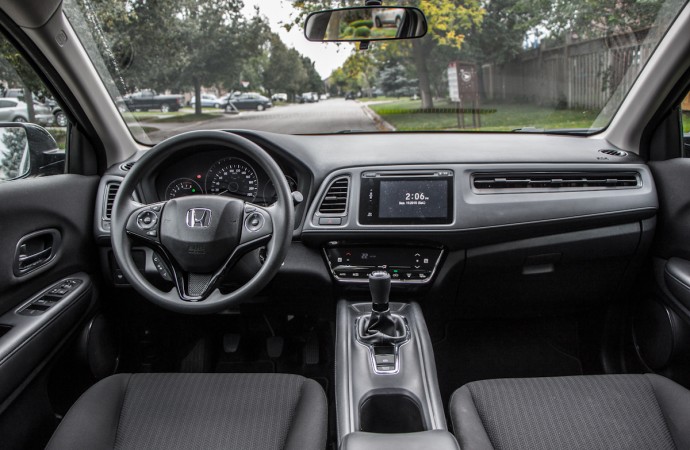 The small 50L fuel tank was a bit deceptive at first, because we were really hoping to achieve excellent fuel mileage with this crossover. After all, isn't that what a front-wheel-drive, manual transmission mini-ute should be good at? At the end of two combined cycles, we were thrilled with an overall average of 7.4L/100km. One cycle was harsh bumper-to-bumper traffic in which the numbers hovered in the 7.8L/100km range, and the second was a hike up to Georgian Bay in ideal conditions with the "Econ" button pressed, which returned 7.0L/100km effortlessly. The HR-V takes regular-grade fuel.
Starting at just $20,690, our 2016 HR-V LX was tested at that very price point. It's rare for a manufacturer to put a base model on a media fleet, but it was a sincere pleasure to drive a bit of a unicorn. For this price, Honda still equips the HR-V generously, with a full i-MID infotainment system with USB connectivity, an HDMI port, and Bluetooth. Additionally, keyless entry, an electronic parking brake, automatic climate control, heated seats, a rear view camera, a heated windscreen, rear wiper, cruise control, and the Fit's Magic Seat system are also all in play here.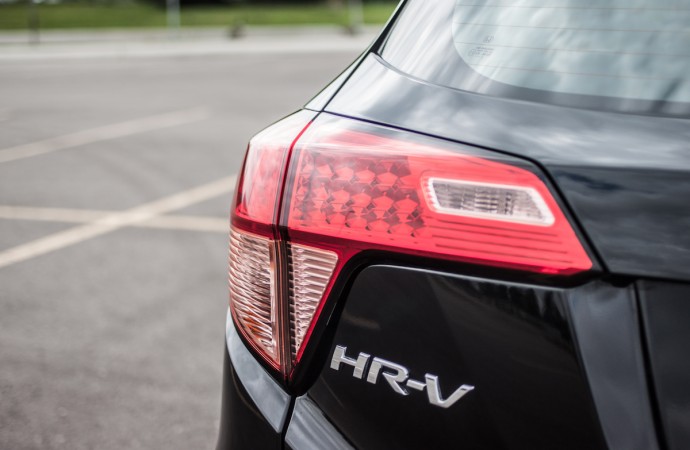 The interior of Honda's latest offering isn't really much of a surprise. The steering wheel, shifter, and most switchgear is traditional Honda, but there are a few surprises here. The dashboard on the passenger side has three linear air vents neatly embedded into it, all three adjustable individually. The automatic climate control and heated seat setup is controlled via touch, and the "buttons" are convenient and difficult to misuse. Honda has kept things very simple here – the i-MID touchscreen and auto climate control are the only things on the otherwise very clean dash layout. To the left of the steering wheel are the buttons for "Econ", stability control, and the heated windshield. The HR-V's cabin is one of the most simplistic and functional I've seen in a very long time.
Personally, I would gladly forego a few things like the HDMI port or the rear-view camera (who needs a camera on something this small?) in favour of automatic headlights. Roads in the Greater Toronto Area have become increasingly popular for oblivious motorists who putt around at night without their headlights turned on. Additionally, the electronic parking brake is a nice upscale touch, but it's a bit awkward to use with a manual transmission. I'd actually prefer a conventional parking brake lever to pull – it just keeps things simple.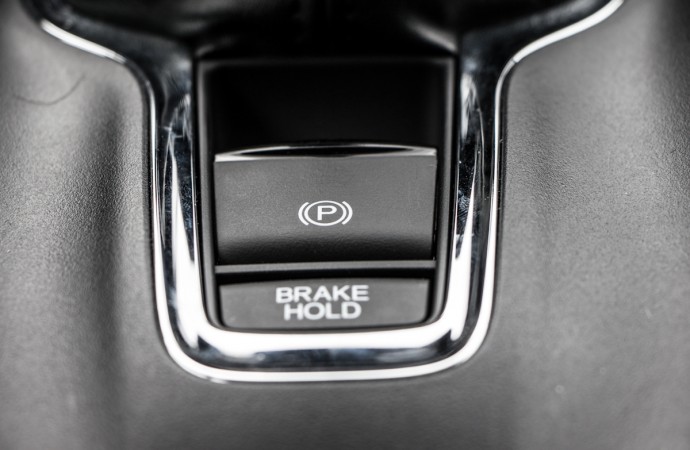 When going from a $150,000 super-sedan (the Audi S8 my editor lent me a few nights before jumping into the HR-V) to a $20,000 subcompact crossover, a few things immediately become evident. Firstly, things like vanity lights in the sun visors shouldn't be taken for granted – the same can be said for bright HID or LED technology. That being said, Honda still uses great materials and produces an ergonomic interior that never leaves you feeling like you've skimped out on your vehicle. The HR-V's dashboard may not be lined in leather, but it's made of nice soft-touch material that feels durable. The seats are upholstered in a rugged cloth that seems like it will hold up nicely to stains and years of general abuse.
Our friends at Mazda have been known to offer a manual transmission across the lineup. A fully loaded Mazda6 GT can be had with three pedals, as can the CX-5 crossover. However, for the new CX-3, they have chosen to go the automatic route only, giving the HR-V a huge nod from our side. The 2016 Honda HR-V LX has a few competitors that can be had with this transmission; namely the Fiat 500L and the Nissan Juke. The Honda's advantages are a utility-based, versatile interior, a brilliant chassis, and more room than you'll ever need for your outdoor adventures. This would be my pick of the litter.
2016 Honda HR-V LX Gallery
See Also: