San Diego, CA – Infiniti themselves say it best; "body of a crossover, heart of a coupé". The long-since departed G35 Coupé is one of my all-time favourite cars, which leads into my enamor towards the QX50 crossover. It's a no-compromises entry-level luxury crossover that keeps some of the last remnants of "old" Infiniti. While boasting a full suite of the Japanese luxury automaker's latest technology, the QX50 (formerly known as the EX37 still has the same heart and soul that dates back to my beloved G35. I was invited to San Diego, California to experience the latest iteration, the refreshed 2016 Infiniti QX50, and experience what it has to offer.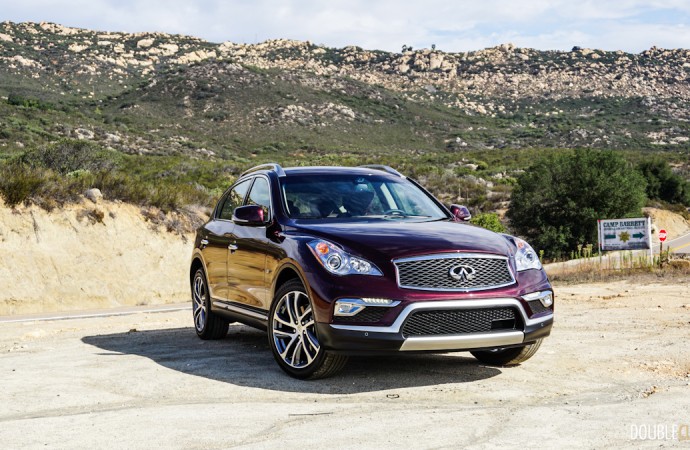 The Infiniti brand has been shattering their previous sales records; the year 2015 has been especially kind to their vehicles. This year, Infiniti has had five record-breaking sales months, and global sales have exceeded records for twelve months straight. With the upcoming QX30 debut at the Los Angeles Auto Show in November, the fully-redesigned Q60 Coupé premiering at Detroit, and the Q50's new volume-selling 2.0T engine coming this spring, the brand's sales are projected to increase even more in the upcoming months.
Though not a full redesign, Infiniti has given the QX50 a thorough reworking including a new front fascia with LED fog lights and daytime-running lamps, a freshened rear end, and a slightly elongated side profile. The improvements to the rear are subtle, with a new rear bumper valence and freshened lights. The QX50's stance is 20mm higher. Its overall design remains true to the previous model, which I like to refer to as a G37 station wagon. Though a luxury crossover in every sense of the word, the QX50's low (for a crossover), wide stance and excellent proportions are reminiscent of a traditional wagon.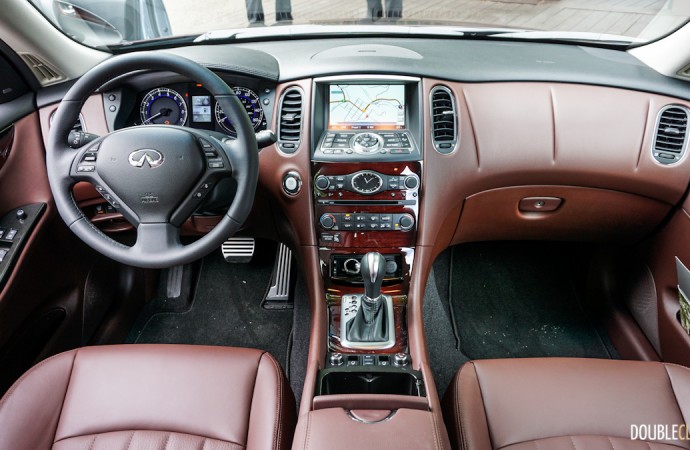 Infiniti's biggest improvement to the 2016 QX50 is with regards to rear seat room. The wheelbase has been increased by 80mm overall, which results in 109mm more of rear legroom. This jump, though seeming minor, increases the total interior volume by 234L. As much as I like the size of the original QX50 (formerly known as the EX35/EX37), rear legroom was a bit iffy. This improves that, allowing for a more versatile machine overall. However, since the volume increase is within the wheelbase itself, cargo volume in the trunk remains the same at 527L.
One convenience feature no competitors offer in this segment is the presence of power folding rear seats. Not only do the split 60/40 rears fold at the touch of a button, an adjacent button will revert them right back into the upright position. This can be done via a button in the cargo area or from another one accessible from the driver's sea – definitely a neat touch. Infiniti has also made significant improvements to interior materials. What I like here is that the QX50 largely retains the same interior that the G37 had, one that focuses on simplicity without any sort of compromise on the luxury aspect.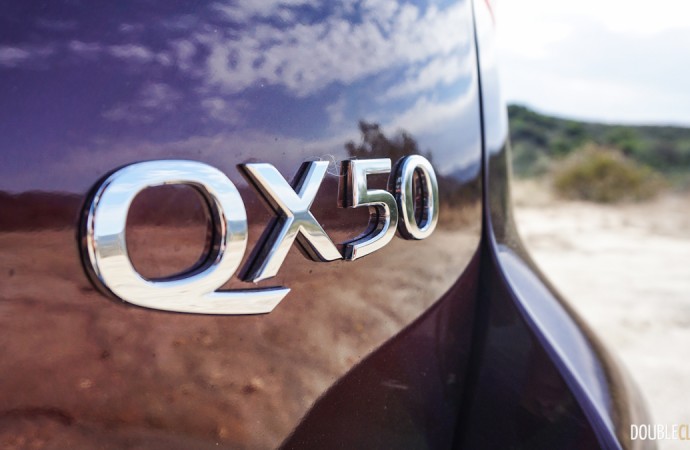 Materials used inside the QX50 are top notch, with fine leather upholstery throughout the cabin. The dash is now soft-touch, with excellent stitching, while retaining the ergonomic nature of the previous model. The seats are fantastic, available in a series of new colours that are definitely enticing. The QX50 maintains one of the best crossover driving positions in the segment; the Lexus NX is a bit taller and awkward, and the Acura RDX feels like a crossover with no hints of trying to be a coupé.
Under the hood of the QX50 is Infiniti's signature 3.7L VQ-series V6 engine. This engine has so much character that even though it's nearly a decade into its life cycle, it still has a special place in my heart. It puts out 325 horsepower at 7,000rpm and 267 lb-ft of torque at 5200rpm. The V6 pulls hard and strong right through the entire power band even though peak power doesn't arrive till 7,000rpm. It makes a spectacular sound from the dual exhaust on acceleration too – another point towards Infiniti. The seven-speed automatic is the only available transmission, but it offers downshift rev-matching, full sport mode, and manual shifting modes. One thing I would have liked to see included are paddle shifters; Infiniti makes a solid set and they wouldn't be out of place here.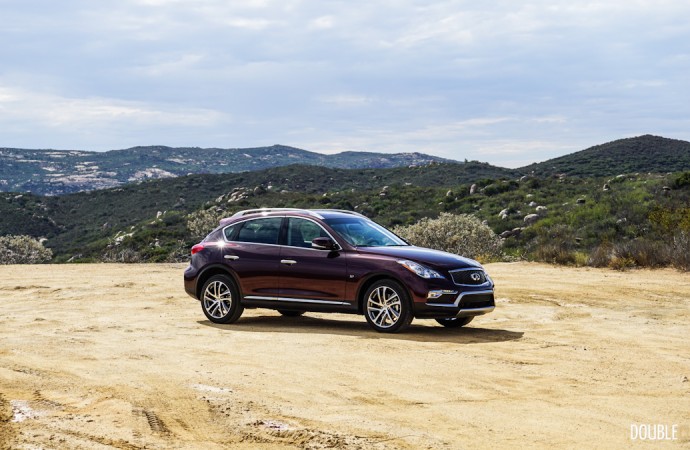 Canadian models of the 2016 Infiniti QX50 get standard all-wheel-drive, though the system still maintains that RWD bias. The result is a crossover that's exceptionally fun to drive and definitely still packs the soul of a sports coupé. Steering response is almost bang-on and the wheel has a nice meaty feel to it. Presumably, the next full redesign will include the steering setup from the Q50 (which is completely drive-by-wire), but for now, purists can rejoice because the QX50 drives like a proper, sporty crossover should. Because the engine is placed behind the center line of the front wheel, weight balance is very good and the crossover is capable of dancing like it's nobody's business.
Rather than allow buyers to opt for pricey, individual options, Infiniti has developed a no-compromises packaging structure. The base QX50 is already well equipped at $37,200, including standard features such as heated leather seating, a power sunroof, all-wheel-drive, and a reverse camera. There are a series of models that add things like navigation, Bluetooth audio streaming, and Infiniti's Safety Shield which includes things like lane departure warning, forward collision warning with brake assist, adaptive cruise control, blind spot warning, etcetera. It's a decent packaging structure that will result in about 45% of sales going to the base model. I expect most Canadians to spend about $45,000 to get navigation and the AroundView monitor.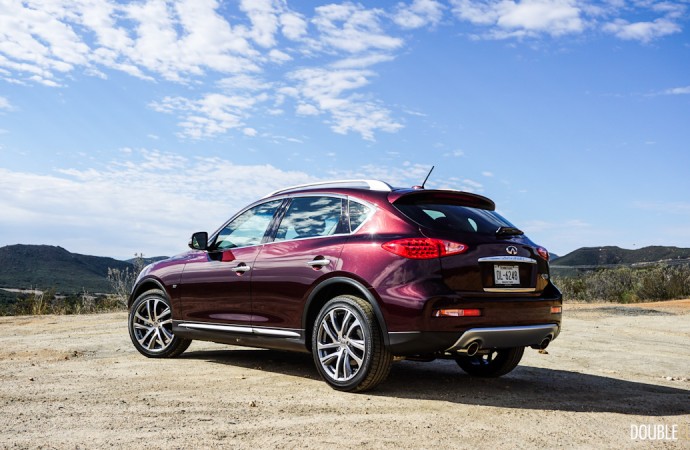 The thing is, Safety Shield is only available on the top-trim model at $47,200. I do wish this was either an individual option or at least available on lower packages. Additionally, even though the base model has Bluetooth connectivity for hands-free calling, you need to step up to a higher trim level to get Bluetooth audio streaming, which is a bit counter-intuitive. Even though I'm still old-fashioned and use USB connectivity (included on all models) to play my music, every single other member of the DoubleClutch.ca team uses Bluetooth streaming on every test vehicle we bring home.
There are a number of reasons that influenced our decision as a team to vote the 2013 EX37 the best crossover we drove that year. The refreshed 2016 Infiniti QX50 maintains every single one of those qualities, including the available suite of technology, inconspicuous yet elegant design, and of course, the most engaging driving experience that can be had in the entry-level luxury crossover segment. Our trip also included a trip to Infiniti's San Diego Design Studio, where we were able to preview some exciting upcoming products. Each of these new models (though we can't exactly talk about them yet) only confirms the Infiniti brand's devotion towards producing enchanting vehicles that will earn a loyal following for years to come.
First Drive: 2016 Infiniti QX50 Gallery
See Also: