The 600-cc sport bike class is one with mixed opinions. One of our staff writers just rode a Honda CBR600RR and came out just not feeling the love for it, and I still maintain that the Suzuki GSX-R600 is one of my favourite all-around bikes around. There was one important player missing from this duo though, so we decided to give it a whirl. This past week, Kawasaki sent us a green monster, one I knew from the second I laid eyes on it would be something entirely different though similar to the other two in every way. I spent a week with a 2015 Kawasaki Ninja ZX-6R to see how it stacks up against its rivals.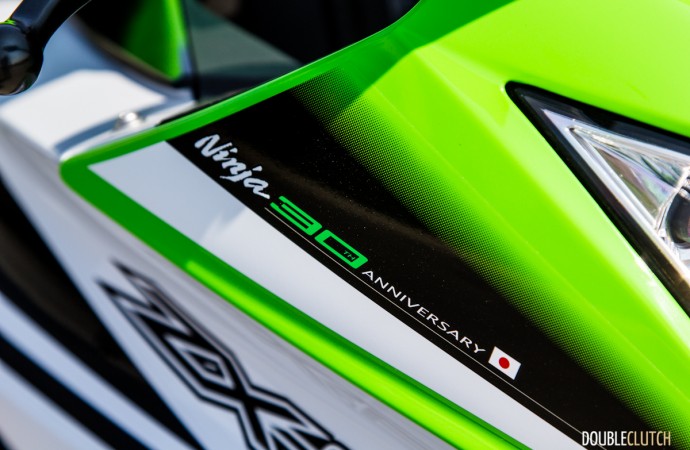 My Ninja wasn't just any regular 636; it was the 30th Anniversary Edition. Thirty years is definitely a noteworthy accomplishment, because amongst motorcycle enthusiasts and critics, this is also the duration that Kawasaki has been the industry standard for 600-cc sport bikes. When the ZX-6R was introduced, it was the first motorcycle of its type, and its unique, polarizing looks remain some of the best around to this day. This Anniversary Edition sports a unique Lime Green and Pearl Stardust two-tone paint scheme, unique yet subtle pinstripes on the wheels as well as anniversary decals on the fairing.
As I said, 2015 marks thirty years of race and championship wins, something that stands true to Kawasaki's "forever fearless" motto. This is a motorcycle that's not only competitive on the track, it's nimble and exceptionally responsive on the street as well. The 636cc motor is an inline four-cylinder, liquid-cooled and with dual overhead cams. It also boasts four valves per cylinder and is paired to a slick six-speed transmission. The compression ratio of 12.9:1 helps the four-cylinder maintain ideal bore and stroke, and the stronger connecting rods help with smooth power delivery.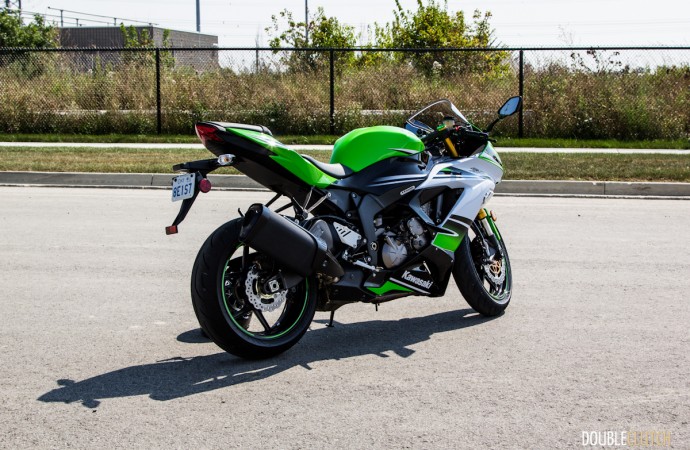 There's a switch on the left clip-on that allows the rider to choose between "F" and "L", for full or low power delivery. At lower RPMs, the ZX-6R doesn't feel very different between the modes, but when you start getting on the throttle, it becomes evident that "L" limits power delivery to about 75-80% of peak power. The ZX-6R feels a bit less gutsy and almost competitive with bikes like the Honda CBR500R in this mode. For what it's worth, other than when briefly evaluating the difference between these modes and a long urban ride through a torrential downpour, I left the bike in full power mode for the duration of my test.
For both safety and customizability, Kawasaki has installed three-mode KTRC (Kawasaki Traction Control) on this model of the ZX-6R. Within this system, Mode 1 will allow a little bit of wheel slide in order to maximize accelerating ability. The second, Mode 2, is intended for decent performance and a bit less wheel slip. Lastly, Mode 3 will not allow the rear wheel to slip even the slightest bit, to ensure maximal safety in wet conditions. The KTRC system can also be completely turned off. I made liberal use of Mode 1, and found no real reason to shut the system off, as our test didn't consist of any track time.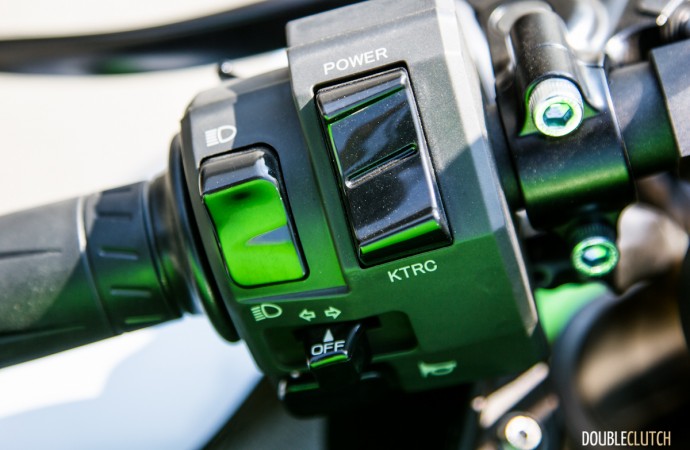 What's noteworthy is that the KTRC system is capable of analyzing conditions 200 times per second and adapting accordingly using just ignition timing. This ensures lightning-quick response time from both the engine as well as the KTRC system when needed. The slipper F.C.C. clutch on-board the ZX-6R with an excellent spring plate assembly means buttery-smooth engagement, perfect weightage, and virtually no shudder. The ABS system is a Bosch application and was designed specifically for use on the 600-cc sport bike; it made its mass-production debut on Kawasaki's own ZX-10R a few years ago.
The result from all of this technology is a bike that's incredibly easy to ride fast and push through the corners. Engine response is smooth and displays a clear amount of versatility right across the power band. The transmission is easy to shift and the clutch is simple to master. Oh, and the response – this is the most responsive bike in the 600-cc segment. It responds to rider inputs before you've even thought of making the move. Throwing it through the curvy rural roads around Toronto is incredibly satisfying and the ZX-6R even makes highway on-ramps an amusing place to be.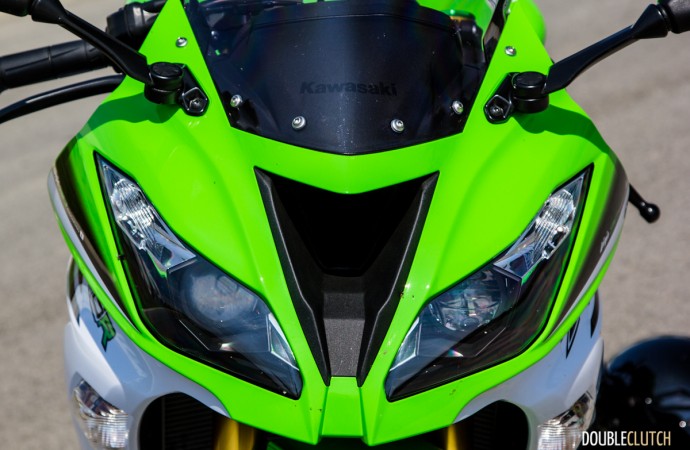 The 17L fuel tank (4.5 gallons) does seem to empty quite quickly, but our calculations resulted in the Ninja 636 sipping 6.1L/100km. This is a bit thirsty for a bike but about on par with the Honda CBR600RR. Only the Suzuki GSX-R600 is a little bit more efficient, but not enough to sway a purchase decision in either direction. Because of the compression ratio and fuel mapping, the ZX-6R should be fed premium 91-octane fuel only, and this is the type of gas that we conducted all of our tests on. The bike theoretically would accept regular fuel, but we predict that the engine's characteristics would change drastically.
Flaws from this Ninja are limited to the riding position, which is 99% the same as any other sport bike in its segment. The rider is hunkered down and all weight is pushed onto the wrists. If the bars were raised between two and three inches, it would result in the perfect position. I mostly like the existing riding position because it results in an athletic stance and an attractive setup, but it's just too painful on my wrists for longer distances. I wasn't able to do any more than a couple of hours at a time before needing to take a break.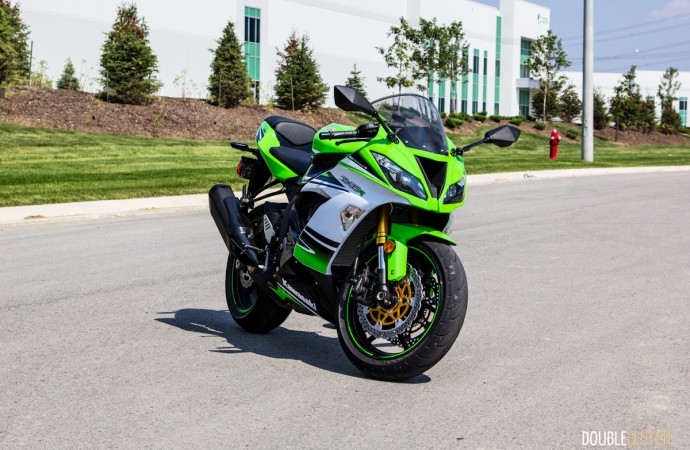 I spent a considerable amount of time on this bike on my daily commute, and I came to realize that it is indeed possible to have a 600-cc sport bike as a track bike and let it double as daily duty. The 2015 Kawasaki Ninja ZX-6R does a remarkable job of combining comfort with impeccable power delivery and near-perfect handling. The light slipper clutch means the Ninja is easy to shift and boot around with every day of the week, and the seat is very comfortable. All of this combined with an MSRP of $13,349 means the Ninja is actually decent value. At the time of this writing, Kawasaki is offering a rebate which brings the price down to $12,349. With legendary racing heritage and looks that can kill, the ZX-6R would be my sport bike of choice.
2015 Kawasaki Ninja ZX-6R Gallery
See Also: