Motorcycles are some of the most versatile vehicles on the planet. There appears to be a bike available out there for literally every type of terrain, rider, and situation. I've always been more drawn to sport and superbikes, those with greater than 600cc and a riding position that's exceptionally painful to my groin. For a complete change of pace, our friends at Honda offered me a 2015 Honda Gold Wing; a 40th Anniversary Edition, for two weeks of evaluation. Considering I was coming off a Suzuki GSX-R1000 at the time, this was a huge difference and I had to get on the 'Wing with a completely blank slate.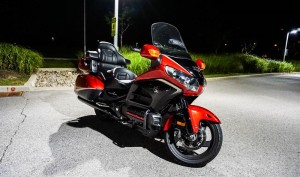 When all fluids are topped up and with a full tank of gas, the Gold Wing comes in at 933lb, easily the heaviest bike I had ever ridden. So heavy, in fact, that Honda actually has implemented an electric reverse gear to make backing the big brute up easier. The 130/70R18 front tire and 180/60R16 radial rear grip nicely and keep the Gold Wing hugging the road for as long of a distance as the rider can endure. With the incredibly comfortable heated leather seat combined with the tall, adjustable windshield, most riders will be able to endure thousands and thousands of effortless kilometers.
It's no secret that the Gold Wing excels at long-distance touring, but that doesn't mean it's difficult to manage as a daily commuter. In fact, it's the stigma that the Gold Wing is only for road trips that gives it an unfair reputation for being an "old man's ride". Everybody on our bike team is under 45, and we all took turns with this one. Every single rider commented on how buttery in operation the 1,832cc inline 6-cylinder is, and how deceptively quick the bike is. The five-speed transmission with overdrive isn't the smoothest, but it gets the job done satisfactorily. There won't be any quickshifter action or fast clutchless shifts here, but the Gold Wing shifts adequately and the clutch is easy to get used to.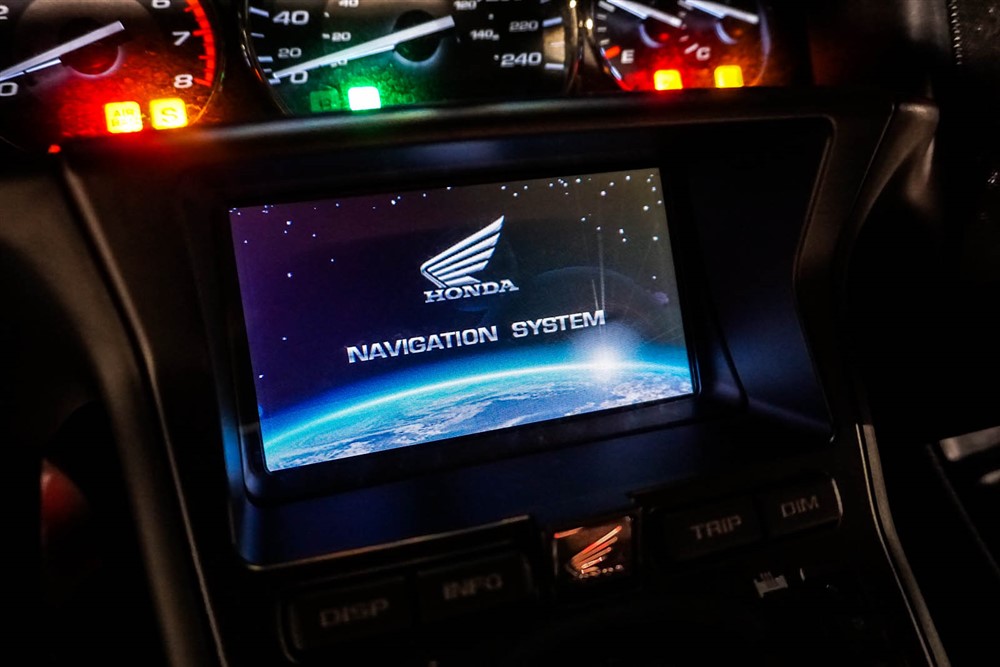 The throttle is among the sharpest I've ever experienced on a touring bike, and it's very easy to get this behemoth to the posted speed limit. In fact, on more than one occasion it surprised me how fast the largest Honda bike gets to highway speeds. It handles well too – the Gold Wing won't out-corner the liter superbikes, but it can endure the twisties on the Niagara Escarpment as well as the hilliest roads southern Ontario has to offer. The 25L fuel tank means that as long as the majority of riding is done at steady highway speeds, the 'Wing will go considerable distances before having to gas up.
Other than the sheer size, what's truly different about the Gold Wing is the sheer amount of features it has. Firstly, there's actually an airbag on board; something I've never before seen on a motorcycle. Additionally, there's a Garmin-based navigation system, an AM/FM radio, a hook-up for a CB radio, and an auxiliary port to connect external devices. The surround sound system isn't the crispest, but it's not like a motorcycle is the ideal sound stage for audiophiles anyhow. The Gold Wing is able to adjust the stereo volume according to the speed at which you're traveling, and I was able to hear my tunes at highway speeds even while wearing my quiet AGV helmet.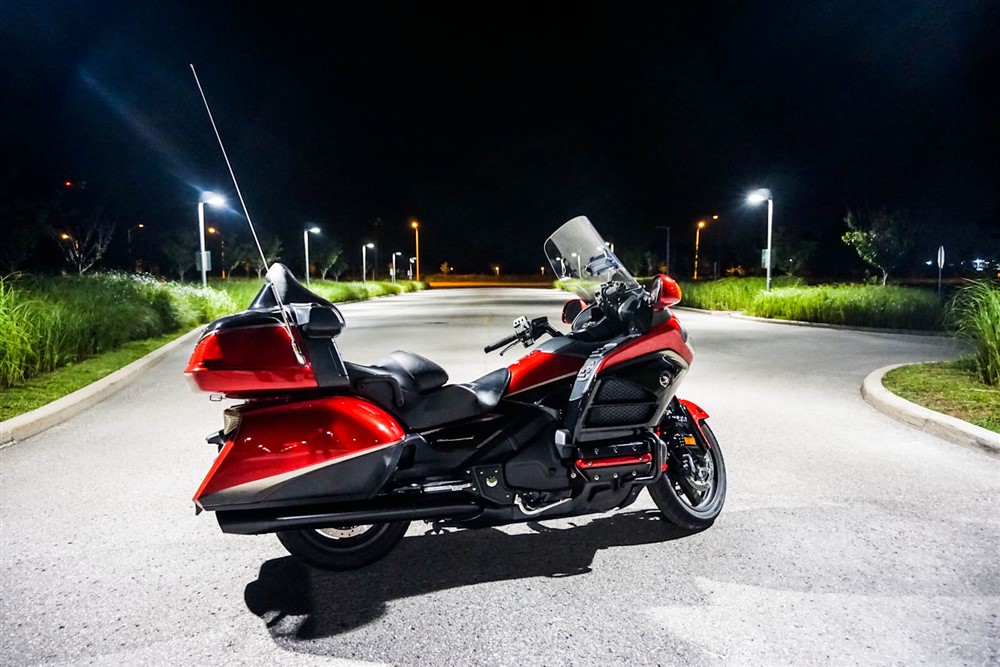 Things I could do without on this Honda are essentially features that add unnecessary weight to the bike, hence hindering its dynamics. The Gold Wing is extremely smooth and rides very well, but losing a few pounds could make it even better. The huge trunk (opened via the remote that's not too different from 2000s Honda automobiles) and side bags have enough space for a week's worth of luggage. In fact, total capacity is virtually identical to that of the Mazda MX-5 Miata, and this is a motorcycle. I could do with a little bit less space and less weight on board. I appreciate that the front seat and grips are heated, but I could do without the rear heated seat.
The 2015 Honda Gold Wing was a bike that I went into without expecting anything at all. I wasn't sure if I would hate it, and I definitely didn't think I would like it. I recently put hundreds of kilometers on a friend's Yamaha V-Star, and came to the conclusion that I can't do long distances on a bike that doesn't have fairings or a windshield. The Gold Wing may have styling that appeals to an older generation, but the motor, chassis, and technology on board are attractive to younger riders such as myself. It's already good, but with updated tech, a USB port, and some fresh styling, the Gold Wing can be something that appeals to the masses.
2015 Honda Gold Wing 40th Anniversary Gallery
See Also:
2015 Harley-Davidson V-Rod Muscle